2020 repeated?
2020 repeated?
I think this needs paying close attention to.
I am not commenting other than to say that there is, up to now near silence about this whether it be western MSM, alternative media.
There is absolute silence from the WHO. who instead talk about this.
Not a word.
Meanwhile there is no urgency or alarm in travel advisories to China from the NZ and Australian government.
Are they, once more, awaiting instructions?
Update (1500ET):The US Centers for Disease Control and Prevention (CDC) said Wednesday that the US will require travelers from China to submit a negative COVID-19 test.
Starting Jan. 5 at 12:01 a.m. ET,all passengers from China who are 2 years old and older will need to receive a negative PCR or antigen self-test no more than 2 days before their departure from China, Hong Kong or Macau, per the CDC.
The CDC said it is mainly concerned about slowing the spread of COVID-19 in the U.S.

The agency also wants to prevent any variants of concern from leaking into the country.
Why not now? This wave could be over by then?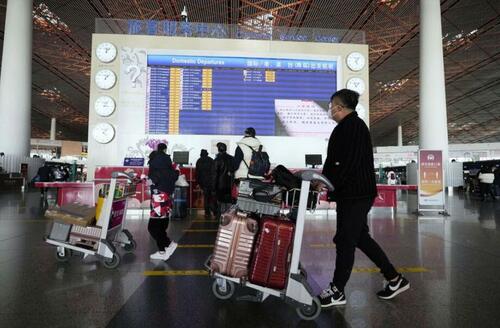 Is the Biden administration xenophopbic for singling out the Chinese travelers?
The CDC said the lack of accurate data will make it more difficult for federal health officials to identify variants of concern if they arise.
Given that, Kyle Bass makes a good point:
How about submit to a U.S. administered COVID test when they land? Our country can't rely on Chinese test results. #China

— 🇺🇸Kyle Bass🇺🇦 (@Jkylebass) December 28, 2022
As we detailed earlier, Bloomberg reports that Italian health authorities will begin testing all arrivals from China for Covid after almost half of the passengers on two flights to Milan were found to have the virus.
Additionally, in Germany, health authorities are "closely watching" the situation in China, according to Health Ministry spokesman Sebastian Guelde.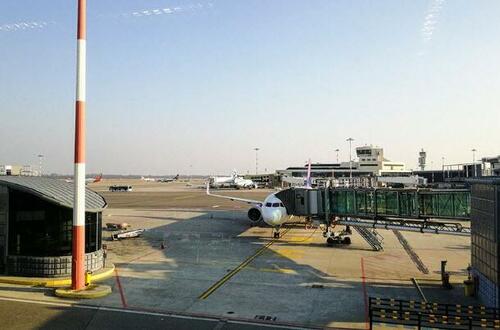 China's National Health Commission announced on Dec. 26 that the country would end all quarantine requirements for inbound travelers from Jan. 8, 2023.
Travelers will need to obtain a negative PCR test within 48 hours of departure, it said. Currently, travelers entering China need to undergo five days of mandatory quarantine in an approved facility, followed by three days at home.
The health body added that outbound tourism, which plummeted to almost nothing during the pandemic, will resume in an "orderly" fashion.
It also removed the cap on the number of international flights to and from China.
Crucially for the rest of the world, as The Epoch Times reports, data from travel sites show that Chinese residents are rushing to book overseas trips.
Chinese travel platform Tongcheng Travel released data on Dec. 27, showing that the number of searches for visas to go abroad increased by 10 times, and the search volume of international air tickets soared by 850 percent.

Japan, Thailand, South Korea, the United States, Singapore, Malaysia, Australia, and the UK were among the most searched destinations.
Sean Lin, a virologist and former lab director at the viral disease branch of the Walter Reed Army Institute of Research, said that the Chinese Communist Party's (CCP) opening up of the country is actually a strategy to get everyone infected not only within China, but around the world.
"When they can't control the outbreak, they push it to the whole world. Just like when COVID first broke out in Wuhan, people who had been infected in Wuhan were allowed to travel around the world. The strategy is the same now as before," he said.
Lin pointed to the regime's lack of transparency amid the latest outbreak, a consistent behavior over the past three years during the pandemic.
"The CCP is not sharing data, and the international community doesn't know how many different virus variants are spreading in China, and whether there are other compound infections," he said.

"Under such circumstances, it is extremely irresponsible for the CCP to let the people out of the country which is a huge epidemic area. Put another way, it has a very treacherous purpose and is very malicious."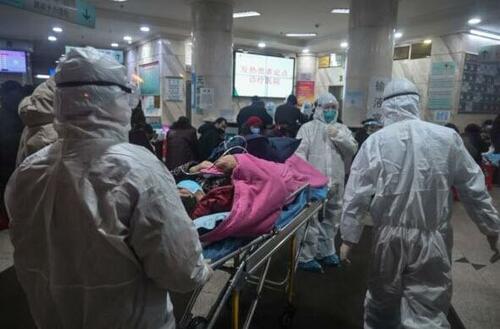 Bloomberg notes that Italy is now sequencing those tests to see if there are new variants coming from China, the Health Ministry said in a statement. If a new strain is found, officials may impose stricter curbs on travel from China.
"We have no indication that a more dangerous mutation has developed in China that would give rise to a declaration of a virus variant area, which would result in corresponding travel restrictions," he added.
Finally, the critical question for the world's liberal globalists – will it be xenophobic again to block Chinese visitors?
From the Daily Mail
This is from Jennifer Zeng
Over 248 Million in China Infected, Outbreak in Beijing Started in Oct & The VIP Queuing Service

Today I will share with you some important numbers of the tsunami of outbreaks in China right now, and what these numbers mean. Then I will talk about some shocking facts regarding the outbreaks revealed by a CCP high-ranking official in Beijing. After that, I will talk about a very moving personal story that has been widely circulated on Chinese social media platforms. For me, just like Fang Fang's Wuhan Diary, it can give us an idea of what kind of state ordinary Chinese people are living in at the moment, during the tsunami of outbreaks. So, make sure you stick around till the end.
COVID-19 Out of Control in China, Reports Estimate 248 Million Infected in 20 Days
There is more than a clue here
Study: Existing Covid strains driving China surge
Wang Guangfa, a respiratory expert from Peking University First Hospital, warned that Beijing may experience a spike in severe COVID-19 cases over the next fortnight.
Chinese health experts have warned that a new wave of coronavirus infections that have hit China may result in new variants, prompting authorities to set up a nationwide network of hospitals to monitor mutations of the deadly virus.
Wang Guangfa, a respiratory expert from Peking University First Hospital, warned that Beijing may experience a spike in severe COVID-19 cases over the next fortnight.
Engulfed by the latest wave, medical resources in the capital city are facing additional stress. The city is set to soon face peak caseload, Wang told state-run Global Times.
Wang said ensuring there is no breakdown in medical resources is a key factor in raising success rates in treating critical COVID-19 cases.
"We must act quickly and prepare fever clinics, emergency and severe treatment resources," he said, adding that the primary action for hospitals is to expand ICU beds.
According to health officials, Chinese cities are currently hit by highly transmissible Omicron strains, mainly BA.5.2 and BF.7, which are spreading like wildfire.
Beijing is hit by the BF.7 variant of the Omicron virus, stated to be the fastest spreading coronavirus, causing havoc in the capital whose hospitals are overcrowded.
Reports also highlight the increasing rush at crematoriums in Beijing and other cities. Beijing has acknowledged seven deaths in the last few days.  
China only counts deaths from pneumonia or respiratory failure in its official Covid-19 death toll, a Chinese health official said.
The narrow definition limits the number of deaths being reported as the virus surges following the easing of pandemic-related restrictions.
Deaths that occur in patients with pre-existing illnesses are not counted as Covid-19 deaths, said Wang Guiqiang, the head of infectious disease at Peking University's No. 1 Hospital.
Chinese people have rushed to book overseas travel after Beijing announced it would reopen its borders next month.
Passport applications for Chinese citizens wishing to travel internationally will resume from 8 January, the immigration administration said.
Travel sites have since reported a spike in traffic.
But Chinese tourists will not have unfettered access to all countries.
Officials in the US are considering new restrictions on travellers from China due to concerns about a surge in cases and a lack of transparency from the Chinese government.
"There are mounting concerns in the international community on the ongoing Covid-19 surges in China and the lack of transparent data, including viral genomic sequence data," US officials said in a statement quoted by news agencies.
"Without this data, it is becoming increasingly difficult for public health officials to ensure that they will be able to identify any potential new variants and take prompt measures to reduce the spread."
Japan – one of the most popular destinations for Chinese travellers – has announced that all travellers from China must show a negative Covid test on arrival, or quarantine for seven days, because of the surge in cases there.
Authored by Sophia Lam via The Epoch Times (emphasis ours),
China, its capital in particular, has been hit hard by the recent wave of COVID-19 that is sweeping the country.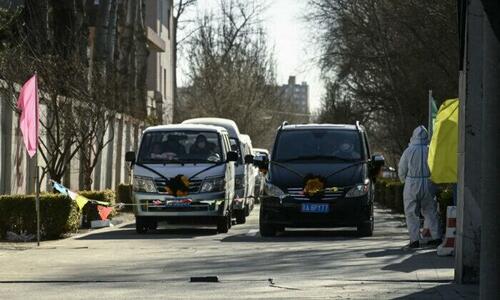 After dozens of professors and teachers from top Chinese universities passed away during the past 30 days, four more prominent Chinese figures have been reported to have died in the three days Sunday to Monday, respectively. They were aged from 39 to 89.
According to Shanghai-based news portal The Paper, Tsinghua University professor Wu Guanying, China Film Art Research Center's former Chinese Communist Party (CCP) secretary Chen Jingliang, former member of the editorial board of Xinhua News Agency Fang Xuehui, and celebrated Peking Opera performer Chu Lanlan all died within the three days.
The Paper wrote that they died of illness after medical treatment failed to help them. The report didn't specify which illness caused their deaths.
Biographies of 4 Scholars and Celebrities
Professor Wu Guanying, who died on Dec. 20 at the age of 67, was a professor of the Department of Information Art & Design at the Academy of Arts and Design of Tsinghua University. He was best known as one of the designers of the Beijing 2008 Summer Olympics mascots. He also participated in the design of many sets of stamps and gold and siver coins of the 12 Chinese zodiac animals, and was the designer of the New Year greeting series stamps.
Chen Jingliang, born in April 1946, joined the CCP in 1979, according to The Paper. He started as a translator at China Film Group Corporation in 1970 and was the former CCP secretary of the China Film Art Research Center from 1994 to 2006 when Chen retired. He was a member of China's Film Censorship Committee, which is overseen by China's National Radio and Television Administration. Chen died on Dec. 19 at the age of 76.
Fang Xuehui was born in December 1933 in Indonesia. He worked for the CCP's mouthpiece Xinhua News Agency's Jakarta regional office in the 1950s and settled down in China in 1966. He was an editor with Cankaoxiaoxi ("Reference News"), published by Xinhua News Agency, which translates and re-publishes articles by foreign news agencies. It was once only available to the CCP's cadres and their families.
Chu Lanlan was born in 1983 and passed away on Dec. 18 at the age of 39. She worked with the CCP's military performing arts troupe to create Peking Opera singing and dancing pieces. She performed in various performances hosted by the CCP's Central TV and Beijing TV.
Over 30 Deaths Reported in One Month at 2 Top Chinese Universities
From Nov. 10 to Dec. 10, a total of 19 retired professors and teachers of China's prestigious Tsinghua University reportedly died amid the most recent wave of the pandemic outbreak, as reported by China's news portal Sina.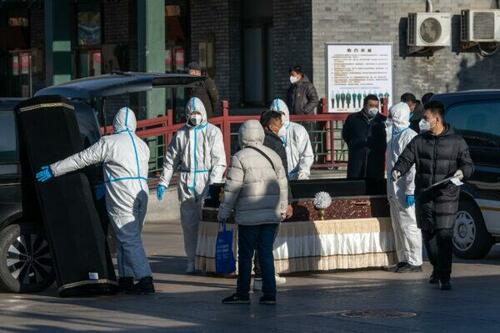 Huang Kezhi, a professor of Tsinghua University's Department of Engineering Mechanics and an academician of the Chinese Academy of Sciences, died on Dec. 6 at the age of 95. Huang, a CCP member, was one of the founders of the Department of Engineering Mechanics, according to The Paper.
Tsinghua University is home to some of the most prominent alumni, including the current CCP top leader Xi Jinping, his predecessor Hu Jintao, and former Chinese premier Zhu Rongji.
On Dec. 11, an article titled "Taking the Protection of the Life and Health of Old Comrades as the Top Priority of the Current Epidemic Prevention and Control" was published on the official website of Tsinghua University, which says three working teams have been set up to guarantee the pandemic control and medical treatment of retired teachers and professors of the university. The article is reposted by Sina, a Chinese digital news portal.
Netizens checked the obituaries published by Peking University from Nov. 6 to Dec. 5 and found that 15 scholars of the university passed away during the period. Among them, 89-year-old Yang Gen, CCP member and professor of the School of Archaeology and Museology at Peking University, died on Nov. 30.
Read more here…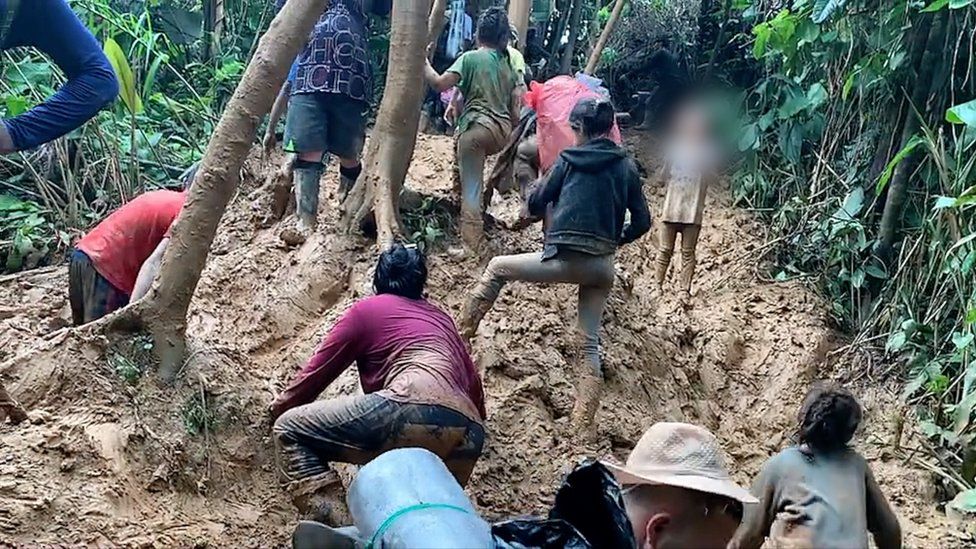 China may be easing some of its severe anti-Covid restrictions but its draconian pandemic policies have driven many citizens to seek a better future elsewhere – whatever the risks in getting there.
Three days into their trek through a Central American rainforest, some 9,300 miles (15,000 kilometres) away from home, the Sun family threw away their camping gear to lighten the load, thinking they would be out by nightfall.
Instead, they were stranded in the jungle by heavy rain.
That night, Sun Jincai, his wife and three children – aged six, nine and 11- squeezed into a small tent they found on the trail, likely discarded by other migrants, like themselves, while trying their best to ignore the cold water seeping through the thin fabric.
"Luckily none of us got sick," said Mr Sun.
It was just one of many perilous steps on their journey from China to the US.
The relaxation in Hong Kong's rules comes after mainland China eased its hardline coronavirus policies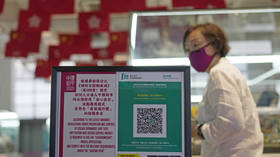 Hong Kong will drop most of its stringent Covid-19 restrictions this week, including a vaccine pass requirement and outdoor social distancing rules, city executive John Lee said on Wednesday. Along with mainland China, Hong Kong was one of the last jurisdictions in the world still pursuing a 'zero Covid' policy.
As of Thursday, Hong Kong residents will no longer have to display proof of vaccination to enter bars, restaurants, and other public venues. Close contacts of Covid-19 patients will no longer have to isolate, and a citywide policy limiting outdoor gatherings to 12 people will be scrapped, Lee told reporters at a press conference.
Incoming travelers will have to submit rapid antigen tests instead of PCR tests, and Lee said that travel between the former British colony and mainland China will resume "before the middle of January."
Mandatory masking, however, will remain in effect throughout the city.
Lee said that a combination of widespread natural immunity and near-total vaccination of the city's more than seven million people informed his decision.
"The city has reached a relatively high vaccination rate which builds an anti-epidemic barrier," he told reporters. "Also we have sufficient and effective medicine, and the community has good experience of three years to protect themselves."
Some 6.7 million Hong Kong residents – 93% of the city's population – have received at least two vaccine doses, per official statistics. However, Hong Kong is currently recording an average of nearly 20,000 cases of Covid-19 per day, the highest spike in new cases since the pandemic began, save for two weeks of up to 65,000 cases in March.
Lee's decision came days after China downgraded its coronavirus response from "'A' level control measures" to the less strict "'B' level" response. As of January 8, Covid-19 patients will no longer be required to isolate, new arrivals to China will not be forced to quarantine, and local authorities will no longer be able to lock down entire communities in the event of a localized outbreak.
No sense of urgency or alert from this Australian government advisory
Latest update:China's State Council has announced new scaled-down COVID-19 measures. The frequency of mandatory nucleic acid testing (NAT) has been reduced. You're no longer required to 'check-in' by QR code or provide recent negative NAT results, except when accessing medical, school, childcare or nursing home facilities. Home isolation will be allowed for asymptomatic, mild cases and close contacts. Negative NATs are no longer required for inter-provincial travel. China's entry requirements and procedures require visitors to have a nucleic acid test prior to departure. You should confirm pre-departure requirements with your nearest Chinese Embassy or Consulate and your travel agency. You'll be subject to centralised quarantine at the first point of entry to China, with an additional period of home health monitoring that will be determined by the local authorities. As previously advised, authorities have detained foreigners on grounds of 'endangering national security'. Australians may be at risk of arbitrary detention
https://www.smartraveller.gov.au/destinations/asia/china
The New Zealand government hasn't even bothered to update its advisory since the 22 Deember!
Recent COVID-19 outbreaks across China have resulted in intensive prevention and control measures. Such measures have included lockdowns, mass testing, stay-at-home requirements, centralised quarantine, transportation disruptions, and other measures. Disrupted access to medical facilities and other essential services has also been experienced.
New Zealanders in China are recommended to prepare for measures being put in place at their location, for example by stocking up on food and medicine and having financial contingencies in the case of stay-at-home requirements.  
Other countermeasures may also be taken as the COVID situation evolves, including flight suspensions and re-routing, with little or no warning. Keep informed of local conditions, particularly if you intend to travel within China.
If you are planning international travel at this time, please read our COVID-19 related travel advice here, alongside our destination specific travel advice below.
Exercise increased caution
We advise New Zealanders exercise increased caution in China (Level 2 of 4).
https://www.safetravel.govt.nz/china
For what it's worth the New Zealand branch of the Chinese CDC (aka. New Zealand MoH) assures us there is nothing to be seen here.
Health officials say those travelling from China to Aotearoa won't have to provide a negative pre-departure COVID-19 test, after the US introduced such a requirement.
United States officials announced on Wednesday (local time) travellers from China will have to provide a negative COVID test result at least two days before travelling.
There is concern in the US about China's lack of transparency surrounding the most recent surge in cases, particularly the absence of genome sequencing information that could help detect new strains of the coronavirus, CNN reported.
The travelling requirement comes into effect on January 5 and follows moves by Japan and India to introduce measures as COVID cases rise in China.
A Ministry of Health (MoH) spokesperson told Newshub based on the Ministry's latest risk assessment of international arrivals, including China, pre-departure testing isn't necessary.
"[International arrivals] do not significantly change the risk of COVID-19 in New Zealand and the current public health measures remain appropriate for managing the pandemic."
Epidemiologist at University of Otago Professor Michael Baker agreed. He told Newshub that even if Aotearoa imported new COVID cases from China, it wouldn't have much, if any, effect on New Zealand's current outbreak.
"The way to change the trajectory of infection in New Zealand is to reduce transmission in this country."
Prof Baker said the risk of new variants being imported to New Zealand from China is an equal risk to any other country.
"There have already been several billion opportunities around the globe [for variants to emerge and spread]."
He added there is no evidence that suggests variants in China are any different from the ones currently circulating.
The MoH spokesperson said the Ministry is "regularly" monitoring global trends in COVID cases hospitalisations, deaths and new varients.
They added if COVID outbreaks in other countries worsen and are cause for concern they will "update our public health advice in response to emerging evidence".
"The Ministry has not advised the reintroduction of testing of international arrivals, but we continue to encourage recent arrivals to get tested if they experience COVID-19 symptoms."
Prof Baker said without pre-departure testing, it is "critical" that Aotearoa's COVID public health measures are followed.
That message was echoed by MoH. They encouraged Kiwis to stay up-to-date with COVID-19 vaccines, including booster vaccinations.
"The current vaccines remain effective at reducing risk of severe disease if you are infected with any of the subvariants currently circulating," they said.
"We also strongly recommend people continue to wear masks in high-risk settings, such as closed or crowded spaces with poor ventilation."
It comes as the number of COVID-19 deaths has increased while cases declined over the past week.
In its latest COVID update on Wednesday, the MoH said there were 32,010 new community cases of COVID-19 and a further 78 virus-related deaths over the past week. One of the deaths was a child aged under 10.
The latest data covered the seven-day period from Monday, December 19 to Sunday, December 25.