Other headlines from the Ukrainian conflict – 9 April, 2021
Other headlines from the Ukrainian conflict – 9 April, 2021
These are some of the other developments.
For what it is worth, I find RT and Sputnik's coverage almost as dissembling as western mainstream media.
We need to look elsewhere to try and discern the truth.
US warships set sail for Black Sea amid stand-off with Russia over military conflict in Eastern Ukraine, Turkish diplomats report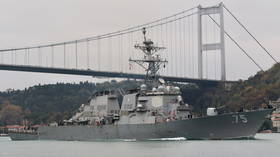 American sailors have set course for the Black Sea, off the south coast of Russia, in a move widely seen as a show of support for Ukraine, where fighting between Kiev's forces and separatist militias has worsened in recent weeks.
On Friday, a source at the Turkish foreign ministry told TASS that it had received a notification from Washington that two US warships would pass through the Bosporus straits and into the Black Sea. Under international law, Ankara controls access to the inland body of water for certain types of vessels, including navy ships.
In accordance with these conventions, Turkish envoys say they "were notified through diplomatic channels 15 days ago that two US warships would enter the Black Sea. The ships will remain there until 4 May," the unnamed official said. The journey will take the crews almost 9,000 miles from the eastern seaboard of America, near to coastal Ukraine and Russia, including the sensitive and disputed Crimean peninsula.
'Stop your saber rattling!' Russia tells US to sail its warships in its own waters, and not jeopardize peace in far-away Black SeaSince then, the vessels have been named by Istanbul-based news network NTV as the USS Roosevelt, an Arleigh Burke-class destroyer, and the USS Donald Cook, a guided missile destroyer that was previously intercepted by Russian jets off the coast of Kaliningrad, in the Baltic Sea.
The maneuver comes amid an escalating military conflict in the East of Ukraine between Kiev's army and separatist forces in the Donbass, who are backed by Moscow. The Kremlin has described the situation as "frightening," and has held talks this week with counterparts in Washington to "explain" the situation.
The US, however, has highlighted "credible" reports of Russian troops massing on the borders with Ukraine, and State Department spokesman Ned Price issued a "call on Russia to refrain from escalatory actions."
On Friday, Vladimir Putin's spokesman, Dmitry Peskov, told reporters that "the situation on the contact line in Ukraine is extremely unstable," he said. "The dynamics of the development of this state of affairs, and the behavior of the Ukrainian side, creates the danger of a resumption of full-scale hostilities."
In the event of an offensive or a further escalation in fighting, "all countries, including Russia, would take measures to prevent such tragedies from happening again," the official said.
In February, Russia warned that US naval exercises in the Black Sea were jeopardizing the stability of the region and could lead to disaster. In response to a group of American warships announcing the drills, Moscow's embassy in Washington said that "it looks like the US 6th fleet can't wait to find an enemy in the Black Sea. It is desperately looking for a pretext – now openly under the banner of warfare exercises – for ramping up presence in the region."
Putin's deadly warning to Erdogan: "You will pay a heavy price if a NATO Fleet comes" – Russia closes the border with Turkey!
Russian analysts: Putin could not be restrained – warns Erdogan
https://warnews247.gr/thanasimi-proeidopoiisi-v-poutin-se-erntogan-tha-pliroseis-vary-timima-an-erthei-natoikos-stoliskos-i-rosia-kleinei-ta-synora-me-tin-tourkia/
Article writer: Vassilis Kapoulas
Dramatic talks took place between Putin and Erdogan as it seems that the time of crisis is approaching for the Turkish president.
Russian analysts point out that the Russian president warned Erdogan in every tone and in every way not to violate the Montreux Treaty and not to cross the Strait NATO Fleet heading to the Black Sea and Ukraine.
Read also
Putin to Erdogan: "Let the US not violate the Montreux Treaty" – Red alert in Britain – War sirens sound in Donetsk
NATO Fleet in the Black Sea
The Russians appear convinced that the US is planning the passage of a NATO Fleet in the Black Sea in support of Ukraine.
That is why US Secretary of State A. Blinken spoke today with his German counterpart H. Maas. Ukraine is a topic of discussion.
The State Department said in a statement that " emphasis was placed on Ukraine's support for a unilateral Russian provocation along the Line of Contact in eastern Ukraine."
Shortly afterwards, US Secretary of State A. Blinken spoke with his French counterpart, Le Drian. Again, the topic of discussion was Ukraine.
A State Department statement said: "The need for Russia to end its dangerous and irresponsible rhetoric and military development in occupied Crimea and along the Ukrainian border has been discussed."
Both announcements speak of "support for Ukraine" and 100% mean military!
Russian analysts: Putin could not be restrained – warns Erdogan
"It seems that the intense diplomatic mobility forced Russian President Vladimir Putin to intervene directly with Erdogan by calling on the phone. But what worried the Russians?
First, Akar's visit to England, which lasted two whole days. He announced that he was talking about the Black Sea.
Secondly, Zelensky's visit to Turkey and meeting with Erdogan tomorrow
Russia closes border with Turkey
Putin decided to warn him at the highest level to stay out of Ukraine, not to hand over other drones to the Ukrainian side, otherwise he will initially pull Russian tourists out of Turkey.
And not in the summer as many think, but immediately.
Specifically, he told him that from April 12, the border will be closed for Russian tourists to Turkey. Officially because of Covid, unofficially because of Ukrainian issue.
As of Monday, there will be restrictions on flights to Turkey for a whole month, with the result that Ankara will lose valuable currency as it is unlikely to see British or European tourists.
At the same time, there is information that it will impose a 14-day quarantine for those citizens returning from Turkey.
The other issues Putin raised with Erdogan were the restoration of the South Caucasus transport corridor in Azerbaijan and the issue of the Minsk Agreements on Ukraine.
What a Russian analyst says
Russian analyst Aleksey Podberezkin reports on the Putin-Erdogan communication:
"Russian President Vladimir Putin reminded Erdogan of the provisions of the Montreux Treaty and stressed security in the Black Sea, that is, exactly what was discussed between Akar and his British counterpart.
In addition, he criticized Ukraine for withdrawing from the Minsk Accords and reminded Erdogan of his role and duty in the Ukrainian crisis.
Why did Putin say that now?
The United States and some NATO countries want to violate the Montreux Treaty in order to have a permanent military presence in the Black Sea. It is Russia's duty not to allow this.
The drums of war sound loud – Which side will Turkey choose?
The Putin-Merkel conversation took place on the sidelines of Akar's meeting with his British counterpart in London during a visit that Russia believes paves the way for a military plan.
Russians know Britain's role during Zelensky's visit to Qatar to fund war against Donbass as well as in Syria
We are reminded of Putin's words, "if battle is inevitable, then drop the first punch." This means that Ukraine is "playing with fire".
If Turkey continues to support Ukraine militarily, then it will face serious economic and military consequences. 5-6 million Russian tourists visit Turkey in summer. Think about the financial losses.
"Finally, remember what the Turks recently suffered in Syria with the blows they received and the losses of their soldiers."
The Russian warning is clear.
Read also
Ugly death of Turks: Kurds "broke" the security perimeter of a Turkish base and sent them to Allah with an anti-tank missile – Watch video
I find this pretty distasteful, really
Should Russia repeat the 08.08.08 war in the Donbass? (OPEN THREAD #8)
9 April, 2021
You know the expression, "better a bad peace than a good war".  This surely sounds true and common sense seems to support this.  But, as with many slogans, it all depends on the meaning of words.
For one thing, Russia has been at war with the Empire for at least since 2017.  You can call that "peace" as opposed to a full-scale convention or nuclear war, but considering the human and material costs of this very real war, I am not so sure that the word "peace" fits.
Next, if we accept that we are already in a costly and ugly war (even if this war is not a full-scale military one), one could reasonably say that "bad" is still preferable to "worse".  But here the assumption is that a transition to an open war would be necessarily worse for Russia.  But is that really true?
In economic and political terms, Russia reminds weaker than the consolidated West.  In military terms, however, it is the opposite (see here for a very good primer on this issue).  Would that then not make sense for Russia to move the confrontation into the mode which favors her?
Furthermore, the notion that now is "bad" and that it will get "worse" if Russia is forced to intervene makes another logically flawed assumption: that if Russia does absolutely nothing things will not become "worse" anyway!
Then, we need to define the concept of "good war".  Thousands of volumes have been written about what a "just" war is and even thousands more about what a "good war" might be.  This is a complex and even philosophical issue which I don't want to discuss now, but I do want to point out the ambiguity of the concept.
There is also a practical reason: seems to me that the time has come again for the West to receive the painful smackdown the West gets from Russia about once every century. Clearly the folks in Germany have forgotten WWII.  As for the US Americans, 99.99999999% of them don't now shit about WWII!.  Maybe all these loudmouths need a, what shall we call it, maybe a not-so-gentle "reminder"?  I would not suggest that if I had ANY hope AT ALL that the Europeans at least remember WWII.  Alas, I have no such hopes left.
So what are we left in the case of Russia vs Banderastan?
I submit that what Russia did in 08.08.08 five day war (in reality only three!) was correct.  She did the following:
Comprehensively disarmed Saakashvili's gangs of thugs in uniform

Guaranteed the safety of both South Ossetia and Abkhazia

Did not engage in a long occupation, take Tbilissi (absolutely correct decision!) or impose another ruler
Russia got the job down, and simply left (with a small contingent left in both South Ossetia and Abkhazia)
Now let's transpose that the the Ukronazi controlled Ukraine:
Comprehensively disarm "Ze's" gangs of thugs in uniform

Guarantee the safety of the LDNR

Not "solve" the Ukrainian crisis for the Ukrainians (that is their job, not Russia's)
Seems to me rather reasonable.  And, besides, just like Georgia, the Ukronazi Ukraine will not recover from that "minimal response" for many years.  In fact, I believe that only by defanging the Ukronazis would guarantee the collapse of Banderastan into several successor states.
There are, of course, major differences between Georgia on 08.07.08 and today's Ukraine, both qualitative and qualitative.  Just one example: the Ukies could attack Russia proper (I said "attack" – I did NOT say "prevail"!) something which Saakashvili could not do.  Still, the fundamental sequence disarm->protect->withdraw is, in my opinion, one worth considering as "good" a war as can be, especially since the "peaceful alternative" might turn out much worse.
So what do you think?  Should Russia repeat the 08.08.08 scenario if the Ukronazis attack?
The Saker
PS: bonus question: check out these two news items:
Question: can you find a logical military rationale for either move and, if yes, which one?
And, indeed, this… despite a crude mistranslation.
Some tend to give the Russians a clean pass with everything they do.
And yet this appears to be the realty. As an Oxford professor said recently on RT, sometimes our enemies can make valid criticism.
After talking to my Russian friend it is clear that there are some pretty ugly things happening in Russia,
I'm getting pretty tired of black-and-white thinking – one side is wrong so the other must be right.