New Zealand headed for trouble: delivered with a happy, upbeat tone of course!
New Zealand headed for trouble: delivered with a happy, upbeat tone of course!
I have adopted a rather acerbic tone here as befits the circumstances. The usual reponce of New Zealanders would be, "if you don't like it here go somewhere else!"

I am a bit irritable and I have bit of a problem with people in my country today.
While people in other countries can get very worked up and melodramatic New Zealanders have a habit of just ignoring what they don't want to hear and talk about Armageddon with an upbeat tone. I
f you don't believe me just do down to the video on drought conditions below. Even those who ARE engaged can only engage with one thing at a time and either "move on", ignoring everything else.
It is the disease of the activist.
There is a reason why I refer to New Zealanders as "little Hobbits"
The insularity of New Zealanders used to have a charming quality to it – no longer!
Yesterday, I produced my report on New Zealand debt that, I have no doubt will have elicited more interest than in the countries
I continue that here.
This is the image that we like to present to ourselves and to the rest of the world – in fact we "SELL" it
NZ's 'trusted' reputation is one of our greatest assets
New Zealand is first equal in the Transparency International Corruption Perception Index, second in the International Civil Service Effectiveness Index and third in the 2020 World Economic Forum Global Competitiveness Report. We're also recognised globally as the easiest country to do business in.
So not only do New Zealanders trust their government, foreigners do too.
"New Zealand Government to Government (NZ G2G) SELLS (sic) New Zealand's reputation along with its specialist intellectual property to foreign governments"
It is all, of course public relations tripe.
This is what goes for news today
The Lake Dunstan Trail in Central Otago has officially opened this morning.
"The region looks greenish but soil moisture levels are sitting at about 27 percent of normal for the time of year"
https://www.rnz.co.nz/programmes/regional-wrap/story/2018794596/on-the-farm-a-wrap-of-farming-conditions-around-nz
Over to the social and ecomomic sphere – more indications that all is far from rosy in Aotearoa. We like to persuade ourselves that everything is "hunky-dory" but the following news plus what I reported on our debt problem indicates that it is not. Last year the government started printing money as if there as no tomorrow and NOBODY (but nobody) had a word of criticism. 
I would say there are indications that a few chickens are coming home to roost.
A PAY FREEZE FOR ALL PUBLIC SERVANTS, EXCEPT PRIVATE CONTRACORS
Public servants' pay is being frozen for three years, but not the rates the sector pays to thousands of contractors and consultants.
A freeze directive the Public Service Commission issued earlier this week does not mention contractors, who can seek an increase every two years if it is "reasonable and justified".
By contrast, public servants on more than $60,000 must now prove "exceptional circumstances" to get a rise. Those on more than $100,000 will get no raise for three years.
Public Service Minister Chris Hipkins said the government was keeping an eye out to make sure contractor rates did not go up.
That meant no pay rises for those on more than $100,000 and something close to a freeze for anyone on more than $60,000, with payrises only approved in very exceptional circumstances.
The move covers core Government departments as well as health workers. More autonomous entities like the police and Defence Force also must take the guidance into account.
One senior public servant said the fact workers found out about the freeze in the news was unacceptable.
Unions are worried that doctors and nurses will move to Australia following the government's freeze on public sector salaries.
Under new government rules, three-quarters of people working in the public sector are unlikely to get a salary bump until at least 2024.
No government employee earning over $100,000 a year will get a pay rise until 2024. And those with salaries with between $60,000 and $100,000 will need to prove exceptional circumstances.
It's not only bureaucrats in Wellington – it includes border workers, hospital staff, prison guards and social workers.
Sarah Dalton of senior doctors' union The Association of Salaried Medical Specialists said it was a poor decision by the government.
MORE NEO-LIBERAL REFORMS AS THE GOVERNMENT PLANS TO TAKE WATER INFRASTRUCTURE OFF LOCAL COUNCILS
Experience from New Zealand as well as overseas shows that this is a prelude to further privatisation and I would hazard a guess that our water will be sold to overseas corporations at the usual low cost our infrastructure always has been.
History shows that governments never listen to either local government, let alone the people.
It will be a done-deal.
New Zealand is set to be divided into about four large regions where new publicly-owned agencies will take over responsibility for our drinking water, wastewater and ultimately stormwater. It is the biggest local government shake-up since the amalgamations of the 1980s.
The threat of losing control of drinking water supplies has southern councils concerned that ratepayers would be left high and dry by the move.
The Havelock North inquiry released the second stage of its report into drinking water in New Zealand in December.
One of the most contentious recommendations was for the government to "make a decisive and definitive assessment" on whether to strip councils of responsibility for drinking water and creating a dedicated independent water supplier to manage these instead.
Invercargill mayor Tim Shadbolt said the council was "quite alarmed" about the recommendation.
As always, there will be flowery language about "efficiency" and "having a real national health system" but that will be code for what is really happening – taking control away from the districts and centralising it.
Don't think that quantitative easing (i.e. money printing) is going away.
DIVIDING THE NATION WITH A U.N.- INSPIRED PROGRAM
I apologise for the all-caps. That is not me. It is the formatting and I cannot get rid of it.
For my entire life I have been in favour of bringing justice to our indigenous population. Previous governments have been happy to hand out large amounts of compensation to iwi (the tribes) for having their land stolen while delivering very little to the poor of either ethnic background. Now as nations are being splintered and populations are set, one upon the other for nefarious purposes ("divide-and-conquer") the New Zealand government is discussing a UN-inspired program that would lead to separatism. But we are not living in normal times! 
Perhaps the answer is to send the white populations of various countries back to Britain where they came from.
Perhaps, while we are at it we should send the Norman conquerers of Britain back to France, and so on?
Basically anything to pit groups against each other, it seems.
He Puapua report: Māori Development Minister wants public buy-in
Concerns about the He Puapua report – on how to better uphold indigenous rights – are being dismissed by Minister for Māori Development Willie Jackson.
Jackson has prepared a draft paper, setting out the next steps the government could take in response to He Puapua, which he says will go to Cabinet soon.
He Puapua was handed to former minister for Māori development Nanaia Mahuta in 2019 and suggests the establishment of a separate Māori parliament or upper house and a separate court. The government has never released the full report publicly and, because it has never been to Cabinet, it has not agreed a position on it.
The National and ACT parties were unimpressed, saying the report was separatist and divisive, but Jackson said it that was not the case.
"There's a big process to go through still, as you have heard. We had our treaty minister Andrew Little say he hasn't even read it so I've got a big process to go through. I've got to circulate this with Cabinet and after that we have to lay down a strategy in terms of the public.
"We want the public buying into this, this is about what we are going to do in terms of the country, the future, what's the partnership like? What are indigenous rights about? So there's so much to do. It's not about just circulating a document…
"We have to be responsible, we will be responsible and every New Zealander will get a say in this."
Jackson wanted to make it clear He Puapua was not a government report.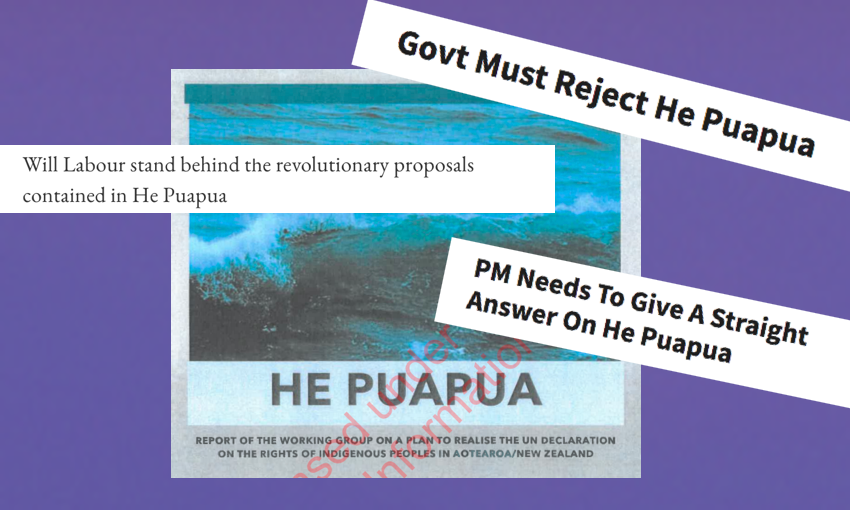 A report designed to respond to the UN declaration on the rights of Indigenous peoples is causing controversy here in Aotearoa. But what does He Puapua actually say?
In 2019 a government working group was tasked with creating a plan to realise the UN declaration on the rights of Indigenous peoples (UNDRIP) here in New Zealand. The resulting report, He Puapua, has been described as a roadmap to achieving Vision 2040, the year by which it hopes the report's objectives are achieved. The year 2040 also marks the 200th anniversary of the signing of Te Tiriti o Waitangi.
The reason for all the fuss is the perceived obfuscation of the report – despite being received by then minister for Māori Development, Nanaia Mahuta, in 2019, it hasn't been released by cabinet and is only circulating now after it was released under OIA last month. Since then, National Party leader Judith Collins has used it to stoke fears over separatism, claiming it will create "two systems by stealth".
But what is the report, and why all the controversy?
Generally, I can't abide Terry Opines – he is genuinely right wing but even people like Terry can provide some context.
It is all about the times we are living in.
The problems I have are illustrated by this. My partner, Pam shared this with a "sharers'" group on social media, in response to an query but received no response, let alone interest to what is a very important thing – an Open Banking policy of the central bank that would confiscate savings in the case of a bank collapse.
In part, that illustrates that people can only concentrate on their latest obsession, but It also illustrates an aspect of the New Zealand psyche, brilliantly described in Gordon McLaughlan's book "the Passionless People".
It is the Tall Poppy syndrome to which all our great intellectuals and artists have fallen prey to, which explains why most have to move off shore.
We will listen to people from "overseas" (that expression has a special meaning for insular Kiwis) till the cows come home but any one who has the temerity of putting their head above the parapet are seen as being a bit "uppity".
Those people have to be brought down to the lowest common denominator.
Open Bank Resolution (OBR) is a long-standing Reserve Bank policy aimed at allowing a distressed bank to be kept open for business, while placing the cost of a bank failure primarily on the bank's shareholders and creditors, rather than the taxpayer.
Lastly, I would like to mention this video which has been making the rounds with a headline that is as deceptive as any MSM headline.
New Zealand has made the Coronavirus vaccine mandatory, with a $4,000 fine or even prison as punishment.
The headline is totally false. It would have been accurate IF it said New Zealand has made the Coronavirus vaccine mandatory for border workers.
But we are living in a country that any opposition movement splinters with the attitude, "MY movement is better than YOUR movement. That, together with the unbelievable level of complacency and credulity of the New Zealand public might explain why protests only ever attract a tiny number of people and are so easily dismissed by government and media.