Media coverage of events in Palestine from RT
Media coverage of events in Palestine from RT
'Civil war': Israeli mayor laments 'Kristallnacht' as Netanyahu sends troops to Lod, gripped by rioting & clashes
As IDF jets bomb Gaza and Palestinian militants fire rockets into Israel, the city of Lod has erupted in violence its mayor compared to a Nazi pogrom. PM Benjamin Netanyahu is pulling troops from the West Bank to restore order.
"This is Kristallnacht in Lod," Yair Revivo told the Times of Israel on Tuesday evening, referring to the notorious 1938 pogrom against Jews in Nazi Germany, and adding, "there's been nothing like this in the history of Israel."
Lod is a historic city about 15 kilometers southwest of Tel Aviv. About a third of its population is made up of Israeli Arabs. On Tuesday, as Hamas and Islamic Jihad groups fired rockets at Israel from Gaza and the Israeli military bombed the strip, Led descended into riots and violence.
"Every minute, a car or a synagogue or a school is going up in flames… Our new city hall was broken into and set alight," Revivo told the outlet. "Synagogues are being burned. Hundreds of cars set alight. Hundreds of Arab thugs are roaming the streets… Civil war has erupted in Lod."
All the work we have done here for years [on coexistence] has gone down the drain.
Revivo said the local community was being incited by "Islamists" and called the riot an "intifada" – a Palestinian term for an uprising against Israel. The "Orthodox-nationalist" Jews in the city had guns and were willing to use them, he warned, calling for the government to declare an emergency and send in the troops to restore order, as the situation has become "too big for police."
You don't understand what's happening here. This is worse than the missiles from Gaza.
ALSO ON RT.COMIsraeli TV reports DIRECT HIT on Tel Aviv building as Palestinians launch 'hundreds' of rockets from Gaza (VIDEO)Hamas and Islamic Jihad, which control the Gaza Strip, have fired hundreds of rockets at Israel since Monday, while Israeli jets bombed the Palestinian enclave. At least two Israelis have been killed and over 30 were injured in the rocket attacks, while Palestinian officials reported almost 30 deaths and more than 150 people injured in Gaza. 
Just before midnight on Tuesday, Israeli Prime Minister Benjamin Netanyahu announced that border battalions from "Judea and Samaria" – Israeli term for the West Bank – will be redeployed "immediately" to "restore law and order in Lod and all parts of the country." A state of emergency was declared in the city as well
There were reports of riots in other Israeli cities, however – from nearby Ramle to Acre, Haifa and Nazareth in the north.
All of these places have been part of Israel since it declared independence in 1948 – unlike the West Bank and Gaza, which had been annexed by Jordan and Egypt, respectively, and came under Israeli control after the 1967 war.
The declaration of emergency in Lod is significant, because it is the first time Tel Aviv has invoked these powers against an Israeli Arab community since the military administration over them was lifted in 1966.
Hamas and Islamic Jihad, which deny Israel the right to exist in any borders, launched rockets on Monday after clashes between Israeli police and Palestinian protesters outside the Al Aqsa mosque, on Jerusalem's Temple Mount. The protests were over a decision by an Israeli judge to evict several Palestinian families from the Jerusalem neighborhood of Sheikh Jarrah, in favor of Israeli settlers.
Gaza tower block COLLAPSES after Israeli airstrikes respond to Hamas rockets – reports (VIDEOS, PHOTOS)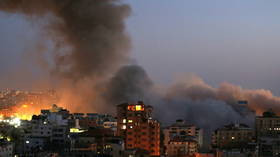 A 13-story tower in Gaza has been leveled to the ground, reportedly after it was hit by missile strikes from Israeli warplanes amid the ongoing conflict between Israeli forces and Palestinian militants, according to local media.
In online footage purporting to show the destruction of the residential block, explosions could be seen before large plumes of black smoke rose up and the tower collapsed.
The Jewish Press reported that two "dummy missiles" had been fired at the Hanadi Tower in Gaza City at around 7:30pm local time in an apparent warning of an incoming strike.
The newspaper also claimed those inside the building had received text message warnings from the Israel Defense Forces to evacuate.
The Alquds Alarabi newspaper reported that nearby houses had been damaged by the blasts. There have been no reports of casualties.
Arab media outlets linked the tower incident to a message that Abu Ubaida, a spokesman for the Palestinian militant organization Hamas' armed wing, posted on his Telegram channel warning Israeli forces against targeting civilians.
 Netanyahu vows to step up 'might and frequency' of Israel's attacks on GazaIn recent weeks, tensions between Israelis and Palestinians have grown over the eviction of Palestinian families in East Jerusalem, but the situation descended into major violence on Monday, when Hamas fired rockets from Gaza towards Israel.
The Israeli military then conducted several airstrikes against alleged Hamas targets across Gaza.
The Palestinian Health Ministry has reported 28 deaths, including of 10 children, and 152 people as having been injured, since the outbreak of violence began this week.
Israeli media has said two women were killed by rocket fire in the southern city of Ashkelon.
Israeli TV reports DIRECT HIT on Tel Aviv building as Palestinians launch 'hundreds' of rockets from Gaza (VIDEO)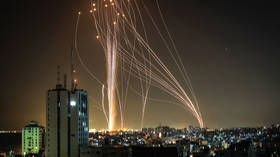 Palestinian militants in Gaza have fired over 100 rockets at Israel following the destruction of a residential tower block. Israeli media reported that a building in the Tel Aviv suburb of Holon has been hit.
According to regional media, at least 130 rockets have been fired from Gaza on Tuesday evening, targeting Tel Aviv and other Israeli cities. Al-Qassam Brigades, the military wing of Hamas, launched "hundreds" of rockets, the Gaza-based Shehab news agency reported.
Palestinians said the barrage is a response to the destruction of Hanadi tower, a residential complex in Gaza, by Israeli bombardment earlier in the day.
"If the enemy persists and bombs civilian towers, Tel Aviv will be on a date with a harsh missile strike that exceeds what happened in Ashkelon," Al-Qassam spokesman Abu Ubayda said on Tuesday, according to local media.
Hamas claimed to have killed two Israelis and injured many more in rocket strikes on Ashkelon and Ashdod earlier in the day. Meanwhile, the ministry of health in Hamas-run Gaza reported that 28 people have been killed – including 10 children – and 152 were injured in Israeli bombings as of Tuesday afternoon.
RT's Paula Slier reported that the strike on Holon, a southern suburb of Tel Aviv, hit a bus.
Israeli Channel 12 showed black smoke billowing over Tel Aviv, while a photo of a burning bus has also made rounds on social media. 
A video from Holon also captured the moment of the explosion.
Another rocket reportedly hit the suburb of Rishon Letzion, further south. All flights have been suspended at Tel Aviv's Ben Gurion International Airport, and planes are being diverted to Cyprus, the Civil Aviation Authority said.
The government in Tel Aviv has confirmed that two people were killed in Ashkelon and more than 30 wounded across southern Israel, as the Iron Dome missile defense apparently struggled to cope with the sheer volume of rockets from Gaza.
Prime Minister Benjamin Netanyahu said that air strikes against Gaza will be increased in "both strength and frequency" due to the rocket barrage that began Monday.
Hamas and other groups in the Gaza Strip began launching rockets after Monday's blaze outside the Al-Aqsa mosque on Jerusalem's Temple Mount. A tree caught fire amid clashes between Israeli police and Palestinians protesting evictions from the Jerusalem neighborhood of Sheikh Jarrah.
WATCH: Huge BLAZE at Israeli oil pipeline reportedly hit by rocket strike from Gaza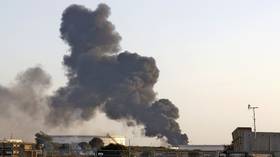 An energy pipeline between the Israeli cities of Eilat and Ashkelon has been hit by a rocket fired from Gaza, setting a large oil tank on fire for several hours, according to the Channel 12 TV broadcaster.
Videos purportedly of the blaze showed huge flames coming from what appeared to be a large oil tank, with the first reports of the incident emerging on Tuesday afternoon.
Firefighters tackled the fire in the coastal city of Ashkelon, according to local media, while Haaretz reporter Almog Ben-zikri later said he had been informed by the oil company operating the pipeline that the fire had been extinguished and the situation had "returned to normal."
In the latest exchange of heavy fire, Palestinian militants have launched over 100 missiles into Israel from Gaza since Monday, with Israel's military carrying out retaliatory air strikes, reportedly levelling a tower block in Gaza City on Tuesday.
RT and much of the Russian media is pretty pro-zionist but I have never seen them to do something like this: