Comrade nurse Jacinda to vaccinate the children
Comrade nurse Jacinda to vaccinate the children
And another panic in the capital.
Medsafe is the bureaucracy that approves medicines; it always approves any applications from Big Pharma and warns about natural remedies that really are safe and effective
New Zealand's medicines regulator has given the provisional tick for kids as young as 12 to get the Pfizer/BioNTech vaccine for COVID-19.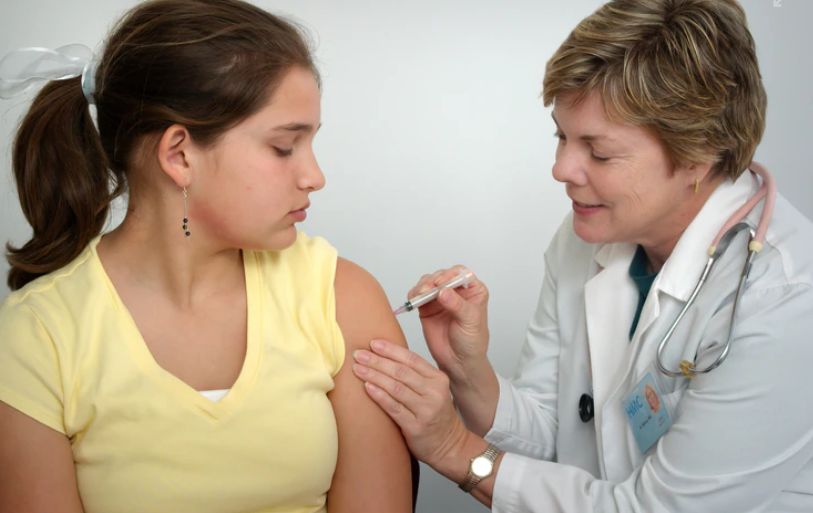 Prime Minister Jacinda Ardern said today that there are around 265,000 children in the 12-15 age group. The move follows similar approvals in places like Europe, the US, and Canada.
The SMC asked experts to comment on the news.
Professor Michael Baker, Professor of Public Health, University of Otago, Wellington, comments:
"This approval extends use of vaccine to youth aged 12 to 15 years, conditional on Pfizer providing further data from its clinical trials. Vaccinating children in this age group, and eventually down to infants, is important for any population hoping to reach sufficient vaccine coverage to largely interrupt circulation of the Covid-19 virus. While children only rarely get serious ill or die from this infection, they are important in the spread of the virus. Vaccinating them will protect the children themselves, and those around them, including grandparents and others who are vulnerable to serious outcomes.
"Overseas, the use of Pfizer vaccine has already been approved for children aged 12 to 15 years in several countries and regions, including the US and EU, and several million teenagers have already been vaccinated.
"This approval has little immediate effect in New Zealand as the vaccine roll-out underway here will not reach children of this age until late in 2021. By that time it is likely that vaccine use will be approved for even younger age groups as trials are currently underway vaccinating children down to 6 months of age. It is obviously important to test safety and efficacy in all groups prior to widespread administration.
"There is an ethical issue with vaccinating children in high income countries like New Zealand. The WHO has urged high income countries to instead donate supplies to low-income countries (through the global fair-access scheme Covax) ahead of vaccinating children and teenagers."
No conflict of interest
Dr Hiran Thabrew, Child Psychiatrist and Paediatrician, The Werry Centre, University of Auckland, comments:
"This will be a relief for many parents and provide an increased sense of security for young people to be at school and travel overseas. However, given the slower-than anticipated vaccine rollout, it may also increase the public's worries about whether the supply is adequate to meet the demands of a larger pool of individuals. The proposed age-related banding system will be even more important to ensure that the vaccination of more vulnerable older people in the community is not further delayed."
No conflict of interest
Professor Michael Plank, Te Pūnaha Matatini and University of Canterbury, comments:
"It is very good news that Medsafe have now given approval for the Pfizer vaccine to be used in 12–15-year-olds. This approval is based on solid data showing the vaccine is safe and highly effective for this age group. The final decision to make the vaccine available to 12–15-year-olds will now be taken by Cabinet. If Cabinet approve this, then most 12–15-year-olds will become eligible for vaccination towards the end of the year, after older groups have had their turn.
"Although children are at lower risk of serious illness or death from Covid-19 than older people, it is still essential to vaccinate them for two reasons. Firstly, if children catch the virus, they can spread it to other people, including higher-risk groups or people who can't be vaccinated for medical reasons.
"Secondly, although the risk of death is very small, children can still suffer significant long-term health complications as a result of Covid-19, often known as Long Covid.
"Vaccinating children will be an important part of maximising our collective immunity against Covid-19. The higher we can get this collective immunity, the more options we'll have for safely allowing international travel to resume."
Conflict of interest statement: "I am partly funded by MBIE for research on mathematical modelling of COVID-19."
Dr Emma Best, Medical Advisor,  Immunisation Advisory Centre, University of Auckland, comments:
"The provisional licensing of the Pfizer mRNA vaccine is good news, showing the safety and efficacy of this vaccine in children 12- 15 years. It gives NZ some choices to make about when to consider this vaccine for children in the future. At present, ensuring those most at risk of COVID disease are protected means getting the vaccine out to all adults and older teenagers first as outlined in the roll out groups 1-4.
"For the health of Aotearoa/New Zealand tamariki, children need to continue to receive on-time vaccinations against all the routine diseases of childhood that protect them from diseases like whooping cough, measles and meningitis. School immunisation programmes also have important work to do ensuring the HPV vaccine against cervical cancer and booster tetanus and whooping cough vaccines are delivered for all
"As COVID-19 disease is much less severe in children, and appears to be less commonly acquired and transmitted by young children, it is likely there will need to be a considered approach to how to best to apply vaccination in children aged 12-15 years to help protect them and the community."
Conflict of interest statement: "I work as a medical advisor to the Immunisation Advisory Centre in addition to my specialist clinical/hospital work and as a senior Lecturer, University of Auckland Department of Paediatrics; Child and Youth Health. I am a member of the PHARMAC anti-infectives subcommittee."

Professor Kurt Krause, Infectious Diseases Physician; Professor of Biochemistry, University of Otago, comments:
"This is quite good news as the mRNA vaccines are clearly the best performing option against SARS-Cov2. The only slightly cautionary news is that small numbers of young people, mostly boys and men between age 16 and 30 may be developing, again in very small numbers, inflammation of the heart known as myocarditis and in some cases, pericarditis following mRNA vaccination.
"From the vaccine adverse reaction data base in the US there have been 573 cases of myocarditis following the second dose of an mRNA vaccine. Within this group 196 cases of myocarditis or pericarditis were found to occur following 10 million doses of mRNA vaccines which had been administered to 18-to-24-year-olds, which is reported to be about 2 to 20 times what would have been expected to occur naturally in a group of this size. It is important to note that no causal link has been established.
"And there, in fact, may be no link. It's also good news is that numbers of cases are very small, and the symptoms have generally been mild.
"At this point the risk appears to be very small and the benefit from vaccination exceeds this risk. But given that there is not a lot known about the incidence of this issue in much younger children i.e., 12-15 year olds, as not many have been vaccinated, watching the data from this group would be a good idea."
Here is latest panic. The question I would ask is if this ONE case was vaccinated or were they just tested with all 40 cycles.
An Australian traveller who visited New Zealand at the weekend tested positive for Covid-19 on their return to Australia, and most likely contracted the virus before flying across the Tasman, the Ministry of Health said.
The New South Wales health authority issued an alert late on Tuesday about two flights between Wellington and Sydney linked to the case.
It said passengers who were on one flight into Wellington, and one flight back to Sydney last weekend, are considered close contacts of a Covid-19 case.
The flights were Qantas QF163, which left Sydney at 7.05pm on Friday 18 June and landed in Wellington at 12.12am on Saturday; and Air New Zealand NZ247, which left Wellington at 10.13am on Monday 21 June, arriving in Sydney at 11.33am.
The Australian state's health authority is urging anyone who was on those flights to get a Covid-19 test, and to self-isolate for 14 days, regardless of the result.
New Zealand's Ministry of Health said stage four close contacts had been identified and are isolating. The ministry said it would advise sites of interest that were visited in New Zealand as further contact tracing is undertaken.
Based on the time of the onset of symptoms and the CT score it is most likely the person had contracted the virus in Sydney before to their visit to New Zealand, the ministry said.
The Ministry of Health's contact-tracing team has been in touch with the airlines about contacting passengers on the two flights to provide advice.
This is the first time an Australian traveller has brought Covid-19 to NZ, and since gone home, the ministry said.
Genome sequencing was underway in Australia to see if the case is linked to the current outbreak in Sydney.
Quarantine-free travel from New South Wales to New Zealand had already been temporarily suspended due to the rising case numbers in Sydney, and will last at least 72 hours.
The Australian state yesterday recorded 10 new cases of Covid-19, and health authorities announced new exposure sites there.
Check latest locations of interest in Sydney on the NSW Health site.
The latest surge in cases in the Sydney Bondi cluster led NSW Premier Gladys Berejiklian to extend the state's mask mandate for all indoor public venues to midnight Wednesday 30 June.
Local government areas of Wollongong and Shellharbour, which had compulsory masks for public transport, would be subjected to the same mask rules as Sydney.
The Westfield Bondi Junction shopping centre continued to be the main area of concern to health authorities on Tuesday.
New Zealand health authorities have urged travellers from the state who have been to a location of interest at the times listed to call Healthline, and isolate themselves until they can be tested for Covid-19 and then return a negative result.
Air New Zealand said the pause on quarantine free travel from Sydney meant 28 flights were cancelled over the next 72 hours.
Director-General of Health Ashley Bloomfield says health authorities are considering a possible lockdown in the capital after a visitor from Australia tested positive for Covid-19.
Dr Bloomfield told Morning Report that it is one option being looked at.
"Everything is on the table," he said.
He revealed the Sydney Covid-19 case was with his partner and has four close contacts.
Meanwhile, the Ministry of Health has released locations of interest.
For the latest propaganda GO HERE