Update(2:53pmET): President Biden ended the some five to ten minute or less in length speech in which he stumbled quickly through the teleprompter words (even more than usual awkward reading and emotionless stumbling through) by emphasizing "hope" that diplomacy is still an option. But throughout the address he repeated multiple economic "threats" against Russia which had already been on the table. 
While he avoided asserting that an "invasion" has already taken place, he opted for the phrasing that Putin is "setting up for an invasion" – which if accomplished will result in severe US sanctions "far beyond 2014". Biden prefaced this by saying the US believes Russia will "extend deeper" beyond the Donbas.
Biden introduced the "first tranche of sanctions to impose costs on Russia" which includes "implementing full blocking sanctions" on two major banking institutions, including a key military bank. He also unveiled sanctions on Russia's sovereign debt, and previewed punitive measures on certain Russian elites and their family members. 
He again stated that his administration will "work with Germany to ensure Nord Stream 2 will not, as I promised, move forward" – coming hours after Berlin said it's halted the certification process for the Russia to Germany natural gas pipeline. 
"If it continues its aggression, we will impose a steeper cost," Biden pledged, while also focusing the latter part of the speech on what these tensions and escalation might mean for Americans and global energy supplies. "I want to limit the pain that the American people are feeling at the gas pump," he sought to assure, repeating that the White House is working with global partners and energy companies toward a "collective investment to secure global energy supplies."
Biden briefly addressed a military-level response to Russia's "aggression" – emphasizing that the US is reacting with only "defensive moves" and saying that "we have no intention of fighting Russia."
RUSSIA'S MOEX INDEX UP 5.9% IN LATE TRADING AFTER BIDEN SPEAKS
He said the US would only directly intervene in defense of "every piece of *NATO* territory" – while also repeating charges that Russia has sponsored "false flags" in Donbas in order to establish a "political provocation of recognizing sovereign Ukrainian territory." He said US weaponry will continue to be transferred from Baltic allies into Kiev.
He ended by stressing that "there is no question that Russia is the aggressor" but it remains that there's still time to avert the "worst case" scenario. 
And as for the Kremlin response…
KREMLIN DID NOT WATCH BIDEN'S SPEECH ON UKRAINE, PUTIN HAS WORKING MEETING NOW – RIA CITES KREMLIN SPOKESMAN
* * *
President Biden is expected to address the Russia-Ukraine crisis hours after Russia's parliament approved Putin's request to deploy troops abroad, and after earlier in the morning a White House national security official called Moscow's recognition of Donetsk and Luhansk independence "an invasion". Biden is scheduled to speak at 1:00pmET during which time 'significant' new sanctions against Russia are expected to be introduced. 
LIVE FEED (due to start at 1300ET… but don't hold your breath):
And less than an hour prior to the start of Biden's remarks where he's expected to announce implementation of a new sanctions package targeting Russia, Putin issued further security demands of the West, calling for "recognition of Crimea as part of Russia, halt to weapons shipments to Ukraine, end to Ukraine's NATO bid," according to The Associated Press.
Putin also addressed reporters after the treaties with Donetsk and Luhansk were signed. Speaking of the breakaway pro-Russia republics, he said:
"We have recognized them, which means that we recognize their basic documents, including their constitutions. Those constitutions set the boundaries as those of the Donetsk and Lugansk regions from the time they were a part of Ukraine."
Putin also said the Minsk agreements were already effectively dead. "Yes, of course, now the Minsk agreements do not exist. So why should we implement them if we have recognised the independence of [the DPR and LPR]," Putin said to reporters.
NATO Secretary General Jens Stoltenberg responded by telling allies at a briefing that Russia has gone "from covert attempts to destabilize Ukraine to overt military action."
"Moscow has now moved from covert attempts to destabilize Ukraine to overt military action. This is a serious escalation by Russia, and a flagrant violation of international law," Stoltenberg said at a news conference in Brussels following a meeting of the NATO-Ukraine Commission.
Below is a summary by USA today on some of the latest:
President Joe Biden will talk at 1 p.m. from the East Room of the White House.
A US national security official called Putin's actions 'the beginning' of 'Russia's latest invasion' into Ukraine, adding that diplomacy is now more difficult.
The White House is expecting to lay out new sanctions on Tuesday in response to Putin's actions, following a ban on investment in Russian-backed separatist regions Donetsk and Luhansk.
Russian lawmakers have approved President Vladimir Putin's recognition of the independence of two eastern Ukraine provinces.
In a significant move, Germany will stop certification of the Russian-owned Nord Stream 2 gas pipeline. 
The UN Security Council met late Monday in an emergency session, with many members condemning the Kremlin's actions.
Also important is that the EU'S Josep Borrell confirmed that Putin is not currently on the EU sanctions list under preparation. 
It will be interesting to see his word choice which is to characterize the nature of how the White House views Russian actions – whether "invasion" or "incursion" – or something which stops short of both. Meanwhile, via news wires:
MILITARY CONVOY OF MORE THAN 100 TRUCKS WITH SOLDIERS SEEN ON ITS WAY TOWARDS UKRAINIAN BORDER IN RUSSIA'S BELGOROD REGION – WITNESS
This as Russian media has noted something that's perhaps ominous in the approval for troop deployment, related to the prospects of broader war:
The resolution did not impose any specific limits on the use of the military, with the number of troops, as well as "the areas of their activity, their goals, and length of stay outside Russia" to be decided by the president "in accordance with the Constitution."
As Reuters' language suggest, now the term "further invasion" seems in favor… "If Russia further invades Ukraine, the Biden administration could deprive it of a vast swath of low- and high-tech U.S. and foreign-made goods, from commercial electronics and computers to semiconductors and aircraft parts, people familiar with the matter told Reuters."
Two notable events late in the day Tuesday strongly suggest further escalation is on the horizon. First, US Secretary of State Antony Blinken has announced he canceled his planned meeting with Russian Foreign Minister Sergey Lavrov which had for days been set for Thursday.
He cited as reason for the cancelation Russia's "invasion" of Ukraine. He said this invasion is in progress due to the Kremlin authorizing troops to go into the two breakaway republics of the Donbas region. "Last week, I agreed to meet Russian Foreign Minister Sergey Lavrov this week, on Feb. 24, to discuss our country's respective concerns about European security. But only if Russia did not invade Ukraine," Blinken said while standing alongside his Ukrainian counterpart FM Dmytro Kuleba.
Russia Evacuates Diplomats From Ukraine In Ominous Sign
The Russian Ministry of Foreign Affairs has announced its decision to evacuate its diplomatic staff from the embassy in Ukraine and three consulates across the country, citing "threats of physical violence."
"Since 2014, the Russian Embassy in Kiev and the Consulates General of our country in Odessa, Lviv and Kharkiv have been subjected to repeated attacks," the statement indicated. Pundits in the West are seeing in this an ominous sign that Russia could take its military operations beyond the Donbas region. This also as the White House on Tuesday morning began calling Putin's independence declaration as start of "an invasion".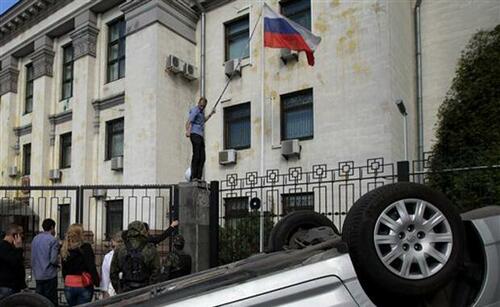 "Provocations were regularly staged against the Russian Center for Science and Culture in Kyiv, harm was caused to the health of its head, and damage was also caused to the property of the Center. Russian diplomats also became objects of aggressive actions. They received threats of physical violence," the foreign ministry statement said.
"Their vehicles were set on fire. Contrary to their obligations under the Vienna Conventions on Diplomatic and Consular Relations, the Kyiv authorities did not react to what was happening," it continued. 
The timing of the move came immediately after Russia's Federation Council gave formal approval for Putin to legally exercise the right to deploy troops abroad, and after that there were reports of convoys moving toward the border with the breakaway republics of Donetsk and Luhansk.
Meanwhile, the US has continued to accuse Moscow of preparing a broader invasion of Ukraine, with Ambassador Linda Thomas-Greenfield telling a UN Security Council emergency meeting, "Today, President Putin has torn the Minsk agreements to shreds. We have been clear that we do not believe he will stop at that," she said. 
Thomas-Greenfield called the signing of the treaties for the republics' independence from Ukraine a "clear violation of international law and Ukraine's sovereignty and territorial integrity."
Russia's parliament moved to formalize the major decisions announced by President Putin, including on Tuesday the country's Federation Council unanimously ratifying what's been called "the agreements on friendship, cooperation, and mutual assistance with the Donetsk and Lugansk people's republics" submitted by Putin, according to state sources.
The successful ratification was reportedly met with senators breaking out in applause, and are said to be identical for both Donetsk and Luhansk. Heads of the breakaway Ukraine republics – Denis Pushilin and Leonid Pasechnik, respectively – signed the treaties, which stipulate that "the sides will build their relations as friendly states, being consistently guided by the principles of mutual respect of their sovereignty and territorial integrity and peaceful resolution of any disagreements".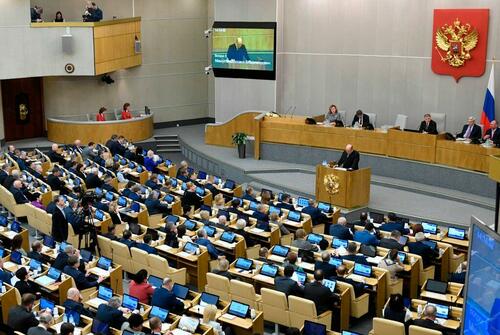 And crucially, Putin has also now formally requested of the upper chamber of the Russian parliament permission to deploy Russia's armed forces abroad. Overnight the Pentagon said it observed what the Kremlin has dubbed "peacekeeping" forces moving in the the Donbas regions. 
However, it's as yet unclear the degree to which significant numbers of troops are already on the ground across the Russian border. 
"The request has been already weighed by the Senate's committees, the Speaker of the Russian Federation Council, Valentina Matvienko, has said," according to Russian media. The meeting of Russia's senate was broadcast live, in what's becoming an ongoing 'live event' and bit of muscle flexing aimed at the West.
The Senate quickly issued official authorization for Donbas troop deployment. And in response NATO Secretary Jens Stoltenberg was quick to condemn what he called "the most dangerous moment in security in a generation."
Given that Putin has now warned Ukraine against escalating or attacking its forces which will soon pour into Donbas in large-scale formation, the question remains how the West will respond beyond possibly meager sanctions…
At the moment CNN is citing US officials who say Russia may still be prepping a broader "invasion" of Ukraine, but there's as yet no evidence for that.
Additionally US Ambassador to the United Nations Linda Thomas-Greenfield was cited as saying the Donbas deployment is a "pretext for a further invasion". She said in a statement: "Russia's announcement is nothing more than theater, apparently designed to create a pretext for a further invasion of Ukraine."
* * *
Meanwhile the rhetoric from both sides continues to escalate, as speculation abounds over Putin's intentions…
The situation with Ukraine has gotten VERY much worse Tuesday. Multiple Launch Rocket Systems are now being fired by Ukraine while the Russian Security Council (Senate) GRANTED formal approval for Russia to use its military forces outside the country.  The Economic Sanctions being imposed against Russia by the West are being laughed-at, but the language now being used by Diplomats is not a laughing matter – at all.
This morning, responding to a question from a Reporter, Russian Foreign Minister Sergey Lavrov said something stunning.  A Reporter questioned Lavrov about Ukraine having the sovereign right to join NATO and Lavrov replied "Ukraine does not have Sovereignty, it is controlled by outside forces."
Later, in the afternoon, Russian President Vladimir Putin, responding to questions as to whether or not Russia had withdrawn from the Minsk Agreements, said: "The Minsk agreements no longer exist. Ukraine must be demilitarized, give up NATO ambitions."
Elsewhere, the scheduled meeting between French Foreign Minister Jean-Yves Le Drian and Russian Foreign Minister Sergey Lavrov has been cancelled.
Meanwhile, countries that previously told their Diplomats to relocate away from Kiev to places like Lviv, are NOW telling their Diplomats and families to GET OUT of Ukraine entirely.  Numerous countries have given that precise directive today.
One of those countries is . . . Russia.   In fact, video is now circulating on social media showing Russian Diplomatic Staff in Odessa, Ukraine, BURNING DOCUMENTS – shown below:
Same Consulate, but from a different angle:
We can now also CONFIRM that smoke is rising from the main Russian Embassy in Kiev; they are burning documents as well.  Video from social media below:
Said one government official from a European country with whom the Hal Turner Radio Show is in regular contact "Russia is pulling all their diplomats out of Ukraine. A bloodbath is coming."
As if Ukraine couldn't do any more damage to itself, the Verkhovna Rada (Their Parliament) is considering Severing Diplomatic relations with Russia.   A Bill to do that is now under consideration:
The fighting is already damaging common infra-structure and large Internet outages are reported now both in Donetsk and Luhansk
Movement of Russian heavy armor and now infantry troops is taking place on a massive scale all around Ukraine.   It seems the situation is only going to get worse.  Very, very, much worse.
For whatever some may think it's worth,  President Biden said Russia has continued to move naval forces into the Black Sea, troops through Belarus, and blood banks along with forward forces.
"You don't need blood unless you plan on a war."
 As of 1:20 PM EST — Fighting is taking place in the direction of Luhansk from the front. The Ukrainian side is using heavy weapons. Reports coming in from several sources confirm the operation of several rocket launcher systems.
Intense fighting is also currently taking place in the southwest and west of Donetsk.
1:30 PM EST — RUSSIA'S FOREIGN MINISTRY SAYS NEW WESTERN SANCTIONS AGAINST RUSSIA ARE ILLEGITIMATE
2:00 PM EST — It is announced that European countries now have only seven percent (7%) of their natural gas reserves and supplies from Russia have been almost completely halted.   Russia's GAZPROM stopped taking orders from natural gas transit through Ukraine (which almost all goes to Europe) on February 18.  
How many LNG tankers will Europe need, EVERY DAY, if Russia responds to sanctions by COMPLETELY shutting down the pipes?
The number you are looking for is :
1,700 tankers.
PER
DAY
EVERY
DAY
HAL TURNER EDITORIAL OPINION
The propaganda is already pushing the "we must sacrifice our livelihood to preserve the democratic values in the face of Russia aggression."
The U.S. does have enough oil and nat. gas for our own economy. Without Russia, Europe does not;  not even a fraction.
Europe's economy will collapse once Russian pipes come to a stop. And Russia WILL shut those gas pipes, highly likely before this week is over.
With only seven percent gas reserves, Europe will run out of gas within about two weeks.  It's not just a matter of heating their homes, they won't have gas to run electric power plants!  That means no industry, either.  Full stop.
The U.S. economy will collapse immediately after European one, no matter how much oil and nat. gas the U.S. has. 
If I had money is the stock market I would get it out RIGHT NOW and I would grab as much cash money out of banks as they would allow me to take . . .  and do that every single day until they shut the banks.   
So, now we finally have the end-game scenario (at least the one which can be seen) answered:
The Great Collapse, needed for the Great Reset, is imminent, and it will be blamed on Russia.
I hope you have food and medicine stored in as large quantity as you can.  Survival is no longer a given, anywhere. 
It won't be a matter of how much things cost, it will be a matter of there is none to be had, anywhere, at any price.
According to Putin, Russia recognized the DPR and LPR within the boundaries defined in the 2014 referenda and enshrined in the constitutions of the republics. The discussions – front/border – have come to an end. Donbass will be completely liberated. Mariupol, Slavyansk, Kramatorsk, Lisichansk – should return to their native harbor.
The leadership of the LPR and DPR has already indicated a desire to ensure the complete liberation of the territories of the DPR and LPR occupied by Ukraine. So far, Kiev is being offered to get out on good terms, cease fire and withdraw troops. There is no massive entry of Russian troops into the LDNR yet. The fighting in the LDNR continues.
Russia today began recalling diplomatic workers from Ukraine "for security reasons." So far, Kiev has been discussing whether to break off diplomatic relations or not. It is quite obvious that there will be no negotiations with the Zelensky regime. Moscow does not consider it subjective.
All documents between the Russian Federation and the LDNR were ratified today and the legalization process of the LDNR was completed today. Now the questions of ensuring the military protectorate of the Russian Federation over the people's republics are coming close. Today, such terms as Minsk-2 have finally died.
The sanctions imposed by the West turned out to be an actual zilch and a kind of proposal – "if you stop at the current borders of the LDNR, then we will not impose many sanctions, but if you start taking more, then we will introduce more sanctions."
Russia simply doesn't care; Western Sanctions are now meaningless.