Developments in Ukraine and Donbass
Developments in Ukraine and Donbass
Apart from saying that western media coverage is unalloyed bullshit I am totally at a loss to say what might happen. I know the DPR and LPR have invited Russian troops in and there might be a move very soon (or not).
I doubt the stories about an imminent invasion of Ukraine (unless you see the liberation of Donbass as an "invasion".
My own approach is to look at information from different sources and keep an open mind.
Hal Turner's very good live coverage is below.
The scope of the army's involvement fully depends on the ongoing situation in Donbass, the Russian president has said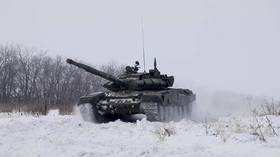 The extent of the Russian military's scope for action in the Donbass Republics of Donetsk and Lugansk hinges on the developing situation on the ground, President Vladimir Putin told reporters on Tuesday, after the country's Senate granted him the right to deploy troops abroad.
Speaking to the media minutes after the upper chamber of the Russian parliament backed his request for military deployments, Putin took a question from a journalist on just how far Moscow's troops are prepared to go.
In his response, he stopped short of confirming whether any Russian forces have already been ordered to the Donbass, despite Western claims that they are already in the region. The Senate speaker, Valentina Matvienko, earlier suggested that the troops could take on the role of peacekeepers there.
"I'm not saying that the troops will be deployed there right after our meeting," the president said.
It is effectively impossible to predict any specific scope of potential actions. It depends on the specific situation that is developing there, on the ground.
Russia's Federation Council granted Putin the right to use the country's military abroad earlier on Tuesday, with Matvienko backing the unanimous vote with the suggestion the troops would "create normal conditions for people's lives and ensure security" in the Donbass.
The wording of the legislature's resolution is non-specific, saying the troops can be used "in accordance with the Constitution," with the "areas of their activity, their goals, length of stay outside Russia" to be decided by the president.
The permission came a day after Moscow opted for recognition of the breakaway Donetsk (DPR) and Lugansk (LPR) People's Republics in Ukraine's east. The DPR and the LPR broke away from Kiev in 2014 after the Maidan events and the West-backed coup. The Kremlin insists the move is necessary to protect the civilian population, accusing Kiev of showing no willingness to end the years-long civil conflict through negotiations and instead opting to retake the republics by force.
Kiev maintains it has not been seeking to attack its own regions, while top western officials and media have repeatedly claimed that Russia has been preparing an all-out 'invasion' of Ukraine, a charge Moscow has rejected as "fake news."
Following President Joe Biden's announcement of the "first tranche" of what were relatively minor and meager sanctions on some Russian banks and individuals, Moscow's ambassador to the United States has appealed to the American public, warning that in the end "ordinary" US citizens will feel the pain.
"I don't remember a single day when our country lived without any restrictions from the Western world. We learned how to work in such conditions. And not only survive, but also develop our state," said Ambassador Anatoly Antonov via a Russian Embassy Facebook post on Wednesday.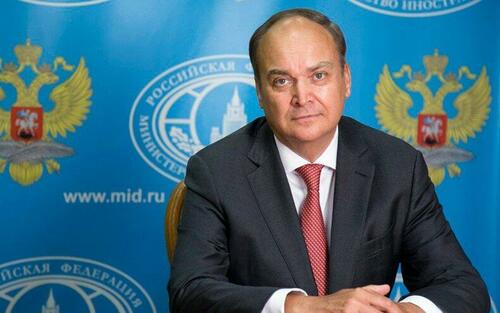 He was repeating a familiar Kremlin line of late – that the economy is ready to become "fortress Russia" and can endure anything Washington imposes for a long time. But the question remains: can common Americans endure the sure to come higher gas prices, coming off the pandemic and amid significant inflation? 
"There is no doubt that the sanctions imposed against us will hurt the global financial and energy markets," Amb. Antonov emphasized. "The United States will not be left out, where ordinary citizens will feel the full consequences of rising prices."
"With regard to Moscow, new US sanctions will not solve anything, Russia has learned to work and develop under restrictions," he reiterated.
Biden in his Tuesday address tried to preview that there indeed may be some pain at the pump, saying in the speech from the White House he plans to use "every tool at our disposal" to mitigate rising prices. This has included a scramble to get Asian, African and Middle East energy companies to step up with alternate supplies to Europe.
A Tuesday note from JPMorgan seems to concur…
"An energy price shock amidst an aggressive central bank pivot focused on inflation could further dampen investor sentiment and growth outlook," fresh analysis from the bank issued Tuesday to clients said.
"Indirect risks are potentially more substantial, which could include slower global growth and consumer spending due to higher oil and food prices, negative second-order effects through Europe, supply chain distortions, credit and asset writedowns, and cybersecurity risks," the bank added.
Meanwhile on Wednesday Russia's foreign ministry said it's preparing counter-measures in direct response to Biden's initial sanctions. "There should be no doubts – the sanctions will result in a strong response, not necessarily symmetric, but well-calculated and painful for the American side," a ministry statement said.
From Hal Turner
A Russian National here in the New York City area has told me this morning he was contacted by the Russian Embassy.   According to him, the Embassy recommended considering making plans to leave the US within the next week and to have enough physical currency on hand to cover the trip in case interruptions occur in banking.
For the Russian Embassy to be calling its citizens within the United States, telling them they should leave within the next week AND to have cash "in case interruptions occur in banking" tells me the Russians KNOW something big enough is going to take place that Russian citizens may no longer want to stay in the USA, and they ALSO KNOW that something big enough IS GOING TO HAPPEN to cause "interruptions in banking."
Australia? What a laugh!
The prime minister of Latvia says Russian troops and tanks have now moved into eastern regions of Ukraine which Putin has recognized as "independent". The NATO member country cited intelligence sources monitoring movements on the ground: "According to the information at my disposal, Putin is moving additional forces and tanks into the occupied Donbas territories," Latvian Prime Minister Arturs Krišjānis Kariņš told CNN on Wednesday. "By any definition that's a crossing of a sovereign territory into a neighboring country."
The Latvian PM confirmed that additional troops continue pouring in to the separatist Donetsk and Luhansk republics: "According to the information at my disposal, this is exactly what we're seeing," he underscored.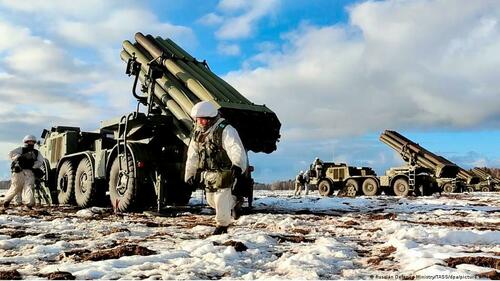 His words follow Biden the day prior stating that this marks "the beginning of a Russian invasion" – after there's been some level of confusion over just how the administration is defining "invasion of Ukraine". Despite strong rhetoric, Biden's relatively weak and very limited sanctions announced Tuesday do not actually suggest Washington really sees what's happened so far as in truth an "invasion". 
Widely circulating social media videos – while unconfirmed – seem to also point to additional tanks and troops moving into the breakaway republics. The Kremlin is borrowing from the West's "humanitarian intervention" playbook and calling these "peacekeeping" forces. 
Meanwhile, there are fresh reports Wednesday coming from the United States and "five eyes" intelligence sharing partner Australia. According to CNN the Biden White House is once again warning Kiev of an "imminent" Russian invasion: 
The United States has issued a new warning to the Ukrainian government that the latest intelligence points to a full-scale Russian invasion imminently, according to Ukrainian, US and Western officials familiar with the matter.  

The new warning was conveyed on Tuesday morning local Kyiv time, according to three of the sources.
But then there's this crucial and perhaps ironic follow-up line in the report: "A senior Ukrainian official said Ukraine has not verified the intelligence and noted that the United States has issued similar warnings before for assaults that ultimately did not materialize."
Australia too is warning of an full-scale assault by Russia in the next "24 to 48 hours":
ASPI's Peter Jennings says around 24 to 48 hours, we might see a "much larger scale invasion" of Ukraine by Russia after Moscow's "peacekeeper" troops crossed the border.

"I would say in the next 24 to 48 hours we might actually see a much larger scale invasion, possibly even targeted against the capital Kyiv," Mr Jennings told Sky News host Chris Smith.

"That would be frankly the most serious military conflict that Europe would have seen since the end of the Second World War."
Indeed the Kremlin is still loudly rejecting the accusations. Additionally top Ukraine officials have confirmed Wednesday "there are no plans" for the evacuation of Kiev or other large Ukrainian cities. 
Such time specific warnings have thus far been proven wrong over and over again; however, Moscow's intentions remain anything but clear and the region is on edge, with the West watching every small development for signs that a full offensive is coming.
West Ponders Further Sanctions As China, India Quietly Support Russia
Journalists Targeted With IED In Center Donetsk
Russell Bentley said they would do this:
The Russian Army began sending text messages (sms) to the mobile phones of the soldiers of the 53rd Brigade and the 54th Motorized Brigade of the Ukrainian Infantry, asking them to leave the front immediately.
Russia is stepping up its psychological warfare in the face of operations. The messages are sent by Russian electronic warfare systems that detect cell phones of Ukrainian soldiers in the area.
The messages specifically state:
"Moscow has given the green light for the use of the Armed Forces of the Russian Federation in Donbas!
It's not too late to save your life.
"Donbass also left the line of contact."
Another message states:
"Ukrainian soldiers!
The Russian Army is already in Donetsk and Lugansk.
Return to your homes now that it is not too late,
You have 48 hours.
Russian Army will win "
The heads of the DPR and LPR asked Putin to help repel the aggression of Kiev
Peskov: the heads of the DPR and LPR turned to Putin with a request to help repel the aggression of Ukraine.
The heads of the Donetsk and Lugansk People's Republics Denis Pushilin and Leonid Pasechnik asked Russian President Vladimir Putin to help repel aggression from the Armed Forces of Ukraine (AFU) in order to avoid civilian casualties and prevent a humanitarian catastrophe. This was told by the press secretary of the head of Russia Dmitry Peskov , reports TASS .
According to him, the corresponding letters of appeal from Pushilin and Pasechnik were addressed to the President. Peskov noted that in their appeals, the heads of the DPR and LPR in connection with the current situation, on the basis of articles 3 and 4 of the treaties on friendship, cooperation and mutual assistance between the Russian Federation and the republics, asked the President of Russia to help repel the aggression of Kiev . The documents also say that Ukraine continues to increase its presence on the line of contact, while receiving support, including military support from the United States and other Western states. "The Kiev regime is focused on the forceful solution of the conflict," the heads of the DPR and LPR emphasized in their appeals.
In addition, Pushilin and Pasechnik stated in their letters that at present, due to the aggravation of the situation and threats from Ukraine, the citizens of the republics are forced to leave their homes, their evacuation to Russia continues.
On February 21, Putin signed decrees recognizing the DPR and LPR, as well as treaties of friendship, cooperation and mutual assistance with the republics. After that, a number of Western countries went to the introduction of new packages of sanctions against Moscow and criticized her for the decision.
War News 24/7 is definitely on the side of an "invasion" but often are a source of information.
They do specialise in posting videos showing the movement of tanks etc. that could by anything or anywhere.
"Kharkov is Russia's No. 1 target"
The US Pentagon issued an urgent briefing to the Ukrainian government stating that " there is a realignment of Russian forces for an immediate attack on Kharkov. "The city of Belgorod has been transformed into a vast military base."
"At the moment Kharkov is Russia's No. 1 target," they said, urging the Ukrainians to prepare the city's defense as best they could.
Armory depots in Kharkov empty: Russia encircles city – 50,000 Ukrainians will defend it
New Russian military phalanxes with T-80VM tanks were also spotted today in the town of Seretino, just west of Belgorod, just 15 miles from the Ukrainian border.
After a few hours, reinforcements with 40 T-80 tanks and a military phalanx with artillery forces appeared.
This force bore the "Z" signal.
And then there are lots of tweets showing tanks that could be anywhere in Ukraine, southern Russia or Donbass
This is the latest
Dramatic moments in Kiev
Russia has closed Eastern Ukrainian airspace with NOTAM, banning all political flights. NOTAM has an  unknown duration.
All indications are that Russia will start bombing tonight. In Kiev they have realized it.
All airports in eastern and southern Ukraine are closed. Zaporozhye and Hersonissos airports closed a while ago. 
Ukrainians are reportedly installing tractors and heavy mechanical equipment to block any landings by Russian aircraft.
Ukraine is again under fierce cyber attack. Many sites have crashed.
NOTAM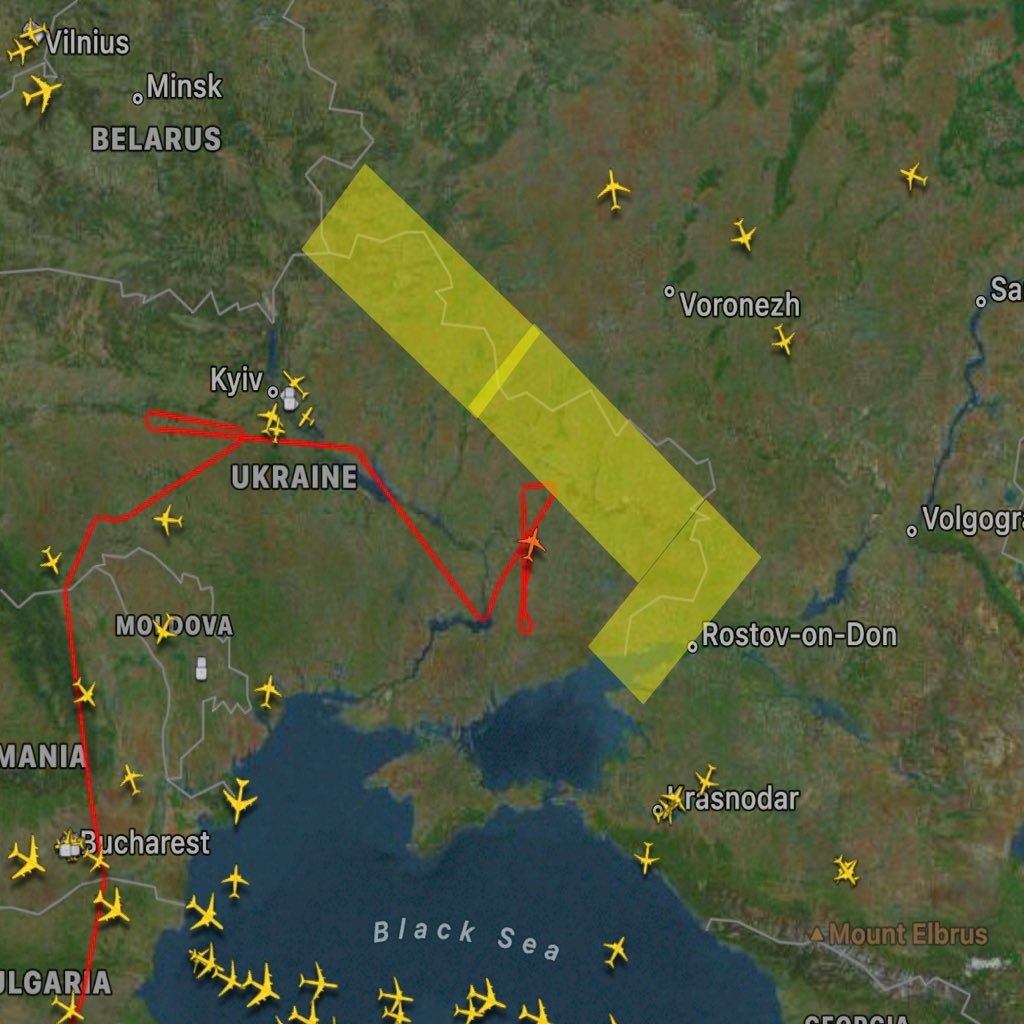 Speech by Zelensky, begs…
V. Zelensky with an extraordinary speech and speaking in Russian, the language he banned in Ukraine, personally addressed the Russian people and the Russian president and asked him to back down even at the last minute.
In the sermon he said the following:
"Today I started a telephone conversation with the president of the Russian Federation. The result was silence (he did not pick up the phone). Although it is Donbass where there must be silence.
Russia approves attack on Ukraine, Putin did not respond to calls for talks.
We do not need war, neither cold, nor hot, nor hybrid. If you attack us – you will see our faces, not our backs. Thousands will die.
I believe that there are people among you, in civil society, real people.
I understand that this appeal will not be shown on Russian television, but if the Russian government does not want to speak – I believe that the Russian people want to speak.
Ukraine's secret service burns secret documents at its headquarters in Kiev. The Russian Army enters Donetsk where it is greeted by the screaming Russian-speaking population.
Watch video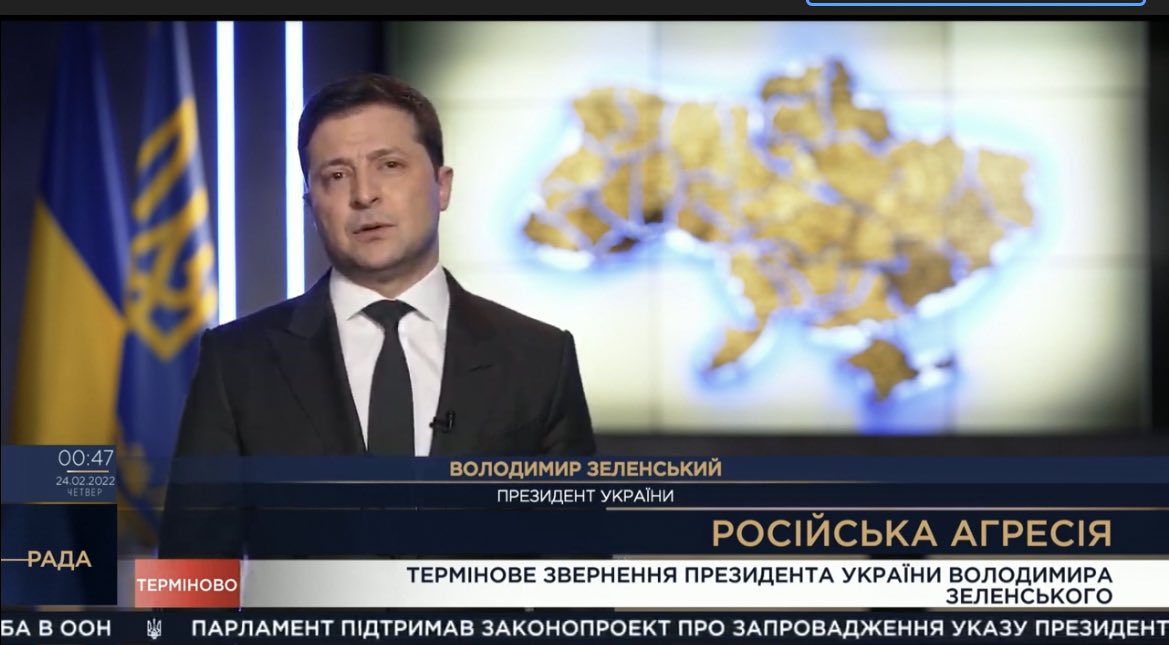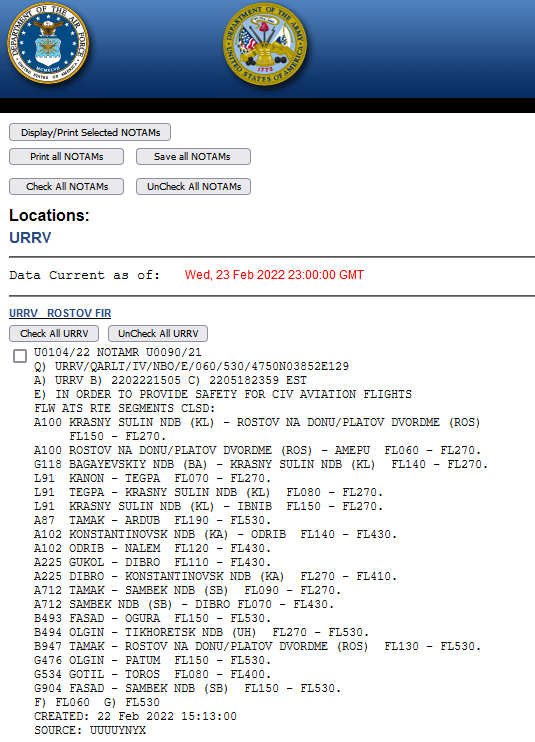 It remains to be seen if this account  from Hal Turner is largely true or not.
The United States government has informed the Ukrainian Government that all Intelligence Assessments of Russian military movements points to a massive invasion of Ukraine within forty-eight hours.
As of 3:24 PM EST, the Hal Turner Radio Show can also confirm NATO allies have been given a similar intelligence assessment warning of an imminent attack, according to a NATO military official. The official cautions that "no one knows for sure" what Putin is going to do.
In addition, the U.S. has assessed that Russia has completed all preparations for an invasion, a senior defense official familiar with the latest intelligence tells me "They are as ready as they can be," the official says.   A Defense Department source says that of all the troops and equipment brought to the area by Russia over the past months "80 PERCENT IN FORWARD POSITIONS, READY TO GO."
The U.S. assesses that Russia has 100 percent of its aviation and maritime assets needed for an Ukraine invasion in place, per a senior U.S. defense official.  The Russian Navy has moved three large landing ships, five warships and a missile boat to the Sea of Azov.
Senior DOD official on Russia 'ready to go' assessment: "If ever we wanted to be wrong, we want to be wrong about this."
AIR INCURSION: A source close to Zelenskyhas just confirmed what US intel sources told me, that earlier today Russian military aircraft flew into Ukrainian air space in what is thought to be a probing of air defense systems and/or reconnaissance.
Under order from Russian Command, frontline forces in the ORDLO have been suddenly ordered to cease all radio communications… IP telephony only! Bad sign. Explains the radio silence we've seen today.  Here is word about the order:
JUST IN  3:37 PM EST — There is now a 51km long TRAFFIC JAM on the highway from Mazyr, Belarus to Kiev, Ukraine, caused by the southward movement of several gigantic Russian Military convoys!  The map shows the route; the traffic jam is circled:
NATO AIR SPACE COVERAGE???
Ukraine Foreign Minister Kuleba shocked media outlets this afternoon when he revealed "Negotiations are underway to cover our airspace with NATO forces."
Earlier, former Obama Administration Official Evelyn Farakas publicly tweeted the US should impose a No-Fly Zone over Ukraine air space, and it now appears the US and NATO may be taking that advice seriously.   The absolute moment NATO or the US tries that, means actual, active war, with Russia.
ECONOMIC SANCTIONS – "Acts of War"
The United States imposed a series of economic sanctions upon Russia yesterday in response to the recognition by Russia of Luhansk and Donetsk as "Independent states."
In response, the Russian Foreign Ministry said today "new US sanctions will be met by a 'strong response', 'sensitive for the American side.'
This afternoon, The EU imposed sanctions against 351 State Duma deputies who voted for the recognition of the DPR and LPR, as well as against 27 individuals and organizations. Then, EU EXEC. VP DOMBROVSKIS ANNOUNCED: "IF RUSSIAN SOLDIERS ENTER UKRAINE BEYOND SEPARATIST-CONTROLLED, SELF-PROCLAIMED REPUBLICS, THE EU IS PREPARED TO IMPOSE A SECOND SET OF SANCTIONS ON MOSCOW."
Secretary of the General Council of United Russia and Deputy Chairman of the Federation Council Andrey Turchak said that Russia is indifferent to the sanctions imposed by the West and their consequences.
When asked what options the Russians might employ against such Sanctions, an Intelligence Analyst source responded in a general manner, not speaking for anyone by telling me:
Russia could close airspace to civil airlines of the countries that sanction Russia. That would be hugely disruptive to international flights.

Russia could declare that Russian exports must now be paid for in Rubles, gold, etc.

Russia could stop all sales of anything to USA (space rocket motors and oil especially).

Russia could break all contracts with countries that sanction Russia on the grounds that a state of hostility exists. That is, all oil and gas deliveries stop immediately.

Russia could announce that no more gas will be shipped to or through Ukraine on the grounds that a state of hostility exists. Russia won't sanction anyone. They don't play with gloves. They will stop the natural gas deliveries to Europe, and the entire world economy collapses. Assuming a fantasy best case scenario (fantasy, because it will NEVER happen), Europe's LNG terminal unloading capacity, even working 100%, 24/7, assuming a non-stop stream of tankers, can only match under 17% of what Russia delivers. Needless to say, European economy goes belly up the next day, and the world will follow. And when that happens, countries automatically pivot direct to war. A lot, including the US, get granted war powers that allow the state to seize the means of production and distribution, set price controls, require civilians to operate and maintain critical infrastructure – including being drafted/forced into service, set curfew and movement restrictions, suspend constitutions and civil rights,, etc. It can get very draconian very quickly. But will not change the outcome : full economical collapse. Add to that the pure mad-max SHTF when the is no food in the cities. There isn't much a government can do, TODAY, that can avoid the worst case scenario. We're NOT in 1916 or 1940, when most of the world lived on country-side, and produced food. We're not in 1916 or 1940, when the supply chains were extremely short (hell, you could use carriages then to supply the economy and the people). We're in 2022, after 2 years of constant economic decline, millions of companies that went bankrupt, an inflation that needs just a nudge to go up faster then an hyper-sonic missile, and supply chains that are thousands of miles long. Maters not what government do, it's going to be the biggest SHTF ever.
Most likely the last SHTF.

Russia and China could roll out their counter-SWIFT.

They could abandon the "petrodollar" too. That would FUCK everyone.
The European Union has officially called all heads of state and government to an emergency meeting in Brussels tomorrow evening. On the agenda: war or peace in Europe. Nothing less.
Ukrainian Armed Forces must voluntarily leave the territory of the DPR and take out their weapons – Pushilin
 4:20 PM EST — A source with deep knowledge of events on the ground in Ukraine, and who has been spot-on in the past, says, as earlier reports had forewarned, Russian forces are now about to invade the whole country.
 4:24 PM EST — City Clinical Hospital No. 5. in Donetsk is being evacuated in preparation for "an imminent patient surge."
 Ukraine's Ambassador to Turkey Vasyl Bodnar said: "when the war becomes not only de facto, but de jure – we will ask the Turkish government to consider the possibility of closing the Black Sea straits for the aggressor state [Russia]."
"Two columns of Russian military equipment have crossed the Russian border and are heading to Donetsk"
The head of the DPR, Pushilin, said that after Russia's decision to recognize the republics of Donbass, shelling from Ukraine only intensified.
"The situation has gone from bad to worse. More shelling. Grad rocket launchers were used in Donetsk, which has not happened for a long time. Our intelligence reports on the movement of a large number of Grad, Smerch, and Uragan launchers closer to contact lines. These are bad harbingers," he explained.
5:14 PM EST — Looks like internet in Donetsk has been cut. Unsure if this is temporary or permanent.
5:19 PM EST — Reports now FLOODING IN, seven kilometer (7km) long military convoy in Crimea now on the move northward toward Kherson.  Map below:
5:23 PM EST — In addition to Internet outage reported just a few minutes ago, information coming in now says TELEVISION is now also out in Donetsk.   COMMS, all going down!
The Rada (i.e. Verhovna Rada, The Ukrainian Parliament) approved the decision to introduce a state of emergency on the territory of Ukraine from February 24.
Restriction of freedom of movement, special entry-exit regime, vehicle inspection;

Ban on mass events and strikes;

Curfew;

Checking documents, searches of citizens and housing;

Prohibition for conscripts and persons liable for military service to change registration without the permission of the military registration and enlistment office. Also a ban on their travel abroad;

Prohibition on the dissemination of information that can "destabilize the situation";

Special regulation of communications and the Internet. Mobile phones may be banned;

Temporary or irretrievable evacuation of the population can be carried out – with the provision of alternative housing.
***** FLASH BULLETIN URGENT ****
5:46 PM EST —   (Mt. Weather Bunker)  Public Updates will resume beneath Green shaded Area
IMPORTANT: DO NOT REVEAL THIS TO THE GENERAL PUBLIC.  THEY WILL PANIC.   WE DON'T WANT PANIC – ESPECIALLY SINCE, IF __THEY__ PANIC, IT WILL INTERFERE WITH __OUR__ ABILITY TO GET TO SAFETY. 
The masses are asses. They don't plan for anything.  But they are so many that when they panic, it will screw US up.   Remember, these are the very people who did absolutely nothing when the Presidential Election was stolen.  These are the same people who never once questioned the COVID nonsense, the mask mandates, the closure of businesses, and most of whom lined up likes lambs to the slaughter to get their deadly COVID vax.  They're just flat out dumb, and when it comes to getting information to educate themselves, they're flat out lazy too.  These are not people that any of us really need to have around anymore.  And we darn sure shouldn't allow them to interfere with US getting to safety.   It's time to live and let die.  DO NOT REVEAL THIS TO THE PUBLIC.
AIRCRAFT HAVE BEGUN TRANSIT FLIGHTS TO/FROM MT. WEATHER IN VIRGINIA.  This is the Emergency Nuclear Attack Bunker for the United States Congress. 
The Mount Weather Emergency Operations Center is a government command facility in the U.S. Commonwealth of Virginia, used as the center of operations for the Federal Emergency Management Agency (FEMA). Also known as the High Point Special Facility (HPSF), its preferred designation since 1991 is "SF."
The facility is a major relocation site for the highest level of civilian and military officials in case of national disaster, playing a major role in continuity of government (per the U.S. Continuity of Operations Plan).
Mount Weather is the location of a control station for the FEMA National Radio System (FNARS), a high frequency radio system connecting most federal public safety agencies and the U.S. military with most of the states. FNARS allows the president to access the Emergency Alert System.
From Radar:
Close-up of Destination:
So, folks . . . why do you think the Mt. Weather Facility os now receiving aircraft flights To/From Washington, DC?   This shouldn't be too hard to figure out.
6:02 PM EST — BREAKING has started 1 h ago an offensive in Nikolayevka they broke through the defenses of Donetsk republic , DPR
Electricity now said to be out in Donetsk.  That makes Internet, Television, and now electricity.
6:24 PM EST  — Local residents in the Kramatorsk region of Donetsk are reporting a large number of fighter jets.  This is big.  Ukraine will not fly its limited supply of military aircraft (at least not yet) for fear of them being shot down.   So for locals to begin saying there are a large number of fighter jets, it stands to reason those jets must be . . . Russian!
6:28 PM EST — Luhansk People's Republic officials claim Ukraine Army is attacking "entire frontline" and is attempting to break through defensive lines.
 *****COVERT INTEL ******
6:30 PM EST — (From Inside Russia)
"URGENT. Alarm number 1 has been declared in the Russian army All employees of the FSB of the Russian Federation have been called back to work."
MORE:
Confirmation that Russian Electronic Warfare measures are now fully engaged in Luhansk and Donetsk to black-out all communications by the enemy.  Unfortunately, this is also taking out Internet, TV, regular radio too.  Locals told, "be patient, this is just temporary."
Border post cameras have been disabled in Crimea
"The Russian Aerospace Forces have launched an Il-22PP link (jammer and associated reconnaissance) into the air, capable of conducting electronic suppression of any targets, incapacitating satellites that provide navigation and radio communications."
UPDATE 6:40 PM EST —
Receiving reports now of "Direct clashes between Russian Army and Ukrainian Army forces.   Actual nation-to-nation fighting.  Location info very imprecise right now. High stress environment for sources.  Endeavoring to get further details.
6:50 PM EST — Reports of cross river battle between Russian backed separatists and Ukraine at Seversky
6:57 PM EST — Mobile communication has completely GONE OUT in Donetsk.  Four Russian jammers IL-22 PP are in the air right now and jamming all phone internet and radio traffic.
7:02 PM EST — Shooting near the North Bridge in Kiev.  UNKNOWN REASON; UNKNOWN PARTICIPANTS.  
7:05 PM EST — From earlier 6:50 PM battle at river, reports now say "Luhansk People's Republic: Popular forces repelled an attack by the Ukrainian army on Nikolayevka, in which killed nine people."
(HT REMARK: This very much seems to me to be the initial stage…cyber attacks, electronic jamming of comms before the airstrikes. My guess is that Speztnaz are infiltrating for sabotage and targeted assassinations of government and military leaders now.)
7:10 PM EST  — Uncorroborated claim: family of President Zelensky was taken by plane from Kiev to Poland. This information has not been confirmed"
7:20 PM EST — Ukrainian President Zelenskiy says he tried to call Putin today, but he did not respond.    (HT REMARK:  Oh, this is priceless!  Zelensky wanted to what?  To TALK?   Why?  He had four fucking years to talk.  His country had almost eight fucking years to talk.  All that time, nothing.   No action on the Minsk Agreements.  Nothing but strong-arm tactics against Russian-speaking people in eastern Ukraine.   Zelensky and his government GANG, talked with guns; talked with bombs.  And when the second most powerful nation on earth, Russia, tried to get them to talk with Luhansk and Donetsk, Ukraine refused.  Flat-out refused.   But that wasn't the real problem.  The real problem was the talk Zelensky and his gang have been doing for the past couple months.  Their talk is exactly what got him and his government into the mess he's in now.  TALK is what did it.  And as the full might of the Russian Army comes crashing through the doors of Zelensky's Presidential; residence, and takes him out in chains, he can thank his big mouth.  Because his mouth is what got him into this.  The time for talk is over, pally-boy.  Now, you get what you get.)
7:30 PM EST — Ukrainian military units A1215, A4104, A0501 in Kharkiv put on combat alert, guns and ammo being issued. No movement, waiting for orders. A1215 – 302nd Anti-Aircraft Missile Regiment, А4104 – 203rd Aviation Training Brigade, А0501 – 92nd Mechanized Brigade
!!1 NOTAM !!! RUSSIA CLOSES UKRAINE AIR SPACE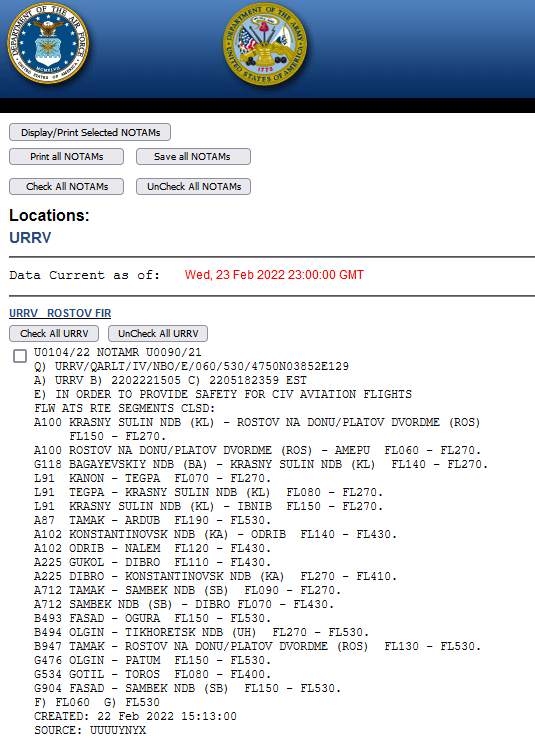 8:01 PM EST — Reporters of the Zvezda television channel were shelled by the #Ukrainian armed forces on the outskirts of #Donetsk, a spokesperson for the People's Militia of the Donetsk People's Republic (DPR) said on Wednesday
UPDATE 8:10 PM EST — UN Security Council to hold emergency session on Ukraine Wednesday night, diplomats say.  (HT Remark: Yawn)
 8:25 PM EST — Reuters reports at least five massive explosions have been heard in separatist-held Donestk in eastern Ukraine
WHITE HOUSE: G7 LEADERS TO HOLD VIRTUAL MEETING ON THURSDAY TO DISCUSS SITUATION WITH RUSSIA AND UKRAINE
 8:28 PM EST — UKRAINE FORBIDS ALL MALES 18-60 FROM LEAVING COUNTRY !!  MUST REPORT FOR MILITARY SERVICE! ! ! ! !
8:30 PM EST — U.S. SECRETARY OF STATE BLINKEN BELIEVES RUSSIA WILL INVADE UKRAINE BEFORE THE NIGHT IS OVER – NBC NEWS
 Ukrainian forces bombed Donetsk with 10 missiles banned under Minsk agreements" – Donetsk authorities (DPR)
8:34 PM EST — Multiple airlines, including European carriers, have tonight been informed by aviation risk management agencies that Ukraine – as a whole – is now considered a "Do Not Fly"  area on the basis of "extreme tension and developments on Feb 23"
 Russia closing airspace to civilian aircraft along North east border with Ukraine. Until May 18.
Social Media showing tanks being brought into Kiev:
8:39 PM EST —  The Ukrainian Navy has been put on alert in the port of Odessa.
8:42 PM — 
According 
@googlemaps
, there is a "traffic jam" at 3:15 in the morning on the road from Belgorod, Russia to the Ukrainian border. It starts *exactly* where we saw a Russian formation of armor and IFV/APCs show up earlier. Someone's on the move.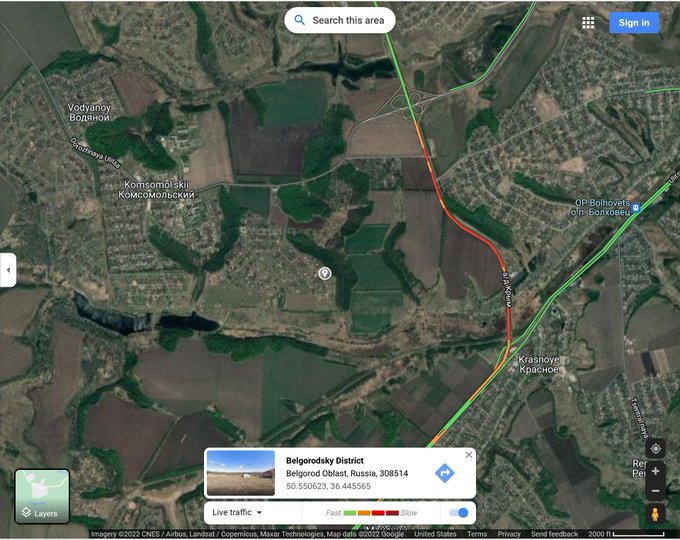 8:44 PM EST — Reports that two military positions have been captured by Ukrainian forces in the Luhansk region. Two company size units (70-80 soldiers) have managed to infiltrate the area. This is reported by pro-Russian sources.