Crisis in Europe – 4 April, 2022
Crisis in Europe – 4 April, 2022
Just days after Germany reported the highest inflation in generation (with February headline CPI soaring at a 7.6% annual pace and blowing away all expectations), giving locals a distinctly unpleasant deja vu feeling even before the  Russian invasion of Ukraine broke what few supply chains remained and sent prices even higher into the stratosphere…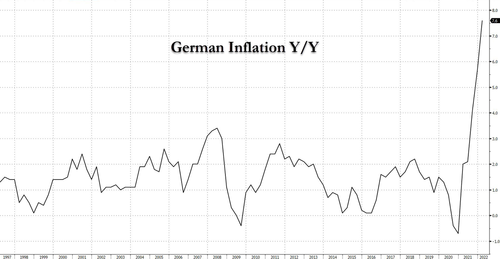 … on Monday, Germany will take one step toward a return of the dreaded Weimar hyperinflation, when according to the German Retail Association (HDE), consumers should prepare for another wave of price hikes for everyday goods and groceries with Reuters reporting that prices at German retail chains will explode between 20 and 50%:
GERMAN RETAIL CHAINS TO INCREASE FOOD PRICES BY 20-50% FROM MONDAY
Even before the outbreak of war in Ukraine, prices had risen by about five per cent "across the product range" as a result of increased energy prices, HDE President Josef Sanktjohanser told the Neue Osnabrücker Zeitung on Friday. With Russia's invasion hitting economies and the supply chain harder, yet another series of price increases is on the horizon.
"The second wave of price increases is coming, and it will certainly be in double figures," Sanktjohanser warned, cited by The Local.
According to the president of the trade association, the first retail chains have already started to raise their prices in Germany – and the rest are likely to follow.
"We will soon be able to see the impact of the war reflected in price labels across all the supermarkets," said Sanktjohanser.
Recently, popular retail chains such as Aldi, Edeka and Globus announced that they would be forced to raise their prices. At Aldi, meat and butter will be "significantly more expensive" from Monday due to price hikes from its suppliers.
"Since the start of the Ukraine war, there have been jumps in purchase prices that we have not experienced before," a spokesperson for Aldi Nord announced on Friday.  
A fortnight ago, Aldi raised the prices of about 160 items, and a week later 20 more items became more expensive. Other supermarket brands quickly followed suit.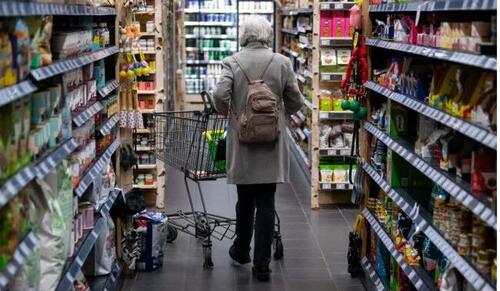 In February, Germany's cost of living rose at the highest level since reunification, with everyday goods increasing by an average of 7.3%. The federal statistics agency Destatis said the jump from January's figure of 5.1 percent to February's 7.3 percent reflected the impact of Russia's invasion of Ukraine, which has sent the price of oil and gas soaring.
According to a recently published survey by the Ifo Institute, almost all companies in Germany's food retail sector are planning price increases.
Though price increases are a worry for Germany's hard-hit consumers, industry experts don't expect there to be a lack of products on the shelves anytime soon. Which, of course, is to be expected when prices surge so high far fewer can afford to buy products.
According to Joachim Rukwied, president of the farming association, the food supply in Germany is assured for at least another year – though after this the forecasts are less certain. With rumors of shortages swirling around, however, supermarket owners have been complaining of the sort of panic-buying not seen since the first months of pandemic.
As previously noted, German supermarkets have even started limiting the purchase of cooking oils and flour in particular to prevent a mad rush to stock up on items that customers believe will run out. In other words, limit the sale of those products which are in highest demand, also known as a "brilliant strategy."
And now that everyday food product prices are about to surge as much as 50%, it will be interesting to watch how much longer the German population will condone a NATO stance that has been seeking to stoke and perpetuate the war in Ukraine.
German retailers have warned of yet another series of price rises in supermarkets across the country.
It is not possible to "completely nullify" the pressures on energy prices, a Cabinet minister has said, as demonstrators gather across the country over the cost-of-living crisis.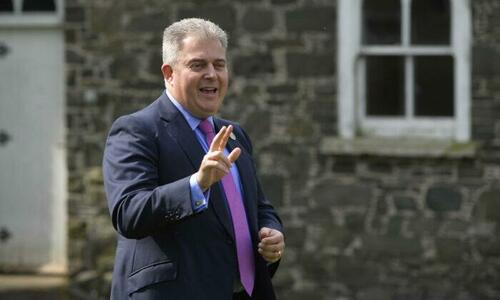 But Northern Ireland Secretary Brandon Lewis said the Government is "looking… across the board at what we're doing with the public's money", and will "put in the support that we can, as and when we can" to ease the sting of rising prices.
The People's Assembly said it expects thousands of protesters to take to the streets in dozens of locations throughout the UK to highlight those suffering "real hardships" due to the combination of a hike in fuel and food costs, inflation and low pay.
Unions have complained that Chancellor Rishi Sunak's spring statement last week did nothing to allay fears about soaring fuel bills and rising inflation, with the TUC calling for an emergency budget to help families.
The lifting of the energy price cap on Friday will create an "impossible choice for many", to eat or heat, said the People's Assembly.
A spokesperson for the campaign group said: "Public outrage over the cost-of-living crisis is growing fast, and our response is gaining momentum."
Speaking to Sky News, Lewis said the Government cannot "completely nullify" the impacts of global pressure on energy prices, but ministers will put in supportive measures where possible.
"I know, even this week, where I live we're on oil-fired heating, I've seen that change directly in the price of oil – and actually the ability to get it," he said.

"At home, my family went a few days where we had no oil, just waiting for the suppliers and seeing the very big increase in price on that.

"We can't completely nullify the impacts of the global markets and global pressure, for example, on energy, which is obviously the main focus at the moment for most people.

"But we will put in the support that we can, as and when we can, as I say, looking… across the board at what we're doing with the public's money."
On Saturday there was a protest outside Downing Street in London, with similar events in towns and cities including Birmingham, Bournemouth, Bristol, Cardiff, Cambridge, Coventry, Derby, Doncaster, Glasgow, Hanley, Hull, Ipswich, Lancaster, Leicester, Liverpool, Manchester, Milton Keynes, Newcastle, Peterborough, Portsmouth, Preston, Redcar, Sheffield and Southampton.
Former Labour leader Jeremy Corbyn, who will be speaking at the London demonstration, said: "With rising fuel, food and energy bills, the soaring cost of living is pushing millions into poverty, and the disgusting treatment of the sacked P&O workers needs urgent action from the Government.
"Demonstrations will be taking place all over the country, with thousands of people coming together to demand redistribution of wealth and power and decent wages for all, as well as justice for P&O workers."
Laura Pidcock, national secretary of the People's Assembly, who will be speaking at the Liverpool protest, said: "What people are experiencing is intolerable.
"No matter how patiently we explain that Government inaction over soaring energy and fuel costs and sharply rising food prices is deepening poverty, misery and hunger, it is met with at best indifference and at worst more of the same.

"The truth is they are so wedded to the economic system we have, comfortable with a hands-off approach, that even when markets are obviously failing us, they continue with business as usual.

"We tell them about children going hungry and the Government shrug, politically speaking."
Labour has repeatedly called for a windfall tax on oil and gas companies, which it says could generate funds to help struggling families and pensioners with energy bills.
Lewis told Sky News that such a levy may sound like "an attractive option" but it "won't necessarily have the impact on global prices that people think it will".
"I do understand why people look to that… Labour have been making this point for a while. What they're not able to answer… is the reality of what is happening in the energy market," he said.

"First of all, this is a global pressure, we're seeing this around the world. So what we do with companies here in the UK won't have the impact of changing the whole global energy market prices, but we should also remember that those energy companies here in the UK are already paying about 40% tax – that's roughly double what most sectors in the UK economy are paying.

"They employ hundreds of thousands of people in the UK… they are investing hugely in more work to develop more energy and produce more energy. They need the income that they have to make those investments, and the part they play in the economy paying salaries.

"So a windfall tax on those companies won't necessarily have the impact on global prices that people think it will. It can have an impact on some domestic prices by taxing higher a sector that is already very, very highly taxed.

"So although… it sounds an attractive option, in the wider economic context it doesn't really work. And that's why we've looked at what can we do that will have a beneficial impact directly for people in their pockets."
The Rail, Maritime and Transport union (RMT) is planning further protests in the coming days over the sacking of almost 800 P&O seafarers.
The Insolvency Service announced on Friday that it has launched formal criminal and civil investigations into the circumstances surrounding the redundancies.
RMT general secretary Mick Lynch said there were "clear grounds" to detain P&O's ships.
The UK does not get much gas from Russia – about 5 %, but they had a pre-existing crisis
From Hal Turner
British energy giant Shell Oil, will not be able to buy Russian gas due to London's anti-Russia sanctions, Dmitry Peskov, the press secretary of Russian President Vladimir Putin, told the media on Saturday.
"London wants to be the leader of everything anti-Russian. It even wants to be ahead of Washington! That's the cost!" Peskov outlined.
He was referring to the fact that the UK is the only country to have imposed sanctions on Russia's Gazprombank, through which payments for Russian natural gas are made. The measure effectively denies Britain the ability to pay for the commodity.
On March 31, Putin signed a decree requiring gas buyers from "unfriendly countries" to open special ruble and foreign currency accounts with Gazprombank to pay for gas supplies. They will transfer funds in foreign currencies to Gazprombank, which will buy rubles on exchanges and transfer them to the buyers' ruble accounts to make payments to Russia's suppliers.
Since the UK Sanctioned Gazprombank, they will not be able to even make deposits of Pounds-Sterling into that bank for conversion to Rubles, and thus the purchase of natural gas from Russia.  No Rubles?  No Gas!
A Russian government official has threatened that Russia will limit its vital food exports to only nations it considers "friendly".
Dmitry Medvedev, a senior Russian security official who previously served as the nation's president, has threatened that Russia may soon cut off the West from food exports.
A major player in the global market for wheat and other agri-food products, Russia will instead focus on keeping itself fed, according to Medvedev, alongside supplying its friends and close allies.
Posting on his Telegram, Medvedev said that cutting off the likes of North America and the European Union from its agricultural produce would be a very good way of retaliating against sanctions imposed by the West.
"It so happened that the food security of many countries depends on our supplies," the Russian official wrote. "It turns out that our food is our quiet weapon. Quiet but ominous."
"The priority in food supplies is our domestic market. And price control," he continued. "We will supply food and crops only to our friends (fortunately, we have a lot of them, and they are not at all in Europe and not in North America). We will sell both for rubles and for their national currency in agreed proportions."
"We will not supply our products and agricultural products to our enemies," he went on to say. "And we won't buy anything from them (although we haven't bought anything since 2014, but the list of products prohibited for import can be further expanded)."
Medvedev's threat echoes others being made by the Russian government, such as that reportedly "unfriendly" nations will soon be forced to pay for a variety of Russian resources — including the country's much sought after gas exports — in rubles only, or be cut off from supply completely.
According to POLITICO, the ex-President's comments come only a day after the Russian government put limits on sunflower oil exports, as well as outright banned the export of sunflower seeds and rapeseed.
Even before this ban was announced, foreign nations had been feeling the pinch in regards to sunflower oil supplies, with panic buying being reported in Germany and shortages affecting traditional chip shops in Belgium.
However, some officials seem convinced that these minor inconveniences will pale in comparison to the disastrous crises that will occur as a result of a lack of agri-food exports from Russia and Ukraine.
"For me, it's not whether we are moving into a global food crisis – it's how large the crisis will be," said one expert, Yara International head Svein Tore Holsether, whose company specializes in fertilizer.
"Half the world's population gets food as a result of fertilizers… and if that's removed from the field for some crops, [the yield] will drop by 50 per cent," he explained.
Another expert from the United Nations has warned that Europe, in particular, will soon face "Hell on Earth" migration flows if it does not act soon, with a food shortage in the Global South as a result of the ongoing Ukraine crisis being likely to start another migrant crisis.
"If you think we've got Hell on earth now, you just get ready," said the UN's David Beasley, who formerly served as Governor of South Carolina for the Republican Party.
"If we neglect northern Africa, northern Africa's coming to Europe. If we neglect the Middle East, [the] Middle East is coming to Europe," he warned.
The country cannot afford to lose its major supplier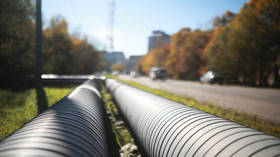 Slovakia will pay for Russian natural gas in rubles if that's what it takes to keep the commodity flowing, Slovak Economy Minister Richard Sulik has said on national television.
"If there is a condition to pay in rubles, then we will pay in rubles," Sulik said. He stressed that Russian imports account for roughly 85% of all Slovakian gas supplies, so the country's authorities will remain pragmatic on the issue.
"We cannot be cut off from gas," Sulik emphasized, urging the rest of Europe to jointly seek a solution.
"Fears of dominoes and the sinking of the industry"
Gazprom's departure from Germany raises concerns and fears.
Step by step, Germany is monitoring Russia's moves in the energy field and the pressures it exerts on the German gas market, as the country is more than 50% dependent on Russian gas.
In an interview with the Rheinische Post, Economy Minister Robert Habeck said: "The federal government is currently making very careful weightings to prevent a bigger evil."
These weightings are now made day by day literally. The Bonn-based regulator monitors the adequacy of gas reserves and assesses the situation on a daily basis by informing Berlin.
At the same time, after the short announcement of the Russian Gazprom that it is leaving the German market, thus leaving the subsidiary Gazprom Germania, in which it is the sole shareholder, everyone is trying to decode this move and evaluate its consequences.
There are no official reactions yet, but the government, industry and experts are watching the development closely, while according to information, the possibility of its nationalization has been considered for at least a few days now.
Germany: Perhaps the worst economic crisis since the end of World War II
According to energy expert Fabian Huneke, who spoke to the German news agency, Gazprom's move is currently being interpreted as pressure on Germany to renegotiate new gas contracts with Russia.
It is even estimated that Russia is ready to "sacrifice" Gazprom's natural assets (gas storage facilities, pipelines, transport infrastructure, etc.) on German soil, losing its subsidiary in order to "play" the Kremlin's energy game.
For his part, the head of the leading German chemical industry BASF Martin Brundemiller estimates according to Tagespiegel that serious problems in the flow of gas in Germany could lead to unprecedented losses in heavy industry leading the German economy to its worst crisis since World War II.
The German construction expert and government adviser Lamia Messari-Becker also told the German news agency that a possible interruption in the normal flow of Russian gas to Germany "could cause a domino effect in the raw materials industry, which would difficult to reverse ".
So far, the common denominator between Soltz, Lindner and Hubeck, chancellors and finance ministers, is that current gas supply contracts in Germany continue to be paid only in euros or dollars, despite pressure from Russia now. with the departure of Russian energy giants.