News from the war in Ukraine – 4 May, 2022
News from the war in Ukraine – 4 May, 2022
This is what the lying British media is saying
Communication has been lost with the last Ukrainian soldiers defending Mariupol, the exiled mayor has said 
Comes a day after commander said Russians were storming Azovstal plant with tanks, troops and armour 
New video shows the plant being bombarded with what appear to be lung-crushing thermobaric rockets 
If Azovstal is captured then it would put Russia in full control of Mariupol, the largest city to fall during the war 
Communications have today been lost with the last heroic defenders of Mariupol holed up inside the Azovstal steel works, after Russian forces stormed the complex.
Vadym Boichenko, mayor of the besieged city, said there is 'heavy fighting' ongoing inside the plant today and that he had 'lost contact' with those inside.
There is no way of knowing 'what's going on, whether they are safe or not,' he said.
The grim news came as footage emerged showing Russian forces using what appeared to be lung-crushing thermobaric rockets to bombard Azovstal as tanks and troops moved into the sprawling industrial zone.
Footage released by the so-called Donetsk People's Republic today showed lines of rocket artillery cutting through factories and warehouses that sit in the centre of Mariupol and are the last redoubt of the city's beleaguered defenders.
Russia appears to to be trying to seize Azovstal despite Vladimir Putin announcing last month that he had called off the operation to preserve the lives of his troops.  
These are the rumours going round.
Rumours are swirling in Moscow that a number of former generals and KGB officials are preparing to oust Russia's president Vladimir Putin and plan to end the war in Ukraine, which is increasingly seen across Russia as a strategic mistake and, above all, an economic disaster.
The top of Putin's former employer – the Russian security service FSB – is said to be so frustrated about the lack of military progress in Ukraine that it has reached out to a number of generals and former army officials, according to various analysts and local media reports.
In particular a group called the 'Siloviki' – which comprises of former FSB officers who are active in Russian politics – is said to be pushing hard to replace Putin, together with former officers from the GRU, KGB and FSO, other Russian intelligence units.
From Russian media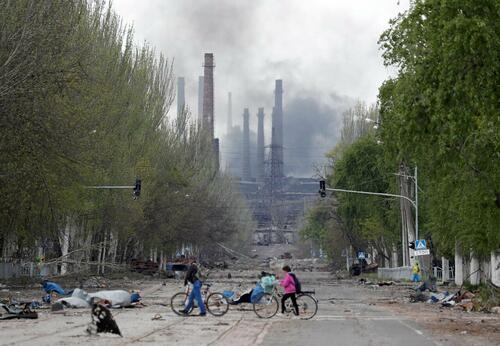 Mariupol Mayor Vadym Boichenko has announced Wednesday that Ukrainian officials no longer have communications contact with the estimated couple thousand Azov fighters still holed up beneath the cavernous Azovstal steel plant in Mariupol.
Hundreds of civilians are also believed still trapped there, and running low on food, water and supplies. As we detailed Tuesday, for the first time in the weeks-long standoff for the sprawling complex, Russian forces attacked the plant as Azov fighters briefly emerged and reportedly set up firing positions.
These sporadic gun battles have continued, as part of the final showdown for Azovstal, and as the trapped Ukrainian militants vow to fight till the end, refusing Russian demands to immediately come out and surrender. Some few hundred civilians have also been safely led out over the past number of days under UN and Red Cross brokered ceasefires.
Kremlin comments on situation at Azovstal plant
Ukrainian militants are attempting to take up firing positions but these efforts are being suppressed, President Putin's spokesperson says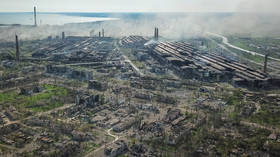 Russian forces are not storming the Azovstal steelworks in Mariupol, where Ukrainian military servicemen and members of the neo-Nazi Azov battalion have been holed up for more than a month, Kremlin spokesperson Dmitry Peskov told journalists on Wednesday.
According to the official, the Russian military is abiding by President Vladimir Putin's earlier order not to storm the plant.
"There is no assault. We see that flare-ups occur when militants get out to assume gun emplacements. These attempts are being suppressed quite promptly," he said.
On Tuesday, several Russian and Ukrainian media outlets reported that fighting had broken out at and around the giant steelworks compound following a few days of relative calm thanks to a ceasefire declared by Moscow to ensure the evacuation of civilians from the area. According to these reports, the Azovstal plant was being pounded by artillery and aerial bombardment. Unverified footage circulating on social media appeared to corroborate this, depicting plumes of smoke billowing from the facility.
The Donetsk People's Republic claimed that the Ukrainian military and Azov fighters holed up at the industrial facility took advantage of the lull in the fighting provided by the evacuation ceasefire to take up new positions.
Moscow says its forces now control the entire port city of Mariupol, except for the Azovstal plant, which boasts an extensive network of fortified Cold-war-era bunkers and tunnels, where Ukrainian troops have been besieged for over a month.
On April 21, Russian President Vladimir Putin called off an operation to storm the steelworks, fearing heavy casualties among Russian troops, and ordered instead to impose a complete blockade of the Ukrainian forces holed up there.
In addition to the question on Russia's strategy in Mariupol, Peskov was also asked to comment on reports in the Western media claiming that President Putin could order a mass mobilization in Russia on May 9, the day when the country celebrates its victory in World War II. The Kremlin spokesperson dismissed these claims as "rubbish," reassuring the journalists that Putin was not planning to declare war on Ukraine.
Peskov also lamented the lack of progress in Russia-Ukraine talks, accusing the Ukrainian leadership of constantly changing its position. He added that Moscow was unsure whether the negotiations would bear any fruit.
When asked about the sixth round of EU sanctions, which representatives of all 27 member states are expected to adopt later this week, Peskov noted that sanctions were a double-edged sword and that European citizens would have to pick up the tab.
Days ago Russia's foreign minister issued a formal appeal to the United States to immediately halt the supply of Western arms to Ukrainian forces if they are "really interested in resolving the Ukraine crisis."
"If the US and NATO are really interested in resolving the Ukraine crisis, then first of all, they should wake up and stop supplying the Kyiv regime with arms and ammunition," Sergey Lavrov had said. On Wednesday Russia's Defense Minister has repeated the warning that the military will now actively target for destruction any inbound weapons shipments identified in Ukraine:
"The United States and its NATO allies continue to pump weapons into Ukraine. I can confirm that any transport from the North Atlantic alliance that arrives in the country with weapons or materiel for the Ukrainian armed forces will be considered by us as a legitimate target for destruction," Shoigu said according to state sources.
The warning comes after the US has led the way in pumping billions in military aid to Kiev, also after this week the UK approved a fresh $375 million package. Germany has also lately approved sending heavier weaponry, though Berlin has also said its own military stockpiles are depleted and running low.
Seemingly right on cue (and by that we mean less than two weeks after Emmanuel Macron won re-election in France, securing the European status quo), and shortly after the Germans acquiesced to demands for a gradual reduction in Russian oil imports, European Commission President Ursula von der Leyen announced plans for a phased ban on all Russian oil by the end of the year.
Commission President Ursula von der Leyen told the European Parliament this would be "a complete import ban on all Russian oil, seaborne and pipeline, crude and refined."
"We will make sure that we phase out Russian oil in an orderly fashion, in a way that allows us and our partners to secure alternative supply routes and minimises the impact on global markets," she said.

"This is why we will phase out Russian supply of crude oil within six months and refined products by the end of the year."
This has been coming out the last day or so
The Russian armed forces arrested Canadian General Trevor Cadieu in Mariupol on the night of 2-3 May 2022. He is currently in Moscow awaiting to stand trial.
General Trevor Kadier was apparently not on a mission for his government, but was in charge of biolaboratory No. 1, with 18 staff working under his command.
The National Pulse reported that Hunter Biden, son of US President Joe Biden, and Christopher Heinz, John Kerry's son-in-law, had organized subcontracting arrangements for Ukrainian research laboratories through their firm Rosemont Capital, on behalf of the Pentagon's Defense Threat Reduction Agency (DTRA).
The Chinese Foreign Ministry revealed that the United States operates 336 biological and chemical weapons research laboratories abroad.
The Security Council held a meeting on this matter on March 11, 2022.
This guy has form