Dieselgeddon – America's diesel supply on verge of catastrophic collapse
Dieselgeddon – America's diesel supply on verge of catastrophic collapse
By Tsvetana Paraskova of OilPrice.com
U.S. gasoline prices continued to rise, setting another all-time high on Wednesday at $4.404 per gallon average nationwide, data from AAA showed today.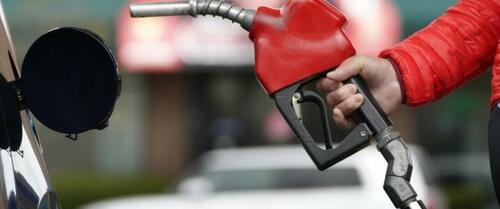 That's the highest recorded average price for gasoline in the United States, ever.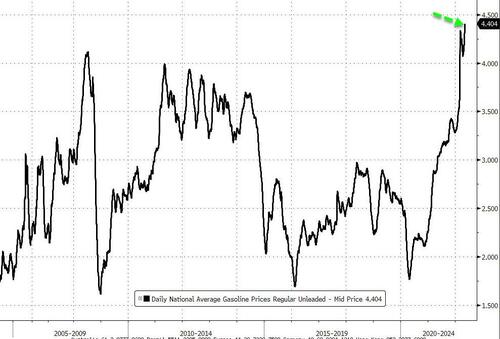 Diesel prices also hit a new high on Wednesday, reaching $5.553 a gallon. This is the highest average price ever recorded, too.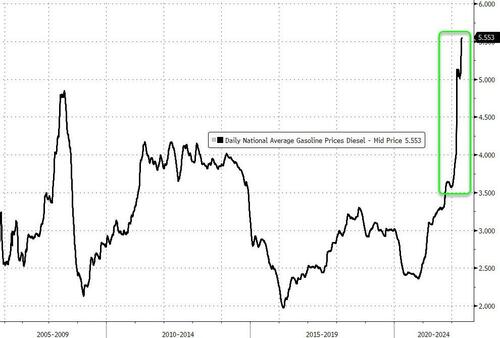 Average U.S. gasoline prices have reached new records every day this week, with Monday's price at $4.328 per gallon. The gasoline price increased to $4.374 a gallon on Tuesday, to pass the $4.40 mark on Wednesday for the latest all-time high.
To compare, at this time last year, the national average U.S. gasoline price stood at $2.985 per gallon, per AAA data.
You will find more infographics at Statista
High international crude oil prices, with markets rattled by the Russian invasion of Ukraine and a post-COVID recovery in travel demand, have been pushing U.S. gasoline prices higher this year.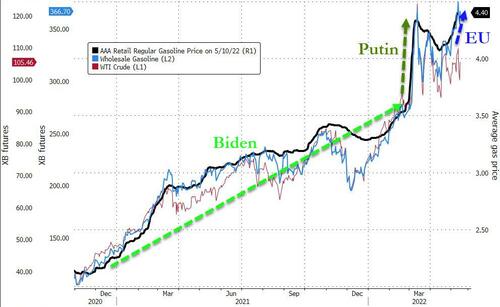 According to forecasts by fuel-savings app GasBuddy, U.S. gasoline prices will see the highest monthly average for 2022 in May. GasBuddy sees prices averaging $4.25/gal in May, but they could rise as high as $4.51/gal nationally, Patrick De Haan, head of petroleum analysis for GasBuddy, tweeted on Tuesday. Gasoline prices could hit $4.62/gal on some days in August this year, GasBuddy's forecasts show. The yearly average for 2022 is predicted at $3.99 per gallon.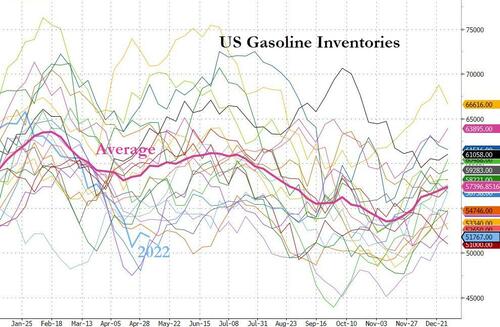 Meanwhile, the price of diesel has also soared to record highs amid very tight domestic inventories of middle distillates and a global shortage of supply. Diesel is used in every part of the industrial activity and supply chain, from goods transportation to manufacturing and agriculture; it fuels America's economy. Diesel prices have soared to record highs in recent months, adding further upward pressure on U.S. inflation figures.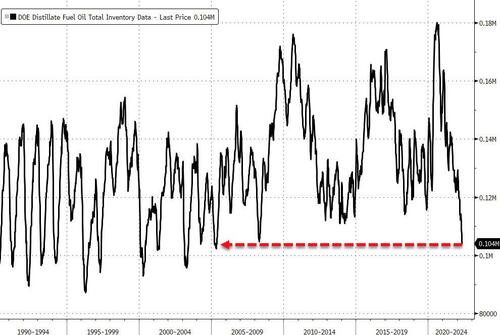 The exceptionally tight diesel market at home and abroad is unlikely to ease any time soon, considering the post-COVID demand from industry and for leisure and travel, as well as the reduced supply of diesel, other fuels, and crude oil from Russia following the invasion of Ukraine and the bans on Russian imports or self-sanctioning of buyers in the West to buy Russian energy goods.
On the East Coast, inventories are at their lowest ever, as the refinery capacity in the region has halved over the past decade to just 818,000 barrels per day now.
So, instead of focusing on boosting the production of gasoline in the summer driving season, this year U.S. refiners could be looking to raise diesel and jet fuel runs, as the global market of distillates is very tight following the Russian war in Ukraine and supports high refinery margins for those products. 
U.S. inventories are "very, very tight, especially tight for diesel," Gary Simmons, Executive Vice President and Chief Commercial Officer at Valero Energy, said on the Q1 earnings call at the end of April.
Valero Energy saw its highest-ever March refining margins this year, led by diesel, Simmons added.
The global diesel crunch is expected to worsen if the EU reaches some kind of a compromise on banning Russian crude and oil product imports. This will keep diesel prices elevated, impacting every economic activity in the U.S. and elsewhere, and ultimately hitting consumers. 
Currently, diesel at New York harbor is trading at around $5 per gallon, which is well above $200 per barrel, Tom Kloza, head of global energy research at OPIS, told CNBC's Pippa Stevens.
"These are numbers that are not just off the charts. They're off the walls, out of the building, and maybe out of the solar system," Kloza told CNBC. 
Major trucking fleets across the eastern half of the US are preparing for an "imminent" diesel shortage, according to logistics firm FreightWaves. 
Founder and CEO of FreightWaves Craig Fuller said "3 very large fleets" are preparing for diesel pumps at fuel stations to run dry. Drivers of these fleets received notifications about fuel shortages that could materialize in the coming weeks across the Mid-Atlantic and Northeast regions.
Major truckstop chains Loves and Pilot warning about imminent diesel shortages in the eastern half of the US

— Craig Fuller 🛩🚛🇺🇦 (@FreightAlley) May 11, 2022
Fuller tweeted several messages that drivers received from fleet operators. The notifications were alarming. 
— Craig Fuller 🛩🚛🇺🇦 (@FreightAlley) May 11, 2022
Another one pic.twitter.com/eQak0zptQW

— Craig Fuller 🛩🚛🇺🇦 (@FreightAlley) May 11, 2022
— Craig Fuller 🛩🚛🇺🇦 (@FreightAlley) May 11, 2022
We've confirmed with a number of fleets they are hearing consistent messages from the stops

— Craig Fuller 🛩🚛🇺🇦 (@FreightAlley) May 11, 2022
Georgia, Carolinas, Maryland, and Pennsylvania – were the specific areas that could be impacted. We heard that as many of 25% of their retail locations could see shortages in the East

— Craig Fuller 🛩🚛🇺🇦 (@FreightAlley) May 11, 2022
He also tweeted what appears to be an unnamed industry insider explaining the historic mess hitting Mid-Atlantic and Northeast markets is a combination of crude being diverted from the US to Europe and supply chains issues along the East Coast.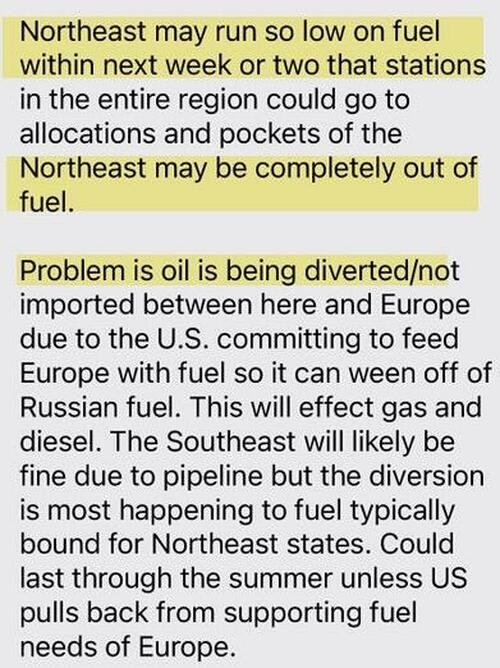 Diesel supply is short worldwide due to the invasion of Ukraine disrupting energy markets and resulting Western sanctions. The writing has been on the wall for months about developing shortages, as we discussed in:
On Wednesday, DOE showed US diesel inventories are now 23% below the five-year average for this time of year, at their lowest since May 2005.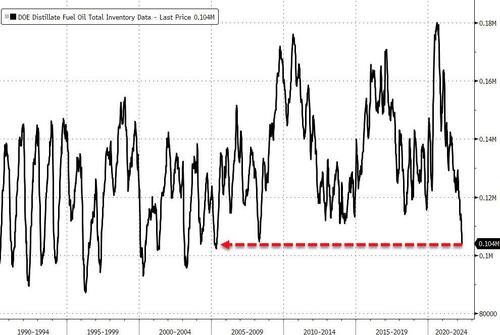 The situation isn't improving as diesel prices at the pump soar to new highs.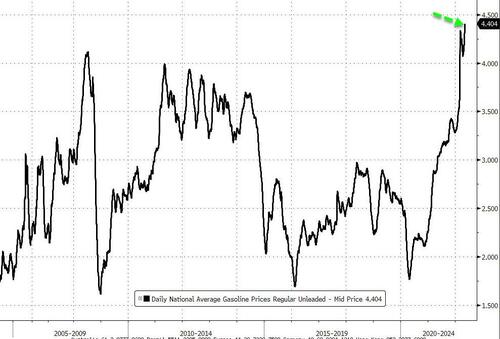 Retail gas prices are also legging higher.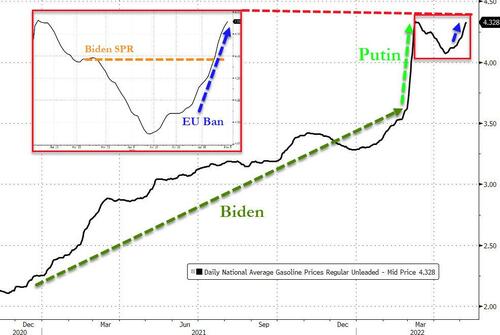 And who does President Biden blame this time for possible fuel shortages? Can't keep blaming Putin for every problem
(Natural News) In what we are now calling Dieselgeddon, the supply of diesel fuel in the United States is plunging. By the end of May or early June — unless something changes dramatically — diesel fuel will go into extreme scarcity and have to be rationed across America.
Because diesel is used by nearly all trains (because they're "diesel-electric" trains), transport trucks, construction equipment and farming equipment, the crash in diesel availability will sharply affect all the following:
Food availability

Fertilizers for growing food

Coal for powering the electrical grid

Construction projects

Transportation of consumer goods to retail stores

UPS, Fedex, USPS and other package carriers
Few people realize how important diesel fuel is to the economy, but they're about to learn this all-important lesson the hard way: Without diesel fuel, America's economy ceases to function. Full stop.
Without diesel, UPS can't deliver packages. Amazon.com shuts down. The USPS stops delivering mail.
Without diesel, the trains can't deliver fertilizer to farmers. Food crops don't get planted or fail to produce sufficient harvests to feed the world.
Without diesel, all construction projects stop, meaning roads and bridges are no longer repaired. The highway infrastructure collapses.
Without diesel, the United States of America ceases to function.
It all begs the question: Why is there a diesel shortage?
Mysterious fires and biodiesel conversions of existing refineries
One reason we don't have enough diesel being refined in America is because over the last few years, major fuel refineries shut down their diesel operations and began retooling to produce "biodiesel" — a highly inefficient, virtue signaling product that's actually horrible for the environment and yet depends almost entirely on food production to make the fuel. (It's incredibly wasteful to grow food and then turn that food into fuel. Just look at corn-derived ethanol fiasco that's an ecological nightmare…)
As JWN reported in 2020, "Massive oil refiners are turning into biofuel plants in the west." During the contrived covid lockdowns, it turns out, there was so much excess diesel in the pipeline that these companies were strong-armed into "going green" by transforming their refineries into biofuel factories. This means, of course, they can no longer produce real diesel fuel from petroleum. From that story:
Phillips 66 on Wednesday became the latest in a string of U.S. refiners to say it's converting an oil refinery in California into a biofuel plant as gasoline loses its lustre to fuels derived from agricultural and waste products. The company said its 120,000 barrel-a-day Rodeo refinery near San Francisco will become the world's biggest plant that makes so-called renewable diesel, as well as gasoline and jet fuel, out of used cooking oil, fats, greases and soybean oils.
The announcement came about a week after fuel giant Marathon Petroleum Corp. said that it may convert two refineries into renewable diesel plants. In June, HollyFrontier Corp. said it would turn its Cheyenne, Wyoming, refinery into a renewable diesel plant by 2022.
Realize that in order to produce biofuel out of food, somebody has to produce the food first. And that means farmers need fertilizer and diesel fuel for their tractors in order to grow the food. But the diesel is running out precisely because the diesel refineries switched to biofuel, but biofuel needs food which can only be grown by using diesel… you get the idea. It's a vicious cycle of doom and stupidity. Soon, America will have lots of mothballed refineries that can produce biofuel from food, but won't have any food to feed into their refineries.
Can't make up the level of stupidity required to land us at this point.
On top of this, a mysterious fire led to a massive explosion of a diesel refinery in Philadelphia in 2019. The company running the refinery, Philadelphia Energy Solutions," filed for bankruptcy in July of 2019, following the fire and explosion that took it out of commission, reports CNBC.
This sort of fire, which CNBC blames on a "faulty pipe," reminds us of the string of fires affecting food facilities across the USA in recent months. It all seems like coordinated sabotage of the infrastructure providing energy and food to America.
In summary, it is the conversion to so-called "green" biofuels — as well as the mysterious fire and explosion in Philadelphia — that has led to DIESELGEDDON which is about to hit America hard. As the diesel runs out, and transportation becomes insanely expensive and unreliable, Joe Biden and the Democrats are sending $40 billion to Ukraine while utterly refusing to do anything to help defend America's energy infrastructure.
That shows you their priorities, doesn't it? They're all about saving Ukraine while destroying America.
That's what democrats do, of course: They destroy everything they touch.
Get the shocking full story in today's Citizens' Log podcast via Brighteon.com: