Headlines from Taiwan – 4 August, 2022
Headlines from Taiwan – 4 August, 2022
China launches LIVE FIRE drills 12 miles from Taiwan as troops 'shoot at drones'
Beijing summons European envoys to protest against statements by G7 foreign ministers and the EU high representative on Taiwan

Japan's PM condemns China's firing of ballistic missiles as a 'serious problem that impacts our national security and the safety of our citizens
The USS Ronald Reagan aircraft carrier escorting US House Speaker Nancy Pelosi's flight has retreated after Beijing's military set a shooting range to the east of Taiwan, a mainland military official said.
Meng Xiangqing, a professor at the National Defence University, was quoted by state broadcaster CCTV as saying the PLA's aircraft carrier formation and nuclear submarines were taking part in the large-scale drills near the island
It is unclear whether both the Liaoning or Shandong were taking part in the drills, and the ships' locations were not known.
U.S. must display strength in face of Chinese threats to herself and allies
As if the United States did not have enough to deal with at home, foreign policy is beset by problems of its own. Most notably, the threat of China. This past week, the Chinese Communist Party (CCP) threatened Speaker of the House Nancy Pelosi (D-CA) should she visit Taiwan.
In response, Senators Michelle Steel (R-CA), Marsha Blackburn (R-TN), and Rick Scott (R-FL) introduced a bill to the Senate floor this week to create a lend-lease program with Taiwan.
According to Fox News, the bill resembles the lend-lease programs the United States made use of in World War II. Essentially, the United States will give Taiwan weapons and equipment. Subsequently, Taiwan must pay back for restoration or replacement of the equipment within twelve years. Additionally, renegotiation of how much Taiwan pays back is viable should the amount take away too much security funding for the U.S. or Taiwan.
The bill's timing is appropriate. China has become increasingly bold in its moves toward Taiwan. Military drills have been conducted dangerously close to the country. In fact, Chinese planes have penetrated its air defense space. Thankfully, this new lend-lease bill is receiving bipartisan support in Congress. Fox quotes Steel as being "proud to lead this bipartisan bill in Congress to show the CCP that we will not back down from supporting our allies." Further comments come from Blackburn, who states that "Taiwan is our greatest partner in the Indo-Pacific region, and their continued sovereignty is essential to challenging the New Axis of Evil."
The "Foolish" Proposal Would Be The Biggest Change To U.S. Policy Toward Taipei In 40 Years.
America's Taiwan policy hasn't changed much in the past 40 years. For many experts, that's a good thing. They argue that Washington's careful balancing act between Beijing and Taipei, enshrined in part in the Taiwan Relations Act of 1979, has kept tensions low and allowed Taiwan to transform from a notorious dictatorship into a full-fledged democracy.
But Sens. Bob Menendez (D-N.J.) and Lindsey Graham (R-S.C.) aren't satisfied with the status quo. The pair recently introduced a bill, known as the Taiwan Policy Act of 2022, that they touted as "the most comprehensive restructuring of U.S. policy towards Taiwan" since 1979. The Senate Foreign Relations Committee, which Menendez chairs, is set to take up the proposal on Wednesday.
Some of the bill's most notable changes to U.S. policy include increasing military support for Taiwan, expanding Taipei's role in international organizations, and laying out a harsh package of sanctions to be applied if Beijing engages in any "significant escalation in hostile action" toward the island.
Experts who spoke with Responsible Statecraft said these policies are likely to provoke a sharp response from China, further stoking tensions in the Taiwan Strait.
"These moves are provocative," said Lyle Goldstein, the director of the Asia Engagement Program at Defense Priorities. "I think this is a very delicate period for Taiwan, and this kind of move would be very foolish."
According to Michael Swaine of the Quincy Institute, the bill would undermine America's traditional "One China policy," under which Washington recognizes Beijing as the sole legitimate government of China and acknowledges that Chinese leaders consider Taiwan to be part of their territory.
"The document plays with words to seem as if no fundamentals have changed, but One China is in effect gutted," Swaine said. "The One China policy has led to strong limits being placed on political, diplomatic, and military contacts with [Taiwan]. This bill, if passed and implemented by the administration, would add greatly to the existing erosion of such limits."
Neither Menendez nor Graham responded to requests for comment about the bill and its potential consequences.
The proposed legislation comes amid a sharp increase in U.S.-China tensions, in part driven by Speaker of the House Nancy Pelosi's planned visit to Taiwan (she left for Asia this weekend). Beijing said its military will not "sit idly by" if Pelosi follows through on the trip, which would be the first by a House speaker since 1997. And, in a call with President Joe Biden, Chinese leader Xi Jinping cautioned that "[t]hose who play with fire will perish by it," according to Beijing's readout of the meeting.
Biden and the Pentagon appear wary of the visit, but neither have gone so far as to say that Pelosi should cancel it. In an apparent reaction to China's threats, the USS Ronald Reagan has begun sailing toward the Taiwan Strait, and Beijing has massed air power in the area, according to the South China Morning Post. While officials do not expect a direct confrontation, Chairman of the Joint Chiefs of Staff Gen. Mark Milley told reporters that DoD "will do what is necessary to ensure a safe conduct of their visit. And I'll just leave it at that."
China's live-fire military exercises around Taiwan have been branded "threatening" and "escalatory" in a joint statement by G7 foreign ministers.
Beijing began the unprecedented four-day exercises on Thursday, warning other ships and aircraft to avoid six zones surrounding Taiwan, some of which overlap with Taiwanese territorial waters. The drills follow Chinese fury over a visit to Taiwan by House Speaker Nancy Pelosi.
In response to the Chinese exercises, the Taiwanese military announced it is "preparing for war without seeking war," and said it will "stick to its posts" during the maneuvers.
The joint G7 statement was released by the foreign ministers of Canada, France, Germany, Italy, Japan, Britain and the United States, along with the EU's high representative.
Taiwanese envoy invites German MPs to visit island
Germany needs an "active policy" which would go beyond the "outdated" One-China principle, Taiwan's de-facto ambassador claims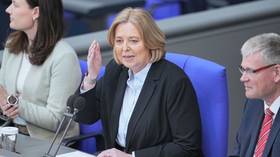 Taiwan's de facto ambassador to Berlin has invited German MPs to visit Taipei, claiming that Germany's adherence to the "One-China policy" is "outdated."
In an interview with the Tagesspiegel newspaper, published in the wake of US House Speaker Nancy Pelosi's controversial visit to Taiwan, Jhy-Wey Shieh proposed that "a Bundestag delegation headed by the Parliament's president" visit the island.
"That would not come from the parliamentary groups, but from the Bundestag – as an independent legislative body that represents the people and is not under the government," Taiwan's representative said. He added that the delegation could meet with the island's leader Tsai Ing-wen and the parliamentary speaker.
The visit by Nancy Pelosi, the third most senior official in the US government, has infuriated China, which considers Taiwan an integral part of its territory. Beijing has pledged to "take necessary and resolute countermeasures" and is now conducting large-scale military drills in several areas around Taiwan. Shieh said the drills bear "the greatest potential for military conflict" since the Third Taiwan Strait crisis of 1996.
Taipei's representative also insisted that "the old assumption" that Germany has to stick to the "One-China policy" to prevent China from tampering with the status quo should be revised. In his view, Germany needs "an active China and Taiwan policy that goes beyond that." Like Washington, Berlin officially considers Taiwan part of China, but maintains unofficial ties with the island.
At the end of last year, the Bundestag passed a resolution calling on the government to review its Taiwan policy in order to deepen exchanges with Taiwan, but ruled out the possibility of establishing diplomatic relations with the island.
On Wednesday, Germany's Foreign Minister Annalena Baerbock confirmed that the government would continue to adhere to the "One China policy." Speaking in Canada, the minister stressed that "the status quo in the Taiwan Strait can only be changed peacefully and with the mutual consent of all parties involved." Commenting on the situation around Pelosi's visit to Taipei, Baerbock echoed the G7 statement, accusing Beijing of "threatening military gestures."
The day before, Baerbock warned China against escalating tensions with Taiwan and said Germany would assist Taipei in case of a conflict with Beijing.
Meanwhile, China has warned that those who follow the US example by "playing with fire" will pay the price. At a press briefing on Tuesday, Chinese Ambassador to London Zheng Zeguang said British politicians should refrain from talking about "helping Taiwan defend itself," or visiting the island. Such actions, he said, "will inevitably lead to severe consequences for China-UK relations."
Taiwan has been self-governed since 1949, when China's nationalist government fled to the island following its defeat in the civil war. Beijing has repeatedly warned that the One China principle is a red line.