As things get worse quickly….
As things get worse quickly….
Europe's fertilizer supply crunch continues to tighten after Yara International ASA announced Thursday that third-quarter ammonia output was slashed due to skyrocketing natural gas prices, putting more upward pressure on food inflation as the cost-of-living crisis worsens. 
The Norwegian producer said ammonia output in the quarter dropped to 57% of capacity in Europe, plunging from 81% in the previous quarter. It warned output could collapse to just 35% if NatGas prices stay elevated through the cold season, according to Bloomberg. 
Russia's squeeze on NatGas, Western sanctions on Moscow inhibiting energy flows from Russia, and Nord Stream pipeline sabotage has caused a massive squeeze on shipments to the energy-stricken continent. The good news is Europe's NatGas storage facilities are almost full, but the EU has yet to find new fuel sources to offset Russian flows entirely. A significant risk looms if a cold, harsh winter quickly draws down supplies.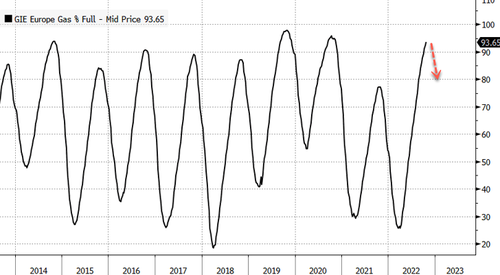 Drawing down on supplies would send EU NatGas prices to higher levels from here.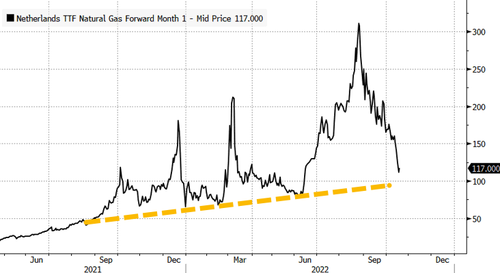 As a reminder, NatGas is a key feedstock for fertilizers and a power source for European heavy industries. Companies and households have been battered by soaring energy inflation.
The problem of reduced fertilizer output by Yara and others is that higher costs will affect farmers into the next growing season.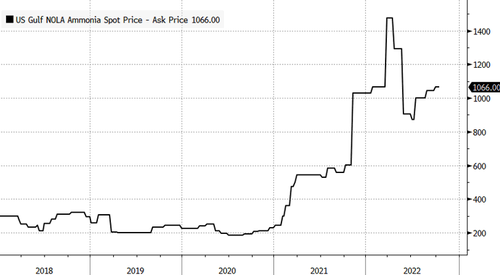 Some farmers may reduce the amount of fertilizer they use to save costs which may stress wheat and corn crops next year and reduce yield potential. Perhaps the global food crisis only worsens from here.
Does anyone think it strange that we are being told to eat insects in the midst of insect armageddon?
Authored by Steve Watson via Summit News,
A major supermarket chain in the UK is finalising plans to stock insects on its shelves and market them as a cheap food source for people struggling to afford to feed their families amid soaring inflation and the cost of living crisis.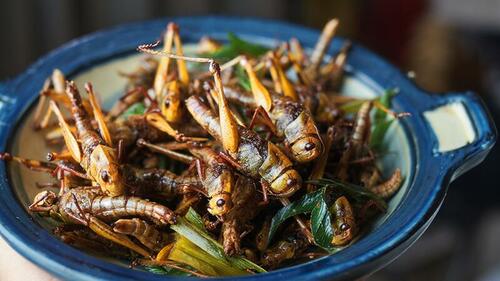 The Daily Mail reports that Aldi is considering stocking 'edible' bugs and providing recipe kits for parents to prepare worms and crickets for their hungry children.
Potential products in the range include 'sustainable' cricket burgers, as well as 'nuggets' and 'mince'.
Yummmmmy.
You will eat the bugs. You will own nothing. And you will be happy. pic.twitter.com/6Pkj5Ol4Td

— Ian Miles Cheong (@stillgray) October 20, 2022
Just when you thought this couldn't get any more more dystopian, the supermarket is involved with a TV game show in which insect 'farmers' will pitch the bugs as the 'next big thing' for Aldi, according to the report.
One of the contestants, Aaron Thomas, commented, "We're on a mission to change perceptions of insects as food; they're one of the most sustainable protein sources in the world."
Thomas further claims that crickets contain more protein than beef adding "We want to take bug consumption mainstream. If we're able to get in front of Aldi's audience, that would be an amazing opportunity."
The move is the latest in a growing trend of pushing bug eating on the masses as a way of 'saving the planet'.
Recently, Canadian company The Aspire Food Group pledged to produce 9000 tons of insects per year for human and pet consumption after completing construction of the world's biggest cricket food processing centre.
In addition to crickets, worms and maggots are also big in Europe.
There are even proposals to feed them to school kids:
How about a weed side salad? And why not wash down your worm food with a tall refreshing glass of sewage?
in 2020, the World Economic Forum published two articles on its website which explored how people could be conditioned to get used to the idea of eating weeds, bugs and drinking sewage water in order to reduce CO2 emissions.
A separate article published on the WEF website outlined how people can be conditioned to enjoy consuming 'food' which on the surface sounds disgusting.
The 'Great Reset' is about enacting a drastic reduction in living standards for the plebs which will force them to put bugs, weeds and sewage on the menu while the Davos elites continue to feast on the finest cuisine in their ivory towers.
Will you eat the bugs?
(Natural News) Much of the conversation surrounding mRNA (messenger RNA) "vaccines" centers around their impact on humans, but how about all the animals that are being injected with it?
Believe it or not, cattle are reportedly now getting jabbed with the stuff, which in a recent mass "vaccination" campaign of an Australian herd resulted in 35 of the 200 animals dying immediately.
We are told that dairy farmers and others are now being forced to inject their animals for the Fauci Flu in order to remain in business, and that the animals are not responding well to it.
Just like in humans, the shots are causing such profound damage that many of the animals are succumbing to instant death, while the others are getting sick and dying over a longer period of time. (Related: mRNA spike proteins linger in the heart and brain long after injection.)
For the animals that survive, one wonders what is becoming of their milk, which gets passed on as food for other animals as well as humans. Is it safe to consume mRNA-tainted milk and cheese from a "fully vaccinated" dairy cow? The answer is probably not.
"Dairy herd DNA is altered," one report explains. "Milk is altered and you consume it! Butter constitution, yoghurt, and cheese is altered, meat is altered – will chicken and other meats be next?
Is there any evidence at all to suggest that animals "catch" covid?
What is mysteriously absent from the "science" behind forced mRNA injections for animals is any actual evidence that animals are getting sick from covid
Sure, all mammals have lungs. And sure, those lungs can become infected with respiratory illnesses. But does this warrant administering experimental injections to animals that are killing them just the same as they are killing humans?
The government of New South Wales (NSW), Australia, where the first cattle herds we know of are being injected with mRNA, that the official excuse for the new mRNA push is that animal herds need protection against not just covid but also Foot and Mouth Disease (FMD) and Lumpy Skin Disease. A deal was forged with a United States-based biotechnology company called Tiba BioTech that, just like Pfizer, BioNTech, and Moderna, is now raking in the dough.
"The NSW Nationals in Government are taking the threat of FMD and Lumpy Skin Disease extremely seriously, and this milestone is another step forward in preparing for a potential outbreak," announced Deputy Premier and Minister for Regional NSW Paul Toole.
"I have now written to vaccine manufacturers to take up my challenge to develop both vaccines ready for use and manufacture in NSW by August 1 next year. COVID-19 demonstrated to us that all possible avenues in developing vaccines must be explored and we will leave no stone unturned."
In other words, covid and people's engineered fear of it is once again being used to fast-track at warp speed all sorts of new mRNA injections for use in both animals and humans.
"It is critical that we develop mRNA vaccines for FMD and Lumpy Skin as quickly as possible to protect our state's livestock sector," added Minister for Agriculture Dugald Saunders, who admitted that Tiba Biotech has been given free rein to churn out as many mRNA injections as possible to supposedly protect Australia's $28.7 billion livestock industry.
"The threat of FMD is ongoing and there are concerns Lumpy Skin Disease could enter northern Australia this coming wet season, so it's critical we continue to do what we can as quickly as we can," he added.
"Current FMD vaccines use the virus itself, and there is yet to be an approved vaccine for use in Australia for Lumpy Skin Disease, so creating mRNA vaccines to combat either disease would be a game-changer for the industry. mRNA vaccines are cheaper and quicker to produce, highly effective and very safe."
Is Australian meat still safe to eat?
Saunders went on in a statement to claim that mRNA injections are actually safer than traditional injections because they are "fully synthetic and do not require any animal or microbial products."
"They do not carry with them the same risks as traditionally derived vaccines," he insists.
This is unfortunate news for folks who purchase Australian meat and other animal-derived products from Down Under, believing them to be clean and pristine. If mRNA shots for animals become the standard there, many will think twice before purchasing any more animal products from Australia.
"This is well Beyond the Thunderdome – Mad Max and his enemies were otherwise healthy survivors of a holocaust," writes Peter Halligan about the issue on his Substack page.
"In the Australian Vaxx-Nazi world, it looks like movement of people and their motile ability will become a thing of the past."
Empty Shelves as Inflation Leaves Products Unprofitable
"Not only Mars [who worked hand in hand with Rockefeller Foundation on "Reset the Table"], but also Coca Cola [WEF partner] or Procter & Gamble [WEF Partner] are currently trying to ride the wave of inflation with excessive price demands in order to increase their returns," a spokesman for the Edaka chain of supermarkets claimed.
The official went on to claim that a number of major companies have now halted deliveries to the chain, something that they alleged is being used to put pressure on supermarkets.
[IceAgeFarmer: the Rockefeller/WEF partners are squeezing you as hard as they can.]
——
Products ranging from Kellogg's cornflakes to Coca Cola have disappeared from supermarkets throughout Germany, with many shops being left with empty shelves as products become simply unprofitable to sell due to differentials in inflation.
It comes as overall inflation hit 10% in the country in September, with EU-wide inflation for the month falling just short of 11% as a result of the ongoing #EnergyCrisis, which has in turn hiked the cost of food and other essential goods.
Retailers in the country however have strongly resisted this, with one supermarket chain in the country going so far as to accuse major companies of "price gouging" and "usury".
"The situation in the industry is critical to catastrophic," Federal Association of the Food Industry general manager Christoph Minhoff remarked regarding the feud, which has seen some individual rows even reportedly ending up in court as companies are unable to come to a compromise.
As a result of these ongoing hostilities between supermarkets and producers, a wide variety of well-known brands have disappeared from supermarkets throughout Germany, leaving many shops with empty shelves.
The likes of Coca Cola, Pepsi, Snickers, Kellogg's Cornflakes, Milka Chocolate, Ritter Sport chocolate, Wrigley's chewing gum, along with many other products ranging from mayonnaise to pet food have all been affected, though availability reportedly varies between supermarket chains.
https://t.me/iceagefarmer/3140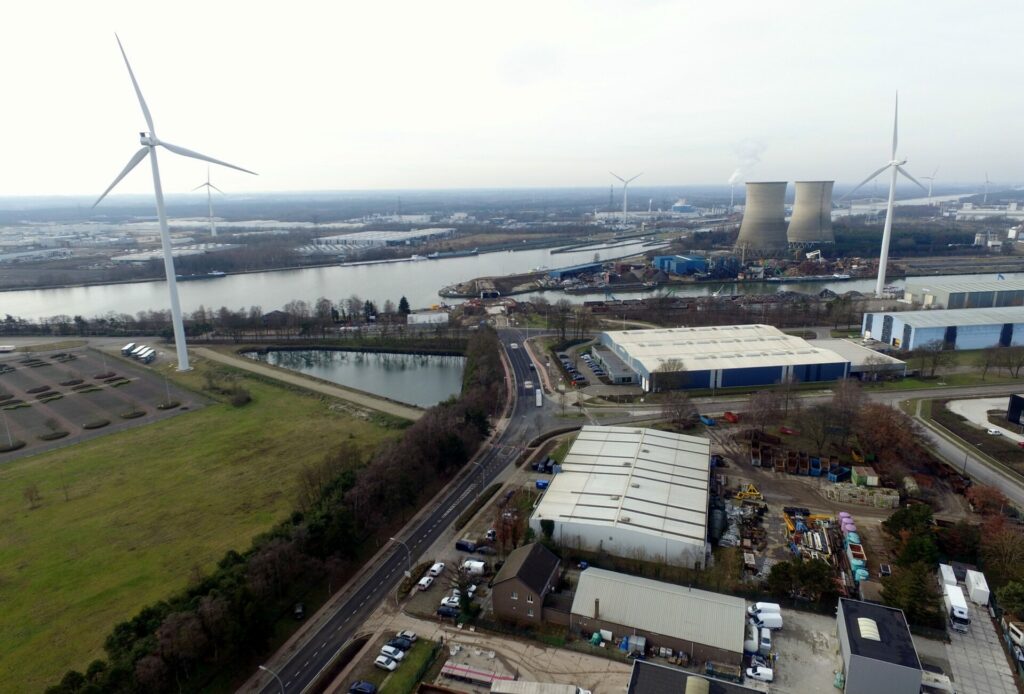 Several companies in Belgium have been forced to shut down their production facilities due to high energy prices, meaning thousands of employees are currently temporarily out of a job.
Stainless steel producer Aperam is shutting down its production facility in Genk due to the high energy prices, while fertiliser producer Yara and flooring group Beaulieu are also winding down operations, De Standaard reports.
High energy prices are increasingly hurting industries. Energy-intensive companies competing in the global market are in particular trouble.
Stainless steel producer Aperam announced that it has not yet resumed production after the summer holidays, leaving several hundred of the 1,250 employees at its largest site in Genk temporarily unemployed. The site near Charleroi is also partially closed. These two plants are where the Luxembourgish Aperam melts scrap into stainless steel.
"We collect old scrap and melt it down into stainless steel," says Bernard Hallemans, CEO of Aperam Europe. "We mainly melt this in high temperatures in ovens that run on electricity. We also need gas for certain operations but due to the high energy prices, we are now operating at a loss."
"In the past, we spent tens of millions of euros per year on gas and electricity; at current prices, it is several tens of millions per month."
Competition from Europe and beyond
Yesterday, fertiliser producer Yara also announced that it will close its site in Tertre in Wallonia from 15 September. It is no longer financially viable to make fertiliser in Europe, given that natural gas is key to the process.
Beaulieu International Group also announced yesterday that it is relocating a yarn division in Komen, Wallonia, to a branch in northern France, as energy rates are lower there.
According to Hallemans, Aperam Genk will restart in September to complete existing orders. But he fears for the future: "We cannot compete with players outside of Europe. Even within Europe, there are major differences in electricity prices."
For instance, a competitor in Scandinavia pays much less for electricity thanks to hydropower plants. Competitors from Spain and Portugal are also paying less for energy thanks to price caps.
"Europe imports 40% of its stainless steel from outside Europe," says Hallemans. "In Asia, electricity prices have risen much less sharply. I don't see the situation in Belgium improving any time soon. Energy prices continue to rise."
His argument is in line with more and more experts who warn of a major structural loss of competitiveness in European industry. If Aperam can no longer produce profitably, the stainless steel or fertiliser market threatens to fall completely into the hands of Asian or American players.
The first of many
Peter Claes, director of Febeliec (the umbrella organisation of energy-intensive companies), fears that Aperam and Yara will not be the only companies that will have to halt production because they can no longer compete in international markets. The gas price in Belgium is now ten times higher than in the US.
"The high energy costs will be felt drop by drop in the industry, with all the consequences that entail for the economy and employment. For some companies, it has even become more profitable to sell the gas they still have in stock than to use it for production."
Hallemans appeals to politicians in both Europe and Belgium: "The major European differences in electricity and gas prices must be eliminated." He hopes that the Belgian government will temporarily adjust the price mechanism for electricity and that the electricity generated via expensive gas-fired power stations will no longer determine the final price.
However, this must be done at a European level and requires considerable research and analysis.
CHICAGO (Reuters) – With planting roughly halfway complete, the 2023 U.S. hard red winter wheat crop is already being hobbled by drought in the heart of the southern Plains, wheat experts said.
Planting plans may be scaled back in the U.S. breadbasket despite historically high prices for this time of year, reflecting rising global demand and thin world wheat supplies projected to end the 2022/23 marketing year at a six-year low. The tight supplies have been exacerbated as the conflict in Ukraine has disrupted grain exports from the Black Sea region.
The drought threatens Kansas, the top winter wheat growing state, and Oklahoma in two ways: discouraging farmers who have not yet planted from trying, while threatening crops already in the ground from developing properly.
"It's sort of a grim situation," said Kent Winter, who farms in Andale, Kansas, outside Wichita. He said he normally seeds by mid-October but has yet to plant any wheat this year.
If rain does not fall in the next 10 days, he will begin "dusting in" the crop and hoping for moisture. Final planting dates to receive full crop insurance coverage are approaching, ranging from Oct. 15 in northwest Kansas to Nov. 15 in the southeast.
Without moisture, wheat shoots may fail to emerge from the ground. Even a delayed emergence would threaten yield potential by narrowing the window for plants to develop a hardy root system and push out more stems, known as tillers, before winter.
"That puts a nail in the coffin," said Mark Hodges, an agronomist for Plains Grains Inc, an Oklahoma-based group that tests wheat for quality. Hodges said, "If you don't have the tillers in the fall, it's really hard to make up that number in the spring."
Fears of a supply squeeze are underscored by the July Kansas City wheat futures contract trading around $9.40 a bushel, the highest price on record for a new-crop July contract at this time of year, the thick of the fall planting season.
About two-thirds of wheat in the United States, among the top five global exporters, is grown as a winter crop rather than spring.
While Plains farmers would like to take advantage of high prices, the dry weather may discourage producers from committing to supplies of high-priced seeds and fertilizer.
As a result, Justin Gilpin, chief executive of the Kansas Wheat Commission, expected the number of Kansas wheat acres planted for harvest in 2023 to remain steady with the 7.3 million acres seeded for 2022.
Winter concurred. "With the price of wheat, a lot of operators were planning to at least match or even up their acres for this coming year. But this drought is having a huge influence on plans," he said.
Poor emergence could have a longer-term cost as well. Wheat helps anchor topsoil in the Plains, protecting it from wind erosion.
"No farmer wants to see his ground blowing. So you go ahead and plant wheat, and hope like heck you get it up before winter comes," said Martin Kerschen, who farms in Garden Plain, Kansas.
Wheat is a famously hardy crop that can bounce back from struggles with poor weather. But forecasts are for drought to persist in the southern Plains through December.
In Kansas, 27% of the state is in "exceptional drought," the most extreme category, and virtually the entire state is abnormally dry, according to the latest weekly U.S. Drought Monitor report prepared by a consortium of climatologists.
A key driver of the drought is the La Nina weather phenomenon, which tends to favor warm and dry conditions in the Plains. The current La Nina is in its third year.