The NATO war against Russia
The NATO war against Russia
I thought this a pretty good explanation of where we are with the NATO war against Russia.
From Hal Turner
Ukraine is losing the war to such a degree right now that U.S. and NATO countries are beginning to panic. 
 Ukraine needs heavy weaponry and there's plenty of such in NATO arsenals, but Ukraine does not have people trained to use it. 
When it comes to tanks, even Bradley fighting vehicles, it takes literally MONTHS to train the four or five people needed to crew such weapons systems.  After MONTHS of training, it takes months more of practice to become proficient.  Ukraine doesn't have months.
Right now, having lost the city of Soledar, Ukraine is coming under intense pressure in Bakhmut.   This is a key place because many railroads and highways converge in that city, and all those routes are necessary to provide supplies to Ukrainian troops in the south and east of the country.
The fighting around Bakhmut has been fierce for weeks, and Ukraine is losing 300-500 troops a DAY there.  The losses are adding up so quickly, that Ukraine has had to pull reinforcements away from other places, like Zaporozyhe, to bolster Bakhmut.   Yet when they pull troops from Zaporozyhe, the Russians resume making gains down there.   If they don't pull troops from elsewhere, then the Russians continue making gains at Bakhmut.   It truly has become futile for Ukraine.
The war is approaching a major inflection point. Something HAS to change.
The US and NATO know this.   They are faced with watching Ukraine disintegrate and lose.
The only way the US and NATO can get the heavy weapons where they're needed is if US and NATO troops man them.   But that puts the US and NATO directly at war with Russia, which both US and NATO want to avoid.
So what has been going on is that troops in the US and NATO that are active duty, have been "quitting" then signing up and becoming part of a Private Military Contractor, and off to Ukraine they've been going.   One day they're American troops, the next day they're private military contractors.  It's happening that fast.
Yet even with this help, it is not enough to turn the tide in Ukraine's favor.   War is a combined effort of land, sea, air, maintenance, and replacement equipment.   Without any one of those components, Ukraine cannot turn the tide.
So the US and NATO are faced with either seeing Ukraine fail, fall apart, and lose, or having NATO join the war directly.
Word from Intel contacts is that the US and NATO are considering a "No-Fly" Zone over western Ukraine.  They are keenly aware that Russia will not tolerate that, and any coalition aircraft sent into that zone would be shot down by Russia. 
 The US and NATO would use the shoot down as a pretext to enter the war.
But there is severe division within NATO about this idea.  It would mean literal World War 3.
Yet that is what is being pushed right now.  That is how close we are to all out war.
Days after he warned NATO of the likelihood of nuclear war if Russia is defeated in Ukraine, former Russian president and current deputy chairman of the security council Dmitry Medvedev on Monday said the world stands on the brink of World War III due to US and Western aggression against Russia.
"The world has come close to the threat of World War III due to impending US aggression against the Russian Federation," Medvedev said in comments first reported by Sky News Arabia. He also emphasized he sees the conflict at a point of no return. "There are no conditions for negotiations between Russia and Ukraine now, either de facto or de jure," Medvedev said.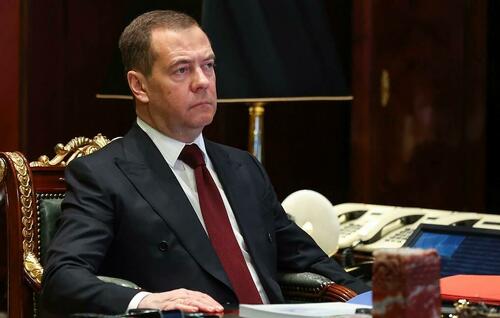 On the same day, Russian Foreign Minister Sergey Lavrov voiced something similar, saying the confrontation with NATO can no longer be seen as merely a "hybrid war" or proxy war, but is instead fast approaching a real one. He said this in a joint press conference with his South African counterpart, Naledi Pandor
Lavrov explained that this "almost real" – as he put it according to state media, was something the West "has been preparing for a long time against Russia."
He further charged that Ukraine's leadership has created "presidents of war" and "Russophobic leaders" – particularly in reference to Present Zelensky and before him Petro Poroshenko.
Russian presidential spokesman Dmitry Peskov additionally sounded the alarm in separate Monday remarks, saying that the current rush to supply Western-made tanks to the battlefield will severely escalate the conflict. "The Ukrainian people will pay the burden of this so-called support," he said.
Former Russian Pres. Dmitri Medvedev said the defeat of Russia in Ukraine may trigger a nuclear war. The head of the Russian Orthodox Church, Patriarch Kirill, backed up Medvedev's warning that "Russian defeat would mark the world's end." Need I say more? https://t.co/1bh2P1Lga1

— Steve Hanke (@steve_hanke) January 22, 2023
Peskov also highlighted that it's clearly creating tensions and division among allies, noting that if the tank plan proceeds, "All countries that directly or indirectly ship weapons to Ukraine are responsible for this."
Currently, Poland is leading the way on pressuring Germany to authorize sending advanced Leopard tanks to Ukrainian forces. Berlin has so far expressed reluctance, fearing uncontrollable isolation, while seeking to stress Germany doesn't wish to be a party to the conflict.
Meanwhile, heavier weapons continue to pour into the conflict unabated…
⚡️American M2A2 Bradley infantry fighting vehicles somewhere in Poland.

Most probably headed to Ukraine. pic.twitter.com/RZNrQpyhe0

— War Monitor (@WarMonitors) January 22, 2023
A pretty interesting analysis from Aussie Cossack
"Shoot them on the spot!" – New Wartime Directive issued to punish TRAITORS
Aussie Cossack shares his perspective on the Russian Government's new directive on dealing with traitors – particularly those who are overseas. Those who want the death of Russia, will be dealt with according to "rules of war".
Согласно законам военного времени – предателей, как правило, расстреливали на месте.
The Deputy Head of the Security Council of Russia noted that in times of war there were always such special measures.
TASS: Deputy head of the Security Council of the Russian Federation Dmitry Medvedev considers it possible to act according to "special wartime rules" in relation to traitors who want the death of their Fatherland.
According to the politician, on the Internet, in particular in Telegram channels, "the discussion has resumed about how to deal with traitors who have defected to the enemy and want their Fatherland to perish," including with those figures who until recently considered themselves to be among the intellectual elite . The question arose of how to respond in such cases, legally or fairly.
"Of course, only according to the law, but if the law does not work or does not reach the goal, then according to the special rules of wartime. Let's recall the experience of the Great Patriotic War, and other countries.
During wars, there were always such special rules. And quiet groups of impeccably invisible people performing them effectively," Medvedev wrote on his Telegram channel .
This week, the anti-Russian statements of the actor Artur Smolyaninov caused a resonance. Some parliamentarians spoke in the media and social networks with proposals for possible measures against citizens of the Russian Federation who oppose their country.