In a much anticipated speech on Tuesday, President Vladimir Putin said he is suspending Russia's participation in the New START nuclear treaty with the United States. 
"President Vladimir Putin on Tuesday suspended Russian participation in the last remaining nuclear arms control treaty with the United States, warning Washington that Russia had put new ground-based strategic nuclear weapons on combat duty," Reuters reports of the new declaration.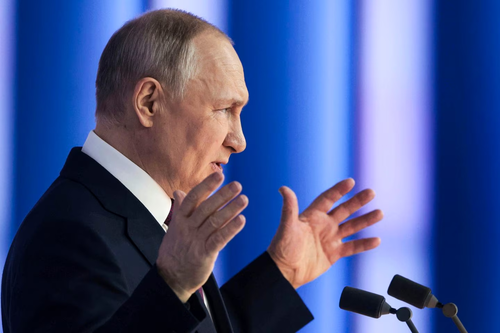 It comes over a year after Moscow signed onto a five year extension, and after in August the US accused Russia of violating the treaty in disallowing US on-site inspections under its stipulations. In response, Washington halted Russian inspectors' ability to do the same on American soil.
Russia had at the time complained that it was actually the US side which "deprive the Russian Federation of the right to conduct inspections on American territory."
"No one should be under the illusion that global strategic parity can be violated," Putin said of New START in the Tuesday remarks delivered in Moscow.
In March 2021 the two sides renewed New START for a period of five years, and it will expire in February 2026 if it's not continued – an increasing possibility given US-Russia relations have deteriorated so fast over the Ukraine war they are near complete breaking point. But this new Putin declaration appears to be the final death knell after the treaty's fate was already extremely uncertain.
The treaty is intended to limit and reduce nuclear arms on either side, setting a limit of no more than 1,550 deployed warheads and 700 missiles. START I began in 1991, with New START signed under the Obama and Medvedev administrations in 2010 as a successor agreement.
Putin's speech, which most commentators saw little that was new in, came just after President Biden showed up in Kiev for a surprise visit…
As the U.S. president visits Poland, Russian President Vladimir Putin made his own speech in a parallel political universe.https://t.co/ZYWj4ZriGd

— Foreign Policy (@ForeignPolicy) February 21, 2023
Much of Tuesday's speech was about reaffirming Russia's resolve in Ukraine at a moment NATO powers seem more deeply involved than ever. "Step by step, we will carefully and systematically achieve the aims that face us," Putin said in the speech which came just ahead of the anniversary of the invasion on Feb. 24, which will be Friday.
He also rearticulated Russia's reasons for going to war. "Russia did its best to solve the problem in Ukraine peacefully, but the statements of Western leaders turned out to be fraudulent and untrue," Putin said, calling Ukraine part of the "historical Russian land."
Authored by Dave DeCamp via AntiWar.com,
Victoria Nuland, the undersecretary of state for political affairs, said last week that the US is "supporting" Ukrainian attacks on Crimea and called Russian military installations on the peninsula "legitimate targets."
Nuland made the comments when asked about a report from The New York Times that was published in January and said the Biden administration was "warming" to the idea of helping Ukraine attack Russia despite the risk of escalation.
"Russia has turned Crimea into a massive military installation … those are legitimate targets, Ukraine is hitting them, and we are supporting that," Nuland told the Carnegie Endowment for International Peace, a Washington DC-based think tank.
Nuland also expressed support for the "demilitarization" of Crimea. "No matter what the Ukrainians decide about Crimea in terms of where they choose to fight, etcetera, Ukraine is not going to be safe unless Crimea is at a minimum — at a minimum — demilitarized," she said.
Russian Foreign Ministry Spokeswoman Maria Zakharova slammed Nuland's comments, saying she was inciting an escalation of the war. "Now the American warmongers have gone even further: they are inciting the Kiev regime to further escalate, to bring the war to the territory of our country. Just like that, with direct strikes," Zakharova said.
Nuland's comments came a day after Secretary of State Antony Blinken acknowledged that a Ukrainian attempt at retaking Crimea would be a "red line" for Russian President Vladimir Putin and would risk a major response from Moscow. US support for such operations would increase the risk of provoking Moscow and heighten the chances of a direct clash between NATO and Russia.
Putin has shown that he will significantly escalate the war over attacks on Crimea. Russia did not start large-scale missile strikes on Ukraine's energy infrastructure until after the truck bombing of the Kerch Bridge, which connects Crimea to the Russian mainland.
While Ukraine hasn't been in a position where it can launch an offensive against Crimea, the Biden administration has made clear throughout the conflict that it wouldn't discourage Kyiv from attacking the peninsula.
Back in the summer of 2022, when the US first provided the HIMARS rocket systems to Ukraine, the administration sought assurances that the weapons wouldn't be used to target Russian territory. When asked by Antiwar.com if that restriction applied to Crimea, a State Department spokesperson replied, "Crimea is Ukraine."
Russia has controlled Crimea since 2014, but neither the US nor Kyiv recognize the peninsula as Russian territory. The people of Crimea voted to join Russia following a US-backed coup in Kyiv, which Nuland played an instrumental role in, and polling since 2014 has shown that they are still happy with the change.
Update(1422): China's foreign ministry has issued a statement within hours after Beijing's top diplomat Wang Yi touched down in Moscow for an official visit: 
China's foreign minister said on Tuesday that Beijing is "deeply worried" that the war in Ukraine could continue to escalate and "spiral out of control," as the conflict continues to rage on nearly one year later.

Foreign Minister Qin Gang appeared to call out the U.S. for its extensive support of Ukraine, urging "the countries concerned to immediately stop adding fuel to the fire, stop blaming China, and stop clamoring for 'Ukraine today, Taiwan tomorrow.'"

Qin added that Beijing will "continue to promote peace talks" and "provide Chinese wisdom for the political settlement of the Ukrainian crisis."
China says President Xi is interested in brokering peace in Ukraine, however, US Secretary of State Antony Blinken on Sunday charged that "China is trying to have it both ways," given that, "Publicly, they present themselves as a country striving for peace in Ukraine. But privately, as I said, we've seen already over these past months the provision of non-lethal assistance that does go directly to aiding and abetting Russia's war effort."
* * *
Update(1015ET): During top diplomat's Wang Yi's visit to Moscow, The Wall Street Journal is reporting based on its sources that Chinese leader Xi Jinping is planning his own visit to Russia soon, where he'll meet with his counterpart President Vladimir Putin at a moment the war in Ukraine shows no signs of slowing.
"Chinese leader Xi Jinping is preparing to visit Moscow for a summit with Russia's president in the coming months, according to people familiar with the plan, as Vladimir Putin wages war in Ukraine and portrays himself as a standard-bearer against a U.S.-led global order," WSJ writes Tuesday morning.
And according to unnamed sources, "Beijing says it wants to play a more active role aimed at ending the conflict, and the people familiar with Mr. Xi's trip plans said a meeting with Mr. Putin would be part of a push for multiparty peace talks and allow China to reiterate its calls that nuclear weapons not be used." However, nothing official from either side has yet to be confirmed.
The Biden administration has angered Beijing over the last several days in issuing repeat warnings against providing the Kremlin with any lethal weapons or military assistance. Despite these efforts, a Xi trip to Moscow would certainly solidify the 'no limits' partnership between the two countries, and with huge symbolism to boot given the timing.
China's top diplomat Wang Yi announced Saturday at the Munich Security Conference that China will seek to roll out a plan focosued on ending the war in Ukraine, saying, "We will put forward China's position on the political settlement on the Ukraine crisis, and stay firm on the side of peace and dialogue." Meanwhile, during Putin's Tuesday speech…
* * *
After the weekend back-and-forth of warnings centered on the Biden administration's latest assertions that Beijing is mulling providing lethal aid to Russia in order to help the Kremlin execute its war efforts, Ukrainian President Volodymr Zelensky has weighed in on the deepening Beijing-Moscow partnership.
He warned that WW3 is on the horizon if China begins supplying weapons. "For us, it is important that China does not support the Russian Federation in this war," Zelenskiy told German daily newspaper Die Welt. "In fact, I would like it to be on our side. At the moment, however, I don't think it's possible."
"But I do see an opportunity for China to make a pragmatic assessment of what is happening here," he continued. "Because if China allies itself with Russia, there will be a world war, and I do think that China is aware of that."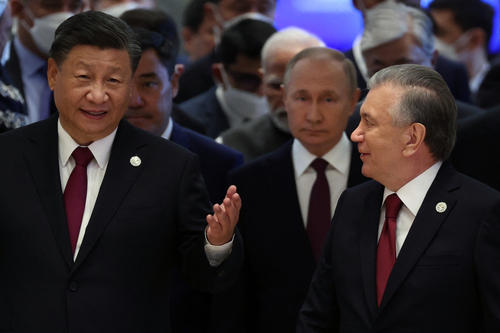 Likely China will shrug off Zelensky's provocative comments, given Beijing already told Washington that it's in no position to make demands.
Previously, Biden administration officials had said the US is concerned by "disturbing" trends when it comes to China's support for Russia. Despite prior international media reports, mostly based on speculation, alleging that China was already supplying Russia's war effort in Ukraine, there's as yet no evidence of this. 
The timing of the accusations is also important, given on Tuesday China's top diplomat Wang Yi made his first visit as Director of the CCP Central Foreign Affairs Office to Russia, having arrived in Moscow.
The day prior, he reiterated Beijing's position that negotiated settlement is needed to solve the Ukraine crisis:
"We would like a political solution to provide a peaceful and sustainable framework to Europe," Wang said ahead of a visit to Moscow during a stop in Hungary, which could result in billions of euros of new Chinese investment in the country.
On Saturday Wang had emphasized something similar in addressing the Munich Security Conference. Calling a room full of European officials "dear friends", he said "We do not add fuel to the fire, and we're against reaping benefits from this crisis" – in a message aimed squarely at Washington.
What was supposed to be a bilateral meeting with Secretary Blinken never materialized earlier this month due to the Chinese 'spy' balloon shootdown saga…
"Some forces might not want to see peace talks to materialize. They don't care about the life and death of Ukrainians, nor the harm on Europe. They might have strategic goals larger than Ukraine itself. This warfare must not continue," Wang added in the weekend comments.
As for Wang's trip to Moscow, the Kremlin has said a meeting with President Putin could be in the cards, though this is uncertain. "We do not rule out a meeting between Mr. Wang Yi and the [Russian] president, he will indeed be in Moscow," spokesman Dimitry Peskov said in a briefing.