More on China supplying Russia with weapons; Bakhmut surrounded; life expectancy of Ukrainian soldiers is 4 hours
More on China supplying Russia with weapons; Bakhmut surrounded; life expectancy of Ukrainian soldiers is 4 hours
China supplying Russia with weapons?
Redacted with Clayton Morris poo-pooed the idea that China might supply weapons to Russia when they have just proposed a peace deal.
Only the Evil Empire is ever guilty of using double dealing to further its own interests.
However, as I reported yesterday there might be stuff on the ground happening behind the scenes.

This is not from RT or Sputnik, which most commentators rely on, but here is something from RUSSIAN media.
It helps to have a Russian search engine!
Following a visit to Chinese storage facilities by Russian military personnel near the Russian border, artillery equipment has begun to be prepared for combat. Chinese analyst Shufang, linking these events, concluded that China may be sending military equipment to Russia.
Military analyst Zhu Shufang has reported that a lot of artillery equipment has begun to be reactivated and put into combat condition from China's largest army reserve depot in Xinjiang province not too far from the Russian border.
The question is about PLZ-05 howitzers having 152 mm caliber and being full analogues of the Russian 2S19, and the Chinese AR1A MLRSs, the analogue of the Russian Smerch MLRSs. The expert recalled that it was here that high-ranking Russian servicemen visited eight days ago.
Офис Зеленского пригрозил Китаю за оказание военной помощи России
Ukraine will react aggressively to arms supplies to Russia. This was announced on February 27 by adviser to the office of the President of Ukraine Mikhail Podolyak.
Peace tour: what Wang Yi came to Russia with
And what China wants to show Europe
"If a country, regardless of China, begins to transfer equipment to Russia, then it is necessary to react to this somehow aggressively," he told the Dom TV channel.
Podolyak noted that China has not transferred anything to Russia at the moment.
Earlier in the day , Michael McCall, head of the US House Foreign Affairs Committee, said in an interview with ABC television that the American side had intelligence reports about the possibility of sending hundreds of Chinese drones to Russia. He also suggested that the PRC may supply other lethal weapons, without specifying the details.
US national security adviser Jake Sullivan also warned that China would face "real costs" if it helps Russia in the conflict in Ukraine. At the same time, he noted that Beijing makes all foreign policy decisions independently.
On February 24, US leader Joe Biden said the United States had found no evidence that China was sending weapons to Russia for a special operation. Any support will have economic consequences for China, the head of state added.
On the same day, EU Foreign Service spokeswoman Nabila Massrali said the EU had no evidence that Beijing was supplying Moscow with lethal weapons.
On February 22, Chinese Foreign Ministry spokesman Wang Wenbin called NATO's statements about China's arms supplies to Russia speculation. He recalled that the countries of the alliance are the largest source of arms supplies for Ukraine, while they continue to spread information about the provision of weapons by China to the Russian Federation. As Wang Wenbin emphasized, the corresponding tactics were used and exposed from the very beginning of the Ukrainian crisis.
Prior to this, on February 18, US Secretary of State Anthony Blinken said that the United States was concerned about possible assistance from China to Russia in the conduct of hostilities in Ukraine. On the same day, he warned China of the consequences if it provided material assistance to Russia in a special military operation.
In turn, Wang Yi, head of the office of the Foreign Affairs Commission of the Central Committee of the Communist Party of China, said that China would never accept US pressure and threats against Russian-Chinese relations.
The situation in Transnistria
Statement by the Russian Foreign Ministry in connection with the preparation by the Kiev regime of military provocation against the Russian enclave of Transnistria at the eastern border of Moldova with Ukraine:
"In connection with the significant accumulation of personnel and military equipment of Ukrainian units recorded by the Ministry of Defense of the Russian Federation near the Ukrainian-Transnistrian border, the deployment of artillery at fire positions, as well as an unprecedented increase in flights of unmanned aircraft of the Armed Forces over the territory of Transnistria, we warn the United States, NATO member countries and their Ukrainian wards from the next adventurous steps.
We consistently advocate the solution of any issues in a political and diplomatic way. At the same time, no one should have doubts that the Armed Forces of the Russian Federation will adequately respond to the provocation of the Kiev regime, if one does follow, and will ensure the protection of our compatriots, the Russian peacekeeping contingent, military personnel of the Operational Group of Russian troops and military depots in the village. Any actions that pose a threat to their security will be considered in accordance with international law as an attack on the Russian Federation."
Army columns of Gepards and  HIMARS Multiple-Launch-Rocket-Systems (MLRS) are on the streets inside Romania, apparently headed towards the Moldova border.
Video below shows one such column:
This comes on the heels of an ORDER issued by government on January 31 informing Romanian men to " Immediate Training for All Men Fit to Fight. "  They are required to report for mandatory training by March 31. 
That Order, issued by the Ministry of National Defense, Brila County Military Center, shown below, is being referred to as a "CALL TO WAR."
More . . .
The US military/NATO is deploying some reservists to Romania to train European soldiers. The reservists have been told that the war will escalate. They will be training the Europeans to fight against Russians for at least six months.
On the Bakhmut front
The report from Alexander Mercouris
An American fighting on the frontlines in Ukraine is warning that the battlefield in Bakhmut is gruesome.
Russia is nearing its one-year anniversary of the "special military operation" it launched against Ukraine in February 2022. As winter weather fades and spring approaches, military experts are speculating a renewed offensive from Russian forces. Frontlines shifted to Bakhmut—a city in eastern Ukraine—in July 2022, and according to former U.S. Marine Troy Offenbecker, the scene is grisly.
Offenbecker, who is fighting in Ukraine's International Legion comprised of foreign soldiers, told ABC News that when a Ukrainian soldier fights on the frontlines in Bakhmut, their life expectancy is only around four hours.
"It's been pretty bad on the ground," he said. "A lot of casualties. The life expectancy is around four hours on the frontline."
Offenbecker said Bakhmut has been called "the meat grinder" because of the macabre scenes, and he described the fighting as "chaotic".
Fighting has increased in Bakhmut as Russia directed its forces there since last summer to seize the city. But like many other instances during the war, Russia has been met with fierce resistance from Ukrainian troops.
However, Offenbecker isn't sure how long Ukrainian troops could continue to hold the city. He told ABC News that he expected the much-anticipated Russian offensive had already begun, placing Bakhmut as its focus.
Reports from both sides have claimed harsh casualties. Despite reports that Russia is struggling in the war with dwindling equipment and untrained troops, Offenbecker said attacks from Russians have been "nonstop" in Bakhmut, with artillery coming "all day and night".
Mark Cancian, a retired United States Marine Corps Colonel and senior advisor at the Center for Strategic and International Studies told Newsweek the battles in Bakhmut are reminiscent of World War I.
"In World War I, the line didn't move very much but there was tremendous attrition," Cancian told Newsweek.
Cancian said he and other military experts thought Russia's offensive would "explode", where one day everything is quiet on the battlefield and the next there is a "huge attack". However, he said that doesn't seem to be the case with Bakhmut and that Russia's increased focus in the area is an attempt to increase effort gradually instead of an explosive offensive attack.
If captured, Bakhmut would be the Kremlin's first major victory since last summer. However, Russians have been facing quite a fight. Ukraine has withstood many of Russia's attacks with aid from allied nations, such as the United States, but politicians are beginning to hesitate on if further aid should be supplied.
Newsweek reported Monday that the United Kingdom's Ministry of Defense said Russian troops have suffered many casualties, especially in Bakhmut. The Ministry of Defense speculated that Russia might announce its victory over Bakhmut even if that isn't the case.
U.S.-based think tank the Institute for the Study of War (ISW) also feels that Russia won't be able to seize Bakhmut this week. Despite the brutal fighting, ISW reported that Russia didn't seem to be "quickening their rate of advance" in the area as four days remain before the war's one-year anniversary.
If Russia is unable to claim Bakhmut in time, ISW reported that Russia might instead launch missile strikes on civilian targets instead.
Bakhmut's 4 hour life expectancy
20,000 mercenaries from Poland are taking part in the fighting on the territory of Ukraine, an eighth of which has already been eliminated.
This was stated in one of his statements by former adviser to the US Secretary of Defense Douglas McGregor.
According to him, out of 20 Polish mercenaries, 2,500 people are currently listed as dead in Ukraine, while, according to updated information, about 400 more people are missing, i.e. are actually classified as dead.
"There are already 20 servicemen (probably meaning mercenaries – ed.) from Poland fighting for Ukraine. About 2 of them died and lie in cemeteries in Poland. They died not in their homeland, but in Ukraine."McGregor said.
In Poland, McGregor's words have not yet been commented on, however, it is known that a large number of mercenaries from Poland are really involved in the hostilities on the territory of Ukraine. Moreover, the losses of the latter are indeed large, especially after the battles on the territory of the Kherson and Kharkov regions. Moreover, some mercenaries who arrived on the territory of Ukraine not as part of a group are probably not taken into account at all in such losses.
Chances of escape or counteroffensive diminishing as Wagner mercenaries take major stronghold Yahidne
Some 10,000 to 20,000 troops comprising the Ukrainian army in Bakhmut are now trapped. Reports say that the city is operationally encircled with diminishing chance of a breakout.
To the west of Bakhmut is a lot of open country and not much to prevent a Russian advance all the way to the Dnieper River. There is no hard evidence yet that the Ukrainian army has prepared a second line of defense.
This means the way may be open for a possible major offensive by Russian forces. Whether that will happen and what Russia's goals are remain to be seen.Most of the Russian advance in Bakhmut was by "private army" Wagner forces. Wagner troops are on the eastern and southern side of the town, and also in the north. A major stronghold, Yahidne, has now fallen.
Ukraine tried a counter-offensive that temporarily gained some ground, but now it has been rolled back. There is little chance that the Ukrainians have an opportunity to try again.
The weather is about to turn rainy and overcast. This makes it difficult for Ukrainian forces to retreat from the city in any orderly way. The roads are all but blocked, and forces evacuating across muddy farm fields will be difficult, leading to high casualties.
So far, at least, Kyiv has admitted only that the Bakhmut situation is "difficult." There has not been any general order to pull out, a move that would have been feasible earlier.
It is hard to see what Ukraine thought it could achieve by sacrificing an important part of its frontline force.One theory is that Ukraine's general staff thought they could tie up the Russian army and inhibit its possible advance. But the Russians did not commit their front line regular forces to Bakhmut; they used the Wagner troops instead.
Another theory is that a long siege, like Mariupol, would play well in the West, showing Ukraine's heroic fighters holding out against the barbarian Russian behemoth. While Bakhmut was fighting for its life, Ukraine could demand more and better weapons, especially long range artillery and US fighter planes.
While Western leaders are busy pledging their undying support for Ukraine, the anticipated big deliveries of tanks and armored fighting vehicles now look to be shaping up more in the tens of vehicles than in the hundreds.
The US Army, which did not want to send Abrams tanks to Ukraine at all but was persuaded by the recalcitrant Germans to do so, has backed away from that saying that US Abrams tank deliveries could take a year or more to fulfill.
The Ukrainian demand for war planes also is unlikely to be met. President Biden said this week that Ukraine does not need F-16s, the fighter jets that have been on Ukraine's wish list. In any case, other than older F-16s used by the US National Guard, there are not any F-16s to give. Even Taiwan, which ordered new F-16s, has been told that deliveries will be delayed – maybe for years.
A fully armed US-made F16 fighter jet takes off from the highway near Changhua, central Taiwan. Photo: AFP / Sam Yeh
The Italians have backed out from offering any aircraft to Ukraine. The Germans don't have any to spare (and they are not F-16s), and if the British ship any planes, British home defenses will be reduced significantly.
Thus despite the propaganda and the calls by major politicians and news outlets for further arming of Ukraine, there just isn't much available.
Meanwhile, the Russians say that Ukraine is planning on an attack on Transnistria, the Russian breakaway area of Moldova. Transnistria contains massive warehouses of Russian ammunition, in particular 152mm artillery shells. This is a very old stockpile, some of it going back to just after World War 2. Whether it is useful or not isn't known.
Zelensky has not said anything about Transnistria, but he says he is rearming to retake the Crimea. This, however, seems unlikely for some time given the critical condition of Ukraine's army stretched along a long line of contact with the Russians.
Despite brave statements of all kinds from western and Ukrainian sources, the Ukrainian army could face encirclement if a real Russian offensive is launched.Quite possibly Russia's objectives in the Ukraine war may change.
The stated objective of the Russian Special Military Operation was to secure the territory of the two breakaway Republics, Donetsk and Luhansk, now annexed to Russia. What the Russians seem to have learned is that stabilizing the line is extremely difficult and costly. What would constitute an acceptable outcome is elusive.
So long as Ukraine says it will take back every inch of these territories, either now or tomorrow, simply holding them won't end the conflict – especially if the United States and NATO keep pumping up the Ukrainians with weapons.
In short, in this scenario the Russians lose without a peace deal (which is not going to happen as long as Washington opposes one).
Because Russia now understands it is fighting Ukraine and NATO, it needs to dramatically change the current algorithm in order to get a positive outcome. Moreover, Russia has to do this while using restraint so as not to set off a broader European war.
This leads inexorably to a change in Russian strategy, which may be what we are starting to see as Russia gets closer to being able to organize a major offensive in Ukraine. Russians goals could include trapping most of Ukraine's fighting forces (after significantly attriting their air defenses and artillery) or jumping over Ukraine's army and aiming operations directly at Kyiv, in effect trying to bring about political change.
Russia's offensive may be aided by the Bakhmut disaster for Ukraine's army. The decision to hold their forces in the Bakhmut pocket could turn out to be the worst war decision yet made by Ukrainian leaders, undermining army morale and accelerating criticism of both the political and military leadership.
___________________________________
Stephen Bryen is a senior fellow at the Center for Security Policy and at the Yorktown Institute.
Russian oil pipeline company Transneft shifted oil flows from Kazakhstan to Germany via the Druzhba pipeline that runs through Poland while shipments to Poland were halted, according to Reuters, citing at least one Russian news agency. 
TASS news reported Polish customers were unable to receive Russian oil because Transneft didn't receive paperwork and transit payment in late February. 
"(Oil) should have been pumped to Polish refineries in the second half of February."

"However, routing orders with confirmed resource and transit payment were not executed.

"In addition, operational changes were made to the schedule, excluding supplies for Polish consumers," a spokesperson for the pipeline operator said. 
On Monday, Kazakhstan oil pipeline operator KazTransOil said about 20,000 tons of crude was pumped to Germany via Russia's Druzhba pipeline. Kazakhstan is a landlocked country that relies on Russia to export energy products that aren't subjected to Western sanctions. 
The northern leg of Druzhba supplies crude to Germany, while the southern portion supplies Hungary, the Czech Republic, and Slovakia.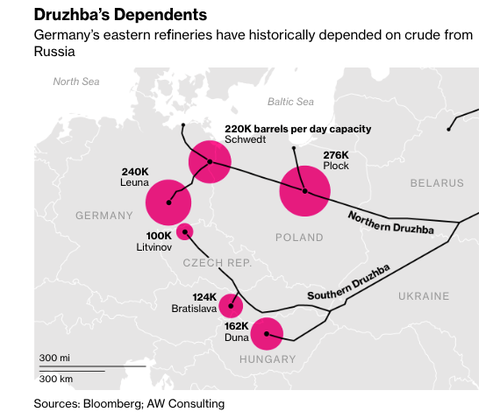 The first oil flow disruption was reported Saturday. Poland's largest oil company PKN Orlen SA said oil flows from the Druzhba pipeline from Russia were unexpectedly halted. 
"The halt comes a day after Russia's invasion of Ukraine reached the one-year mark," Bloomberg pointed out. It also comes after President Biden visited Kyiv and Warsaw last week. 
Meanwhile, Poland has been one of the biggest cheerleaders of Kyiv, sending weapons and humanitarian aid and receiving more than 1.5 million refugees. Poland was the first European country last year to have its natural gas flows cut by Russia shortly after the invasion. 
Even though Western sanctions have excluded Russian oil imports via pipelines, Warsaw has requested sanctions to cancel the last contract with a Russian supplier.  
About 10% of Polish crude supplies are sourced from Russia. The country has moved quickly to reduce its dependency on Moscow. Orlen stated that the reduced flows from Russia wouldn't impact operations or consumers.
Poland has been preparing for this day with alternative sourcing, though Germany still has an addiction problem to cheap Russian energy products
Authored by by Dave DeCamp via AntiWar.com,
Ukrainian President Volodymyr Zelensky said Friday that Ukraine is preparing to launch attacks to recapture Crimea by forming new military units and sending troops to train in other countries.
"There are military steps, and we are preparing for them. We are ready mentally. We are preparing technically: with weapons, reinforcements, the formation of brigades, in particular the assault brigades, of different categories and nature," Zelensky said at a press conference, according to the Ukrainian news agency Ukrinform.
According to Ukrinform, Zelensky said Ukrainian troops were being sent to train in other countries to learn how to use new weapons. "We have to be ready. Then, there will be corresponding fair de-occupation steps and, God willing, they will be successful," he added.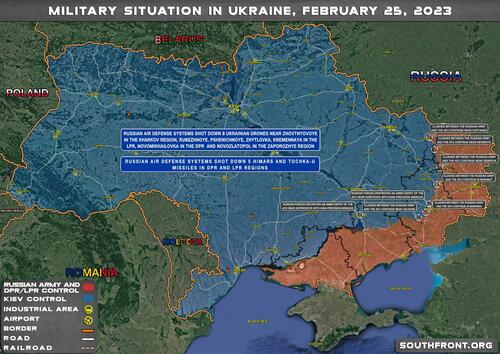 Zelensky and other top Ukrainian officials have maintained that kicking Russia out of Crimea is one of their war goals, but Russia controls a good portion of territory to the north of Crimea in the Kherson Oblast. The Pentagon has also assessed it's unlikely Ukraine can take the peninsula, which Russia has controlled since 2014.
Despite the Pentagon's assessment, Biden administration officials still say they would support Ukrainian attacks on Crimea. "Russia has turned Crimea into a massive military installation … those are legitimate targets, Ukraine is hitting them, and we are supporting that," Victoria Nuland, the US undersecretary of state for political affairs, recently said.
The US backing Ukrainian attacks on Crimea would risk a major escalation with Moscow, a fact that even Secretary of State Antony Blinken has recognized by calling the peninsula a "red line" for Russian President Vladimir Putin. 
The Russian leader has shown a willingness to escalate the war over attacks on Crimea, as Russia's bombardment of Ukrainian infrastructure didn't start until after the truck bombing of the Kerch Bridge, which connects Crimea to the Russian mainland.
Two German officials note that Zelensky has falsely claimed that Russia fired on NATO territory, with the goal of "trying to drag the US and its allies into the war."

But no need to fault Zelensky for lying in the hopes of starting WWIII. "In his place, we would do the same." pic.twitter.com/7nDudVh9sO

— Aaron Maté (@aaronjmate) February 24, 2023
Russia annexed Crimea in 2014 following the US-backed coup in Kyiv that ousted former Ukrainian President Viktor Yanukovych. Polling since then has shown the majority of people living on the peninsula are happy that they joined the Russian Federation.
Scott Ritter and other analysts dismiss Dmitry Medvedev as a "hothead",
Apparently, the only person we should listen to is Vladimir Putin, because he is "balanced". 
That, to my mind is crazy. Isn't he the "bad cop" and Putin the "good cop". They are on one page, surely.
Medvedev Warns of Nuclear Apocalypse
One of Vladimir Putin's closest allies is warning the West that if they supply more arms to Ukraine, it will lead to an 'apocalypse.' Former Russian president Dmitry Medvedev warned this week that the NATO-led alliance's attempt to weaken and destroy Russia could cause a nuclear war.
Medvedev describes the apocalypse as a global nuclear catastrophe in which cities and industrial areas are destroyed by blasts from weapons, which release large amounts of radioactive smoke into the air. The smoke would eventually reach the stratosphere, where it could stay for decades unless there is no rain to wash it away.
If the United States, Britain, and France started a nuclear war with Russia, it would wreak havoc on virtually every aspect of human life over several decades. It could deplete world supplies of oil, water, and food and lead to widespread famine.
In addition, it could result in an apocalyptic winter with temperatures below zero and no rainfall. The coldest parts of the earth would become uninhabitable, leaving the vast majority of humanity unable to survive and requiring them to seek shelter elsewhere. It would also leave the land unusable for agriculture, resulting in widespread famine and starvation.
We will discuss the deepening fears that Western support for Ukraine could result in a global war that involves weapons of mass destruction on this edition of TruNews.
Former Russian President Dmitry Medvedev reiterated Monday his country's threat of nuclear war if the West's supply of arms to Ukraine continues.
The warning in an op-ed piece in the state-run newspaper Izvestiya was the second time in three weeks the key aide to President Vladimir Putin has invoked the nuclear option in an effort to deter the U.S.-led NATO alliance from arming Ukraine. 
Medvedev, who was president from 2008 to 2012 and currently serves as the deputy chairman of the powerful Security Council of Russia, dangled the prospect of talks while demanding shipments of arms to Ukraine be halted immediately.
Echoing comments by Putin yesterday Medvedev wrote that any existential threat to Russia would not be decided on the front in Ukraine, but would spiral into an existential threat to human civilization, repeating the refrain "we don't need a world without Russia."
"Of course, the pumping in of weapons can continue and prevent any possibility of reviving negotiations," Medvedev said.
"Our enemies are doing just that, not wanting to understand that their goals obviously lead to a total fiasco. Everyone loses. A collapse. Apocalypse. When the former life will have to be forgotten for centuries, until the rubble ceases to emit radiation."
 Last week Putin ramped up nuclear tensions by announcing Russia was suspending its participation in the key 2010 New Start treaty — its last remaining arms control agreement with the United States — which limits each side's arsenal of intercontinental nuclear weapons.
Russia has reserved the right to use nuclear weapons unilaterally in the face of "aggression" even if its opponents only employ conventional arms.
At the start of the month, Medvedev said any attempt to re-take Crimea would result in the "flaming" of all of Ukraine with all the forces at Russia's disposal, including nuclear weapons "in accordance with our doctrinal documents, including the Fundamentals of Nuclear Deterrence."
"All Ukraine that remains under the rule of Kyiv will burn," Medvedev warned.
According to clause 19 of the Fundamentals of the State Policy on Nuclear Deterrence, Russia may use nuclear weapons "in the event of aggression against Russia with the use of conventional weapons, when the very existence of the state is threatened."
Earlier Monday, a Russian surveillance plane was damaged in a drone attack in neighboring Belarus mounted by a dissident group opposing the pro-Russian government of Alexander Lukashenko.
Aliksandr Azarov, leader of the anti-government group BYPOL, claimed responsibility for the attack on social media. 
The Beriev A-50 early warning aircraft was hit by multiple blasts near the Machulishchy airbase near the capital Minsk.
"These were drones. The participants of the operation are Belarusian", Azarov said.
The attack comes as Lukashenko prepares to travel to Beijing tomorrow at the invitation of President Xi Jinping for a three-day state visit.
Medvedev's remarks come after Russian President Vladimir Putin on Friday (last week), publicly accused  the West of wanting to liquidate Russia, claiming that his people may not survive.
The Russian president said Western countries were seeking to dismantle Russia, and Moscow had no choice but to take Nato's nuclear capabilities into account.
Putin told state television channel Rossiya 1: 'When all the leading Nato countries have declared their main goal as inflicting a strategic defeat on us, so that our people suffer as they say, how can we ignore their nuclear capabilities?'
'They have one goal: To disband the former Soviet Union and its fundamental part – the Russian Federation,' Putin said in the interview recorded on Wednesday and broadcast yesterday. 
Appealing to nationalist sentiments, Putin said if the West succeeds in destroying Russia, 'such an ethnic group as the Russian people may not be able to survive in the form in which it exists today'.
'There will be Muscovites, Uralians and others,' he said of Russia's possible fragmentation. He also claimed that the West was an indirect accomplice to the 'crimes' committed by Ukraine.
Putin made the remarks while justifying Russia's suspension of its participation in the New START treaty, which seeks to cap the number of nuclear warheads possessed by the US and Russia. 
He said the suspension stemmed from the need to 'ensure security and stability' for Russia.