"Even if only half of uninsured depositors decide to withdraw, almost 190 banks are at a potential risk of impairment to insured depositors, with potentially $300 billion of insured deposits at risk," economists write.
186 U.S. banks are risk of insolvency and may collapse similar to the way Silicon Valley Bank went bankrupt last week, according to an international economic report.
A study by four economists from top universities posted to the Social Science Research Network on March 13 claimed that Federal Reserve interest rate hikes have devalued assets like U.S. Treasuries held by these banks.

"From March 07, 2022, to March 6, 2023, the federal funds rate rose sharply from 0.08% to 4.57%, and this increase was accompanied by quantitative tightening. As a result, long-dated assets similar to those held on bank balance sheets experienced significant value declines during the same period," they wrote.
Combined, losses and uninsured leverage provide incentives for an SVB uninsured depositor run. We compute similar incentives for the sample of all U.S. banks. Even if only half of uninsured depositors decide to withdraw, almost 190 banks are at a potential risk of impairment to insured depositors, with potentially $300 billion of insured deposits at risk. If uninsured deposit withdrawals cause even small fire sales, substantially more banks are at risk. Overall, these calculations suggest that recent declines in bank asset values very significantly increased the fragility of the US banking system to uninsured depositor runs.
This comes as banks tapped the Fed for $165 billion in backstop liquidity, signaling banks are struggling to cover their funds.
But as Treasury Secretary Janet Yellen warned on Thursday, not all uninsured deposits would be rescued by the FDIC if future banks fail.
186 banks failing now…
By design pic.twitter.com/9DPZiZO9vu

— Deplorable4trump2024 (@PTRUMPFORTX2020) March 18, 2023
In other words, only the big banks would be saved.
Keep in mind, the Federal Reserve Bank launched the first phase of its Central Bank Digital Currency last November.
This is Joe Biden's "Build Back Better" in action.
You will have to use electronic translation for this.
Τερματίζουν το αμερικανικό χρηματοπιστωτικό σύστημα – WSJ: Στο χείλος της κατάρρευσης 186 (!) τράπεζες των ΗΠΑ – Τελείωσαν την Credit Suisse
As of Saturday morning, 18 March 2023, the Banking crisis is getting a lot worse; fast.  CREDIT SUISSE CFO TEAMS ARE BEING CALLED IN TO WORK OVER THE WEEKEND TO CLEAN OUT THEIR DESKS!
This is just days after Credit Suisse received a $54 BILLION assistance package from the Swiss National Bank.
Word from corporate contacts says that Credit Suisse is "Weighing options and is under pressure to merge with UBS."
Swiss regulators informed their US and UK counterparts on Friday night that the merger of the two banks is their Plan A in hope of preventing a total loss of confidence in Credit Suisse. The Swiss National Bank would like a simple and uncomplicated solution before the markets open on Monday. However, there is no guarantee that an agreement will be reached in the discussions.
There were also rumors overnight that US firm Blackrock wanted to make a bid for Credit Suisse, but that rumor was quickly refuted.
Meanwhile, Global stock markets tumbled again Friday over continuing fears of a broader banking crisis, despite elected officials' pledges to shore up banks that may be in trouble.
Shares of First Republic Bank tanked 30% Friday despite $30 Billion of support from other banks.  First Republic Bank stock ended the week down 72%.
An interesting note: The Balance Sheet of the US Federal Reserve jumped to $8.69 TRILLION on March 15, up from $8.39 TRILLION on March 8.  They're literally making "money" out of thin air by simply adding digits to computers which "creates" money in accounts.   
They don't have the money for that! If they try to run the printing press to cover that amount of debt, the dollar would collapse overnight. Foreign countries would dump all their dollar reserves. People would drain their accounts to go and buy hard assets while they still could.
So much can change in just 48 hours.
Late on Thursday, just hours after the SNB had launched the first (of many) bailout attempts of Swiss banking giant Credit Suisse, Bloomberg blasted the following headline:
*UBS, CREDIT SUISSE SAID TO OPPOSE IDEA OF A FORCED COMBINATION
This lack of enthusiasm by UBS to acquire its struggling rival of course forced the Swiss National Bank to front CS a CHF50 billion credit line to hold it over for the next four days amid a furious bank run, one which we said would be woefully insufficient to restore confidence in the collapsing lender, and which we probably used up in just a few hours.
Then, late on Friday, both banks "unexpectedly" changed their minds and we got the following 180 degree U-Turn report from the FT:
*UBS IN TALKS TO ACQUIRE ALL OR PART OF CREDIT SUISSE: FT
So a deal is inevitable after all… but as always, there is a footnote one which we predicted yesterday when we said that a deal would only happen if the acquiring bank – in this case UBS – got a full central bank backstop.
bank megamerger weekend, with lots of central bank backstops https://t.co/pobOLTtFJM

— zerohedge (@zerohedge) March 17, 2023
That now appears to be the case with Bloomberg, Reuters and the WSJ all reporting that UBS is asking the Swiss government for a backstop to cover future risks if it were to buy Credit Suisse Group AG, after the Swiss National Bank and regulator Finma have told international counterparts that they regard a deal with UBS as the only option to arrest a collapse in confidence in Credit Suisse. The FT reported that deposit outflows from the bank topped CHF10bn ($10.8bn) a day late last week as fears for its health mounted.
According to the reports, UBS is discussing scenarios in which the government would take on certain legal costs and potential losses in any deal. Credit Suisse set aside SFr1.2bn in legal provisions in 2022 and warned that as yet unresolved lawsuits and regulatory probes could add another SFr1.2bn.
UBS also wants to be allowed to phase in any demands it would face under global rules on capital for the world's biggest banks.
The backroom negotiations are taking place as the largest Swiss bank is exploring an urgent acquisition of all or parts of its smaller rival at the urging of regulators to halt a crisis of confidence, one which local authorities hope will be concluded on Saturday
Under one likely scenario, the deal would involve UBS acquiring Credit Suisse to obtain its wealth and asset management units, while possibly divesting the investment banking division, which has become the laughing stock on Wall Street after being one of the most iconic groups less than two decades ago. Talks are also still ongoing on the fate of Credit Suisse's profitable Swiss universal bank.
According to the FT, the boards of the two banks are meeting this weekend as Credit Suisse's regulators in the US, the UK and Switzerland are considering the legal structure of a deal and several concessions that UBS has sought.
UBS wants to be allowed to phase in any demands it would face under global rules on capital for the world's biggest banks. Additionally, UBS has requested some form of indemnity or government agreement to cover future legal costs, one of the people said.
* * *
The time scale for agreement is fluid, according to Bloomberg which notes that the goal is for an announcement of a deal between the two banks by Sunday evening at the latest, while the Financial Times reported that a deal could emerge as soon as Saturday evening.
UBS executives had been opposed to an arranged combination with its rival because they wanted to focus on their own wealth management-centric strategy and were reluctant to take on risks related to Credit Suisse, Bloomberg reported earlier this week.  Credit Suisse had 1.2 billion Swiss francs ($1.3 billion) in legal provisions at the end of 2022 and disclosed that it saw reasonably possible losses adding another 1.2 billion francs to that total, with several lawsuits and regulatory probes outstanding, according to Bloomberg Intelligence.
Credit Suisse has been unprofitable over the course of the last decade and has racked up billions in legal losses, while also suffering a historic bank run.

As we reported yesterday, the bank run spike late last week, and FT sources said deposit outflows from the bank topped Sfr10bn ($10.8bn) a day late last week as fears for its health mounted.
A government-brokered deal would address a rout in Credit Suisse that sent shock waves across the global financial system this week when panicked investors dumped its shares and bonds following the collapse of several smaller US lenders. A liquidity backstop by the Swiss central bank this week briefly arrested the declines, but the market drama carries the risk that clients or counterparties would continue fleeing, with potential ramifications for the broader industry.
The prospective takeover reflects the sharp divergence in the two banks' fortunes. Over the past three years, UBS shares have gained about 120% while those of its smaller rival have plunged roughly 70%.
The former has a market capitalisation of $56.6bn, while Credit Suisse closed trading on Friday with a value of $8bn. In 2022, UBS generated $7.6bn of profit, whereas Credit Suisse made a $7.9bn loss, effectively wiping out the entire previous decade's earnings.
* * *
Swiss regulators told their US and UK counterparts on Friday evening that merging the two banks was "plan A" to arrest a collapse in investor confidence in Credit Suisse, one of the people said. There is no guarantee a deal, which would need to be approved by UBS shareholders, will be reached the FT warned.
Negotiators have given Credit Suisse the code name Cedar and UBS is referred to as Ulmus, according to people briefed on the matter.
The fact that the SNB and Finma favour a Swiss solution has deterred other potential bidders. Earlier today the FT reported that BlackRock had drawn up a rival approach, evaluated a number of options and talked to other potential investors, but in the end withdrew from the process.
A full merger between UBS and Credit Suisse – whose headquarters face each other across Zurich's central Paradeplatz square, would be an historic event for the nation and global finance and would create one of the biggest global systemically important financial institutions in Europe. UBS has $1.1tn total assets on its balance sheet and Credit Suisse has $575bn. However, such a large deal may prove too unwieldy to execute.
The Financial Times has previously reported that other options under consideration include breaking up Credit Suisse and raising funds via a public offering of its ringfenced Swiss division, with the wealth and asset management units being sold to UBS or other bidders.
UBS has been on high alert for an emergency rescue call from the Swiss government after investors grew wary of Credit Suisse's most recent restructuring. Last year, chief executive Ulrich Körner announced a plan to cut 9,000 jobs and spin off much of its investment bank into a new entity called First Boston, run by former board member Michael Klein.
For a few brief hours yesterday, some market participants breathed a sigh of relief as the 'big banks' threw $30 billion of deposits to the 'small banks' (specifically First Republic Bank) and saved the world.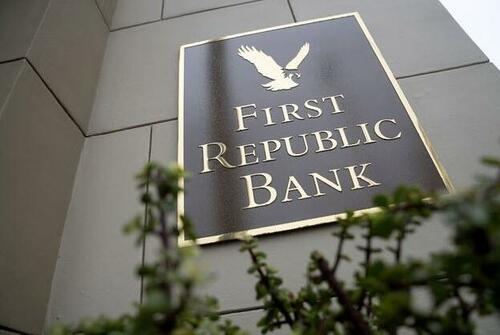 Today wrecked that dream as regional bank shares continued their recent and rapid demise with First Republic Bank – which had just been saved – leading the charge lower (after rallying yesterday afternoon).
Now, after the market has closed on a Friday evening (St.Patricks' Day no less), NY Times reports that the bank – freshly stuffed with $30 billion of the big banks' cash – is in talks to raise money from other banks or private equity firms by issuing new shares, in a desperate bid to bolster its finances.
We wish them luck in their efforts as Wedbush analyst David Chiaverini – who lowered First Republic to neutral today, warned that it's difficult to "come up with a realistic scenario where there's residual value for FRC common equity holders" in the event of a sale.
According to three people with knowledge of the process, the terms of the deal are unknown but a full sale of the bank is apparently possible.
First Republic Bank shares are extending losses in the after-market…
The after-hours action has pushed FRC to a record low, below its Oct 2011 lows…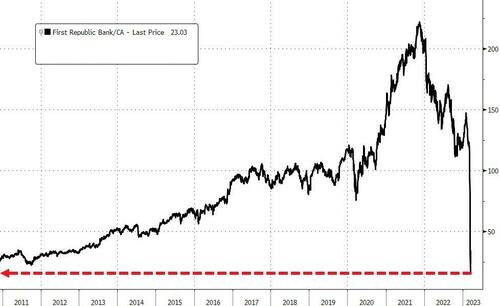 Remember this? Did anyone get bailed out?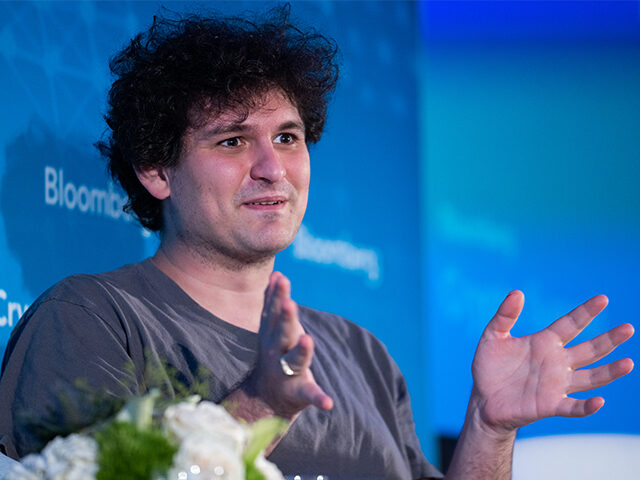 FTX founder Sam Bankman-Fried has been accused of taking more than $2 billion in "loans and payments" from the firm during his time as CEO. Democrat megadonor SBF faces allegations of committing massive fraud using his cryptocurrency exchange and trading firm.
Intelligencer reports that Sam Bankman-Fried, the founder of the failed cryptocurrency exchange FTX, received a staggering $2.2 billion in loans and payments while allegedly committing a massive fraud within the business, according to a late-night announcement made by liquidators on Wednesday. As federal investigators construct their case against Bankman-Fried, who is currently facing 12 charges, including money laundering and bank fraud, the revelation may have a significant impact on his case.
All this while geopolitically…..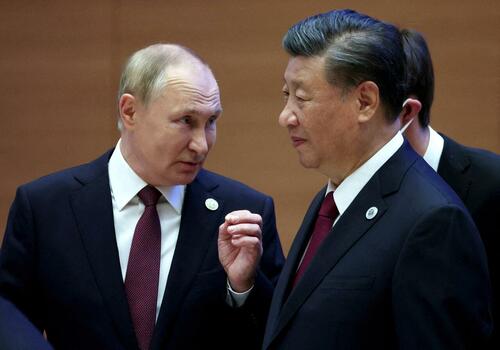 The Chinese Foreign Ministry has confirmed in a statement on its website that President Xi Jinping's much anticipated state visit to Russia will be held from March 20-22, marking the first such in-person visit with President Putin since the Ukraine war started in February 2022.
The Kremlin at the same time confirmed of the trip that "An exchange of views is also planned in the context of deepening Russian-Chinese cooperation in the international arena," and that, "A number of important bilateral documents will be signed." 
Here is Steve Bannon talking about events. 
We Fell Into A Ring Of Fire