World War 3 headlines – 31 March, 2023
World War 3 headlines – 31 March, 2023
Members of Parliament in Austria got up and WALKED-OUT when Ukraine President Zelensky appeared on a giant video screen in the Parliament Chambers to give a video speech!
Here's the video showing the members walking out:
The tide is turning against Zelenskyy. When he spoke to Austria's parliament a large number of PMs walked out. It is time to consider a peace deal. End the suffering and killing of the Ukraine people. Who are we saving?
pic.twitter.com/qxxhblUB3D

— @amuse (@amuse) March 30, 2023
Looks like the tide is turning against Ukraine . . . finally.
"We're DONE with you!" – Zelensky STUNNED as they walk out
Chinese leader Xi Jinping says he is preparing for war. At the annual meeting of China's parliament and its top political advisory body this month, Xi wove the theme of war readiness through four separate speeches, in one instance telling his generals to "dare to fight."
His government also announced a 7.2 percent increase in China's defense budget, which has doubled over the last decade, as well as plans to make the country less dependent on foreign grain imports. In recent months, Beijing has unveiled new military readiness laws, new air-raid shelters in cities across the strait from Taiwan, and new "National Defense Mobilization" offices countrywide.
It is too early to say for certain what these developments mean. Conflict is not certain or imminent. Yet something has changed in Beijing that policymakers and business leaders worldwide cannot afford to ignore. If Xi says he is readying for war, it would be foolish not to take him at his word.
RUSSIA TO HELP CHINA MAKE MORE NUCLEAR BOMBS
Russia plans to provide fast breeder nuclear reactor technology to China, an agreement that could allow Beijing to significantly grow its nuclear arsenal and tip the prevailing global balance of nuclear weapons. 
Russian President Vladimir Putin and Chinese Premier Xi Jinping announced a long-term agreement to continue developing fast breeder nuclear reactors optimized for plutonium production for nuclear weapons.  
In December 2022, Russia's-state owned Rosatom nuclear power company finished transferring 25 tons of highly-enriched uranium to China's CFR-600 nuclear reactor, which analysts say has the capacity to produce 50 nuclear warheads a year.
US Department of Defense (DOD) officials and US military planners have assessed that the CFR-600 will be critical in building China's nuclear arsenal from 400 warheads today to 1,500 by 2035.
The U.S. Air Force secretary says he's seen nothing 'more disturbing' in 50-year career than this move by China.
Air Force Secretary Frank Kendall compares China's nuclear threat to Russia's during Cold War.
The strategic document places a heavy emphasis on the Western "hybrid war" against Russia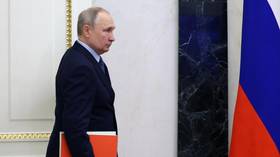 President Vladimir Putin has signed an updated version of Russia's foreign policy doctrine, a key strategic document which outlines the principles, goals and priorities of the country's international diplomacy. The new document features a focus on Western efforts to undermine Moscow amid the Ukraine conflict.
Putin explained that the key document had to be altered due to "drastic changes" in the international landscape.
Russia has adopted a new foreign policy strategy in which the West is declared an "existential" threat to Russia.
Developing . . . 
UPDATE 10:10 AM EDT —
Russia's new foreign policy strategy adopted by President Vladimir Putin on Friday identified China and India as main allies on the world stage.
The new 42-page document singled out ties with China and India, stressing the importance of "the deepening of ties and coordination with friendly sovereign global centers of power and development located on the Eurasian continent."
UPDATE 10:28 AM EDT —
I have just this minute CONFIRMED that, according to Russian public nuclear doctrine, "a threat to the existence of the state" is grounds for the use of nuclear weapons.   Russia has now officially declared the West to be such a threat to the existence of Russia.
UPDATE 1:33 PM EDT —
"Moscow considers Washington's course as the main source of risks for its own and international security, for peace and the just development of mankind as a whole," the document says.
"The new concept of foreign policy provides for the possibility of symmetrical and asymmetric measures in response to unfriendly actions against the Russian Federation," Russian Foreign Minister Sergei Lavrov said.
Russian President Vladimir Putin has signed a Decree ordering the military conscription of one-hundred, forty-seven, thousand Russians, ages 18-27, for military service.
Here is the official Decree:
The White House today publicly told Americans residing in, or traveling in Russia, to "Leave Russia Immediately."
Here's the White House Statement:
Moscow and Kiev would freeze movement of troops and military equipment under the deal, the Belarusian president has suggested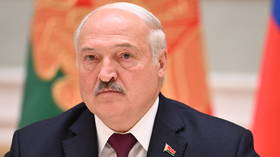 Belarusian President Alexander Lukashenko has urged Russia and Ukraine to agree a ceasefire, warning Kiev that its apparently imminent counteroffensive could lead to the conflict spiraling completely out of control.
In a speech to the Belarusian parliament on Friday, Lukashenko stated that the only path to peace in Ukraine lies through diplomatic engagement. Moscow and Kiev "should stop now before escalation ensues," he argued.
"I will try to risk suggesting a cessation of hostilities… to declare a truce without the right to move or regroup troops on both sides, [and] without the right to transfer weapons, ammunition… and military equipment… for everybody just to freeze," the president said.