Hamas attacks Israel!
Hamas attacks Israel!
Hal Turner is a good source of news hot off the press despite his obvious biases. I am no longer subscribed to his website because I have not been able to figure a way to get money to him in any way that is viable to me. His coverage has lots of tweets etc. that I cannot reproduce here.
Read Hal Turner's coverage HERE
Here are the main points:
The Israeli Defense Force has declared they are in "a state of war" after over eight hundred rockets were fired into Israel today. Fighters from HAMAS para-glided into southern Israel using fan gliders to cross over the border, landing and killing everyone they see!  Today's "state of war" declaration has not happened since 1973.
Numerous Israeli civilians are already dead, some shot dead just standing in Bus Stops; many more are injured.
At about 1:17 AM EDT Saturday, the Israeli Defense Force made a public declaration that this is a "State of War."
The last time Israel announced a "State of War" was in 1973. And the first time Israel was surprised by an attack like today's was in 1973.
Air Raid Sirens are blaring throughout Israel as the Iron Dome air defense systems engage more incoming missiles.
This is taking place NOW.   Live updates to appear below . . .
Casual Observers of the never-ending situation between Israel and Palestinians are commenting publicly right now "This is quickly heading toward a Full-Scale War near the Gaza Strip and Southern Israel, this is Totally Out-of-Control."
Fighting is widespread and fierce:
Video below shows the Iron Dome air defense system engaging multiple inbound rockets:
By 1:00 AM eastern US time Saturday, at least sixteen Israelis were confirmed injured and at least ONE was confirmed dead, but there is already ample evidence of MANY dead.
(HT NOTE: I am already reaching out to my former colleagues in the Intelligence Community from during my years working with the FBI Joint Terrorism Task Force (JTTF) to get more detailed info and the "Back Story" but things are a bit chaotic right now over there, and it is very early over here, so information is coming very slowly . . . .)
— Hamas military chief calls on armed groups in Lebanon to join the fighting against Israel
— Civilians massacred by Hamas terrorists in Sderot.
— According to Al Jazeera television, Israel has begun bombing Gaza by Air, Sea, and Artillery.
— Israeli Minister of Defense, Yoav Gallant has Approved an order to begin the Call-Up of Reservists to Reinforce and Support the Israeli Defense Force.
Below, images of what are reported to be an Israeli "Merkava" tank, burned-out and smashed outside of the GAZA Strip: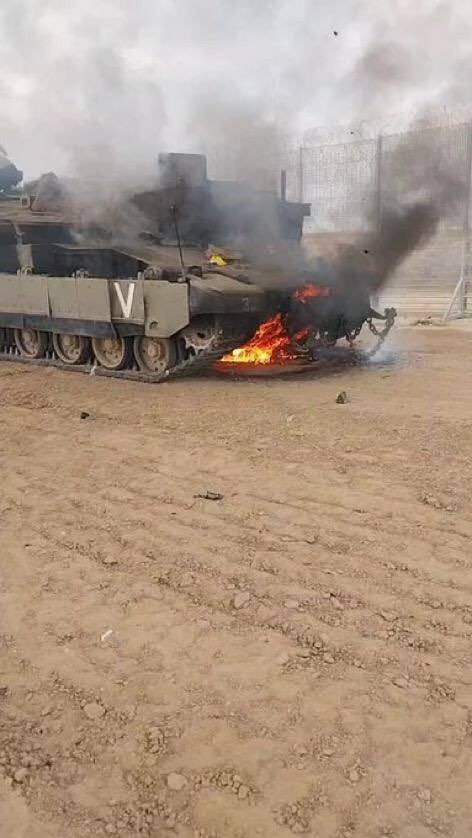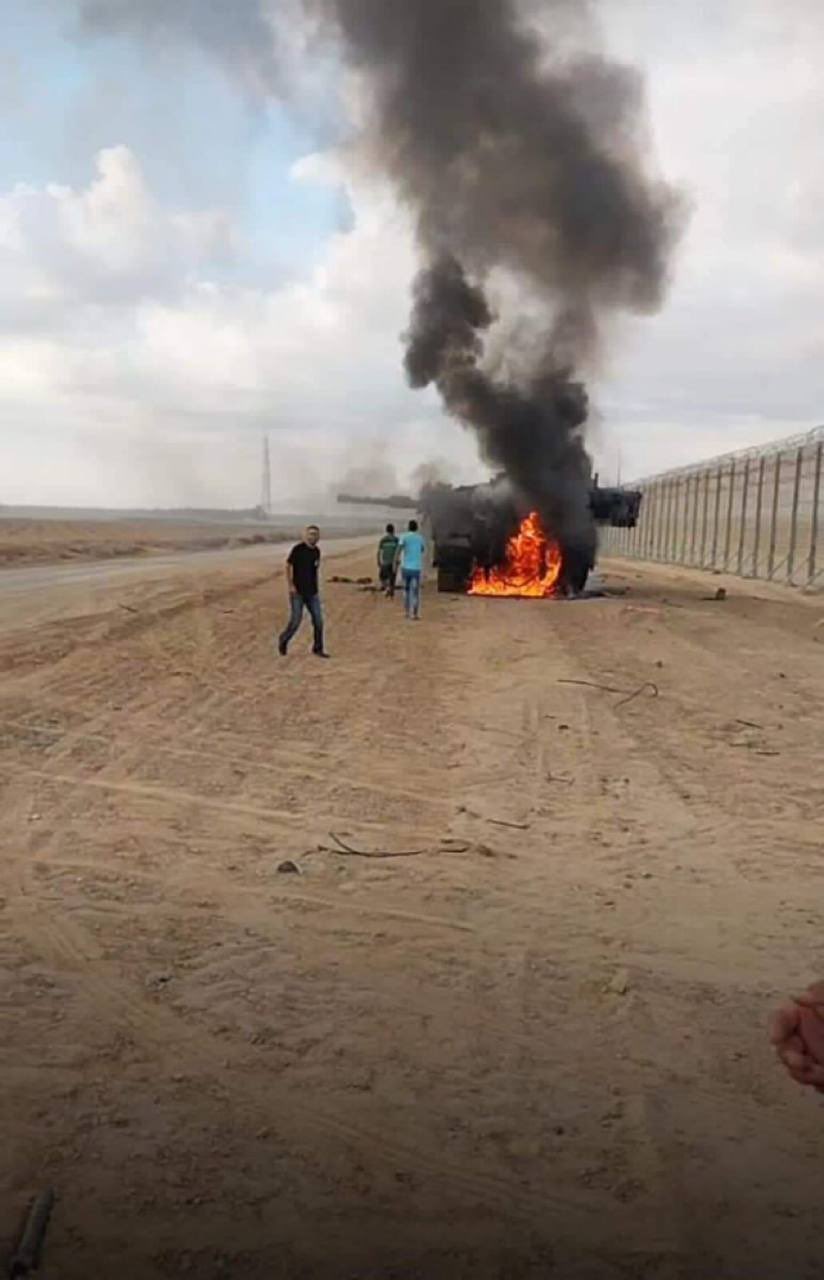 Palestinian Fighters taking Israeli's Captive:
An IDF soldier has reportedly been Captured . . . Israel calls that "kidnapped."
Hostage situations reported in Southern Israel.
Palestinian infiltrators have taken over a police station in Sderot and are currently in an active firefight with Israeli police.
Livestreams from Palestinian infiltrators show them executing/ shooting Israeli citizens.
Tel Aviv Airport: CLOSED
Unconfirmed reports of 10 killed and 2 IDF soldiers captured after clashes on the Gaza border.
Due to rocket salvos throughout Israel, Ben Gurion International Airport in Tel Aviv is closed.
Below, video of still MORE Rocket launches into Israel:
— The Government has just declared an "Emergency situation" for an 80km perimeter from Gaza borders
— The Israeli army announces the loss of control of an Israeli military site in the northern Gaza Strip. The soldiers are either captured or dead.
Ashkelon Burning
Map showing Air Raid Alert areas in Israel: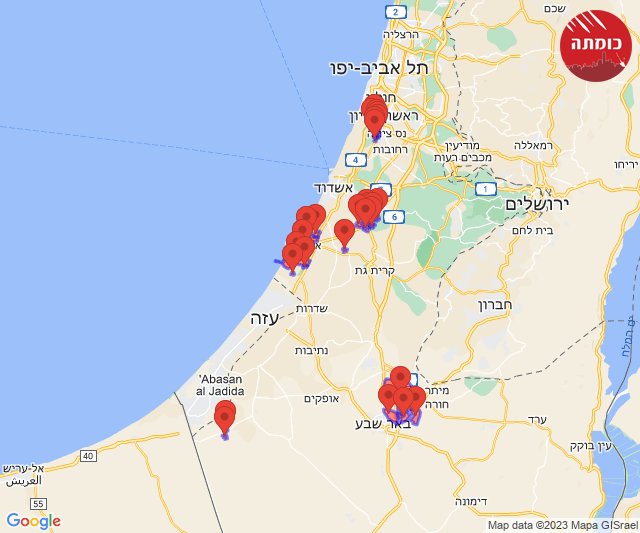 Heavy rocket barrages on Jerusalem area, rocket alert siren in Wadi Ara in northern Israel; emergency situation declared in entire southern & central Israel.
WARNING – GRAPHIC IMAGES
Below, a man reported to have been an Israeli Soldier, but who is already clearly shot through the head and dead, is dragged from a car and stomped in the street:
— Confrontations between HAMAS and Israeli forces in a number of settlements in southern Israel.
— IDF soldiers were reportedly killed in their barracks near the Gaza-Israeli border.
— Iron Dome continuing to intercept Rockets:
Actual INTEL is now becoming available . . . .
Thousands of rockets fired at Israel from Gaza.
Israeli civilians massacred in several southern Israel towns.
Minor Israeli retaliation for now as IDF prepares for massive military operation.
It will be very harsh.
FLASH
Israel Will announce they are officially AT WAR with Gaza at 130PM local Time.
INNOCENT CIVILIANS MERELY DRIVING THEIR CARS, BEING SHOT DEAD IN THE STREETS:
Despite being politely asked for voluntary donations, few people ever bothered to donate. Then, despite being asked to click an ad within a story to generate ad revenue for this site, the majority of the general public couldn't be bothered with that, either. So there's no reason to give the general public free news anymore; they don't pull their own weight.
With tens-of-thousands of people reading stories here every day, the costs nearly drove the site out of business.
In order to be able to continue providing cutting-edge news, often hours or even DAYS before Drudge and most of the "mass-media" — if they even cover it at all — I need to be able to sustain this effort. To do that, I rely on folks like YOU contributing a pittance of about $1 a week;  which is chump-change that you won't even miss!  Yet that small amount makes all the difference in the world to the continued existence of this web site.
In the final analysis, knowledge is power.  Getting information first, or info that other sources simply don't report, is usually well worth a few bucks in the long run.
VIDEO
HAMAS engages Israeli forces on the streets:
HUGE BLAST in Southern Israel; This is truly a scale that most of us have not seen before . . . .
–IDF: The IDF Spokesperson has announced that the name of the IDF operation against the Hamas terrorist organization is Operation "Iron Sword."
UPDATED AIR RAID ALERT MAP:
GRAPHIC VIDEO
Israeli soldiers shown slaughtered, many inside their own military barracks; apparently caught completely unaware – VERY GRAPHIC images of death:
Israel just cancelled all sport and cultural events
WARNING ******GRAPHIC*******
(Hal Turner Personal Observation: I've watched Israel for years and have never seen something like this. I would guess this is the last straw. Gaza will either be turned to glass or Israel is going to move in. Either way, this may be what unites all Muslims which will draw in Hezbollah and eventually Iran. Worst case scenario, but this is some real tangible escalating doom.   One Intelligence source with whom I worked in years past just told me "GAZA is about to become the world's biggest graveyard; and they have no one to blame but themselves.")
Graphic images of Israeli Soldiers killed in their own Barracks:
 COVERT INTEL – BACK STORY — VERY, VERY, BAD
Despite being politely asked for voluntary donations, few people ever bothered to donate. Then, despite being asked to click an ad within a story to generate ad revenue for this site, the majority of the general public couldn't be bothered with that, either. So there's no reason to give the general public free news anymore; they don't pull their own weight.
With tens-of-thousands of people reading stories here every day, the costs nearly drove the site out of business.
In order to be able to continue providing cutting-edge news, often hours or even DAYS before Drudge and most of the "mass-media" — if they even cover it at all — I need to be able to sustain this effort. To do that, I rely on folks like YOU contributing a pittance of about $1 a week;  which is chump-change that you won't even miss!  Yet that small amount makes all the difference in the world to the continued existence of this web site.
In the final analysis, knowledge is power.  Getting information first, or info that other sources simply don't report, is usually well worth a few bucks in the long run.
No coming back from this . . . now Mega Doom-on Guys.
Everything going on is connected.
Now you know the reasons for the Nuke alert last week. Make preparations if you can.
The whole World is going to go up it is a Tinder Box that has just had its spark.
INFILTRATION VIDEO:
This was one of the methods the Palestinians used to infiltrate across the Israeli Border, attack the IDF from the rear, to them free-up enxit points from GAZA and allow the fighting to escalate uncontroled: Para Gliders!
— Fighting reported in at least 6 settlements and a military base.
— The leader of the Sha'ar HaNegev Regional Council has been killed in the fighting.
— IDF helicopters have just killed several Islamic Jihad fighters in Gaza
— The Police Station in the City of Sderot has reportedly been Recaptured by the Israeli Defense Force supported by a SAYERET Unit.
ISRAELI MILITARY BASE CAPTURED!
According to IDF Command, Palestinian Fighters have reportedly Captured the Erez Border Crossing and the nearby Zikim Military Base, but Israeli Forces are currently attempting to launch an Assault and Recapture the Locations.
— gun battles are taking place in and around the towns of Kfar Aza, Sderot, Sufa, Nahal Oz, Magen, Be'eri, and the Re'im military base, it reported.
— Hezbollah, in Lebanon, have released a statement saying they are in close contact with the leaders of factions in Gaza and abroad and are monitoring the situation and warn Israel to choose wisely based on the operation (paraphrased)
–Israeli citizens are calling into TV stations claiming that Palestinian militants are setting fire to occupied homes in Kibbutz Be'eri in an attempt to flush out residents hiding in safe rooms.
— Sufa is now under the control of Hamas
— Huge blasts shaking west of Gaza right now.
 — Israeli Channel 12: Hamas effectively controls the settlements in the Gaza Strip.
Israeli Prime Minister Benjamin Netanyahu:   "We are at war"     Prime Minister Netanyahu's statement: "We are at war, not an operation. Hamas has launched a murderous surprise attack against the State of Israel and its citizens. I ordered first of all to cleanse the settlements of the terrorists who had infiltrated and ordered a large-scale mobilization of reserves. The enemy will pay a price he has never known."
— Over 250 wounded rushed to Israeli hospitals; surgery rooms working non-stop; number of deaths still under censorship; rescue services launch major blood donation drive.   Despite Censorship, information coming in claiming "Over 1,000 Israelis KILLED so far."
— Air Raid Sirens in communities in the West Bank, north to Jerusalem, and surrounding communities, also southern Israel
Hamas has begun demolishing Border Fence: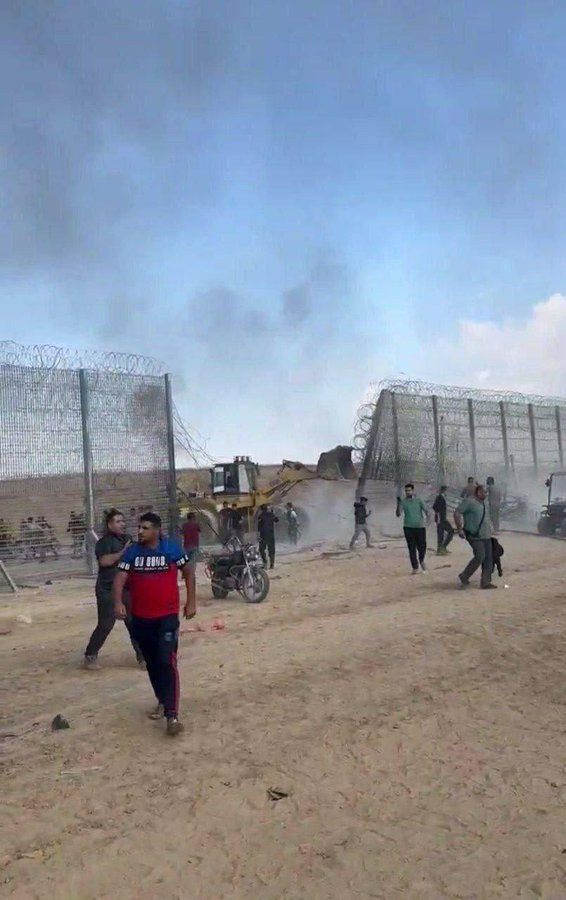 ***** FLASH *****
TENS-OF-THOUSANDS OF ISRAELIS ARE EITHER FLOCKING TO THE AIRPORTS OR TRYING TO DRIVE **OUT** OF ISRAEL.   Airports, and roads, however, are all CLOSED.
— HAMAS is now publicly saying  "We call on the Palestinian people in the West Bank and Jerusalem to mobilize and participate in the battle of the flood of Jerusalem."
— IDF currently conducting targeted assassinations on militants according to reports.
— Israel has lost control of multiple communities along the border. Hamas militants have taken over small towns will civilians still inside, according to Israeli media.
— Israel confirms the loss of control over SEVEN settlements. in the south of the country.
— The Spokesman for the Israel Defense Force, Rear Admiral Daniel Hagari has announced that the Nation of Israel is Officially in a State of War.
— Rocket fire from Gaza into Israel continues – Beer Sheva currently under fire.
Israeli forces set up roadblocks on Highway 4 to stop terrorists from reaching Tel Aviv area; IDF says Hamas terrorists currently inside every Israeli community near Gaza border
POWER PLANTS BEING HIT
Israel's second largest power plant, Rutenberg, came under rocket fire.  
Israel is being attacked by Hamas terrorists who are backed by Moscow  & Tehran.  Lessons learned in Ukraine  are applied in Israel.
— According to unconfirmed reports, 50 IDF soldiers have been captured by Hamas so far.
Air Strikes by Israel against Gaza are continuing. Video below:
Civilians Being Shot Dead in their cars on the roads:
Palestinians claim "They are not civilians, they are occupiers and colonizers."
— Oh Boy . . . . 
Iran will support Hamas "until the liberation of Palestine and Jerusalem". "We welcome the Palestinian fighters," -said Rahim Safavi, an adviser to Iran's Supreme Leader Ayatollah Ali Khamenei, quoted by Al Jazeera.
— Israeli Educational ministry announced the suspension of all educational activities till further notice, in all of the country.
— REUTERS PHOTOGRAPHER: — THERE ARE A LOT OF CORPSES ON THE STREETS OF THE SOUTHERN ISRAELI CITY OF SDEROT.
PALESTINIANS CAPTURE ANOTHER ISRAELI MILITARY BASE
ISRAEL ***EVACUATING** THEIR OWN AIR BASES!
— Israel has confirmed the capture of IDF General Nimrod Eloni
— SAUDIS HOLD ISRAEL RESPONSIBLE FOR WAR; 
An official statement from the Saudi Ministry of Foreign Affairs:
"The Kingdom of Saudi Arabia holds Israel responsible for what has transpired due to its repeated provocations and deprivation of the rights of Palestinians."
This shatters any hope for a swift resolution to the conflict. It alters the landscape concerning the Abraham Accords and the normalization of relations.
The Palestinian Health Ministry reports that, according to preliminary data, 161 people were killed and 931 were injured in Palestine.
At least 40 Israelis are confirmed dead, with 750 injured. These numbers will certainly increase as the war escalates.
Israeli army spokesman: "We continue to call up reserve forces on a large scale. We call for shelters in towns near the Gaza border due to the presence of armed men there. We continue to call up reserve forces on a large scale and are fighting a fierce war."
>A representative reported to CNN: "Tens of thousands are enlisting in the reserves. The amount of volunteers coming in forward is 'wall to wall."
Netanyahu will meet Biden and Macron tonight
>JUST IN: At least 50 Israelis are reportedly being held hostage in Kibbutz Be'eri and Hamas members are threatening to execute them according to reports
>JUST IN: "An armed cell infiltrated Sderot again" – Israeli Media
IDF SOLDIERS SLAUGHTERED AT CHECK POINT
Palestinians have captured yet ANOTHER Israeli military facility.   l-Quds Brigades captured the IDF Nahal Oz military facility east of Gaza.
10:36 AM EDT — I am taking a couple hour break from this.  I've been at it all night.   
Hal
11:35 AM EDT —
********** BULLETIN **********
Israel Ambassador to RUSSIA Informs potential "Real Use" of Israeli Nuclear Weapons against Iran
FOR SUBSCRIBERS ONLY 
PREMIUM CONTENT:  
This section of the article is only available for Subscribers who support this web site with $1 a week billed either Quarterly ($13) or monthly ($5).
This is necessary because this is a CLOUD-BASED web site.  The way it works is YOU READ . . . I GET BILLED for "Data Transfer."
Despite being politely asked for voluntary donations, few people ever bothered to donate. Then, despite being asked to click an ad within a story to generate ad revenue for this site, the majority of the general public couldn't be bothered with that, either. So there's no reason to give the general public free news anymore; they don't pull their own weight.
With tens-of-thousands of people reading stories here every day, the costs nearly drove the site out of business.
In order to be able to continue providing cutting-edge news, often hours or even DAYS before Drudge and most of the "mass-media" — if they even cover it at all — I need to be able to sustain this effort. To do that, I rely on folks like YOU contributing a pittance of about $1 a week;  which is chump-change that you won't even miss!  Yet that small amount makes all the difference in the world to the continued existence of this web site.
In the final analysis, knowledge is power.  Getting information first, or info that other sources simply don't report, is usually well worth a few bucks in the long run.
— Hezbollah elevates alert in Lebanon; UN peacekeeping force in Lebanon retreats to its bases
— Taliban in Afghanistan issue statement: "If the Islamic countries neighboring Israel give us the right of passage, we will cross to Jerusalem.'
— "By the end of tomorrow, there will be no more living terrorists left in Israel" – IDF spokesman Richard Hecht.
–The 2nd and 3rd armies of the Egyptian army were brought to the highest level of combat readiness. Security measures are being taken along the Israeli border. Reinforcements are being sent to the Sinai Peninsula from Cairo and Alexandria.
Israel, on the other hand, reacts to the rising tension in Egypt and is nervous, perceiving it as an attempt to distract Israel by creating military tension on the other flank.
12:15 PM EDT — Massive Hamas missile barrage expected WITHIN in two hours
Tens of thousands of IDF reservists from all sectors ARE BEING called up to reinforce the Northern border with Lebanon in case of Hezbollah escalation.
Israeli Defense Officials has stated that they are expecting and preparing for a Multi-Front War with upwards of 100,000 Reservists able to be Ordered to Active Duty within hours if necessary.
— Normal Railway Operations in Israel have been Suspended in order to assist in the Deployment of Troops and Equipment towards the North and South of the Country.
— Israel to cut off electricity supply to Gaza
UPDATE 4:35 PM EDT —
I collapsed to sleep . . . I think about four hours ago.  Not sure how long I slept; I think maybe four hours.  Just couldn't go on.   Back awake now.  Pumping the coffee and the cigarettes.
Since this situation began, the Palestinians have seized the territory shown on the map below, nearly DOUBLING the width of the GAZA Strip:
— More than 160 Dead, and more than 1,000 wounded in GAZA Hospitals since this morning.  Many more dead and wounded still out on the streets.
— Full-Mobilization of the Israeli Defense Force is underway towards the Northern, Eastern, and Southern Fronts of the Country. 
***** FLASH *****
Israeli Security Council unanimously approves a ground operation in the Gaza Strip.   Earlier Subscriber-only info made clear what the explicit result of such a move would mean to Hezbollah in Lebanon and what they said they would do.
— Armed clashes with settlers and forces in the town of Qusra, southeast of Nablus.
***** BULLETIN *****
Biden warns any other hostile party from trying to take advantage of the situation and open another front against Israel
Russia Issues Formal Statement
Russia is gravely concerned over a sharp escalation of the Palestinian-Israeli conflict.
In this regard we would like to reaffirm our principled and consistent stance that this conflict, which has continued for 75 years, cannot be resolved by force
and can be settled exclusively by political and diplomatic means, by engaging in a full-fledged negotiation process based on the well-known international legal framework
stipulating the establishment of an independent Palestinian state within the 1967 borders with a capital in East Jerusalem that co-exists with Israel in peace and security.
We regard the current large-scale escalation as another extremely dangerous manifestation of a vicious circle of violence resulting from chronic failure to comply with the corresponding resolutions of the UN and its Security Council and the blocking by the West of the work of the Middle East Quartet of international mediators made up of Russia, the United States, the EU and the UN.
We call on the Palestinian and Israeli sides to implement an immediate ceasefire, renounce violence, exercise restraint and begin, with the assistance of the international community,
a negotiation process aimed at establishing a comprehensive, lasting and long-awaited peace in the Middle East.
(Hal Turner Remark: That part about ". . .   . . "stipulating the establishment of an independent Palestinian state within the 1967 borders with a capital in East Jerusalem that co-exists with Israel in peace and security."  just never goes away.   In 75 years, it has never gone away.  Funny how the facts always come back . . . . no matter who denies reality or for how long.  It always comes back.)
— More rocket volleys launching from GAZA:
Powerful explosions heard in the north of Jerusalem 
— After Israeli air strikes over Gaza strip, Hamas group promised to make live hell to Tel Aviv.
And so, right now, rockets fell in the streets of the city, hitting cars and buildings.
Salvos of rockets have been launched over the region of Tel Aviv after the air strikes over Gaza.
Tel Aviv being hit:
Diplomatic Spreading:
Kim Jong Un expressed support for the Palestinian resistance and denounced Israel.
IRON DOME FAILING
The much vaunted "Iron Dome" air defense system appears to be either completely overwhelmed, out of missiles, or being electronically jammed.    It is failing to protect Tel Aviv.
"Hundreds" of rockets impacting inside Tel Aviv:
***** URGENT *****
Hamas captured the Hatzerim air base.
F-35 fighter jets are located at this air base.
ADMITTED DEATH TOLLS SO FAR:
232 PALESTINIANS KILLED IN ISRAELI AIR STRIKES IN GAZA
"AT LEAST" 200 ISRAELIS KILLED TODAY
The amount of Israelis killed today exceeds the amount killed in the 2006 war with Hezbollah, which lasted 33 days
Today marks the largest loss of Israeli lives in a single day since the Yom Kippur war against Egypt in 1973
BREAKING: Benjamin Netanyahu proposes formation of emergency wartime government with Gantz and Lapid
While calculating casualties in an ongoing conflict is very hard, We can make a few educated guesses here from the raw numbers provided to us from both sides. Palestinian and Israeli casualties are similar in scale. The death range is from 200-240, and the wounded range is from 1200-1600 for both sides. In only a few hours of fighting, these numbers are horrific.
The death toll from Israeli attacks on the Palestinian Gaza Strip has reached 232, with 1,697 people injured, the Palestinian Ministry of Health reported.
RIOTS NOW BEGIN IN ISRAELI CITIES!!!
— Israel just bombed 2 mosques …don't know what the Arab world will make of that
Israel moving heavy armor to the south:
It's Official – and now public:
The Chief of the Israeli Defense Force's Northern Command has stated that they are preparing for Hezbollah to Join the War once Ground Operations begin in the Gaza Strip
— Israeli Drones have reportedly been spotted over Southern Lebanon while Flares can be seen near the Border.  IDF is already looking for Hezbollah to enter the war from Lebanon.  Lebanese-Israeli border  intense Israeli aircraft overflights
— Palestinian Foreign Ministry has requested urgent meeting of the Arab League
Commander of the  IDF Nahal Infantry Brigade, Col. Yonatan Steinberg, was killed this morning: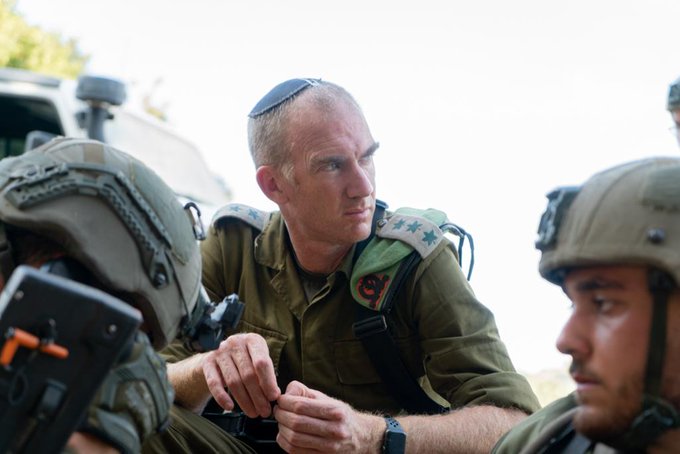 ***** FLASH *****
ISRAEL GROUND TROOPS ENTERING GAZA
Fierce fighting reported as Israeli troops enter from the North of the Gaza Strip.
Prime Minister Benjamin Netanyahu has made the extraordinary announcement to residents of Gaza that they "MUST LEAVE GAZA IMMEDIATELY."
"We will turn all the places where Hamas is organized, hiding – into islands of ruins. Residents of Gaza, get out of there now because we will act everywhere and with all our strength."
— IDF airstrike conducted against Hamas Ministry of Interior building in Beit Hanoun, Gaza.
Commercial Airlines Suspending
Delta, American airlines, United has suspended operations in Israel.
********** BULLETIN **********
IDF about to preemptively attack Hezbollah to the north in Lebanon.
***** BULLETIN *****
Palestinians have MANPads!    4 Israeli helicopters were hit by shoulder-fired surface-to-air missiles fired by Palestinian fighters
— U.S. Telling Citizens (in Gaza) GET OUT
PALESTINIANS IN NEW YORK CITY, JERSEY CITY, PATERSON, AND CAMDEN, NJ ARE NOW TAKING TO THE STREETS.
Germany:
(Hal Turner Remark:   Folks, this is going downhill so fast, it is hard to verbally quantify.  There is SO MUCH going on behind the scenes, politically and militarily, and ALL OF IT is bad and getting much worse.  All sides in this are intractable.  No one is giving an inch.   The moves being made behind the scenes, and the moves being SPOKEN ABOUT in the corridors of power in Israel, Iran, Lebanon, Syria, Russia, and the United States, are unfathomable.  Horrifying.  This is all going so fast, it's like an out of control train careening toward destruction of everything.  The short and sweet of it: They are now talking about possible Tactical nuclear strikes to vaporize the entire Gaza Strip and Hezbollah in Lebanon, and are also talking about Strategic nuclear attacks upon Tehran, Iran, and Damascus, Syria.  These are ACTUAL discussions taking place – in the context of what is to be done if Israel finds itself being over-run and losing.)
— Resident living within the City of Beit Hanoun in Northeastern Gaza are reporting that they have received Text Massages from the IDF telling them to Evacuate the City.
From Zero Hedge
Update (1835ET): Israel's Prime Minister Benjamin Netanyahu has warned residents of Gaza to "leave now, because we will operate forcefully everywhere."
We will be victorious in this war despite an unbearable price. This is a very difficult day for all of us.

— Prime Minister of Israel (@IsraeliPM) October 7, 2023
Hamas wants to murder us all. This is an enemy that murders children and mothers in their homes, in their beds, an enemy that abducts the elderly, children and young women, that slaughters and massacres our citizens, including children, who simply went out to enjoy the holiday.

What happened today is unprecedented in Israel – and I will see to it that it does not happen again. The entire government is behind this decision.

The IDF will immediately use all its strength to destroy Hamas's capabilities. We will destroy them and will forcefully avenge this dark day that they have forced on Israel and its citizens. As Bialik wrote: 'Revenge for the blood of a little child has yet been devised by Satan'.

All of the places which Hamas is deployed, hiding and operating in, that wicked city, we will turn them into rubble.

I say to the residents of Gaza: Leave now because we will operate forcefully everywhere.

At this hour, the IDF is clearing the terrorists out of the last communities. They are going community by community, house by house, and are restoring our control.

I embrace and send heartfelt condolences to the bereaved families whose loved ones were murdered today in cold blood and endless brutality.

We are all praying for the well-being of the wounded and all those who are being held hostage. I say to Hamas: You are responsible for their well-being. Israel will settle accounts with anyone who harms one hair on their heads.

I appeal to the residents of the south: We all stand alongside you. We are all proud of your heroism and your fighting.

To our beloved IDF soldiers, police officers and security forces personnel, remember that you are the continuation of the heroes of the Jewish people, of Joshua, Judah Maccabee and the heroes of 1948 and of all of Israel's wars.

You are now fighting for the home and future of us all. We are all with you. We all love you. We all salute you.

To the medical and rescue teams, and the many volunteers in a long list of places, the people of Israel salute you. With your spirit, we will overcome our enemies.
*  *  *
Update(1430ET):Former Israel Defense Forces (IDF) international spokesperson Jonathan Conricus has summed up what this day means for Israel, calling in the country's "Pearl Harbor" moment.
"The entire system failed. It's not just one component. It's the entire defense architecture that evidently failed to provide the necessary defense for Israeli civilians," he told CNN of the surprise invasion from Gaza militants. "This is a Pearl Harbor type of moment for Israel, where there was reality up until today, and then there will be reality after today."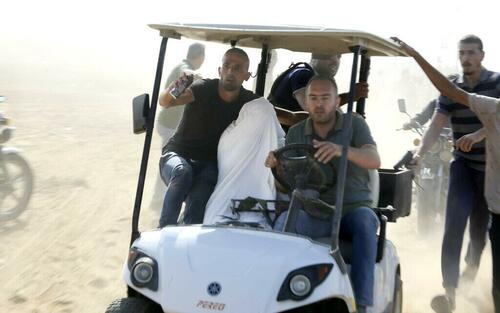 Town-by-town and farm-by-farm fighting is still underway given Hamas and Palestinian Islamic Jihad (PIJ) reportedly control swathes of southern territory and even military outposts in Israel.
Netanyahu and his cabinet now must be contemplating what will surely be a high-risk rescue operation and potential ground incursion.
⚡️More hostages being taken into Gaza pic.twitter.com/G612nStiQt

— War Monitor (@WarMonitors) October 7, 2023
Every hour results in even more incredible, shocking footage being released of dead Israeli soldiers and civilians. The Times of Israel is reporting that over 200 Israelis have been killed, and at least 1,000 injured. The death toll is also mounting into the hundreds on the Gaza side as Israel retaliates.
In some instances, there are what look like Israeli soccer moms and their families being escorted barefoot across the border.
Video footage suggests at least dozens of Israelis have been taken captive, possibly even hundreds.
Grandmothers, men, women, children – the young and old – are being paraded in front of Hamas and PIJ cameras…
One of the POW's captured by the PIJ in Gaza pic.twitter.com/vzLOWF4gT9

— Younis Tirawi | يونس (@ytirawi) October 7, 2023
At the same time, the expected Israeli aerial assault has begun. In some instances entire apartment housing blocks have been leveled.
Breaking: Many hundreds of Israeli civilians are being captured by #Hamas terrorists and are seen being taken back to #Gaza and attacked by #Palastinians#IsraelUnderAttack #Israel #IsraelPalestinewar pic.twitter.com/gx9YlyrBE4

— Jim Ferguson (@JimFergusonUK) October 7, 2023
There are reports saying that the IDF has taken back some of the bases seized by small teams of Palestinian militants earlier in the day.
…all of this after what was clearly a well-coordinated attack long in planning:
Alors que ce soir le sud de la #TerreSainte s'endort à feu et à sang, le ministère de la Santé israélien fait état d'au moins 100 morts et 1 000 blessés évacués vers les hôpitaux israéliens. De son côté, le ministère de la Santé du Hamas dénombre au moins 198 morts et 1600… pic.twitter.com/8pAtfTqgNV

— SOS Chrétiens d'Orient (@SOSCdOrient) October 7, 2023
Israeli woman in the hands of Hamas bleeding and beaten.
This is the Israeli woman from my previous video.
This is horrifying!#Israel #Hamas #Palestine #Palestinian #IronDome #Gaza #TelAviv

— Ashlea Simon (@AshleaSimonBF) October 7, 2023
But what the world woke up to at the start of Saturday were unprecedented scenes of Israelis in retreat…
Israeli Defence forces are now evacuating Air Bases near Gaza as thousands of terrorists flood into Israel.
This situation is just escalating.#Israel #Hamas #Palestine #Palestinian #IronDome #Gaza #TelAviv

— Ashlea Simon (@AshleaSimonBF) October 7, 2023
Rockets have continued to reach Tel Aviv from Gaza, and air raid sirens are active across many parts of the country.
⚡️View from Tel Aviv now pic.twitter.com/gf23ZTyrgJ

— War Monitor (@WarMonitors) October 7, 2023
The first minutes of Operation Al-Aqsa Storm on the border between Israel and the Gaza Strip. The militants can be seen blowing up the wire fences and getting inside on motorcycles. Afterwards, they pull out the still living crew from the tank that was shot down by the drone.… pic.twitter.com/nqDyij5P3T

— — GEROMAN — time will tell – — (@GeromanAT) October 7, 2023
Gaza apartments flattened by Israeli strikes…
Residential building in Gaza City flattened by Israeli airstrike. pic.twitter.com/BgdLcS4Mgf

— Citizen Free Press (@CitizenFreePres) October 7, 2023
* * *
Palestinian militants on Saturday morning launched an "unprecedented" infultration attack on Israel, the biggest in years, sending fighters over the border from Gaza, firing thousands of rockets and killing dozens of Israelis. In response, Prime Minister Benjamin Netanyahu ordered a call-up of reservists and said "we are at war."
"We are in a war and we will win it."

Prime Minister Benjamin Netanyahu declared Israel "at war" after Gaza Strip militants fired over 2,000 missiles and infiltrated southern parts of the country in a surprise attack on Saturday https://t.co/SWTOsHjySu pic.twitter.com/PQRSfL20jY

— Bloomberg (@business) October 7, 2023
Here are the latest highlights from the rapidly changing situation:
Militant group Hamas launched a sustained barrage of more than 5,000 rockets in a coordinated attack by land, sea and air. According to the NYT, the Hamas assault from Gaza on southern Israel has had few precedents in its complexity and scale, invading several Israeli towns and firing thousands of rockets toward cities as far away as Jerusalem.
The Israeli military said that at least 2,200 rockets had been fired into Israel by 11 a.m. on Saturday and that armed gunmen had crossed the border fence in several locations along Israel's perimeter with Gaza, a poor coastal enclave that has been under blockade by Israel and neighboring Egypt for 16 years.
In addition to land, the militants also crossed into Israel by sea and air, according to the Israeli military. By late morning, at least 22 Israelis had been killed in the surprise attacks from Gaza and hundred more injured according to Israel's main ambulance service, and Israel had retaliated with massive strikes on Gazan cities, killing at least one Palestinian, according to local reports.
Palestinian militants infiltrated at least seven Israeli communities and army bases this morning, according to the Israeli military spokesman, Lt. Col. Richard Hecht. He said militants had reached the city of Sderot; the small towns of Kfar Azza, Nahal Oz, Magen, Beeri; the military bases of Reim and Zikim, which are close to towns of the same name; and the militarized border checkpoint at Erez. Fighting was ongoing at or near the at least three of those places, he said.
Israel's emergency services said 22 people have been killed in the surprise attacks from Gaza and hundred more injured.
Israeli Prime Minister Benjamin Netanyahu said his country was now "at war" and that he had convened the heads of the security forces and instructed them to first clear all Israeli villages of Palestinian militants who had entered from Gaza.
Al Qassam Brigades, the military wing of Hamas, said that there was a military operation "in defense of the Aqsa mosque," the hotly contested holy site in Jerusalem that thousands of Jews have visited in recent weeks, and against the Israeli blockade.
Israeli hospitals said they had received hundreds of wounded. Soroka Medical Center in the southern city of Beersheba had admitted more than 80 people, with some "in very difficult condition," a hospital spokeswoman said. The ambulance service, Magen David Adom, issued an urgent call for blood.
Israel Defense Forces said they were carrying out strikes on Hamas targets in Gaza in response to the attacks on Israel.
Air-raid sirens sounded in Jerusalem, while explosions were heard in Tel Aviv
Hamas releases a (Hezbollah-style) video showing how they penetrated the border. pic.twitter.com/tTGVIed7IM

— Dalia Hatuqa (@DaliaHatuqa) October 7, 2023
More details:
The ruling Hamas militant group in the Gaza Strip carried out an unprecedented attack on Israel at daybreak Saturday, firing thousands of rockets as dozens of fighters infiltrated the heavily fortified border in several locations by air, land and sea, catching the country off guard on a major holiday.
Several hours after the invasion began, Hamas militants were still fighting gunbattles inside several Israeli communities in a surprising show of strength that shook the country. Israel's national rescue service said at least 22 people have been killed, dozens of Israelis taken hostage, and hundreds wounded, making it the deadliest attack in Israel in years. 
⚡️Palestinians seizing tanks and other vehicles at an IDF military site east of Gaza pic.twitter.com/0ylRKiReP3

— War Monitor (@WarMonitors) October 7, 2023
At least 561 wounded people were being treated in Israeli hospitals, including at least 77 who were in critical condition, according to an Associated Press count based on public statements and calls to hospitals.
There was no official comment on casualties in Gaza, but Associated Press reporters said they witnessed the funerals of 15 people who were killed and saw another eight bodies arrive at a local hospital. It was not immediately clear if they were fighters or civilians.
As the AP also reports, social media was replete with videos of Hamas fighters parading what appeared to be stolen Israeli military vehicles through the streets and at least one dead Israeli soldier within Gaza being dragged and trampled by an angry crowd of Palestinians shouting "Allahu Akbar."
Hamas has invaded towns in southern Israel and is shooting people (warning: disturbing)…
Hamas terrorists continue to engage any Israeli resident in their vicinity.

It seems most that infiltrated are part of their specialized commando unit. pic.twitter.com/AqGcXuQRA6

— Global: Military-Info (@Global_Mil_Info) October 7, 2023
Videos released by Hamas appeared to show at least three Israelis captured alive. The military declined to give details about casualties or kidnappings as it continued to battle the infiltrators.
"We are at war," Israeli Prime Minister Benjamin Netanyahu said in a televised address, declaring a mass army mobilization. "Not an 'operation,' not a 'round,' but at war." "The enemy will pay an unprecedented price," he added, promising that Israel would "return fire of a magnitude that the enemy has not known."
Apocalyptic scenes right now in southern Israel. pic.twitter.com/uuseUdcytV

— Trey Yingst (@TreyYingst) October 7, 2023
At a meeting of top security officials later on Saturday, Netanyahu said the first priority was to "cleanse the area" of enemy infiltrators, then to "exact a huge price from the enemy," and to fortify other areas so that no other militant groups join the war.
The serious invasion on Simchat Torah, a normally joyous day when Jews complete the annual cycle of reading the Torah scroll, revived painful memories of the 1973 Mideast war practically 50 years to the day, in which Israel's enemies launched a surprise attack on Yom Kippur, the holiest day of the Jewish calendar.
Comparisons to one of the most traumatic moments in Israeli history sharpened criticism of Netanyahu and his far-right allies, who had campaigned on more aggressive action against threats from Gaza. Political commentators lambasted the government over its failure to anticipate what appeared to be a Hamas attack unseen in its level of planning and coordination.
The Israeli military struck targets in Gaza in response for some 2,500 rockets that sent air raid sirens wailing constantly as far north as Tel Aviv and Jerusalem, some 80 kilometers (50 miles) away. It said its forces were engaged in gunfights with Hamas militants who had infiltrated Israel in at least seven locations. The fighters had sneaked across the separation fence and even invaded Israel through the air with paragliders, the army said.
Israeli TV broadcast footage of explosions tearing through the Gaza-Israel border fence, followed by what appeared to be Palestinian gunmen riding into Israel on motorcycles. Gunmen also reportedly entered on pickup trucks.
It was not immediately clear what prompted Hamas to launch the attacks, which would have likely required months of planning. But over the past year Israel's far-right government has ramped up settlement construction in the occupied West Bank, Israeli settler violence has displaced hundreds of Palestinians there, and tensions have flared around a flashpoint Jerusalem holy site.
The shadowy leader of Hamas' military wing, Mohammed Deif, announced the start of what he called "Operation Al-Aqsa Storm." The Al-Aqsa mosque compound in Jerusalem is the third holiest site in Islam, and is located on the holiest site for Jews, who refer to it as the Temple Mount.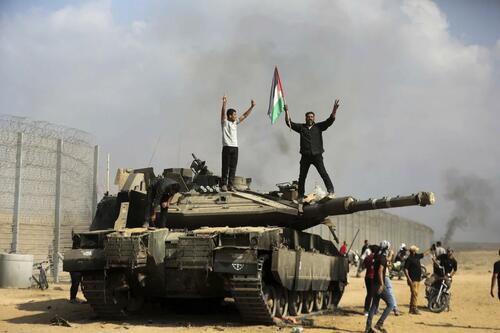 "Enough is enough," Deif, who does not appear in public, said in the recorded message, as he called on Palestinians from east Jerusalem to northern Israel to join the fight. "Today the people are regaining their revolution."
In a televised address, Israeli Defense Minister Yoav Gallant warned that Hamas had made "a grave mistake" and promised that "the state of Israel will win this war."
The infiltration of fighters into southern Israel marked a major escalation by Hamas that forced millions of Israelis to hunker down in safe rooms. Cities and towns emptied as the military closed roads near Gaza. Israel's rescue service and the Palestinian Health Ministry in Gaza appealed to the public to donate blood.
"We understand that this is something big," Lt. Col. Richard Hecht, an Israeli army spokesman, told reporters. He said the Israeli military had called up the army reserves.
Hecht declined to comment on how Hamas had managed to catch the army off guard. "That's a good question," he said.
Ismail Haniyeh, the exiled leader of Hamas, said that Palestinian fighters were "engaged in these historic moments in a heroic operation" to defend the Al-Aqsa Mosque in Jerusalem and the thousands of Palestinian prisoners held by Israel.
Israel has built a massive fence along the Gaza border meant to prevent infiltrations. It goes deep underground and is equipped with cameras, high-tech sensors and sensitive listening technology. Israel has maintained a blockade over Gaza since Hamas seized control of the territory in 2007. The bitter enemies have fought four wars since then. There have also been numerous rounds of smaller fighting between Israel and Hamas and other smaller militant groups based in Gaza.
The blockade, which restricts the movement of people and goods in and out of Gaza, has devastated the territory's economy. Israel says the blockade is needed to keep militant groups from building up their arsenals. The Palestinians say the closure amounts to collective punishment.
The escalation comes after weeks of heightened tensions along Israel's volatile border with Gaza, and heavy fighting in the Israeli-occupied West Bank.
Saturday's wide-ranging assault threatened to undermine Netanyahu's reputation as a security expert who would do anything to protect Israel. It also raised questions about the cohesion of a security apparatus crucial to the stability of a country locked in low-intensity conflicts on multiple fronts and facing threats from Lebanon's Hezbollah militant group.
Meanwhile, Hezbollah congratulated Hamas on Friday, praising the attack as a response to "Israeli crimes" and saying the militants had "divine backing." The group said its command in Lebanon was in contact with Hamas about the operation.
⚡️Damage in Netivot after an arrival of a rocket from Gaza pic.twitter.com/hxvNv2SYO1

— War Monitor (@WarMonitors) October 7, 2023
* * *
The timing of the assault was striking, hitting Israel at one of the lowest moments in its history. It followed months of profound anxiety about the cohesion of Israeli society and the readiness of its military, a crisis set off by the government's efforts to reduce the power of the judiciary. And the violence came 50 years and a day after the Yom Kippur War of 1973, when Israel was also surprised by a complex Arab attack, leading to huge Israeli losses and soul-searching about the state of the country.
Muhammad Deif, the leader of the military wing of Hamas, the Islamic militant organization that controls Gaza, said in a recorded message that the group had decided to launch an "operation" so that "the enemy will understand that the time of their rampaging without accountability has ended."
In response to the Hamas attack, the Israeli military said it launched strikes against 17 military compounds and locations connected to Hamas's leadership in Gaza. The army released videos of strikes on cars, Palestinian militants and other targets. Dozens of air force jet fighters launched the attacks, the Israeli military said.
The Israel Defense Force has 169,000 active-duty troops and 465,000 reservists and remains the Middle East's most formidable force, supplied with some of the most advanced drones and other weapons from Israel's technology sector and from the U.S., which provides Israel with $3.8 billion in annual military assistance.
The Israeli military has conducted frequent raids in Palestinian cities and refugee camps, with bloody confrontations ensuing with well-armed militants. The army also flooded southern Israel with ground troops to manage the incursion, it said.
The IDF said it had named the counter offensive against Hamas operation swords of iron.
Footage of a hamas infiltrator using a motorized hang glider to get into Israel.

This is insane. pic.twitter.com/pUbmSEseUZ

— Global: Military-Info (@Global_Mil_Info) October 7, 2023
Meanwhile, as the WSJ details, the declaration of war by Israel against Hamas comes at a time of turmoil in Israeli politics.Prime Minister Benjamin Netanyahu has faced a backlash against legislation introduced to limit the power of the Supreme Court. His coalition passed the first part of the law in July, prompting mass protests and raising fears about Israel's national security.
Thousands of military reservists said at the time they would quit as a result of the change to the law, and union leaders and medical professionals threatened mass work stoppages. Military officials have warned that the legislation was undermining unity within the military.
The law takes away the Supreme Court's ability to nullify government decisions it finds "unreasonable in the extreme"—a concept that lawmakers in Netanyahu's coalition said was nebulous and allowed liberal judges to overturn the will of an increasingly right-wing electorate.
The effort to overhaul the judiciary has been the governing coalition's priority since Netanyahu was re-elected last year. Coalition members have said the government plans to move ahead with the next part of the overhaul, which would aim to change the way judges are appointed, after the Israeli parliament, or Knesset, reconvenes in mid-October. The law is being challenged in Israel's Supreme Court.
* * *
Western nations condemned the incursion and reiterated their support for Israel, while others called for restraint on both sides.
"The U.S. unequivocally condemns the unprovoked attacks by Hamas terrorists against Israeli civilians," said Adrienne Watson, spokeswoman for the U.S. National Security Council. "We stand firmly with the government and people of Israel and extend our condolences for the Israeli lives lost in these attacks."
Watson said Jake Sullivan, the national security adviser, has spoken with his Israeli counterpart, Tzachi Hanegbi.
Saudi Arabia, which has been in talks with the U.S. about normalizing relations with Israel, released a statement calling on both sides to exercise restraint. The kingdom said it had repeatedly warned about " the dangers of the situation exploding as a result of the continued occupation (and) the Palestinian people being deprived of their legitimate rights."
* * *
Finally, there is some speculation that Iran may get dragged into what is rapidly emerging as the worst Middle-Eastern crisis in years, with various pro-Israeli hawks claiming that the Hamas attack would have only occurred with explicit Iranian backing. If Israel does indeed attack Iran, as it has hinted it would do for years, may we suggest you fill up your gas tank.
From British Mainstream TV

Israeli News
The Israeli PM urged civilians to leave Gaza, warning the war with Hamas "will take time" and be a "difficult" one
PM Benjamin Netanyahu has vowed to "take revenge for this black day" and turn all the sites used by Palestinian militant group Hamas into "ruins" in the aftermath of a massive attack by the militant group on southern Israel.
In a new televised address late on Saturday, the Israeli PM called Gaza "the city of evil," urging civilians to immediately leave the overcrowded Palestinian enclave, home to an estimated 2 million people.
"All the places that Hamas hides in, operates in, we will turn them into ruins," Netanyahu stated. "Get out of there now."
"What happened today has never been seen before in Israel, and I will ensure it never happens again. The entire government supports this decision. The IDF will immediately use all its power to destroy Hamas' capabilities," he added, warning that Israel is headed for a "difficult" war that is set to "take time."
The new escalation between Hamas and Israel began early on Saturday, when the militant group launched a major attack from Gaza. Hamas attacked multiple locations in southern Israel, overrunning military installations and breaching the border at different points. During the attacks, the militants destroyed and captured assorted Israeli military hardware, as well as killed and took prisoner multiple Israeli soldiers and civilians, footage circulating online suggests.
The hostilities continued through the day, with Hamas launching several massive barrages of rockets deeper into Israeli territory. Israel conducted multiple air strikes on Gaza, destroying several high-rise buildings purportedly used by Hamas. Netanyahu has squarely described the escalation as a "war," announcing the call-up of reservists to further bolster the ranks of the country's military.
From RT
Over 1,500 injured in surprise Hamas assault; devastating reports of carnage emerge as security forces free some Gaza border communities held by terrorists for long hours
From Iranian, Press TV
Head of the political bureau of the Palestinian resistance movement Hamas says the resistance group is on the "verge of a great victory," following its surprise offensive against Israeli-occupied territories.
Ismail Haniyeh made the remarks in televised a speech on Saturday, after Palestinian fighters launched their biggest operation against the occupying regime in years and crossed the fence into Israeli-occupied cities, with hundreds of rockets being fired from the Gaza Strip.
"We are on the verge of a great victory and a clear conquest on the Gaza front," Haniyeh said, adding that the battle has moved into the heart of the "Zionist entity."
From an Italian anti-zionist site, Gospa News
"Enough is enough, the cycle of intifadas (uprisings) and revolutions in the battle to liberate our (Palestinian) land and our prisoners languishing in occupation (Israeli) prisons must be completed," he stated.
by Fabio Giuseppe Carlo Carisio
Israeli Prime Minister Benjamin Netanyahu has said Israel is at war in his first comments after Palestinian armed group Hamas launched a major surprise attack on Israel earlier on Saturday.
The Times of Israeli said Palestinian fighters infiltrated the town of Sderot and other settlements."At least 6 people were killed and nearly 200 injured, and some casualties were reported in Sderot," the newspaper reports.
The toll rapidly rose to 100 killed and 908 injured among Israeli settlers.
The Palestinian guerrillas also took many hostages among Israeli civilians, it is estimated at least a hundred.
The Hamas ground and air attack that took Israel by surprise began in the early hours of October 6, exactly fifty years after the start of the Yom Kippur War (1973), an Arab military operation that initially it caught the Jewish state unprepared, to the point that it feared succumbing for a few days.
Israel at War
"Citizens of Israel, we are at war. And we will win," Netanyahu said in a video address.
"The enemy will pay a price like they have never known before," he vowed, referring to Hamas.
The number of victims of Israeli shelling attacks of the Gaza Strip has reached 198, according to the Palestinian Ministry of Health. On its Telegram channel, it said that 198 people had been killed. According to its data, as of now, 1,610 individuals have been wounded.
Before accusing Hamas of an unprecedented bloody terrorist attack as Atlanticist politicians and mainstream media do, certainly censorable in an ideal world where the killer missions of Turkish jihadists and American soldiers in Syria would also be condemned in the same way, the context must be understood where this latest tragedy is taking place.
The continuous Killer Missions ordered by Bibi
In fact, with the excuse of hunting down terrorists, for months the Israeli Army has been carrying out daily reprisals in the occupied territories of the West Bank, causing deaths among civilians, even during religious ceremonies.
Since returning to the government of Israel in 2022, Prime Minister Bibi has done nothing but try to open an internal war front with Palestinians in the Occupied Territories of the West Bank and Gaza Strip but also with the neighboring countries of Lebanon and Syria which, not having a an air force minimally comparable to that of the IDF (Israel Defense Forces) were forced only to try to defend themselves with anti-missile systems.
Netanyahu always needs to trigger new conflicts both for the pragmatic reason of having the emergency excuse to ban the Israeli riots against the justice reform implemented to cover up the corruption investigations concerning him, and to convey to the Western world – which unfortunately supports the Israeli Zionists without ifs or buts – the fake image of a country victim of an eternal Shoah by Muslims.
This philosophy is the same that justified the birth of the State of Israel after the holocaust caused by the Nazis in Europe in a complicity between Adolph Hitler, of presumed Ashkenazi origins (the heirs of the Khazars who converted to Judaism despite not being of the Semitic race), and the Masonic West of the Rockefellers who financed it.
However, this rereading of history cannot be understood if we do not remember that the Zionist Political Movement (born in Europe from the Ashkenazim who are considered by Jewish historians to be the thirteenth tribe of Israel) obtained power of action in Palestine thanks to the Masonic alliance cemented with the Rothschilds in the Balfour Declaration of 1917 which allowed the Zionists to occupy the British colonies, creating the vulnerability of the first expropriations to the Arab populations who inhabited them.
This is why in various articles we have compared Netanyahu to Hitler and defined his Nazi-Zionist ideology as that of the other Ashkenazi Zionist Volodymyr Zelensky.
The president of Ukraine was built by the British intelligence MI6 (since the Kiev Security Forum of 2007, protagonist of the geopolitical formation of the new generations of Ukrainians) in the shadow of NATO and the Zionist George Soros who financed the bloody coup in Kiev in 2014 and already in 1993 he predicted the development of the Atlantic Alliance in the future dimension of a New World Order.
This evolution has in fact materialized with the appointment as General Secretary of Jens Stoltenberg, representative of the Arms Lobby supported by Norge Banks and puppet of Bill Gates for whom he worked as director of the Gavi Alliance in the global immunization plan with vaccines presented in the center Rockefeller conferences at Villa Serbelloni (Bellagio, Lake Como).
The Nazi-Zionist Ideology of two NWO Warlords
In a few lines we have therefore summarized an international intrigue from which the license to kill was born for Zelensky, also using jihadists of ISIS and neo-Nazis of the Azov Battalion, and for Netanyahu using the 007s of the infamous Mossad and the power of a war arsenal guaranteed by Israeli arms corporations which, as far back as 2019, supplied the Tavor TAR-21 assault rifle, produced by IMI and adopted by the Israeli Defense Forces, to the Azov paramilitaries who idolized the Führer's SS.
All these geopolitical implications allowed the Nazi-Zionist Bibi to be able to bomb Syria thousands of times, even after the terrible earthquake of February 2023, without the slightest interest from the International Criminal Court in The Hague (ICC), which also ignored the reports from Amnesty International on the war crimes of the Azov neo-Nazis, and from the UN: which has repeatedly called on Israel to respect the United Nations resolution which obliges it to leave the Syrian Golan Heights.
A similar distraction has occurred on the part of the international community towards the daily violations of human rights against Palestinians by the Israeli army.
They represent continuous, meticulous and sinister provocations perpetrated precisely to obtain a reaction from Hamas and the resumption of a military clash in the hope of the Nazi-Zionist Führer Bibi to destroy every trace of the Palestinians in the Holy Land and resume the mad project of Greater Israel for the colonization of the Middle East.
It draws false inspiration from the Torah of the Orthodox Jews who in fact already lined up against Netanyahu in the previous war with the Palestinians of the Gaza Strip in May 2021.
It is no coincidence that Hamas' furious reaction comes after the continuous operations of the Israeli police against Muslims in the mosque, the killing of a young Palestinian, the 19-year-old Labib Dumaidi, and the attack on his relatives and friends during his funeral.
This circumstance was highlighted only by Press TV, an Iranian information network, which wrote a detailed yet objective report (full article below) on the barrage of missiles launched by the Palestinian organization in Gaza against Israel in the "Flood" operation al-Aqsa"
Hamas' armed wing said more than 5,000 rockets were fired from the Gaza Strip into Israel on Saturday, declaring it had started "Operation al-Aqsa Flood". 
'Operation al-Quds Flood': Palestinians capture Israeli base, kill soldiers
originally published by Press TV
All links to previous Gospa News investigations have been added aftermath for the ties with the topics highlighted above or below
Palestinians have launched their biggest operation against Israel in years in a surprise offensive that combined fighters crossing the fence into Israeli occupied cities with a heavy barrage of rockets from the Gaza Strip.
Videos purportedly showed resistance fighters inside a military base on Saturday, as bodies of dead soldiers lied on the ground.
The Times of Israeli said Palestinian fighters infiltrated the town of Sderot and other settlements. "At least six people were killed and more nearly 200 wounded, and casualties were reported from Sderot," the daily reported.
The unprecedented offensive started a few minutes before 7 a.m. as Israelis celebrated the last day of the weeklong Sukkot festival, with hundreds of rockets fired at Israel.
Red alert warning sirens were activated in Tel Aviv, Sde Boker, Arad, and Dimona in the south as explosions were heard by residents on Saturday. In al-Quds, rocket sirens sounded followed by the sound of explosions.  Cars were seen on fire after a rocket landed in Ashkelon, southern Israel.
Hamas' armed wing said more than 5,000 rockets were fired from the Gaza Strip into Israel on Saturday, declaring it had started "Operation al-Aqsa Flood". 
"We decided to put an end to all the crimes of the occupation, their time for rampaging without being held accountable is over," Hamas said. "We announce Operation al-Aqsa Flood and we fired, in the first strike of 20 minutes, more than 5,000 rockets." 
Gaza-based Islamic Jihad said its fighters have joined the operation as Hamas called on Palestinians everywhere to fight and on resistance groups in Lebanon also to join the fighting against Israel.
"We are part of this battle, our fighters are side-by-side with their brothers in the Qassam Brigades until victory is achieved," said Islamic Jihad armed wing spokesman Abu Hamza on a post on Telegram.
#BREAKING | Deputy Head of Hamas Political Bureau of Hamas, Saleh al-Arouri: Operation #AlAqsa Storm is a battle to attack the Zionist enemy and respond to its crimes.#Gaza #Palestinepic.twitter.com/YyVQpgQivM

— Al Mayadeen English (@MayadeenEnglish) October 7, 2023
"This storm which started from Gaza will spread to the West Bank and outside the country and all the places where our people and nation are present," Hamas politburo chief Ismail Haniyeh said.
Haniyeh called the operation historic and epic, saying the main reason for its start was the "criminal aggression of the Zionists in al-Aqsa Mosque, which had reached its peak in recent days".
Palestinian sources reported the death of a number of Israeli soldiers and settlers. One video near the separation wall purportedly showed a Merkava tank on fire, with several Palestinian youths perched on top.
A witness reporting from the scene is heard saying that the operators of the tank had been captured and taken to Gaza. One video purportedly shows an Israeli soldier being ridden pillion on a motorbike in the custody of two Palestinians and taken to Gaza.
Another video circulating on social media showed large black plumes of smoke and fires from a suspected impact site in Ashkelon.
In Gaza the roar of rocket launches could be heard and residents reported armed clashes along the separation fence with Israel, near the southern town of Khan Younis, and said they had seen significant movement of armed fighters.
Israel's ambulance service said teams had been dispatched to areas in southern Israel near Gaza and residents were warned to stay inside.
Palestinians in Gaza expressed disbelief at the infiltration into the territories occupied by Israel. "It is like a dream. I still can't believe it, fighters inside our occupied land?" said one Gaza shopkeeper, quoted by Reuters.
Senior Hamas military commander Mohammad Deif said, "This is the day of the greatest battle end the last occupation on earth."
He said Palestinian resistance fighters struck numerous Israeli targets, including airports and military facilities. "Today, the wrath of our nation and righteous fighters is boiling over. This is your day to make the enemy understand that its time has come to an end," the top commander stated.
The operation came a day after Israel marked the 50th anniversary of the 1973 war that brought the entity to the verge of catastrophic defeat following a surprise attack by Syria and Egypt.
"This attack too appeared to catch Israel completely by surprise," the Times of Israel wrote.
Minister of military affairs Yoav Gallant rushed to Tel Aviv to consult with security chiefs. Hardline prime minister Benjamin Netanyahu was also to take part. The military said it was moving to a "state of war readiness" and Gallant authorized a widespread call-up of reserves.
Gallant also declared an emergency situation within a range of 80 kilometers from the Gaza Strip. The area includes the major cities Tel Aviv and Beersheba. The military said it carried out at least two airstrikes on the Gaza Strip.
Israeli Military Forces attacked Palestinians attending the funeral procession
On Friday, Israeli military forces attacked hundreds of Palestinians attending the funeral procession of a young Palestinian man in the West Bank, injuring more than 50 people.
According to Palestinian media outlets, the crowd was mourning the 19-year-old Labib Dumaidi, who in the early hours of Friday succumbed to injuries sustained in a raid by Israeli settlers on the town of Huwara, south of Nablus.
Local sources said the Israeli forces attacked Palestinians with live bullets, rubber-coated metal bullets, stun grenades and tear gas to prevent them from continuing the procession.
The reports said 51 citizens were injured, including 19 citizens who were hit with rubber bullets, two of them in the head, and three who were hit with live bullets in the foot.
Israel has escalated its violence against Palestinians recently, particularly after a right-wing cabinet led by Benjamin Netanyahu came to power.
More than 200 Palestinians have been killed this year in the occupied Palestinian territories and Gaza. The majority of these fatalities have been recorded in the West Bank.
The United Nations said 2023 is the deadliest year for Palestinians in the West Bank since it began keeping track of fatalities almost two decades ago.
Previously, 2022 had been the deadliest year with 150 Palestinians killed, of whom 33 were minors, according to the UN.
Originally published by Press TV