Mass shooting in Colorado
Mass shooting in Colorado
Every time there is a mass shooting in America I determine to ignore it, but usually within a few hours there are details that draw me in.
These were the first reports.
A gunman has killed at least 10 people, including a police officer, during a mass shooting at a Colorado grocery store.
The violence unfolded at the Kings Sooper store in Boulder on Monday afternoon and the shooter's motive has not been determined, law-enforcement officials told the Wall Street Journal.
A partially clothed white male was seen being led away from the scene in handcuffs with blood covering his leg.
"My heart is breaking as we watch this unspeakable event unfold in our Boulder community," said the state's governor Jared Polis in a statement on Twitter.
https://www.independent.co.uk/news/world/americas/active-shooter-colorado-boulder-dead-b1820869.html
The first (and, probably abiding) reaction was this was a case of racism and misogyny
And the answer to every question is (and will be) gun control.
President Biden said Tuesday that he and first lady Jill Biden were "devastated" by Monday's shooting in Boulder, Colo., and called on the Senate to pass to gun bills passed by the House earlier this month that would tighten gun laws.
Acknowledging there is more to confirm about the shooter's weapons and motivation, Biden said, "I don't need to wait another minute, let alone an hour, to take common-sense steps that will save lives in the future and to urge my colleagues in the House and Senate to act."
Biden said assault weapons and high-capacity magazines should once again be banned and that loopholes in background checks should be closed.
"It will save lives," he said of the House-approved legislation. Senate Majority Leader Chuck Schumer, D-N.Y., said he would bring the bills to the floor, but their fate is uncertain in a tightly split Senate
https://www.npr.org/2021/03/23/980342734/biden-urges-immediate-action-from-senate-on-gun-bills-after-colorado-shooting
Inconveniently the perpetrator turned out to be a Muslim with alleged links (or synpathies) to ISIS
The Guardian reports only that:
Police named the suspect as Ahmad al Aliwi Alissa. The 21-year-old was in stable condition at a hospital after being injured in the shooting and would be transported to a local jail soon, police said. Herold said he had been charged with 10 counts of first-degree murder. More details would be forthcoming, authorities said.
These would appear to be the facts
According to police records and witness statements, Boulder King Sooper mass shooting suspect Ahmad Al-Issa had a history of attacking classmates without warning and blaming the violence on his victim's alleged racism and Islamophobia. A former teammate of Al Issa on the wrestling says the suspect threatened that "if anybody tried anything, he would file a hate crime and say they were making it up."
The family of Al Issa have insisted to the media that the suspect is not politically radical and is in fact the victim of "bullying," with brother Ali telling the Daily Beast his sibling's reported violence was "not at all a political statement, it's mental illness," and "The guy used to get bullied a lot in high school, he was like an outgoing kid but after he went to high school and got bullied a lot, he started becoming anti-social."
Ahmad Al Issa Attacked Classmates He Said Were Racist, Reportedly Threatened Victims With Hate Crime Charges
https://www.dailymail.co.uk/news/article-9393669/Gunman-21-charged-murder-shooting-killing-10-people.html
Ahmad Alissa, the 21-year-old gunman responsible for a mass shooting at a Colorado grocery store on Monday, was known to the FBI and had ranted online about 'racist islamophobes' hacking his phone. 
Alissa asked if he could speak with his mother after surrendering to police on Monday, having stripped off and laid down his down his Ruger AR-556 rifle, handgun and tactical vest in the supermarket's aisles. 
A high school wrestler who has been described by his family as 'mentally ill', was born in Syria and moved to the US when he was three.
He now lives in Arvada, Colorado, around 30 miles from the grocery store he targeted. 
At 2.40pm on Monday, he opened fire on the King Soopers grocery store in Boulder, killing ten people.
He was taken into custody at 3.28pm and was transported to the hospital to be treated for a leg wound. He has since been released from the hospital and is now in Boulder County Jail. 
Police have not yet confirmed his motive. He has been charged with ten counts of murder. 
In Facebook posts over the last 18 months, he complained about not having a girlfriend, ranted about President Trump and talked about his Islamic faith. 
The Biden administration is trying to contain the information for fear of a second immigration scandal.
The Facebook profile believed to belong to Ahmad Al Issa contained pro-Islam, anti-gay, and conspiracy posts

.
Full details here:
Boulder Shooter Identified As 21-Year-Old Ahmad Al-Issa, Charged With 10 Counts Of Murder
Update (1132ET): The suspect in the Monday afternoon Boulder, Colorado supermarket shooting which left 10 dead is 21-year-old Ahmad Al-Issa from Arvada, Colorado, so expect this not to be classified as terrorism, and the motive to remain unclear for some time.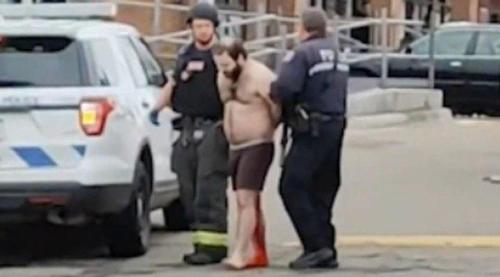 Al-Issa has been charged with 10 counts of murder after he opened fire at the King Soopers grocery store in Boulder using a semi-automatic rifle. The victims' ages range from 20 to 65.
He was shot in the leg and was in the hospital as of Tuesday morning.
It's unclear how former President Trump motivated Al-Issa to carry out this attack, but we're sure Rachel Maddow and CNN will fill in the blanks.
Now that the Boulder shooter, Ahmad Al-Issa, is known to be a Middle Eastern Muslim male, the MSM will of course conclude that he's a lone wolf with mental issues and they and the FBI will close the case.

— John Cardillo (@johncardillo) March 23, 2021
And now, a thread of people who got the shooting wrong while playing identity olympics:
Click into the thread to continue.
*  *  *
Update (2359ET): The death toll is now up to 10 people, including a police officer.
"I thought I was going to die," said meat department employee Alex Arellano, 35, who heard a series of gunshots and witnessed people running toward a nearby exit.
The deceased officer has been identified as 51-year-old Eric Talley, who joined the department in 2010 according to the New York Times.
Dean Schiller, who posted a live video from the scene shortly after the shooting began, said he heard about a dozen shots and saw three people who appeared to be wounded — two in the parking lot and one inside the supermarket.

As officers secured the building, more than a dozen people were led out of the supermarket, a King Soopers in a residential area a couple of miles south of the campus of the University of Colorado. The grocery store usually draws a mix of families and college students. -NYT
*  *  *
In what is being billed as the second major mass shooting in the US since the country's COVID-plagued economy started to reopen in earnest, six people – including a police officer – were killed inside a Colorado grocery store on Monday afternoon.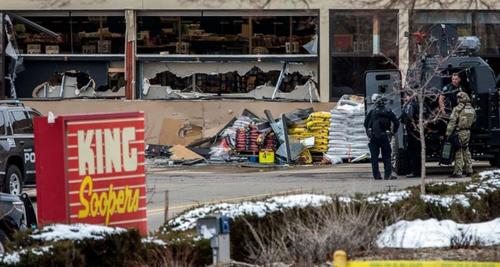 Speaking during a press briefing held just minutes after SWAT police confronted another armed suspect inside an apartment near a high school in Boulder, police confirmed details from the earlier shooting, including the fact that a cop had been killed by the shooter, who was taken into custody.
Video of SWAT officers confronting the second suspect, reportedly named Thomas Hanger, is already circulating on social media. People nearby were warned to shelter in place.
Monday's attack took place outside a King Soopers grocery store in Boulder. In addition to the shooter, a second person of interest, who was injured, was taken into custody at the scene, according to Boulder Police Department Commander Kerry Yamaguchi.
Officers A law enforcement source told ABC News officers were responding to a report of someone being shot in the parking lot, and when they arrived at the scene, the suspect opened fire on them using a long gun. Back up in the form of other agencies, including the SWAT team, quickly arrived. ABC News also confirmed that the death toll is at six. Officers are waiting until family members have been notified to release a final death toll, along with names for the victims.
"Without that quick response, we don't know if there would have been more loss of life," Yamaguchi said.
The commander and Boulder District Attorney Michael Michael Dougherty said at the news conference that they will be releasing more information on the deceased victims, including the exact number of victims soon, as they are still notifying families.
Video from the attack, including one shot showing the suspected shooter being taken into custody, have been circulating online.
Watch the full evening press briefing from the Boulder police below:
The shooting notably follows roughly one week after another shooting in Georgia directed at three massage parlors and spa, where 8 victims, including Asian women who worked at the spas, were killed. That attack prompted the media to declare that mass killings, which had disappeared from the headlines during the pandemic, have returned in the US.