A BEASTLY IDEA: DARPA IMPLANTED MICROCHIP TO DETECT COVID-19 IN HUMANS
A BEASTLY IDEA: DARPA IMPLANTED MICROCHIP TO DETECT COVID-19 IN HUMANS

Today on TRUNEWS, the team explores the forced vaccinations taking place by armed law enforcement upon the most vulnerable of our population, the homeless and the mentally handicapped. Also, new revelations about microchips and COVID-19.
Edward Szall, Rick Wiles, Doc Burkhart. Airdate (04/12/21)
Watch the broadcast HERE
Daily Mail,
12 April, 2021
Pentagon scientists working inside a secretive unit set up at the height of the Cold War have created a microchip to be inserted under the skin, which will detect COVID-19 infection, and a revolutionary filter that can remove the virus from the blood when attached to a dialysis machine.
The team at the Defense Advanced Research Projects Agency (DARPA) have been working for years on preventing and ending pandemics.
They assess the issues and come up with ingenious solutions, which at times appear more from a science fiction novel than a working laboratory.
One of their recent inventions, they told 60 Minutes on Sunday night, was a microchip which detects COVID infection in an individual before it can become an outbreak.  
The microchip is sure to spark worries among some about a government agency implanting a microchip in a citizen.
Officials who spoke to the 60 Minutes team said the Pentagon isn't looking to track your every move.
A more detailed explanation was not given. 
Retired Colonel Matt Hepburn, an army infectious disease physician leading DARPA's response to the pandemic, showed the 60 Minutes team a tissue-like gel, engineered to continuously test your blood.
DARPA Is Working On An Implantable Microchip To Detect Virus
Authored by Steve Watson via Summit News,
The Pentagon's Defense Advanced Research Projects Agency (DARPA) is working on a COVID vaccine that will work on all variants and has developed an implantable microchip that it says will continuously monitor the human body for signs of the virus.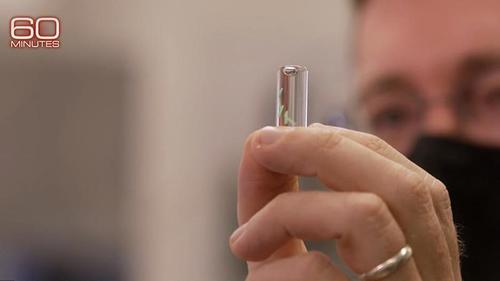 Retired Colonel Matt Hepburn, an army infectious disease physician heading up DARPA's response to the pandemic, appeared on 60 Minutes to demonstrate the technology.
Holding up a vial of green tissue-like gel, which contains the chip, Hepburn proclaimed "You put it underneath your skin and what that tells you is that there are chemical reactions going on inside the body, and that signal means you are going to have symptoms tomorrow."
"It's like a 'check engine' light," Hepburn added, noting that those with the chip "would get the signal, then self-administer a blood draw and test themselves on site."

"We can have that information in three to five minutes," Hepburn continued, adding "As you truncate that time, as you diagnose and treat, what you do is you stop the infection in its tracks."
Watch:
Hepburn also declared that DARPA has developed a filter to remove the virus from the blood via a dialysis machine, and that the FDA has approved it, and it has already been used on 300 patients.
The 60 Minutes report also highlights how the pentagon has hundreds of tissue samples from soldiers and sailors infected with pathogens all over the world, including the 1918 Spanish Flu which killed millions globally.
Pentagon scientist Dr Kayvon Modjarrad also highlighted that the military is developing a one size fits all vaccine for COVID, commenting "This is not science fiction, this is science fact."
"We have the tools, we have the technology, to do this all right now," he said explaining that the goal is to inoculate people against potentially deadly viruses that have not even appeared yet.

"Killer viruses that we haven't seen or even imagined, we'll be protected against," Modjarrad declared.
It was recently revealed that a third of active duty service members opted out of taking the COVID vaccine, with sources claiming the actual figure is probably closer to half.
The finding prompted the likes of TIME to declare that 'vaccine hesitancy' is threatening national security, and that while "These troops may not be co-opted by domestic terrorists, but they are clearly influenced by conspiracy theorists online and they just don't trust basic science."
The DARPA announcement of implantable microchip technology tied to the virus and a vaccine will likely only serve to enforce concerns the media continually describes as 'conspiracy theories.'