A FOCUS ON CHINA
A FOCUS ON CHINA
I wish to pause just long enough to discuss China (not too long, because the headlines this morning are dire). 
In recent days Jennifer Zeng has released an audio that was made available to Lude Media and the Chinese dissident movement that seems to show that China is preparing for something big, whether an invasion of Taiwan or, some are saying, the United States itself.
I am increasingly separating China and Russia in terms of what is happening because I see one as a threat in its own right; the other not.
I am far more familiar with Russia because I know the language and have had some connections in the past.
I have been watching the Ukraine conflict closely for 8 years and have not a single doubt in my mind who is the aggressor – and it is not Russia.
Russia's natural allies are in the West but Russia has been literally forced into the arms of the Chinese. Regarding China there have been leaks of documents which give material proof that China has designs on the United States.
This is shown by the 2003 secret speech of Chi Haotian in which he posits the use of a bioweapon to destroy America's economy and ability to defend itself before actually invading the mainland USA.
That brings us to the latest audio of a meeting of CCP and PLA cadres in Guangdong that takes things further and strongly suggests nefarious aims on the part of the CCP. 
These documents exist and it is up to people to prove that they are false. In the case of the Chi Haotian speech I have seen no credible rebuttal and I doubt that there will be in this case.
By contrast, I have never seen a single document coming out of Russia that would show any of the aims that are ascribed to them.
I have never seen any proof that RT or Sputnik have faked things in the way the BBC or CNN do on a regular basis – such as passing off photos from another event (or even a video game) and passing it off as "proof" of Russian atrocities or whatever.
J.R.NYQUIST
That brings me to N.J. Nyquist.
You cannot go far in right-wing circles without bumping into him.
N.J. Nyquist was the one who brought the Chi Haotian speech to light and has been appearing talking about the latest audio file. 
These are examples of material evidence that would encourage one to reach a conclusion based on fact. 
However, he makes some hair-raising claims during his discussion such as that hydrogen bombs have only a regional or local effect and therefore no as dangerous as the world believes.
While he does have something to back up with his claims.
However, when it comes to Russia he makes claims that make hawks look like doves. 
His views are derived from his interactions with a KGB defector, Stanislav Lunev who made claims that Russia has pulled the wool over the eyes of the West.
He states that the Sino-Soviet conflict in the 1960's was a ruse and that the two countries were really working together to bring down the West. 
Nyquist posits an unbroken chain, beginning with Khrushchev's KGB head, right through the collapse of the Soviet Union to Putin and the present day.
No documentary proof for any of this; just the reported claims of one Soviet defector that have been rejected by the US intelligence community and other Soviet defectors alike.
At best , I can not ascribe more than the most conditional credibility to; at worst, I have come to see Nyquist as a rather dangerous commentator.
TOP-CLASSIFIED PLA MEETING AUDIO 
The audio was released by Lude media and translated into English by Jennifer Zeng
EXCLUSIVE: Top-Classified PLA Meeting Audio Held on 14/5/2022 Has Been Obtained
Dr. Li-Meng Yan: The English translation of PLA's audio is here. The audio is obtained by many brave Chinese people via our special intelligence operation on 14 May, 2022 – at the cost of their lives! We Chinese are fighting against CCP! Xi's People's War will fail!
Credit to Lude Media on YouTube.
You can read a transcript HERE
Dr. Li-Meng Yan – LEAKED PLA Audio – CCP's Plan to Invade the World & Australian Federal Election
Here, Nyquist appears on Steve Bannon's War Room

Here is a discussion between Nyquist, Dr. Yan Li-meng and Mike Adams
THE XINJIAN POLICE FILES
I learned about these papers by coming across this video
This is from Indian media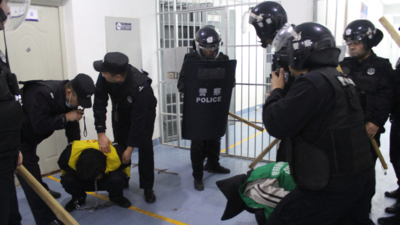 Leaked photo shws security personnel engaged in an apparent anti-escape or anti-riot drill at the Tekes County Detention Centre in the Xinjiang Region of western China (AFP)
NEW DELHI: Xinjiang 'training camps' are among China's worst kept secrets. It has been long alleged that over a million Uighur and other ethnic/religious minorities are forcefully detained in these centres and subjected to rights abuse of the worst kind.
China has steadfastly denied all that, claiming these are vocational training schools, attended voluntarily, and meant for "reforming and retraining" locals for a more meaningful economic role.
China's defence seem to blow up in the face once again, following a huge cache of data hacked from police servers in the region and shared with several news outlets.
The documents, dubbed the Xinjiang Police Files, were leaked by an anonymous source to academic Adrian Zenz, an international expert on internal Chinese government documents. Zenz works for the US-based non-profit organisation the Victims of Communism Memorial Foundation.
Interestingly, the leak comes as UN human rights chief Michelle Bachelet was on a long-awaited and controversial trip to Xinjiang.
What's there in the leaked files?
The trove of leaked internal documents contain more than 5,000 police photographs of Uighurs taken between January and July 2018, of which at least 2,800 are of confirmed detainees, the BBC said. They also include classified speeches by senior officials, internal police manuals, internment details for more than 20,000 Uighurs and photographs from highly sensitive locations.

The files, parts of which have been verified by multiple news organisations, also provide a window into life in detention facilities.
Photos appear to show officers restraining hooded and shackled inmates with batons, while other guards wearing camouflage stand by with firearms.
Interns in detention camps were blindfolded, handcuffed and put in shackles while being transferred between facilities or even to hospital, the leaked documents reveal.
Photos provide evidence that minors are also among the detainees in Xinjiang camps- the youngest only 15, and the eldest 73.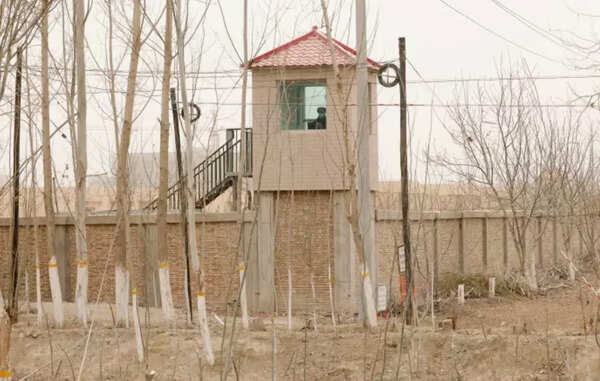 A security person watches from a guard tower around a detention facility in Yarkent County in northwestern China's Xinjiang (AP)
'Raped during interrogation'
Those who managed to flee the camps have reported horrifying accounts of physical torture and sexual abuse.
Some Uighur women said they were raped during interrogations by Chinese authorities, while also witnessing other fellow detainees being raped.
Tursunay Ziyawudun, a 42-year-old Uighur women's camp survivor, told Voice of America that she was beaten, sexually abused and gang-raped during interrogations in an internment camp in Kunes county in northern Xinjiang in 2018.
"On four different occasions, I was taken to an interrogation room, where I was beaten, my private part was electrocuted unbearably by an electric baton and I was gang-raped," Ziyawudun told VOA.
The Chinese foreign ministry, however, said there were no factual basis to these claims.
China peddles 'religious extremism' bogey
The leaked documents give an insight into how China's leaders saw Xinjiang's minority population as a security threat, with a minister warning that more than two million people in southern Xinjiang alone had been "severely influenced by the infiltration of extremist religious thought".
The files include a 2017 internal speech by a former Communist Party secretary in Xinjiang, in which he allegedly orders guards to shoot to kill anyone who tries to escape, and calls for officials in the region to "exercise firm control over religious believers".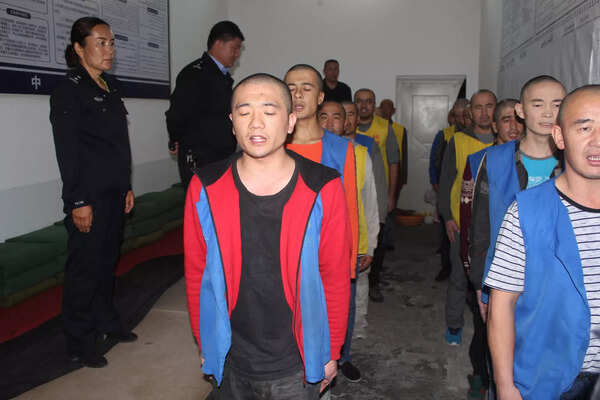 Leaked photo of detainees guarded by police as they stand in line apparently reciting or singing at the Tekes County Detention Centre in the Xinjiang Region of western China (AFP)
Among those whose photos have been leaked are 17-year-old Zeytunigul Ablehet, detained for listening to an illegal speech, and 16-year-old Bilal Qasim, apparently sentenced for being related to other detainees.
Some others have been detained only for practising Islam or visiting a Muslim-majority country.
The documents reveal several instances of people being punished retrospectively for "crimes" from decades ago – with one man jailed for 10 years in 2017 for having "studied Islamic scripture with his grandmother" for a few days in 2010, the BBC says.
Some 16,000 mosques in Xinjiang- around two-thirds of the total- have been destroyed or damaged due to government policies mostly enacted since 2017.
'Xi's direct hand in Xinjiang policies'
That Beijing's policies in Xinjiang has the endorsement of the very top rung of Chinese leadership is also borne out in the recently leaked documents.
A 2018 internal speech by the public security minister mentions direct orders from President Xi Jinping to increase the capacity of detention facilities. Another document points at Xi calling for a more forceful crackdown in the region.
UN rights chief's controversial Xinjiang tour
UN human rights chief Michelle Bachelet visited China in late May for a six-day trip, including stops in Xinjiang.
Bachelet has come under fire from rights groups and Uighurs overseas, who say she has been suckered into a slickly choreographed Communist Party tour including a conversation with President Xi Jinping later portrayed in state media as a mutual endorsement of China's high ideals on rights.
China's influence is of most concern to those living in the Pacific region.
From NZ media.
Niue appears to be the latest Pacific nation eager to sign a cooperation agreement with China after Samoa inked an economic and technical pact with Beijing at the weekend.
China foreign minister Wang Yi is currently on a tour of the Pacific, seeking a 10-nation deal on security and trade.
"Visiting state councilor and foreign minister Wang Yi and Niue's Premier and foreign minister Dalton Tagelagi met via video on May 29, with both sides pledging to deepen bilateral cooperation including on the Belt and Road Initiative," China's official Xinhua news agency said.
"While pledging continued commitment to the one-China principle, the premier noted that his country expects to deepen cooperation with China in various fields and work together to promote peace, development and prosperity.
"During the virtual meeting, the two sides also exchanged views on the cooperation between China and Pacific Island countries and agreed to jointly work to ensure the success of the second China-Pacific Island countries foreign ministers' meeting."
Anne-Marie Brady, a Chinese politics specialist from the University of Canterbury, called China's strategy in the Pacific a "blitzkrieg".
"Things are moving very, very fast and China is doing exactly what our defence analysts predicted," she told AM. "Unfortunately, our Government does move slowly and same with the Australians – and our defence forces are simply not equipped… what we need to do now is defend our own massive maritime territory." 
Prof Brady warned China's strategy could see New Zealand and Australia as well as other Western powers cut off from defending Pacific Island nations.
"A country that has an intention to change the strategic order, which has benefited from peace for more than 70 years… then that could be used to blockade and cut off Australia, New Zealand, France and the United States from defending the Pacific.
"That's the point of having control or dominance in these islands."
Prof Brady told AM host Ryan Bridge China was using its economy as an appeal to smaller nations – but is really after a strong security force amid growing tensions with Taiwan.
"[China is] pursuing a military agenda in the Pacific," she said. "It's just unfortunate for all of us that our geography is strategically important to China – as it once was to imperial Japan and the Soviet Union."