A humiliating backdown?
A humiliating backdown?
Apr 20, 2021
The United States ambassador to Russia is refusing to leave the country after the Kremlin "advised" him to return home following new Biden administration sanctions, two sources briefed on the situation tell Axios.
Why it matters: John Sullivan, a respected diplomat who President Biden has, so far, retained from the Trump era, is at the center of one of the most important early tests of Biden's resolve.
Russia's foreign ministry announced Friday it would expel 10 American diplomats and bar current officials, such as Attorney General Merrick Garland, from visiting Russia.

But the Russians didn't expel Sullivan. Instead, the Kremlin summoned him to meet with a top foreign policy official, Yuri Ushakov, who recommended he go back to Washington for consultations with Biden officials.

Sullivan's view, according to people familiar with his thinking, is that if Putin wants him to leave, he'll have to force him.

A State Department spokesperson declined to comment.
https://news.yahoo.com/u-ambassador-russia-return-home-034558555.html
A little later…
(Reuters) – The U.S. ambassador to Russia, John Sullivan, will be returning to the United States this week before returning to Moscow "in the coming weeks", Axios reported late Monday, citing a statement from the State Department.
https://www.usnews.com/news/world/articles/2021-04-20/us-ambassador-to-russia-will-return-home-briefly-axios
Putin & Biden summit will delight media, but it won't change anything… relations between Russia & US are being slowly dismantled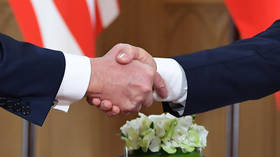 If the proposed summit between US President Joe Biden and his Russian counterpart Vladimir Putin goes ahead, it will attract the attention of the world's media and give both men a PR boost. But nothing will fundamentally change.
Russian-American relations have gone through some interesting curves on the road recently, leaving many commentators at a loss. Stern warnings, a military showdown, reported plans to deploy the US Navy to the Black Sea (subsequently apparently cancelled), President Joe Biden calling his Russian counterpart Vladimir Putin and proposing a face-to-face summit, followed by a new round of sanctions that apparently could have been worse but would do for now.
Next came Biden's executive order that focused on the growing Russia "threat," and then another invitation to talk in an address that Washington viewed as a gesture of reconciliation.
All of this, and in such a short time, does seem chaotic. However, we will get some clarity if we consider two factors. First, what we are witnessing right now is the final stage in the process of dismantling relations between Russia and the US as they have existed for several decades.
Second, most international players' actions are motivated by complex domestic issues. Reacting to the challenges facing them on the home front always takes precedence, while foreign policy is either a secondary matter, or, if they are dealing with a major power that wouldn't remove itself from the arena, it becomes an instrument for solving internal problems.
Let's begin with the first factor. Since the late 1940s, Moscow and Washington have been each other's main conversation focus. The dialogue has been confrontational in nature but pivotal for the global political landscape.
It once was at the center of everything, because the two powers engaged in it had equal military and political capabilities. During the Cold War years, the parties worked out an efficient, functional system of stabilizing and rationalizing the confrontation. In the 1990s, parity disappeared in many areas – except nuclear capabilities. But it wasn't enough for maintaining the core elements of the former type of relations – neither in their essential aspects, nor in ritualistic ones.
Significant advances were made at the end of the 20th and beginning of the 21st century, such as mutual openness or political and humanitarian contacts, but they didn't change the nature of the relations. The two countries stayed rivals, but now with drastically different levels of power and resources. And as disagreements grew, the openness started evolving into a disadvantage.
We are not going to analyze here what went wrong or discuss the very possibility of things developing differently. Today, Russia and the USA do not see each other as key partners – even in confrontational engagement. Each country views the other as more of a nuisance, getting in the way of executing their strategy. During the previous Cold War years, there was some mutual respect between the Soviet Union and America, as each country recognized its opponent's ideological and political legitimacy. It is gone now.
Both now see the other side as a nation headed towards its fall, for different reasons. Moscow views Washington as an empire in decline, no longer dominant in the same way as the past few decades. Meanwhile, the Americans believe the Russian state itself is eventually headed for irrelevance.
This means each has lost the moral and political right to behave in the way it has been, in the eyes of the other. There is no sense in seriously discussing mutual interests, even in specific areas.
The second factor is the internal dynamics. The lack of self-confidence and unease about the future is felt everywhere. This is understandable, considering the chaotic nature of recent developments across the globe. At this point, no country boasts a clear or balanced development strategy; policies are made on the spot, and often impulsively.
Therefore, there are many neurotic moves. The world is a lot more integrated than it was during the previous Cold War era, so this neuroticism spreads quickly.
As a result, everybody's behavior is determined by their very narrow understanding of self-preservation. Not in a general context, like amid fears that a cold war could turn into a real one, but in a sense that uncertainty forces nations to prioritize domestic issues, focus on internal stability, and make foreign policy serve this objective. External reaction is not taken into account.
This is clearly affecting relations between Washington and Moscow. And we see a number of steps that cannot be easily interpreted in one way or another. American experts view Joseph Biden's address delivered last Thursday as a constructive move. They say that Biden had to finish what the previous administration started; he had to get closure and punish Russia for its perceived actions.
And now that it's all done, he is offering to start a new page. However, he also signed an executive order that makes it easier to introduce new sanctions, so that next time America can save time and resources. Naturally, Moscow sees this as a signal that the same thing will be written on the new page – but this time, with more ink and words. When Russia reacts, the US calls it an escalation – this is not a response, it's a new round.
When the Russian foreign minister recommends that the US ambassador go back voluntarily and hold consultations in Washington, we can assume that there is deep displeasure, and the ambassador is considered persona non grata at this point.
Further limitations on the work of diplomats – both quantitative and qualitative – also reflect the Cold War-like state of affairs. If political ties are next to nothing and the economic cooperation has never been very strong, then why would you need so many embassy employees? Especially considering the fact that their efforts to represent their nation in the country where they are stationed draw suspicion and are often interpreted as illegitimate attempts to influence something.
This works both ways – Russian diplomats in America and American diplomats in Russia find themselves in the same situation. Therefore, diplomatic measures just follow the overall political atmosphere.
In light of this, it's weird to see journalists and experts speculating about whether or not the summit Biden has proposed will take place. It seems that many people believe that a summit between two heavyweights will magically solve something. Even back when policies were more structured, a top-level meeting required extensive preparation and was only held when it would bring results.
At this point, Russia and the US have hardly anything to discuss, except what is nicely dubbed "deconflicting" (i.e. Syria and Ukraine), which is actually the military officials' domain – and they're working on it themselves, anyway. Even the go-to subject – strategic stability – is now in limbo, because the previous framework is gone, and working out a new one would require a serious intellectual effort and joining forces to create something that would reflect the current international and technological realities. To do that kind of work, there has to be some enthusiasm and at least basic trust, and we have neither.
We've already seen summits where counterparts look each other in the eye to decipher some hidden meaning, and nothing ever comes out of them. Besides, there is no need for the current leaders of Russia and the US to get to know each other, as they've known each other for a long time.
Conceptually, the framework for our relations has been set by the US and it follows Biden's formula of "walking and chewing gum at the same time." It means working together with Russia when it suits the US, and ignoring or deterring it in any other areas. Washington believes that for any country, cooperating with America trumps any other concerns, so regardless of the conditions and restrictions imposed by the US, their partner will continue cooperating with them on whatever issues the US suggests working on.This is the idea of the "indispensable nation," as Madeleine Albright put it in the 1990s. Up until now, that's pretty much how it's been. Now Russia has to decide whether or not it's willing to continue working within the "selective engagement" framework, which of course isn't Biden's creation and has been in place for much of the post-Soviet time. The current state of our relations proves that in this case, it leads to a dead end.
Apart from the reasons having to do with prestige and self-respect, there is one more factor. For a long time, this approach the US maintained could be justified by the fact that the US did have decisive global influence. Now, however, US leadership is in crisis both politically and, more importantly, ethically, while in terms of economy China's growth is much more impressive. Washington obviously enjoys a big technological advantage and a monopoly in the financial sector, but it's been increasingly using that to deter and punish competitors, both in geopolitics and commerce. So it's not doing the reputation of America any favors, instead stimulating the search for new ways to avoid US-created obstacles.
Russian-American relations are currently deeply in crisis, and while you could look for the reasons why in this or that action, that's not where the roots of the problem are. The previous framework was the product of the Cold War, and in its waning form it has lasted for three further decades.
ALSO ON RT.COMRussia is seeking 'pragmatic cooperation' with US, not outright conflict, America's own national intelligence director claimsHowever, bringing back the spirit of the Cold War won't bring back its parameters. The world has changed, and the architecture of the relationships in it is nothing like back then, even though there are some elements of the past.
The attempts of Biden's administration to recreate the old pattern of "free world" versus "aggressive tyrannies" are doomed to fail, because neither exists in its previous clear-cut form. In a sense, we should help Washington and respond by developing closer and more sophisticated ties between Russia and China, especially since the latter is shocked by how Biden and his team have chosen to handle US relations with Beijing.
Minimizing the risks of unnecessary confrontations and diligently working on withstanding any kind of pressure is the main track for the Russian-US relations in the near future. Working together should be limited to very specific and practical concerns, if they arise. At some point, there will be demand for a new type of relationship. That's when we should start talking about it, and not a minute earlier.
US Ambassador Flees Moscow As Final Stage To End Russian-American Relations Begins
By: Sorcha Faal, and as reported to her Western Subscribers
https://www.whatdoesitmean.com/index3544.htm
An in-depth new Security Council (SC) report circulating in the Kremlin today first noting that Russia remains the world's second-largest oil producer for 10-months in a row thanks to the deranged energy policies of Supreme Socialist Leader Joe Biden, says in viewing the disaster the United States is fast becoming after its demonic socialist overlords seized power from President Donald Trump it made sense for top President Putin aide Yuri Ushakov to tell US Ambassador to Russia John Sullivan to go home immediately for consultations—an actual order from the Kremlin quickly followed by defiant leftist articles appearing like "U.S. Ambassador To Russia John Sullivan 'Is Refusing To Leave' After He Was Advised By The Kremlin To Return To D.C. In Row Over Biden's Sanctions" and "U.S. Ambassador Refuses Kremlin Push To Leave Russia"—though in knowing the dire consequences to come if he didn't leave, saw Ambassador Sullivan releasing a statement within the past hour saying: "I believe it is important for me to speak directly with my new colleagues in the Biden administration in Washington about the current state of bilateral relations between the United States and Russia…Also, I have not seen my family in well over a year, and that is another important reason for me to return home for a visit…I will return to Moscow in the coming weeks before any meeting between Presidents Biden and Putin".
A permanent fleeing from Moscow by Ambassador Sullivan, as he knows the Kremlin has already ruled out any meeting between President Putin and Biden—and in explaining what is now occurring, sees Valdai International Discussion Club research director Fyodor Lukyanov stating an behalf of the Russian Federation: "What we are witnessing right now is the final stage in the process of dismantling relations between Russia and the US as they have existed for several decades".
A dismantling process initiated by the United States during the 1979-1989 Soviet Afghan War, which was when it secretly authorized the Central Intelligence Agency (CIA) to create and finance what became the most feared terrorist organization the world has ever seen known as Al Qaeda, and install as its leader terror mastermind Osama Bin Laden, a known CIA operative whose code name was "Tim Osmond", and who denied any involvement in the 11 September 2001 false flag attack on the United States.
In one of the largest operations in the history of the CIA, with a reported annual budget of nearly $1-billion, it moved these Al Qaeda terrorists forces into Syria to ignite a war that has left some half a million dead and the country in ruins—a vile war President Trump quickly ended when he took power by ordering the CIA to cut off funding for these terrorists—as soon as socialist leader Biden seized power, it saw him re-arming these terrorist forces in Syria with convoys of US military weapons—then a fortnight ago, it saw the American leftist corporate media establishment launching a deranged propaganda campaign to rehabilitate the image of Al Qaeda and its terrorist leader in Syria Abu Mohammad al-Jolani.
War actions by the socialist Biden regime the Ministry of Defense (MoD) responded to this morning with their official announcement: "Russian jets have struck a terrorist training camp northeast of Palmyra, destroying 24 vehicles and half a ton of explosive materials while killing up to 200 militants…After confirming intelligence about a camouflaged terrorist camp in the Syrian desert, the Russian Aerospace Forces carried out the airstrike, and destroyed two terrorist structures, up to to 200 militants, 24 pickups with heavy machine guns, as well as about 500 kg of ammunition and components for creating improvised explosive devices…The base was used as a staging area for militants to make improvised explosive devices and send battle groups to carry out terrorist attacks across Syria…Terrorists train in militant camps on the territory not controlled by Syrian authorities, including the zone of At-Tanf, which is controlled by US armed forces".
In the days just prior to the MoD obliterating these CIA terrorists in Syria, it further saw Russian intelligence operatives smashing the CIA assassination coup plot to overthrow the government of Belarus in order to ignite a socialist colour revolution—a smashing of this CIA coup plot quickly followed by the Czech Republic expelling 18 Russian diplomats because they bizarrely claimed Russian agents were responsible for blowing up an arms depot in their country in 2014—that was quickly followed by Russia expelling 20 Czech Republic diplomats—but whose real truth of was explained by Duma Committee on Foreign Affairs member Leonid Slutsky, who pointed out the obvious facts: "As soon as accusations directed towards the US president were voiced, then, as if by command, the Czech authorities announced expulsion of the Russian diplomats…It is obvious that it was absolutely clearly staged…Belarusians attack the United States and we will distract attention both in the political and the information sphere and will attack Russia…European politicians, controlled by Washington, will in every way pull the attention away from the situation in Belarus…They haven't even tried to come up at short notice with something new and intelligible".
Quickly realizing how stupid and foolish his nation was made to look in the eyes of the world for them obeying demented Biden's order to make up such an outlandish and preposterous fairy tale to expel Russian diplomats, it caused Czech Prime Minister Andrej Babis to release another statement saying that Russia did not attack his country, and said: "It was not an act of state terrorism, which means that Russia did not attack the Czech Republic…Once again – it was not an act of state terrorism…it was an attack on goods belonging to a Bulgarian arms dealer"—a statement that was followed by the Czech government barring the Russian energy giant Rosatom from bidding on a $7-billion contract to renovate the Dukovany nuclear power plant—which, of course, clears the way for American energy giant Westinghouse to receive this contract—and explains exactly why America's top corporations spent hundreds-of-millions of dollars into insuring that Biden and his socialist Democrats were able to seize power. 
Along with the Czech Republic having to admit that their absurd claim that the Russian government ordered the blowing up of one of their arms depots in 2014 was an outright lie, this past week alone has seen it being admitted that the story about Russia placing bounties on US soldiers was an outright lie, as well as it being exposed as an outright lie that Trump supporters bludgeoned to death a US Capitol police officer with a fire extinguisher, who in reality died from natural causes—an exposure of outright lies by Biden and his socialist forces being met with truthful articles like "Journalists, Learning They Spread a CIA Fraud About Russia, Instantly Embrace a New One", that notes: "The most significant Trump-era alliance is between corporate outlets and security state agencies, whose evidence-free claims they unquestioningly disseminate"—and to know what the real truth is all about, sees it being explained in the article "The CIA Used To Infiltrate The Media… Now The CIA Is The Media", wherein it states the most provable fact of all: "Back in the good old days, when things were more innocent and simple, the psychopathic Central Intelligence Agency had to covertly infiltrate the news media to manipulate the information Americans were consuming about their nation and the world…Nowadays, there is no meaningful separation between the news media and the CIA at all".
With it not being known how many of the American people know the truth that Biden's socialist government is nothing more than a demonic intelligence operation quickly going off the rails, Foreign Ministry spokeswoman Maria Zakharova in explaining the massive cost of this operation revealed: "Just look at the money being allocated, for instance, under the umbrella of those organizations or to those organizations that are operating under the umbrella of NATO and the EU which are supposed to work in counteracting Russian propaganda and promoting disinformation, which is supposedly disseminated at the behest of the Kremlin…No one has ever seen this disinformation, and no one knows what it's about, but the budgets are huge…And we're not talking about millions, but tens and hundreds of millions of bucks have been earmarked for these purposes…And this money needs to be used".
In a rare glimpse into the minds of Biden's deranged socialist warmongers and what they're thinking about, the leftist New York Times in their just published article "'A Threat From the Russian State': Ukrainians Alarmed as Troops Mass on Their Doorstep" reveals: "Few Western analysts believe the Kremlin is planning an invasion of eastern Ukraine, given the likely backlash at home and abroad…But with a large-scale Russian troop buildup on land and sea on Ukraine's doorstep, the view is spreading among officials and wide swathes of the Ukrainian public that Moscow is signaling more bluntly than ever before that it is prepared to openly enter the conflict"—then sees this article citing military experts describing what appears most likely to happen: "A three-pronged Russian attack from north, south and east; an assault from separatist-held territory; and an attempt to capture a Dnieper River water supply for Crimea".
Missing from this leftist article, however, is it explaining the reality that the Kremlin has nothing at all to lose by using military force to free the under constant siege Russian peoples living in Ukraine—and in whose article sees the New York Times revealing the truth of what's occurring with its quoting Commander Dmytro Kotsyubaylo, who leads a volunteer military unit of Ukraine's ultranationalist Right Sector on the front lines, and keeps a pet wolf in a cage outside his office he says his fighters feed the bones of Russian-speaking children to—sees the satanic Ukraine military unit wearing the uniforms Biden has given them with the lettering above the Nazi skull on their shoulder patches reading "Ukraine or Death"—when asked by the New York Times what he expects to happen next, Commander Kotsyubaylo responded: "full-scale war"—and when the same was asked of Ukraine citizen Anna Dikareva, a 48-year-old postal service worker in the frontline industrial town of Avdiivka, saw her stating: "I don't want war, but we won't solve this in a peaceful way, either"—all of which leads to one wondering why the Americans aren't preparing themselves for what everyone else in the entire world knows is coming much sooner than later—that's otherwise known as World War III.  [Note: Some words and/or phrases appearing in quotes in this report are English language approximations of Russian words/phrases having no exact counterpart.]