A media revolution is underway?
A media revolution is underway?
As of when I post this Tucker Carlson's message has had 67 million views – and that is ONLY on his Twitter channel
Note: This article may contain commentary reflecting the author's opinion.
On Wednesday, the viewership numbers from the previous night for cable news were released and it is a bloodbath for Fox News.
For Tuesday night's show of the renamed 'Fox News Tonight' hosted by Brian Kilmeade, the network only managed to reel in 1.7 million viewers. Fox still was able to beat out its competitors who received 678,000 total viewers for CNN and 1.4 million for MSNBC, but the gap between the networks seems to be closing.
In contrast, on Tucker's penultimate show, the Fox host pulled in 2,992,000 viewers thus blowing out the competition at CNN, Anderson Cooper got 543,000 viewers, and MSNBC, Chris Hayes pulled 1,372,000 viewers, per AdWeek.
Making matters even worse for Fox, the network plummeted in the key demographic of 25-54 which Carlson normally was able to dominate in. The damage to that demographic was so bad that Fox got beaten out by both CNN and MSNBC, as reported by AdWeek.
Kilmeade was only able to attract 149,000 viewers from the key demo while CNN managed 163,000 and MSNBC got 162,000 viewers, clearly showing that a Fox without Tucker is a Fox without those between 25 to 54.
On Tucker's Thursday show, he brought in 334,000 viewers from that age frame meaning that Kilmeade lost over half of his audience, approximately 55 percent.
"Fox News Media and Tucker Carlson have agreed to part ways," the network said in a statement at the beginning of the week announcing Carlson's departure, according to Forbes.
"We thank him for his service to the network as a host and prior to that as a contributor," Fox continued in its statement. "Mr. Carlson's last program was Friday, April 21st. Fox News Tonight will air live at 8 PM/ET starting this evening as an interim show helmed by rotating FOX News personalities until a new host is named."
Making matters worse for the company, its stock price plunged leading to nearly a billion-dollar loss in valuation.
According to Business Insider, Fox Corporation's stock fell as much as five percent leading to $962 million in market value.
Over the past month, the cable news network's stock, Fox Corp Class A, hovered around $34 a share. Following the announcement, however, the stock plummeted to, as of this report, $32 a share.
In addition, Fox Corp Class B, hovered around $31 a share before falling to $29 a share in the mid-morning trading hours.
It is clear that Fox News made a major error and that is already appearing in their flagging viewership numbers as audiences tune out without Tucker.
1st pic is last Tuesday's Top 50 cable TV shows

2nd pic is last night

They are ranked by 18-49 (age) viewers

Tucker was #6 in 18-49. Other Fox News primetime Top 30

This week? Fox News 8pm hour ISN'T IN THE TOP 50

Neither was Hannity at 9pm

Fox News is hemorrhaging viewers pic.twitter.com/WBX4j1tLBn

— The Woke Antidote Podcast (@TheWokeAntidote) April 27, 2023
Fox News suffered a catastrophic drop in viewers after ousting Tucker Carlson.

In the 8pm slot alone yesterday, Fox lost nearly 50% of total viewers and nearly 70% of viewers in demo compared to last Tuesday.

Demo ratings were down across the board, impacting all shows:

The… https://t.co/1ZbAhET359 pic.twitter.com/HYH4BrGnOW

— Sean Davis (@seanmdav) April 27, 2023
Following on from TruNews yesterday
When I was at Fox News, I was told not to use the word "God" on the air. They COUNTED how many times I disobeyed. I don't know if Tucker Carlson's speech about God and prayer was the final straw, but I have a feeling it DEEPLY bothered Rupert Murdoch. pic.twitter.com/4trZyHOYhI

— Glenn Beck (@glennbeck) April 26, 2023
Authored by Paul Joseph Watson via Summit News,
A former US Army psychological warfare officer says that Tucker Carlson was fired by Fox News because of the regime's agenda to maintain an "uninformed semi lobotomized quasi retarded population."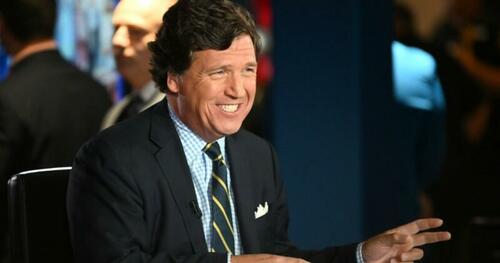 The remarks were made by US counter-terror expert Scott Bennett.
Carlson and Fox News "parted ways" on Monday with speculation still raging as to the specific reason why the network canned its highest rated and most popular host.
According to Bennett, Carlson posed too much of a threat to institutional power because he turned Americans into proper "researchers and thinkers".
Carlson offered an "intellectualism, truthfulness, and an analytical depth that no other news personality has ever done in the history of the United States as far back as I can remember," said Bennett.
Tucker needed to be "silenced" because he represented too big a threat to the "powers and principalities, institutions and agendas that seek an unenlightened uninformed semi lobotomized quasi retarded population that do not question, do not research, do not analyze but simply digest and follow instructions," according to Bennett.
"Tucker Carlson also exposed the fraud and money laundering racketeering crimes of FTX and the Democrat Party in Ukraine involving the United States government. He exposed the US biochemical labs in Ukraine and their connection to the Democrat Party, President Barack Obama, Vice President Biden, Hillary Clinton, George Soros, Bill Gates, and other US government agencies and pharmaceutical companies," Bennett told Sputnik.
The ex-host's anti-regime rhetoric "could no longer be tolerated by the corrupt American media and political establishment," said Bennett, adding that his exit signals "the death of American media".
The former US army psyops officer suggested that Senator Chuck Schumer had threatened to utilize the CIA and the FBI to deploy secret government operations against Tucker to get him off air unless he was fired.
Schumer previously called for Carlson to be taken off air after he broadcast footage showing the January 6 'riot' leaders were actually allowed into the Capitol and chaperoned around by authorities.
As we highlighted earlier, one of the reasons behind Tucker's dismissal is a lawsuit fired by former show producer Abby Grossberg, who claims she was bullied and subjected to sexist and anti-semitic harassment.
However, Grossberg's own lawyer revealed that she has never even met Carlson.
*  *  *