A pandemic of the vaccinated: Headlines 9 November, 2021
A pandemic of the vaccinated: Headlines 9 November, 2021
On November 1st, the Rabbinical Court officially decreed that the mRNA COVID shot is "absolutely forbidden" for children, adolescents, young men & women. 
The Rabbinical Court is part of the Israeli legal system and determines laws that reflect the teachings of the Torah. A ruling by the Rabbinical courts is considered God's law and is strictly followed by the Jewish community. The importance of this decision cannot be understated on its ultimate effect on Jewish children and young adults throughout the world.
After hours of testimony on October 26th, 2021 by medical experts, lawyers, and scientists, the Rabbinical court made their decree which sent shock waves throughout the world. The decision stated:
"It is absolutely forbidden to administer or even to promote this injection to children, adolescents, young men or women; even if it means that they will not be permitted by the government to attend yeshiva or seminary or to study abroad, etc. It is an explicit obligation to protest against this mandate, and anyone who can prevent the injection from being forced upon our youth must do so, forthrightly and emphatically."
Further the court forbid pregnant woman and all healthy adults who are of child-bearing age,
"Much harm appears to be caused to pregnant women as a result of the injection (possibly due to the antibodies that the body develops against the protein called Syncytin‐1, or from the SM102, or from the micro blood clots caused by the injection. The common denominator here is that it is harmful for a pregnant woman, and that it may be considered a violation of the prohibition of sterilization or preventing fertility). As such, it is forbidden for them to take this injection. Included in this are all healthy adults who are of child‐bearing age – they too should stay away from the said injection."
Exclusive photos of graphene oxide found in Pfizer, AstraZeneca and Sinovac vaccines
More information: https://www.orwell.city/2021/11/exclusive-photos.html
Chilean laboratory shares, through the Dirección Correcta radio program, exclusive photos of graphene oxide found in vaccination vials from Pfizer, AstraZeneca and Sinovac.
Just as Dr. Pablo Campra Madrid published a study on the actual content of COVID vaccines, a similar one is being written in Chile on the vaccines administered in that country.
Australians have racked up so many fines for violating the government's tyrannical Covid-19 vaccine mandates that the state of Queensland is now threatening drastic action against those who haven't paid, including the loss of their bank accounts, homes, or driver's licenses.
As reported by Brisbane Times, Queensland, whose capital is Brisbane, has so far issued over 3,046 fines involving "255 individuals and businesses accused of flouting the rules during the coronavirus pandemic." The fines total an astonishing $5.2 million (£3.8 million).
This is not surprising, however, due to the ridiculous rules that have been implemented. For example, Australians can face fines for being too far from home, outside of their permitted bubble, spending more than one hour outside, being caught without a mask even if you're by yourself – you still get a ticket. Tickets are being handed out by police roaming the streets as well as at random checkpoints which have been set up on the roads. These checkpoints were allegedly introduced to assist in controlling the Covid pandemic and for contact tracing.
Additionally, those who are returning to Queensland face strict quarantine rules, whereby they are forced into quarantine and must pay hotel costs during the time they are held prisoner.
Vaccine passports were introduced in the form of digital QR codes that are scanned on an individual's phone. The scans register your physical location, also meaning that the police have an easier time catching out those 'violating' Covid rules.
On top of this, the majority of Queenslanders were unemployed for months due to the pandemic, and as a result, the government is stuck with a mountain of unpaid tickets. Only about 56.4 percent of the fines have been or are in the process of being paid; 25.2 percent "were either under investigation or still open to payment without further action being taken.
The State Penalties Enforcement Register (SPER) has stepped up to deal with the remaining fines and is now undertaking 'active enforcement' on another 18.4 percent of fines, worth about $1 million (£740,000), which a spokesman said "may include garnishing bank accounts or wages, registering charges over property, or suspending driver licenses," the paper reported.
This means that if you are caught breaking any covid rules, and either you wouldn't or couldn't pay the fine, you could now lose your house, savings, or, driving privileges.
"Queenslanders rightly expect travellers will pay for their hotel quarantine stays and not leave taxpayers to foot the bill," a Queensland Health spokeswoman told the Times. 
With 2,045 significantly overdue hotel invoices (out of 44,350) totalling $5.7 million still unpaid, Queensland is turning to private debt collectors. Curiously, the Queensland Health spokeswoman "would not say how much commission the debt collectors stood to make under the arrangement, claiming it was commercial-in-confidence," penned the Times.
New cover phrase… 'medical episode'
Leading medical journal The BMJ has published an incendiary report exposing faked data, blind trial failures, poorly trained vaccinators, and a slow follow-up on adverse reactions in the phase-three trial of Pfizer's Covid jab.
Central to the exposé is Brook Jackson, who, for two weeks, served as regional director at Ventavia Research Group, the company contracted to assist with the pivotal trial. She provided The BMJ with dozens of internal company documents, photos, audio recordings, and emails supporting her concerns.
Jackson reveals that Ventavia staff who conducted quality-control checks were overwhelmed by the volume of problems they were identifying. She repeatedly informed her superiors of poor laboratory management, and patient safety and data integrity issues.
In a cited internal document from August 2020, shortly after the Pfizer trial began, a Ventavia executive identified three site staff members with whom to "go over e-diary issue/falsifying data, etc." One employee was said to have been subsequently "verbally counseled for changing data" and "not noting late entry."
Jackson reported her concerns to the US Food and Drug Administration (FDA), but was fired later the same day on the basis that she was "not a good fit."
Another former Ventavia employee has confirmed that the company had been expecting a federal audit of its Pfizer vaccine trial, though this did not materialize. A 2007 US Department of Health report found that, between 2000 and 2005, the FDA inspected just 1% of clinical trial sites, while, in 2020, just 50 on-site visits were conducted.
In the aforementioned recording, an executive can also be heard explaining that, when examining paperwork for trial quality control, the company wasn't able to quantify the types and number of errors that were being identified. "In my mind, it's something new every day," the senior staffer says. "We know that it's significant."
An email sent in September to Ventavia by Icon, the research organization with which Pfizer partnered on the trial, shows Icon was dissatisfied with Ventavia's inability to keep up with data entry queries. Icon reminded Ventavia that "the expectation for this study is that all queries are addressed within 24 hours," noting that more than 100 queries had remained outstanding for more than three days.
Among those queries were two cases in which test subjects had "reported with severe symptoms/reactions." According to protocol, subjects experiencing grade-three local reactions – "severe" redness, swelling, or pain at the injection site – should have been contacted. Icon asked for confirmation as to whether contact had indeed been made, so as "to ascertain further details and determine whether a site visit is clinically indicated," and that the subjects' forms be updated accordingly.
The day after her meeting with her directors, Jackson submitted a complaint to the FDA. She listed a dozen issues she'd personally witnessed, including "participants being placed in a hallway after injection and not being monitored by clinical staff," "a lack of timely follow-up of patients who experienced adverse events," "protocol deviations not being reported," "vaccines not being stored at proper temperatures," "mislabeled laboratory specimens," and the targeting by Ventavia of staff who reported these problems.
Jackson's account has been reinforced by several former Ventavia employees who have either since departed or been fired from the company. An executive present at the September meeting has since apologized to her, assuring her that everything she had complained about was "spot-on."
Two of those employees spoke anonymously to The BMJ, confirming broad aspects of Jackson's complaint. One, who has worked on more than four dozen clinical trials during her career, said she had never experienced such a "helter-skelter" work environment as that she encountered during Ventavia's Pfizer trial. She also confirmed that the problems pinpointed by Jackson had persisted at the company after her dismissal. For instance, in several cases, there hadn't been enough employees to swab for infection all trial participants who reported Covid-like symptoms.
"I've never had to do what they were asking me to do, ever. It just seemed like something a little different from normal – the things that were allowed and expected," the employee told The BMJ. "I don't think it was good clean data [that the trial generated]. It's a crazy mess."
The second former employee echoed the first's comments, describing the environment at Ventavia as unlike any they'd experienced in their 20-year research career. They also alleged that, shortly after Jackson was fired, Pfizer was notified of problems with the vaccine trial at Ventavia and that an audit took place.
Yet, in the briefing document Pfizer submitted to the FDA advisory committee December 2020 in support of its application for emergency-use vaccine authorization, no mention was made of any problems at Ventavia. The next day, authorization was duly granted.
In August this year, after full approval was granted for Pfizer's jab, the FDA published a summary of its inspections of the company's vaccine trial sites. Nine of the 153 had been inspected, but none of those had been operated by Ventavia, and no inspections had been conducted at all in the eight months after the December 2020 emergency authorization, on the basis that "the study was ongoing, and the data required for verification and comparison were not yet available."
Pfizer has since hired Ventavia as a research subcontractor to work on four other clinical trials: the use of the Covid-19 vaccine in children and young adults; a Covid-19 trial involving pregnant women; a trial of Covid-19 booster doses; and a trial of a jab for respiratory syncytial virus.
RT contacted Pfizer's press office for comment, but the email bounced back, returning the automated message "The recipient's mailbox is full and can't accept messages now."
by Brian Shilhavy
Editor, Health Impact News
There have now been 2,433 fetal deaths recorded in VAERS (Vaccine Adverse Event Reporting System) from pregnant women who have been injected with one of the COVID-19 shots. (Source.)
The vast majority of these have been from the Pfizer shot (1,862 deaths) and the Moderna shot (656 deaths.)
There have been more fetal deaths in the past 11 months following COVID-19 shots than there have been for the past 30+ years following ALL vaccines (2,198 – Source.)
Last month (October, 2021) the New England Journal of Medicine admitted that the original study used to justify the CDC and the FDA in recommending the shots to pregnant women was flawed. (Source.)
Since then, researchers in New Zealand have conducted a new study on the original data, and concluded:
A re-analysis of these figures indicates a cumulative incidence of spontaneous abortion ranging from 82% (104/127) to 91% (104/114), 7–8 times higher than the original authors' results. (Source.)
And yet, the CDC and FDA still continue to recommend the shots for pregnant women, even though a correct analysis on the original data shows that 82% to 91% of pregnant women will suffer miscarriages if their unborn child is less than 20 weeks old. (Source.)
VAERS is a passive system that is severely under reported. The CDC and FDA have never conducted a study to determine what this under-reported factor is, but independent scientists have, and we have previously published the analysis conducted by Dr. Jessica Rose, who has determined that a conservative under-reported factor would be X41. See:
This means that there have probably been at least 99,753 fetal deaths following COVID-19 injections so far.
Here is a video report we made on this last month with some very unfortunate gruesome examples of what these shots are doing to unborn babies.
UPDATE – November 7, 2021 PM
A couple of hours after publishing this article, a video that has been circulating on the Internet of an interview with a Funeral Director in the UK became known to me.
He has been in practice for over 3 years and is identified as "Wesley," and was interviewed by a group called "Resistance GB."
He claims that last fall was one the slowest periods of seeing deaths for all funeral directors, but when the COVID-19 shots were introduced, deaths started dramatically increasing.
It started with the elderly, but then by April they were seeing large numbers of people in their 30s and 40s. Many of them were dying of myocarditis.
Now, they are seeing unprecedented numbers of newborn babies, and they are piling up in hospital refrigerators. Some are full term, some are pre-term, he claims.
The UK originally recommended that pregnant women and nursing mothers should NOT get the experimental COVID shots, but like the CDC in the U.S., they eventually changed their recommendation to encourage pregnant women to get the shots. (Source.)
Here is the interview.
06.09.21, Italy, 13 years
13-year-old soccer player from the Janus Nova club from Saccolongo (Italy) collapses on the field with cardiac arrest
07.09.21, Great Britain, 17 years
old 17 year old soccer player Dylan Rich dies of a double heart attack during a game in England .
09.09.21, Germany
player from Birati Club Münster suffers in a regional league game against FC Nordkirchen II Eriksen fate: collapse with cardiac arrest. Game is canceled
09/10/21, Germany, 24 years old
Lucas Surek (24) from BFC Chemie Leipzig suffers from myocarditis .
09/11/21, France, 49 years old
Ain / France: Frédéric Lartillot succumbs to a heart attack after a friendly match in the locker room
09/11/21, Italy, 45 years old
Andrea Astolfi, sporting director of Calcio Orsago (Italy) suffers a fulminant heart attack after returning from training and dies at the age of 45 without any previous illness
09/11/21, Denmark, 22 years old
Abou Ali (22) collapses with cardiac arrest during a two-tier game in Denmark
09/11/21, Netherlands, 19 years old
The ice hockey player Sebastiaan Bos passed away suddenly and unexpectedly .
9/13/21, Germany
Anil Usta from VfB Schwelm (Ennepetal) breaks on the field with heart problems together
13.09.21, France 33 years old
Dimitri Liénard from FC Strasbourg collapses with heart problems in a Ligue 1 game .
09/14/21, USA 37 years old
Ex-NFL professional Parys Haralson dies suddenly and unexpectedly at the age of 37 .
18.09.21, Germany 25 years old
Kingsley Coman (25) from FC Bayern Munich had an operation on the heart after an arrhythmia.
18.09.21, Canada 25 years old
Canadian university football player Francis Perron passed away shortly after a match .
19.09.21, France 19 years old
19 year old FC Nantes soccer player suffers cardiac arrest during training
19.09.21, Germany
volleyball trainer Dirk Splisteser from SG Traktor Divitz collapses dead on the sidelines
21.09.21, Augsburg
assistant referee of a Kreisliga Augsburg game in Emersacker , collapses with heart problems
09/21/21, Germany
At the women's World Cup qualifier between Germany and Serbia in Chemnitz, the English linesman Helen Byrne with heart problems has to be carried off the pitch
09/27/21, Germany Game abandoned
due to cardiac arrest of the referee in a game of Lauber SV (Donauwörth district)
27.09.21, Italy, 20 years old
Young rider suffers a heart attack at the end of a tournament .
9/28/21, Germany, 17 years
17-year-old soccer player of the JSG High Hagen has reanimated in Hannoversch Munden during game be
09.28.21, Italy, 53 years
53-year-old football coach Antonello Campus breaks in Sicily during practice with his youth team together dead
09/28/21, USA, 16 years old,
twice vaccinated teenager collapses while playing soccer and dies a little later.
09/29/21, Germany
Team leader Dietmar Gladow from Thalheim (Bitterfeld) suffers a fatal heart attack before the game
9/29/21, USA
A high school football player collapsed during practice and died in the hospital.
09/30/21, Germany
A player collapsed during the A 2 regional league game between SV Hoßkirch and TSV Sigmaringendorf. He suffered cardiac arrest and had to be resuscitated .
1.10.21, Germany, 15 years
young goalkeeper Bruno Stein from FC An der Fahner Höhe in Gräfentonna, Thuringia , died at the age of 15 .
October 3, 21, Austria, 64 years old
ex-goalkeeper coach and most recently talent scout Ernst Scherr suddenly and unexpectedly died .
4.10.21, Germany, 42 years old
Alexander Siegfried from VfB Moschendorf suddenly and unexpectedly collapsed and died.
7.10.21, Italy, 17 years old
A 17-year-old athlete from Colverde collapses while training with cardiac arrest .
8/10/21, France, 49 years old
SC Massay player suffers a fatal heart attack during the game .
9.10.21, Mexico
Caddy Alberto Olguin collapses on the golf course after a heart attack. It is said to be the second death of its kind within a short period of time.
The easing of restrictions will only apply for those who are fully vaccinated
Hospitals, aged care facilities and prisons will also require both doses
Acting Chief Health Officer warned the freedoms and reopened borders would bring new COVID-19 cases
Premier Annastacia Palaszczuk has revealed the limits that will be put on Queenslanders who have not been vaccinated against COVID-19 by mid-next month.
The measures will take effect from December 17, or once the state reaches 80 per cent of the Queensland population 16 years and over being fully vaccinated.
It comes as Queensland records another day of zero locally acquired cases, and one in hotel quarantine.
The Premier said pubs, clubs, nightclubs, hotels, taverns, restaurants, cafes, bars and music venues will be free from all restrictions provided all patrons and staff are fully vaccinated.
Concerts, theatres and cinemas also come under these new rules, with restrictions to apply for the private hire of venues, if occurring with unvaccinated people.
Outdoor entertainment activities like sports stadiums and theme parks, as well as all festivals, will also only allow vaccinated staff and patrons to enter.
There will be no limit on weddings where all the guests are fully vaccinated, with police set to enforce requirements for venues.
Only fully vaccinated people will be able to visit hospitals, aged care facilities, prisons and disability services, except in end-of-life or emergency situations.
Goodbye Premier Dan Andrews. The Melbourne Rebellion has begun.
NT Police "Spread Freedom": Aboriginals attacked including man in Wheelchair! Elders hold the line!
The UK government will reportedly change the definition of "fully vaccinated" to mean having had three shots and reimpose travel restrictions on people with only two doses.
British travellers are facing the return of quarantine and testing restrictions if they have not "topped up" their vaccination status, in a move intended by the government to curb the spread of the Chinese coronavirus, it is claimed.
"This is not going to happen immediately – but happen it will," a government source told the Mail on Sunday.
The plan, which is said to be modelled on the Israeli system, would change the definition of fully vaccinated to mean three doses of a vaccine rather than the current two jab requirement.
The restrictions would also mean that travellers would not be able to avoid the booster shot requirement even if they could provide a negative test proving they are not infected with the Wuhan virus.
Currently, the government requires that people without two doses of a vaccine must self-isolate for ten days upon their return to Britain, as well as paying for four PCR COVID-19 tests.
Meanwhile, Health Secretary Sajid Javid warned that elderly and vulnerable people should come forward "as soon as possible" to get their booster shots in order to avoid another lockdown during the Christmas season.
Sources say plans for travel restrictions being looked at, with 10m now having received third jabs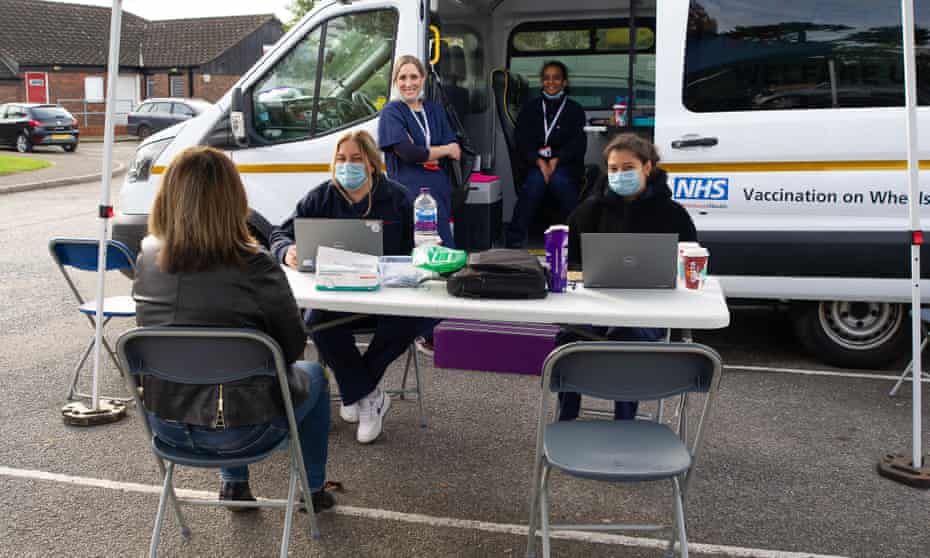 More than 10 million people in the UK have had Covid vaccine top-up shots, figures show, as government sources confirmed they are looking at plans for travel restrictions on people who do not take up the booster offer.
Dr Mike Tildesley said that Covid, like flu, would continue circulating every year
He warned this would mean people's immunity may need to be topped up again
Former jabs minister Nadhim Zahawi said boosters may be dished out annually
Some four in ten eligible Britons are still yet to receive their boosters, however 
 Dr Susan Hopkins urged more people to come forward to get their top-up jabs 
Scientist said more than 60 per cent of population have been offered boosters 
Health chiefs warned  that the vaccine's effects wane after five or six months
When Denmark removed the last of its coronavirus restrictions in September, the government noted it would "not hesitate to act quickly" if the situation took a turn for the worse. Turns out that was a sensible hedge.
Less than two months later, restrictions are indeed returning to Denmark. It's not quite the two weeks that it took the Dutch government to change its mind earlier this year after making a "miscalculation" about the need for some lockdown measures, but it's still a fairly speedy reconsideration. The exact measures are yet to be announced, but will likely include mask-wearing and restrictions on entering hospitality and leisure facilities.
Denmark's infection count has been rising for weeks now, as is the case across much of Europe. While the continent's latest wave is largely hitting the unvaccinated, Denmark has a fairly high vaccination rate of around three-quarters. Despite that fact, the country is seeing over 2,000 new infections daily, and it has a seven-day incidence rate of 253 infections per 100,000 people—that's more than twice the rate it was experiencing when it decided to ditch restrictions.
In a Sunday Facebook post, Prime Minister Mette Frederiksen said her administration was following the situation with "increasing seriousness and concern." She urged citizens to get the jab, noting that infections are spreading from the unvaccinated to elderly and other at-risk people who have been vaccinated, but who still need protection.
CCP'S PFIZER 5-11YR OLD BEGINS: AMERICA'S CHILDREN WILL BE MARCHED TO VAXX "OVENS"
The vaccine rollout for children age 5-11 has begun, which is equivalent to dragging children and marching them into Holocaust ovens. Dr. Jane Ruby joins the Stew Peters Show to discuss the THREE big CDC lies about the Covid-19 vaccine for children, and how the Covid-19 vaccine now contains Tromethamine to prevent severe adverse reactions in children.
Emergency Over: All EUAs Illegal, One Million 5-11 Year Old's Jabbed in 2 Days
Over the weekend kid-sized needles were injected into the arms of millions of American children after jabs were approved for 5-11 year old's, but is it even legal? Dr. Jane Ruby joins Stew to detail how all Emergency Use Authorizations (EUAs) are medically criminal, and lack real scientific backing.
EVERY PARENT DO NOT VAX YOUR KIDS BEFORE YOU WATCH THIS VIDEO! DR ARDIS KAREN KINGSTON 10-25-21
Original Full Video Link
https://rumble.com/vo8nth-dr.-ardis-and-dr.-carrie-madej-learn-from-karen-kingston-whats-really-in-th.html
The White House on Monday said businesses should move forward with the requirements despite the court-ordered pause.
The U.S. Court of Appeals for the 5th Circuit, considered one of the most conservative appellate courts in the country, halted the requirements Saturday pending review.
Republican attorneys general in at least 26 states have challenged President Joe Biden's vaccine and testing requirements in five different U.S. appeals courts.
The Biden administration asked the court to lift the pause Monday evening, claiming it could cost dozens or hundreds of lives per day.