Abrupt changes in the weather round the world
Abrupt changes in the weather round the world
This is London, not Africa
Drone video shows how drought has dried out pitches on London's famous Hackney Marshes
THE UNITED STATES
US cotton prices continued to surge above the boom days of 2010-11 after a massive crop estimate cut by the USDA, shocking Wall Street analysts and traders, due primarily to a megadrought scorching farmland of Texas, according to Bloomberg. 
Futures in New York for December delivery were up 4.5% to $1.1359 a pound and up more than 21% this month.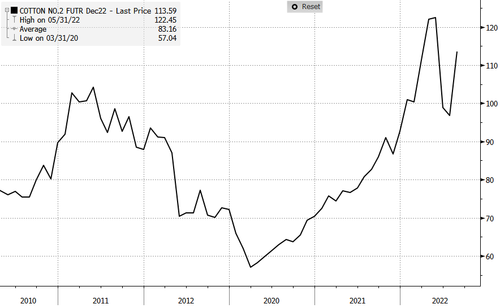 "I don't think you can put a top on prices right now," Louis Barbera, the managing partner for VLM Commodities, told Bloomberg. 
"I have been going to Texas for more than ten years, and this is by far the absolute worst I have ever seen, said Barbera.  
What Barbera is referring to is the drought situation in Texas. The long stretches of triple-digit temperatures and limited rainfall this summer have turned vast amounts of farmland to dust, hurting cotton farmers in the South Plains of West Texas. 
"I don't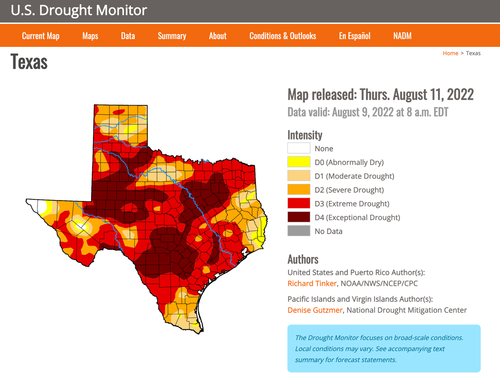 Last Friday, the USDA's bigger-than-expected cut to domestic cotton crop stunned many on Wall Street. Crop output plunged to 12.57 million bales, the lowest in a decade. The cut also pushed down the US from the world's third-largest producer to the world's fourth. 
Barbera said the western Texas region (around Lubbock and Lamesa), the epicenter of America's cotton-growing belt, has "literally nothing" in fields that are just desert sand. He said fields that had drip irrigation were harvestable, but ones that weren't weren't salvageable. 
How bad is the heat and drought in Texas? Outside of Amarillo, what was a cotton crop. pic.twitter.com/dp77GYUxOd

— 247AG (@247dotAg) July 22, 2022
"If cotton is not readily available from other sources, the scarcity of supply from the US could support prices globally, said Jon Devine, supply-chain economist for research Cotton Inc.
"The market has struggled to find the balance between the weakened demand environment and limited exportable supply in recent months. The conflict between these two influences makes it difficult to discern a clear direction for prices and suggests continued volatility," Devine continued. 
Supporting prices are bullish bets by money managers turning positive for the first time since June as prices rally.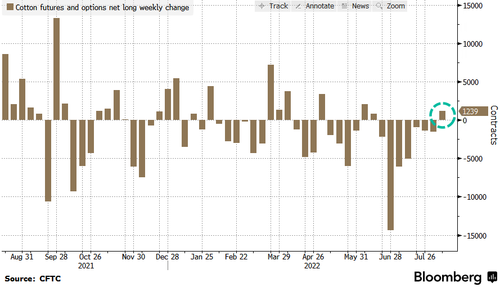 Louis Rose, director at Rose Commodity Group, said the USDA's cut to US output is "shocking" and comes at a time of the highest consumer inflation in decades. 
Farmers, particularly in Texas, are abandoning failed crops in droves, and cotton prices are rising
Cotton prices are rising as a punishing drought forces farmers to abandon their crops.
Southwestern cotton growers are abandoning millions of parched acres that they planted in spring, prompting forecasts for the weakest U.S. harvest in more than a decade and sending prices sharply higher.
U.S. agricultural forecasters expect drought-struck farmers to walk away from more than 40% of the 12.5 million acres they sowed with cotton and harvest the smallest area since Reconstruction. Back then, in 1868, yields per acre were less than a fifth of what they are today, but the market for cotton was vastly smaller too.
Wild weather across the western part of the US has sparked one of the worst monsoon seasons in Las Vegas in a decade, while California and parts of the Pacific Northwest brace for a heat dome that could push power grids to the max.
Late last week, intense thunderstorms flooded parts of southern Nevada, including Vegas. Videos on social media show floodwater pouring into at least one casino while parking garages were transformed into rivers. This comes two weeks after another storm wreaked havoc on Sin City.  
Las Vegas is flooding and this dude is LIVIN' the dream

— James T. Yoder (@JamesYoder) August 12, 2022
Aug 11, 2022 Las Vegas 🇺🇸🌧
More Flooding on Las Vegas Strip again, wreaks havoc on streets and Planet Hollywood Casino pic.twitter.com/NqV4isvdDU

— nikola 3 (@ronin19217435) August 14, 2022
Clark County officials report the latest series of storms in the Vegas metro area has meant the wettest monsoon season in a decade. Besides the flooding, this is good news for the region suffering from extreme drought. 
"That makes this the wettest monsoon season in ten years," the National Weather Service tweeted. 
Meanwhile, near-record heat is expected this week in California's Central Valley and parts of the Pacific Northwest as a heat dome builds across the region, worsening the drought-stricken area and pushing power grids to critical levels. 
Extreme heat returns as thousands of Central Valley students go back to school this week. Now on @KSEE24 Sunrise the triple digit temperatures that could challenge record highs. We're here until 7 a.m. Join us! #cawx#Fresno#CentralValley#California#backtoschool#backtoschoolpic.twitter.com/jyQPQoim7d

— Reuben Contreras (@ReubenKSEE24) August 15, 2022
California's Central Valley could record temperatures as high as 109 degrees Fahrenheit. Another pocket of heat will scorch western Washington.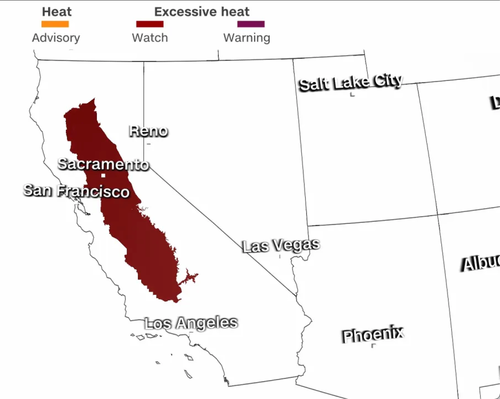 Bob Oravec, a senior branch forecaster with the Weather Prediction Center, said Sacramento could hit 105 Fahrenheit by mid-week, and Redding could record 109 Fahrenheit. 
"It is going to be well above average," Oravec said. "The heat will also eventually spread to the Northwest and Northern Plains." 
A linger heat dome over California could stress power grids. Demand is expected to peak Monday at around 43.8 gigawatts and could even jump to 45.2 gigawatts by mid-week, said grid operator California Independent System Operator. 
In anticipation of increasing cooling demand, Southern California's SP15 hub's on-peak power prices soared 29% to $149.70 a megawatt for Monday, the highest in nearly a year.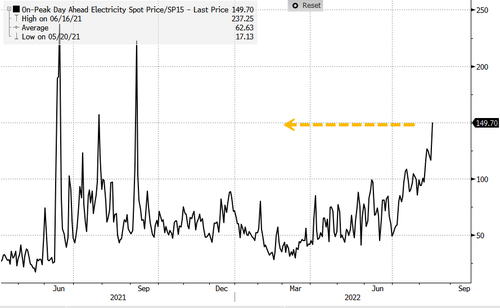 Gary Ackerman, an independent energy consultant who founded the Western Power Trading Forum, told Bloomberg that power-supply shortfalls are unlikely at this point. 
However, the North American Electric Reliability Corporation, a regulatory body that manages grid stability, recently warned before the summer that power supplies in the Western US could be overwhelmed by soaring demand due to extreme heat. We might add decarbonization efforts of grids have made things worse.
EUROPE
Europe's rivers are running dry as the climate crisis worsens
Much of Europe and the Northern Hemisphere is battling either wildfires, low water levels, harvest warnings, water use restrictions or a mixture of all these. In Germany, one core focus of the drought is the Rhine River, which ultimately connects the Alps with the North Sea. Europe's second-longest river after the Danube, it is also a core shipping lane for western Germany. It is still open to freight traffic for now, but already boats are unable to run fully laden. Germany's Federal Institute of Hydrology warned on Thursday that without rain, one notorious shallow point on the river could become completely impassable next week.
A single map for the worst #drought in 500 years in Europe. The river discharge anomaly based on reanalysis data from June to August 12 2022, shows an average negative anomaly of -29%, even reaching less than -62% at some points. #rstats #dataviz pic.twitter.com/LSGMfS52Lm

— Dr. Dominic Royé (@dr_xeo) August 14, 2022
From Time magazine
Once, a river ran through it. Now, white dust and thousands of dead fish cover the wide trench that winds amid rows of trees in France's Burgundy region in what was the Tille River in the village of Lux.
From dry and cracked reservoirs in Spain to falling water levels on major arteries like the Danube, the Rhine and the Po, an unprecedented drought is afflicting nearly half of the European continent. It is damaging farm economies, forcing water restrictions, causing wildfires and threatening aquatic species.
There has been no significant rainfall for almost two months in Western, Central, and Southern Europe. In typically rainy Britain, the government officially declared a drought across southern and central England on Friday amid one of the hottest and driest summers on record.
And Europe's dry period is expected to continue in what experts say could be the worst drought in 500 years.