Allegations from the Miles Guo network
Allegations from the Miles Guo network
Take it or leave it.
CCP underground factories falsified blank American election ballots.
Explosive from Lude Media: Joe Biden knows failure to come and turned to Mitch McConnell for protection
Author: Connecticut Farm-Truemanman / Canhetingyeyu
Reviewer: Connecticut Farm-Wenyun
Translator: Connecticut Farm- Freeearth
Proofreading: Connecticut Farm- Yanbohaomiao
Editor: Connecticut Farm- V
November 25th, 2020 8:00AM Western Time
According to Lude Media's live broadcast tonight, Joe Biden knew it was difficult for him to oppose legal sanctions. He surrendered to Mitch McConnell to protect himself on the condition that President Trump would pardon him for all crimes, including Hunter Biden's Hard Drive incident.
Xi Jinping, general secretary of the Communist Party of China, knows what to come. He called Biden on 25th to show his desperate support to Biden as the next president of the US. Xi's so-called ultimate battle is only to bet all on the old Biden. Through the U.S. election, key powers of the United States and interest groups have clearly understood the ultimate goal of CCP, that is to control and manipulate the United States. They have completely abandoned Biden and fully supported President Trump. With helps from the Whistleblower Movement, American public opinion has also completely turned!
Jiang and Zeng jumped off the boat. The fight within the CCP has reached its extreme and is about to enter the final madness. The swamp of the United States has always been the most powerful foundation of the Chinese Communist regime. Why did the unanimous Hong Kong bill fail to strike the CCP heavily by sanction? One of the swamp forces, the White House Chief of Staff, Mark Meadows, was behind this.
The result of the US election is a key milestone in the process of taking down the CCP! Mr. Guo mentioned that the 25th is a watershed some time ago. Today, the situation is clear. Mr. Guo's Getter today released good news of Hong Kong. It shows once again that the United States has awakened and will completely sanction the CCP!
The extermination of the Communist Party has finally entered the final critical period! Biden's surrender means the complete failure of the American swamp! Hong Kong is just the beginning, and the US' holding the CCP accountable for manipulating the election and releasing biochemical weapons will make the CCP irresistible. American law and politics will be reshaped, and justice will prevail!
Source link: https://gnews.org/zh-hans/590435/
Chinese Regime Restricts Citizens' Foreign Travel
25 November, 2020
Beijing announced new restrictions on Chinese citizens' foreign travel on Nov. 12. Since then, dozens of land ports and border crossings in China have been closed, and the issuing of new passports to citizens has been suspended nationwide. One analyst believes there are both political and economic reasons behind the regime's tightened control over cross-border traveling.
The Overseas Chinese Affairs Office (OCAO) of the State Council on Nov. 13 reposted the latest statement of the National Immigration Administration on travel restrictions. Effective immediately, cross-border activities of non-essential personnel are strictly monitored and controlled by the Immigration Administration in order to prevent imported cases of COVID-19.
Restrictions are placed on the number of applications for non-essential foreign travel, including passports. Chinese media reported on Nov. 17 that Beijing, Shanghai, Guangzhou, Shenzhen and other tier-one cities have suspended issuing passports to citizens. Chinese citizens are discouraged and restricted from non-essential cross-border activities such as leisure travel, visiting family and friends.
Foreigners who hold certain types of valid visas and residence permits are still allowed to enter the country, but the issuing of port visas are suspended. In addition, visa-free policies are put on hold.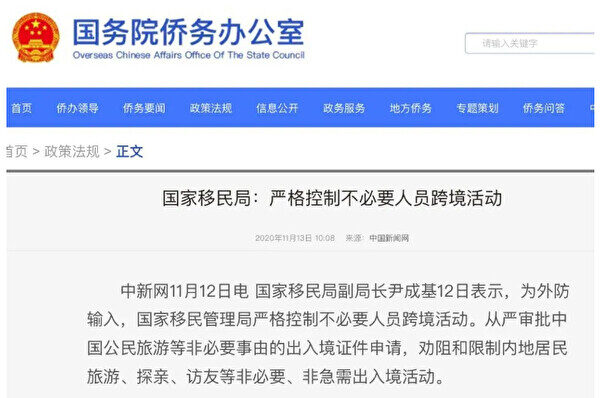 The Chinese regime has shut down 46 land ports and 66 border crossings, Chinese news portal Sina reported on Nov. 12.
Dong Guangping, a public welfare activist in mainland China, told The Epoch Times that the Chinese Communist Party (CCP) is using the pandemic as an excuse to restrict cross-border activities, but it's actually a response to the serious shortage of foreign exchange in China. "Because if people go abroad, they need to exchange foreign currency and take money out, and now the CCP wants to prevent the outflow of foreign exchange," he explained.
In addition, Dong believes the regime is restricting travel because it doesn't want its citizens to bring back any literature on COVID-19 that could expose the CCP's botched handling of the coronavirus when it first broke out in Wuhan city late last year. "Because many countries in the world now condemn the CCP and want to hold it responsible for the pandemic, it needs to prevent the flow and spread of information that is unfavorable to the CCP from outside," he said.
It's not the first time the Chinese regime has imposed travel restrictions on its people.
In 2014, the CCP implemented new measures to prevent corrupt officials from fleeing China. Travel was restricted for these high-level officials and they were required to hand in their passports.
According to a report by Bitter Winter, travel restrictions have also been expanded to low-ranking CCP cadres in recent years—central authorities have confiscated their passports and restricted them from applying for new ones. The restrictions have also been applied to employees of state-owned enterprises and educational institutions Mr. Du, a teacher in Beijing, told The Epoch Times that as early as 2017, his school began to collect the passports of teachers and staff "for safekeeping." Since the beginning of this year, travel has been curbed for the school staff. If they want to travel abroad, they have to obtain approval from the Department of Education.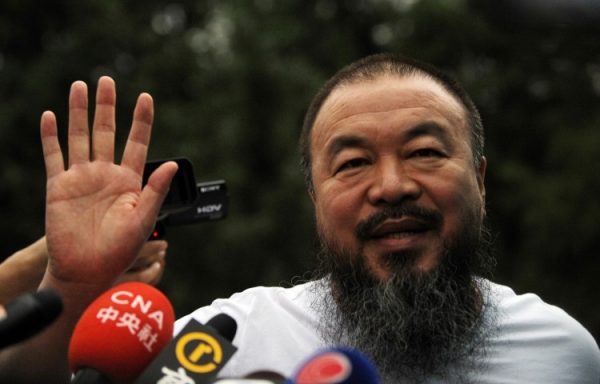 The CCP has also restricted foreign travel of dissidents, activists, and ethnic minorities as a form of persecution. In 2011, Chinese artist and rights activist Ai Weiwei was placed under a travel ban and central authorities confiscated his passport. He was an outspoken critic of the CCP.
Chinese netizens are complaining about the new restrictions on social media.
One netizen said, "In our state-owned enterprise we are required to hand over all our passports and write a guarantee letter to never apply for new passports privately."
Another netizen said, "I went to various cities trying to get a passport and applied many times for it, but all got denied. I was told directly [by the government] it cannot be issued, there is no way."
Dong commented on the many ports and borders that are being shut down now. "By preventing both foreign entry and outbound travel, (the CCP) has locked themselves in isolation."
Dong believes the travel restrictions will mostly affect high-ranking and wealthy Chinese people. "These rich people cannot travel abroad to visit relatives, immigrate and invest, or seek medical treatment abroad now. The impact is huge."
Epoch Times staff Yi Ru contributed to this report.