Another leak from Project Veritas
Another leak from Project Veritas
Leaked audio from a Monday Twitter staff meeting reveal how executives are trying to get a handle on Elon Musk's purchase of the platform – particularly, how they will reconcile Musk's 'free speech absolutism' (which 'matches the law'), and existing content moderation policies which they use to silence conservatives in the name of 'public health.'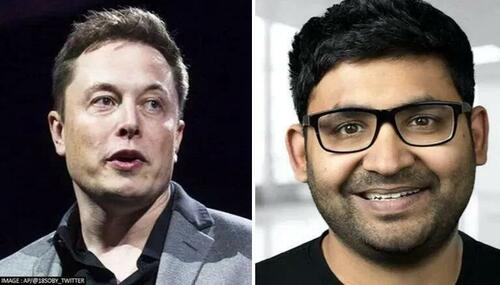 In a 45 minute recording of a company-wide call obtained by Project Veritas, board member Bret Taylor, CEO Parag Agrawal, and Chief Marketing Officer and Head of People Leslie Berland discuss the direction of the company.
"Elon made it clear in public that a large part of the reason he bought the platform was because of our moderation policies and disagreements in how we deal with health," said Berland in the leaked recording. "This puts Twitter service and Trust and Safety as well as anybody who cares about health on the platform in a very difficult position."
More via The Post Millennial:
Taylor began by saying, "I also just want to acknowledge all the emotions of today. It is an emotional day. I want to acknowledge it. By law, we are required to act in the best interest of our shareholders."

Agrawal echoed the sentiments and said, "It's important to acknowledge that all of you have many different feelings about what is happening."

He continued, "Many of you are concerned, some of you excited, many people here are waiting to understand how this goes and have an open mind."

Agrawal added that the company's current "content moderation" policies are "fundamental to keeping Twitter safe and growing."

"We'll be finding a way to have Elon talk with all of you at the soonest possible opportunity…As you've heard from all of us, we don't have all the answers."

Agrawal was also heard saying, "I believe Twitter grows as a service, allows for more people to use the product and have a better experience because we're able to make the conversation on Twitter be safe because we have built tools, processes for people to be able to feel safe and control their experiences. I believe that there is a lot of work we have to do to continue making that better. Sometimes that means more thoughtful moderation. Sometimes that means making things simpler. Sometimes that means changing product incentives to be able to solve problems through products sometimes instead of policies."
Listen to the entire meeting below:
On Tuesday, Politico reported that Twitter's top lawyer, Vijaya Gadde, broke down in tears during a virtual meeting with the company's policy and legal teams while discussing the ramifications of Elon Musk's purchase of the social media platform.
"Gadde cried during the meeting as she expressed concerns about how the company could change," and "acknowledged that there are significant uncertainties about what the company will look like under Musk's leadership."
In short, they're panicking.