Assault of Paul Pelosi likely an argument between Mr. Pelosi and a gay prostitute
Assault of Paul Pelosi likely an argument between Mr. Pelosi and a gay prostitute
Reporter Stan Greene, a Staff Writer for the Santa Monica Observer, reports that the recent assault of Nancy Pelosi's Husband, at their San Francisco home, was likely an argument between Mr. Pelosi and a gay prostitute.
"Paul Pelosi stated that he doesn't know who the male is but he advised that his name is David and that he is a friend." Yeah, right.
As SF's gay bars closed at 2 am, two gay men met in a bar and went home together. Happens every night in the City by the Bay. Except one of these two men, was married to House Speaker Nancy Pelosi.
I might disappear for telling you the truth. If I do, you'll all know why. But here's what really happened early Friday morning in San Francisco. IMHO–in my humble opinion.
According to SFPD "RP [Reporting Person] stated that there's a male in the home and that he's going to wait for his wife. RP stated that he doesn't know who the male is but he advised that his name is David, and that he is a friend," the dispatch official said. "RP sounded somewhat confused."
It's been a rumor for years in SF that Paul Pelosi is gay. David Depape is said to be a Castro Nudist. "The lunatic who allegedly assaulted Paul Pelosi is a Berkeley resident and a 'Former Castro Nudist Protester' and hemp 'jewelry maker' …sounds totally MAGA Republican to me. 🤣🤣" this from Twitter.
Ok, so here's the theory, as related to me by a source: "Castro Nudists are a group of really radical gay male prostitutes that parade around naked with c–k rings. First of all, the Police did not come in response to an alarm. They come in response to a "wellness check". So someone called them to check on Pelosi."
"When he didn't answer the phone, the cops broke the sliding glass door to get in. Pelosi was struggling with the suspect, who was in his underwear.
Pelosi owned the hammer. Not Depape. Or, the male prostitute was doing something Pelosi didn't like."
"And then there was the press conference when they didn't know the mic was on. During that, a reporter confirmed that the suspect was a gay Castro Nudist, but (authorities) told him he couldn't use it."
"Now tell me something. These people are worth hundreds of millions of dollars. Nancy is third in line to the Presidency. You don't think they have the most amazing security? And by the way, when Pelosi was in that drunk driving accident, he had a young man with him, and that too was covered up by the police and the press."
"How would (suspect Depape) have been able to break a window that without triggering an alarm? He didn't. The police broke the window to gain entry. There was only one hammer, and it belonged to Pelosi. And only ONE cop quoted the perpetrator saying, "Where's Nancy?" None of the other sources said that happened. "
"And one of them could easily have broken that window. Remember, there was no alarm triggered. How would (suspect Depape) have gotten into that house without doing that? The cops smashed the glass to gain entry."
Who called 911 to initiate a wellness check? Either Nancy or her staff, who hadn't hear from Paul all evening and suddenly it's 2 am. Or a neighbor, hearing a fight at the Pelosi residence.
Admittedly, David Depape is a known nutcase. He's an election denier, says mainstream media, who has posted conspiracy theories online. That may be true, but he also lives in Berkeley, where he is a 42 year old career student.
"My law firm served a lawsuit against Paul Pelosi one time in SF after attempting to serve at other residences-Napa, Georgetown. They weren't home, but staff were, and multiple law enforcement officers were on the perimeter. Break-in is odd given this level of security." said Harmeet Dillon, Republican National Committee Chairman
This mainstream article states DePape is a member of the Green Party
David Depape is described as a Berkeley student who was the best man in a nudist wedding; made hemp jewelry; is a member of the Green Party
The sites cited to prove DePape was a MAGA right-winger have conveniently been scrubbed.
Authored by Michael Shellenberger via substack,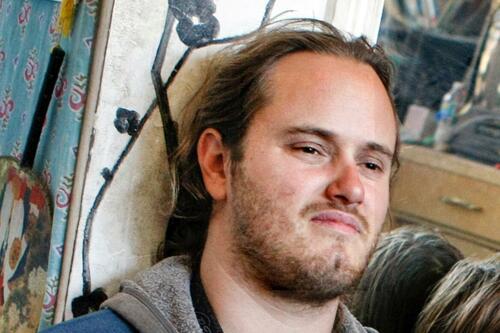 Leading politicians yesterday blamed the political Right for the brutal attack on House Speaker Nancy Pelosi's husband Paul. "This is despicable," said President Biden. He noted that the alleged attacker, David DePape, 42, shouted the same line, "Where's Nancy?" as the supporters of Donald Trump, who stormed the U.S. Capitol on January 6, 2021. "And what makes us think that one party can talk about stolen elections?" said Biden. "COVID being a hoax? It's all a bunch of lies."
California political leaders agreed. "This heinous assault is yet another example of the dangerous consequences of the divisive and hateful rhetoric that is putting lives at risk and undermining our very democracy and Democratic institutions," said California Governor Gavin Newsom. "This attack," said San Francisco's state Senator, Scott Weiner, "is terrifying and the direct result of toxic right-wing rhetoric."
Journalists, en masse, agreed with their assessment. DePape "appears to have made racist and often rambling posts online," noted AP, in a report this morning that encapsulated the media narrative, "including some that questioned the results of the 2020 election, defended former President Donald Trump and echoed QAnon conspiracy theories."
But DePape's politics have little rhyme or reason. In past years DePape shared a post about Stephen Colbert's 2006 roast of President George W. Bush at the White House Correspondents dinner; linked to videos of Disney films altered to make it look like the characters were swearing; and claimed, "Jesus is the anti-Christ" — not exactly a litany of right-wing tropes.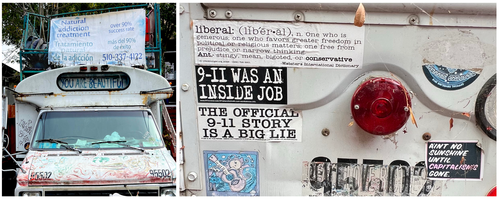 And, as I discovered yesterday, DePape lived with a notorious local nudist in a Berkeley home, complete with a Black Lives Matter sign in the window and an LGBT rainbow flag, emblazoned with a marijuana symbol, hanging from a tree. A closer look reveals the characteristics of a homeless encampment, or what Europeans call "an open drug scene." In the driveway, there is a broken-down camper van. On the street is a yellow school bus, which neighbors said DePape occasionally stayed in. Both are filled with garbage typical of such structures in homeless encampments. People come and go from the house and the vehicles, neighbors say, in part to partake in the use of a potent psychedelic drug, ibogaine.
Neighbors described DePape as a homeless addict with a politics that was, until recently, left-wing, but of secondary importance to his psychotic and paranoid behavior. "What I know about the family is that they're very radical activists," said one of DePape's neighbors, a woman who only gave her first name, Trish. "They seem very left. They are all about the Black Lives Matter movement. Gay pride. But they're very detached from reality. They have called the cops on several of the neighbors, including us, claiming that we are plotting against them. It's really weird to see that they are willing to be so aggressive toward somebody else who is also a lefty."
Not all of the news media missed DePape's history of drug use, psychosis, and homelessness. CNN reported that a woman named Laura Hayes, who said she worked with DePape 10 years ago making hemp bracelets, said he had been living in a storage shed. "He talks to angels," she said, and told her that "there will be a hard time coming."
Another woman, Linda Schneider, told CNN and Bay Area NBC TV affiliate, KRON4, that she got to know DePape around 2014 and that he was still homeless, living in a storage unit, and using hard drugs. "He (was) likely a mindless follower of something he saw on social media because I don't think he had the courage to be part of any political or terrorist group," said Schneider. "His drug use began again and he went off his rocker."
But much of the rest of the news media, particularly local journalists who could have interviewed DePape's neighbors, were swept up in the narrative that DePape was more like John Wilkes Booth, the fanatical but sane assassin of Abraham Lincoln, than John Hinkley, Jr., the mentally ill man who shot Ronald Reagan. DePape is much more like one of the hundreds of psychotic homeless people I've interviewed in recent years than the fanatical climate ideologues who I've been writing about in recent weeks.
Wrapped up in their own obsession with Trump Republicans, most journalists have missed the real story. David DePape is not a microcosm of the political psychosis gripping America in general. Rather, he's a microcosm of the drug-induced psychosis gripping the West Coast in particular.
Drugs, Paranoia, and Pedophilia

Yesterday afternoon I visited the Berkeley house where DePape had lived with his former lover, Oxane "Gypsy" Taub, 53, a charismatic Russian immigrant 11 years David's senior. DePape appears to have fallen under the spell of Taub around 2003, when DePape was a quiet, video game-obsessed 21-year-old in Powell River, a town of 14,000 people that is a four-hour drive up the coast of British Columbia from Vancouver.
A November 27, 2008 article in the Oakland Tribune said Taub and DePape were married with three children. But DePape's stepfather, Gene, told AP yesterday that Taub was his stepson's girlfriend, not wife; that David and Taub had two, not three, children together; and that David's third child was with another woman.
The article, which carried the headline, "Need is great on Thanksgiving Day in the East Bay," described Taub, Pape, and their three children eating Thanksgiving dinner with the homeless. Taub told the reporter that they were there for the community, not because they couldn't afford to eat at home.
Taub was in the news again five years later when she, then 44, married a 20-year-old man, Jamyz Smith, naked, at City Hall in San Francisco. A photo in the December 16, 2013 edition of The San Francisco Chronicle shows DePape, Taub, Smith, and the three children huddled under a blanket watching television together. The caption describes DePape as "a family friend." As in The Oakland Tribune article, the focus was on Taub, with no quotes from DePape.
Ryan La Coste, who lives in an apartment directly behind the Taub-DePape house, said that the day after Taub's wedding to Smith, "There was a huge fight. The guy [Smith] that she married got locked up. And so Taub married somebody else. My understanding was that David [DePape] was the best man to her husband at the wedding."
The episode was typical of the chaos that swirled around DePape during the years leading up to his alleged attack on Paul Pelosi.
Subscribers to Michael Shellenberger can read more here…
 

Inti Gonzalez, the daughter of Paul Pelosi's attacker, says her father abused her and her two brothers

Police said they arrested David DePape, 42, after he broke into the Pelosis' $6million San Francisco home
DePape allegedly beat Paul Pelosi with a hammer and fractured his skull while shouting 'where's Nancy?' 
Gonzalez wrote that DePape began to become 'toxic' until her mother left him when she was 13 years old
After DePape left, her brother Nebosvod began to have memories of their father 'physically and sexually abusing me and my brothers' 
She said she and her youngest brother Daniel also started to remember being abused by DePape 
Gonzalez said that her mother filed a police report against DePape but that 'the case was not managed properly so nothing was done about it' 
She describes DePape as someone who 'did genuinely try to be a good person' and added that she loves him 
This article joins some other dots
Hacked Phone Of British Leader Links Male Prostitute Attack On Paul Pelosi To Russian Mafia