AUSTRALIA HAS FALLEN!
AUSTRALIA HAS FALLEN!
This is what all the excitement is about
2021 AUG 21 Australia This is the COVID 19 FACT the Truth There are Two Choices before of you
The Choices Are Two:
1.1: LIVE ON YOUR KNEE Begging for A Bone
2.1: STAND UP Pay the price for freedom RESISTANCE Let Your Voice to Be Heard and Say No More
CONSEQUENCES TO YOUR CHOICE: Choose This Day Whom You Shall Serve
1.2 BE A SLAVE TO SOME PRIVILEGED POLITICAL RULING CLASS
2.2 BE THE MASTER OF YOUR OWN DESTINY
Joshua 24:14-15 Choose Whom You Will Serve
14 "Now therefore fear the LORD and serve him in sincerity and in faithfulness. Put away the gods that your fathers served beyond the River and in Egypt, and serve the LORD. 15 And if it is evil in your eyes to serve the LORD, choose this day whom you will serve, whether the gods your fathers served in the region beyond the River, or the gods of the Amorites in whose land you dwell. But as for me and my house, we will serve the LORD."
AUSTRALIA PROTEST AGAINST TYRANNY ENOUGH IS ENOUGH / HUGO TALKS #LOCKDOWN
FREE AUSTRALIA: The world needs to witness what police did in Melbourne yesterday
RT is one reasonably balanced media outlet.
Pepper spray, arrests | Australian police clash with protesters at MASSIVE lockdown demo
Australian Police Fire Upon Unarmed Protesters as Aussies Fed Up with Police State
Australians turned out in mass Saturday to protest tyrannical police harassment in a country that is reported to now be more authoritarian than even China.
In Victoria, video footage shows police firing on unarmed crowds, allegedly with rubber bullets. Other substances were sprayed on the crowd such as pepper spray, and one video clip showed a young boy blinded and crying.
This was all after a week that saw horrific video footage online throughout Australia of police beating up 12-year-olds for not wearing masks, a child being ripped from a parent's arms allegedly to inject her, and police just in general terrorizing the public for whatever reason they saw fit, using "COVID" as an excuse for everything.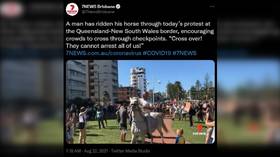 Mounted police officers are commonly used at rallies around the globe, but mounted protesters seem to be an Australian innovation as a man was filmed encouraging people to break Covid-19 rules from the back of a white horse.
The epic scene was filmed in Tweed Heads on the border between Queensland and New South Wales (NSW), where around a thousand people gathered on Sunday to decry the ban on crossing state lines, introduced to stem the spread of the coronavirus.
A man galloped on a white horse among the demonstrators, while delivering a sort of a passionate pre-battle speech.
"Cross over! Everyone go across the border! Cross over! They can't arrest us all," the rider shouted, prompting applause and cheers from his fellow protesters.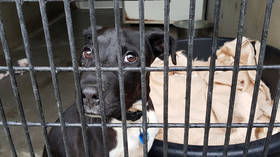 A government probe has been launched after officials in New South Wales, Australia, shot and killed shelter dogs that were due to be rescued by volunteers – allegedly in an effort to prevent the volunteers spreading Covid-19.
The dogs, one of which had just given birth to puppies, were housed in a pound in the northwest of the state, and were due to be picked up by volunteers from a Cobar-based animal shelter. However, the Sydney Morning Herald reported on Sunday that workers with the Bourke Shire Council had shot them dead last week.
The council ruled that having the volunteers come and collect the animals would somehow put council employees and the local community, including "vulnerable Aboriginal populations" at risk of catching and spreading Covid-19, the Herald reported, citing the Office of Local Government, the council's watchdog group. The group is now investigating whether animal cruelty laws were broken by the council.
This tweet has now been deleted
'Welcome to Nazi Germany': In now-deleted tweet, Sydney mayor compares strict new lockdown laws to Hitler-era regime
A Western Sydney official has compared the latest anti-Covid measures imposed on his area by the New South Wales (NSW) state government to the times of Nazi Germany. His comment, since removed, caused a rumpus on social media.
Mayor Steve Christou, of Cumberland City Council, tweeted an official graphic illustrating new lockdown rules on Friday. Having posted the image that warned residents of the mandate that requires them to have a permit to leave the region and to register their personal details to be allowed to visit a "singles buddy" within a five-kilometer (three-mile) reach, he wrote: "Welcome to Nazi Germany." The comment from the councilor, who describes himself as having "a tendency to speak what I think," was later deleted.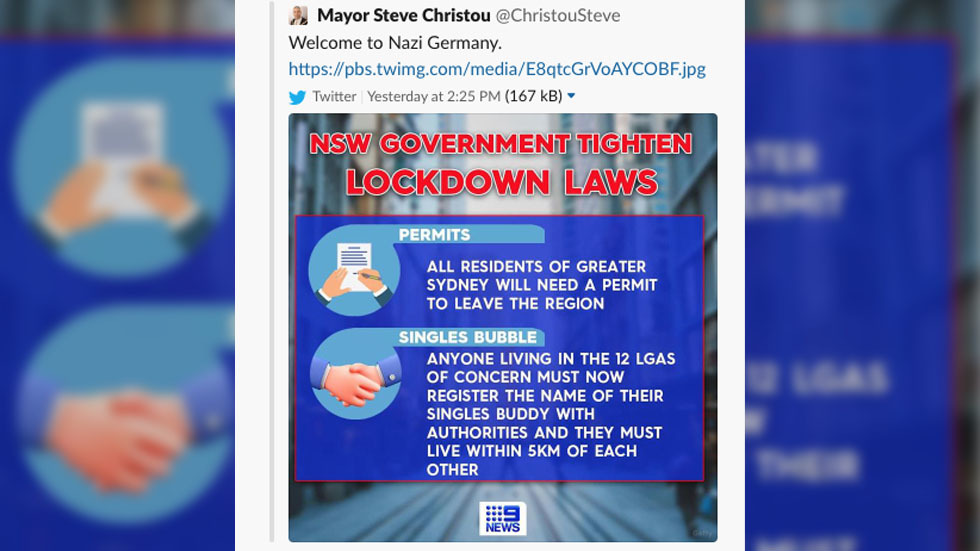 The official has previously expressed his opposition to the tightening of lockdown rules and any mandatory vaccination, describing the situation as "dictatorial madness." 
His latest provocative tweet was publicly available for long enough to elicit an array of reactions.
Here's a good bit of advice; never use Nazi Germany as comparison for anything. Resign and take a lesson in Ethics.

— Andrew Hall (@Killer_Gas) August 14, 2021
From Hal Turner
AUSTRALIA
Meanwhile, in Australia, thousands violated that country's latest COVID Lockdown by protesting en-masse in the streets.
Below is video from Victoria:
Then, in Melbourne, thousands more FORCIBLY broke through police barricades and marched in defiance of the tyranny plaguing that country:
Police responded in a heavy handed manner; forcibly arresting people for DARING to be out in the fresh air, in violation of the tyrants who say "stay home."
The officers seem to forget they exist to protect liberty and property, not to deny liberty.  (HT Remark: Strange how public servants sometimes think they rule rather than serve.)
Here's another view of the utterly massive protest and defiance of lockdowns; this view from the Bourke Street Mall in Melbourne:
Here, police began firing rubber bullets and pepper-spray-pellets against peaceful people.  It caused real trouble, too!
To the outside observer, it seems only a matter of time until the actual killing starts.
We root for the citizens and for freedom from tyranny.
An Australian Member of Parliament, Victor Dominello has been diagnosed with Bell's Palsy after AstraZeneca vaccine (branded as Covishield in India) after viewers noticed his 'droopy eye' during the state's live COVID-19 update press conference.
NSW's Customer Service Minister Victor Dominello got himself checked out after viewers tuning into the state's daily COVID-19 press conference commented on his droopy eye, with some suggesting he was winking at the camera and others thinking he had a stroke.
Victor Dominello appeared at the press conference on Wednesday to discuss business grants as the state recorded a staggering 633 local infections.
In an update later that night, Mr Dominello issued a thank you to the viewers who sent him messages of concern after tuning into the press conference.
"At this morning's press conference – a number of people commented on my droopy eye," he wrote on social media.
AUSTRALIAN POLICE FIRE UPON UNARMED PROTESTERS AS AUSSIES FED UP WITH POLICE STATE
AUSSIE 

#DETAINMENT

 CAMPS…
MURDERERS TRAITORS. AUSSIES THE LINE IN THE SAND IS CROSSED THE LAW DEMANDS YOU TAKE THEM OUT
AUSSIE POLICE ADMIT FINES ARE UNLAWFUL * SECRET RECORDING * HUGO TALKS #LOCKDOWN #AUSTRALIA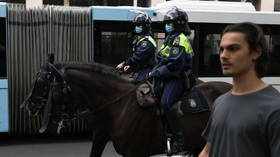 A 29-year-old Australian man has been sentenced to the maximum eight months in prison for helping to organize an anti-lockdown protest in Sydney, which has experienced strict Covid-19 restrictions for several months.
New South Wales Police announced the sentence in a statement on Friday, revealing that the man had been imprisoned for "multiple breaches of the Public Health Order," as well as for his part in organizing the "unauthorized protest" set for this weekend.
The man, who is from the state of Victoria, pleaded guilty to failing to comply with Covid-19 directions, encouraging "the commission of crimes," and false representation, police said.
Sydney Morning Herald reporter Angus Thompson noted on Twitter that the publicization of a person's imprisonment by NSW Police was "unusual" and theorized that it was intended to scare other potential protesters in Sydney ahead of the weekend protest.
The sentence angered many Australians on social media, as well as people from around the world, who condemned the move as authoritarian and compared NSW Police to the Nazi Gestapo.