Beijing Joe becomes Joe Biden the tyrant
Beijing Joe becomes Joe Biden the tyrant
Update (1650ET): Following Thursday's threat from President Biden to "use my power as president" against GOP governors "to get them out of the way," White House senior adviser Cedric 'boy' Richmond said that Biden is willing to "run over" the governors.
"The one thing I admire about this president is the fact that we are always going to put people above politics. And we're going to fight for those who really need our help," Richmond told CNN in response to a question about governors resisting the mandate. "And those governors that stand in the way, I think, it was very clear from the president's tone today that he will run over them," he added.
"And it is important. It's not for political purposes. It's to save the lives of American people. And so, we won't let one or two individuals stand in the way. We will always err on the side of protecting the American people."
Cedric might want to get with the times – it's way more than 'one or two individuals.'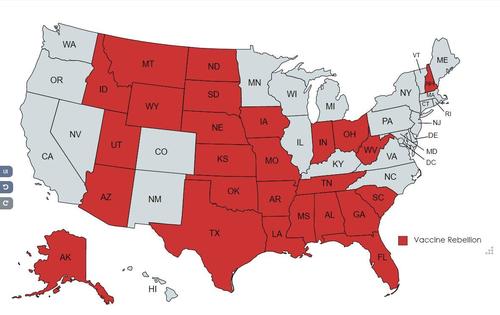 More via The Epoch Times' Jack Phillips:
Richmond's comment, however, raises questions about how the federal government plans to "run over" states, as the United States government is federalist and combines the central government with state and local governments.
A number of Republican governors on Thursday, following Biden's speech, said they would resist the vaccine mandate. Should the federal government direct the Occupational Safety and Health Administration to impose testing or vaccine mandates on private employees, Biden will face an avalanche of lawsuits.
"My legal team is standing by ready to file our lawsuit the minute Joe Biden files his unconstitutional rule," South Dakota Gov. Kristi Noem, a Republican, wrote in a Twitter post. "This gross example of federal intrusion will not stand."
Georgia Gov. Brian Kemp, also a Republican, wrote that his administration will "pursue every legal option available" in order to halt what he called a "blatantly unlawful overreach."
And Gov. Doug Ducey of Arizona said his state will "push back" against federal mandates, saying "Biden-Harris administration is hammering down on private businesses and individual freedoms in an unprecedented and dangerous way. This will never stand up in court."
He wrote: "This dictatorial approach is wrong, un-American and will do far more harm than good. How many workers will be displaced? How many kids are kept out of classrooms? How many businesses fined? The vaccine is and should be a choice."
Other than an order targeting private businesses, Biden also said he would mandate that all federal workers and contractors get the shot, mandate Medicare and Medicaid hospital staff to get vaccinated, and other mandates.
*  *  *
Republicans clapped back over the Biden administration's unprecedented 'jab or your job' Executive Order for federal workers and contractors, and a 'jab or test' mandate for corporations with over 100 employees. 600,000 postal workers are oddly exempt.
The sweeping new vaccine requirements, which completely ignore tens of millions in America who have recovered from Covid-19 and have natural immunity, will affect as many as 100 million Americans.
In response, the Republican National Committed (RNC) vowed to sue Biden once the mandate goes into effect, with President Ronna McDaniel tweeting that Biden lied.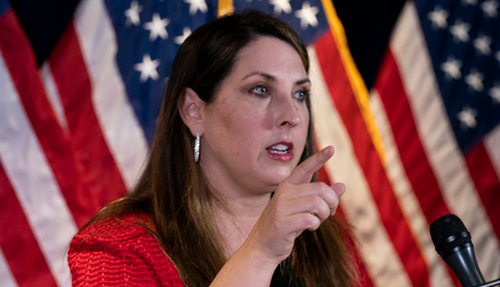 "Joe Biden told Americans when he was elected that he would not impose vaccine mandates. He lied," McDaniel said in a statement, adding "Now small businesses, workers, and families across the country will pay the price."
"President Biden is so desperate to distract from his shameful, incompetent Afghanistan exit that he is saying crazy things and pushing constitutionally flawed executive orders. This is a cynical attempt to pick a fight and distract from the President's morally disgraceful decision to leave Americans behind Taliban lines on the 20th anniversary of 9/11," Sen. Ben Sasse (R-NE) told the Daily Caller. 
Meanwhile, Republican governors across the country have issued statements vowing to sue, or otherwise oppose, the vaccine mandate after Biden threatened them during Thursday's announcement.
"Let me be blunt," said Biden. "My plan also takes on elected officials in states that are undermining you in these life-saving actions. Right now local school officials are trying to keep children safe in a pandemic while their governor picks a fight with them and even threatens their salaries or their jobs. Talk about bullying the schools."
"If they'll not help, if these governors won't help us beat the pandemic, I will use my power as president to get them out of the way," he added.
Not so fast, say the governors
As Becker News reports:
Republican governors have begun to issue their responses to the federal government's overreach and the president's threats.
"South Dakota will stand up to defend freedom," Noem wrote. "JoeBiden see you in court."
Georgia's Governor Brian Kemp also responded to Biden's remarks.
"I will pursue every legal option available to the state of Georgia to stop this blatantly unlawful overreach by the Biden administration," Kemp tweeted.
"Oklahoma Gov. Kevin Stitt says as long as I am governor, there will be no government vaccine mandates in state," Josh Caplan reported.
"Texas Gov. Greg Abbott announces the state already working to halt Biden's vaccine mandate 'power grab'," Election Wizard reported.
BREAKING: Texas Gov. Greg Abbott announces the state already working to halt Biden's vaccine mandate "power grab."

— Election Wizard (@ElectionWiz) September 9, 2021
Alabama Governor Key Ivey also released a statement declaring her intention to fight the mandate.
Wyoming Governor Mark Gordon also issuing a statement saying: "Not now, and not ever."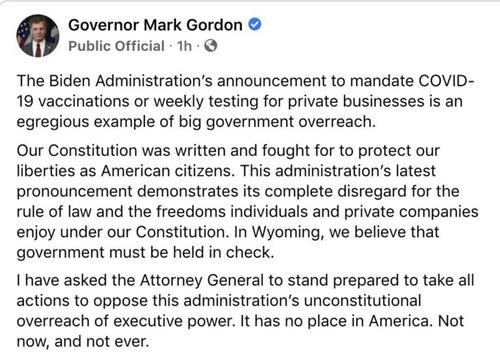 Tennessee's Governor Bill Lee also stated his broad opposition to the federal mandate.
"The Constitution won't allow this power grab, and in the meantime, I will stand up for all Tennesseans," Gov. Lee wrote.
Read more governors' statements here.
Cover illustration via Mother Jones, Getty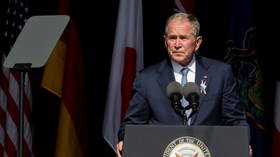 Former President George W. Bush has used his speech on the 20th anniversary of the 9/11 terrorist attacks to call out "violent extremists at home."
While visiting Shanksville, Pennsylvania on Saturday, Bush, who was president at the time of the deadly terrorist attacks, compared the foreign terrorists behind 9/11 to the supposed domestic extremists in the US today.
"We have seen growing evidence that the dangers to our country can come, not only across borders, but from violence that gathers within," the former president said. 
The Republican admitted there is "little cultural overlap between violent extremists abroad and violent extremists at home," but claimed they are "children of the same foul spirit" and seemed to reference the January 6 Capitol rioters when he said one "cultural overlap" is an interest to "defile national symbols."
Bush urged people to "confront" these threats and touched on the cultural gaps and partisanship that has grown in the country since he left office. 
"When it comes to the unity of America, those days seem distant from our own," he said. "Malign force seems at work in our common life…so much of our politics has become a naked appeal to anger, fear and resentment."
Though Bush faced low approval ratings through much of his presidency and was shrouded in controversy thanks to highly-criticized decisions like the invasion of Iraq in 2003, he has grown in popularity among liberals since leaving office, mainly thanks to his public criticism of former President Donald Trump. 
ALSO ON RT.COMTrump rips Biden in 9/11 video for looking like a 'fool' and losing '$85 billion of military equipment' in Afghanistan withdrawalHis latest speech earned him more points with this crowd, as many took to social media to celebrate the controversial leader's acknowledgement of a supposed threat from domestic terrorism.
"Almost weeping, George W. Bush rebukes those Americans who have turned their backs on 'the America I know.' Important speech," author and reporter Michael Beschloss tweeted.
An upstate New York hospital said it will pause the delivery of babies in two weeks because of a spate of resignations by maternity unit workers who are objecting to COVID-19 vaccination mandates.
Lewis County General Hospital, in Lowville, will temporarily stop delivering babies after Sept. 24, WWNY reported. During a news conference Friday afternoon, Lewis County Health System CEO Gerald Cayer said seven of the 30 hospital workers who resigned were from the hospital's maternity ward. He added that another seven maternity unit staffers were undecided about getting the vaccine, the television station reported.
The workers were objecting to a Sept. 27 deadline to receive a first dose of the COVID-19 vaccine, the Watertown Daily Times reported. Then-Gov. Andrew Cuomo issued the state mandate on Aug. 23.
Twenty of the staff members who resigned worked in clinical positions like nurses, therapists and technicians, the newspaper reported.
"If we can pause the service and now focus on recruiting nurses who are vaccinated, we will be able to reengage in delivering babies here in Lewis County," Cayer told reporters.
Cayer said 165 hospital employees, or 27% of the facility's workforce, have yet to be vaccinated against COVID-19, WWNY reported. There have been 464 workers who have received the vaccine, Cayer said.
A U.S. Naval Commander is warning that the Pentagon's orders to mandate the COVID-19 vaccination for all service members could be a threat to national security due to unknown effects of vaccine complications.1 Naval Officer J.H. Furman said that further study is needed before requiring the entire military force, which is comprised of an estimated 1.4 million service men and women be part of an "irreversible experimental group."1 2
According to the Associated Press, Pentagon data shows that as of Aug. 18, 2021, there were 800,000 service members who had not yet gotten vaccinated. More than 1 million active duty, Guard and Reserve service members had been fully vaccinated and nearly 245,000 more had received at least one COVID-19 shot.
Members of Congress, their staff, and federal court system employees are exempt from the Biden administration's new vaccine mandates, according to Newsweek.
On Thursday, Biden issued two executive orders mandating that federal workers, federal contractors, and workers for companies with more than 100 employees take the Covid-19 jab or face unemployment and fines.
While Biden's order applies to employees of the executive branch, the House and Senate are part of the separate legislative branch, and of course the courts are part of the judicial branch – so the new orders don't apply.
Mayor de Blasio threatened to withhold the paychecks of unvaccinated NYPD officers who refuse weekly COVID-19 testing.
The NYPD's largest police union is against the testing mandate because officers will not be compensated for the time spent getting them done.
53% of NYPD employees have received one dose of the vaccine, according to data from the Gothamist.
President Joe Biden murdered an innocent family when the US military conducted a "righteous strike" on Aug. 29 against a vehicle that American officials thought was an ISIS bomb that posed an imminent threat to thousands of people at the Kabul airport.
In a late Friday afternoon report, the New York Times reveals that "Military officials said they did not know the identity of the car's driver when the drone fired, but deemed him suspicious because of how they interpreted his activities that day, saying that he possibly visited an ISIS safe house and, at one point, loaded what they thought could be explosives into the car."
In reality, they were filling water bottles.
Kamala Harris delivered remarks on Saturday to commemorate the 20th anniversary of the Islamic terror attack that killed nearly 3,000 Americans.
Kamala Harris followed Hillary Clinton, Biden and Bush and trashed Americans in her 9/11 speech.
But Kamala Harris attacked Americans and made the Muslims victims.
"We had differences of opinion in 2001 as we do in 2021. And I believe, that in America, our diversity is our strength," Harris said at a 9/11 memorial in Shanksville, Pennsylvania. "Sikh and Muslim Americans were targeted because of how they looked or how they worshipped."
Truckers

are going to Quit, not strike
Trudeau Remembers 9/11 by Honoring Muslims: 'I call for people to stand against Islamophobia'
Canadian prime minister Justin Trudeau chose to stress the impact of 9/11 on Muslims and call for people to stand against "Islamophobia", rather than Islam, on the 20th anniversary of the attacks.
BRASS TACKS – Joe Biden Has Declared War on America – The REAL Insurrection
Jarrin Jackson is a West Point Graduate and Afghanistan war veteran, who joined Stew Peters and said Biden's vaccine mandate is a "declaration of war", and the REAL "insurrection".