Belarus Seals Off Border With Ukraine As President Warns Of Coup Attempts
Belarus Seals Off Border With Ukraine As President Warns Of Coup Attempts
The government of Belarus announced today that it is completely closing its border with Ukraine, which for months have been targeting Belarus with accusations of plotting military aggression against it. Ukraine has a population of almost 45 million and a military trained and armed by the US. and NATO. Belarus has a population of 9 million and doesn't belong to a military bloc; NATO is the only one in the world.
President Alexander Lukashenko has ordered the State Border Committee to close the 675-mile border separating the two former Soviet republics with this explanation: "I am astounded by the amount of weapons being smuggled from Ukraine to Belarus. I mentioned it last year. Many didn't believe me. This is why I've instructed the border guard to fully close off the border with Ukraine."
He also claimed that the government has detected what he said were called self-defense formations (he branded them terrorist cells), saying they are supported by Lithuania, Poland, the US, Ukraine and Germany (his order). All but Ukraine are NATO members and Ukraine since last year has been a NATO Enhanced Opportunities Partner.
The Belarusian head of state said that a Telegram channel was formed under the name Belarus' self-defense formations, and has 2,500 subscribers. In Lukashenko's words: "It was their combat reserve. We know their faces. The chat's owner is Mr. de Hoffmann, a German citizen, who was previously a citizen of Russia and Ukraine. Mr Dudnikov, a Russian citizen, is the main moderator" of the operation.
He specified that a sabotage group headed by one Ms N. Matveyeva was apprehended attempting to set fire to forestry vehicles and then, in the president's words:
"What did they intend to do? Set a column of vehicles on fire at night, upload it to the Internet and demonstrate: look, we are alive, we are fighting, and we will bring down this regime. She was caught on 8 June. The attempt failed."
He also claimed that another group of saboteurs attempted to blow up a Russian navy communications facility in the town of Vileika, but the would-be perpetrators were also arrested. Lukashenko said he's discussed the incident with Russian President Vladimir Putin.
Lukashenko also instructed the Foreign Ministry to summon the ambassadors of the NATO nations involved to demand the extradition of suspected saboteurs and insurrectionists. On that subject he said, "All the facts are documented and we will prove their guilt. We don't even have to prove it: they will talk about it on their own. And you will see their true face: the face of Germans, Americans, Poles, and Lithuanians."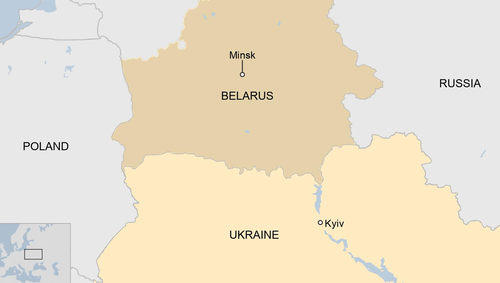 Extending the accusations higher up the chain of Western political leadership, he added: "Attempts to occupy Belarus in conditions of a modern hybrid war are once again being made. We hear about 'the new order' from the same bearers of 'European values' just like we did 80 years ago. The same Western elites are in the lead."
Even allowing for exaggeration, for fabrication by the Belarus government, today's events signal a dramatic heightening of tensions in northeastern Europe; where NATO's self-proclaimed Eastern Flank confronts Belarus' and Russia's borders.
Tensions between Russia and the West are still soaring after the June 23rd incident with Britain's HMS Defender wherein the Russian side fired "warning shots" and shadowed the destroyer which had come near Crimea with no less than 20 Russian aircraft and two ships. That's why Russia's new aerial drills over the Black Sea present another dangerous opportunity for the next potential "close call" incident which could easily trigger direct conflict.
Russian fighters are now engaged in their own drills at a moment NATO's large-scale Sea Breeze 2021 exercises are underway in waters below. Russia's Black Sea fleet made the announcement confirming the active exercises on Saturday.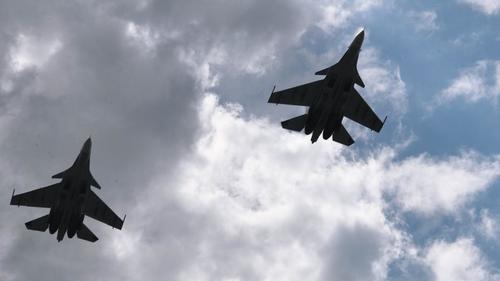 Russian reconnaissance aircraft which specialize in sea surveillance are also said to be active. No doubt they are further monitoring the some 40 warships currently taking part in the nearby NATO exercises, which has an estimated 4,000 personnel as part of what NATO has hailed as its largest naval drill in two decades.
The official Russian military statement was reported in TASS as follows:  
"Plane crews of the Black Sea fleet's naval aviation and air defense units, jointly with the Southern Military District's aviation, carried out training flights above the Black Sea, practicing missile and bomb attacks on vessels of a notional enemy. The Black Sea fleet's naval aviation was represented by Su-30SM multirole fighter jets and Su-24M front-line bombers, the Southern Military District – by Su-34 fighter bombers and Su-27 air superiority fighter jets," the statement says.
The Russian press report further highlighted Ukraine's controversial involvement in the NATO drills. The Kremlin has long condemned Kiev's growing closeness to NATO 'partnership' and recent requests seeking a "path to membership", which Russia has in the past warned would trigger certain war.
"At the moment, an international naval exercise codenamed Sea Breeze-2021 is being held in the Black Sea with NATO countries and Ukraine taking part," TASS wrote, while also emphasizing that Russian aircraft "carried out training flights above the Black Sea amid the Sea Breeze 2021 exercises of NATO and its partners in the region."
As the rapidly unfolded events of last week demonstrate, with these rival military drills happening in such close proximity near contested waters, there remains very high risk for another live fire incident, particularly should NATO vessels or planes get too close to Russia-claimed waters and coastline.