BLACKOUT across at least half of Ukraine
BLACKOUT across at least half of Ukraine
There is something major going on – too early to say what.
This is what western media was claiming earlier.
Russia destroys thermal power plant, total blackout throughout Ukraine
Russia Launches MASSIVE Missile Barrage – Hitting POWER PLANTS for first time
2:04 PM EDT Sunday, September 11, 2022 — Within the past three hours, Russia has launched (and continues to launch) a massive barrage of cruise missiles against Ukraine. For the first time, they are hitting Electric Generating Stations.  Blackouts are now reported in many areas of Ukraine.
Sources inside the war zone caught video of Russian naval vessels, surface and submarine, launching "Kalibr" cruise missiles in almost every direction!
Updates coming within minutes . . .  check back
UPDATE 2:27 PM EDT —
Power stations hit, multiple western Ukrainian cities lost power.
Poltava, Sumy, Kremenchug and Kharkov lost power as well
UPDATE 2:29 PM EDT —
Reports coming from Ukrainian sources that, IN ADDITION TO THE CITIES LISTED ABOVE, Dnepropetrovsk, AND THE ENTIRE OBLAST OF ZAPOROZHYE have also been hit with total electrical blackouts.
This targeting of electric generating plants is a major change from how Russia has conducted itself for the prior 6+ months.
(HT REMARK: This . . . this right here . . .  is going to turn the Ukrainian people against the Kiev regime.  I suspect it will do so, fast.)
UPDATE 2:33 PM EDT —
Images are beginning to come in showing burning power plants.  Below, the Zmiev power plant burning at the very bottom of the image, after being hit by Russian Navy:
MORE:
Kharkiv Combined Heat-and-Power Plant (CHPP) No. 5 (Kharkiv CHPP-5), one of the most powerful CHP-plants in Ukraine— located near the village of Podvirky; was also hit .
MORE:
Dergachev city administration reports missile attacks on critical infrastructure.
Heating and power out
UPDATE 2:38 PM EDT —
The high voltage transmission lines have been knocked down in the Sumy region – the head of the OVA Dmytro Zhyvitsky has announced.  He says "Russia's Navy is obliterating Ukrainian infrastructure."
(HT REMARK: For 6 months critical infrastructure was not obliterated, broadcasting systems were not shut down. Even major transportation hubs were not destroyed. It looks like the gloves came off…)
BULLETIN
2:45 PM EDT —
Public water supplies in Kharkov and in Dnepropetrovsk are now OFFLINE.   No running water.
UPDATE 3:00 PM EDT —
Ukrainian residents ordered to disconnect devices from the ELECTRICAL GRID as power equalization efforts begins amid Ukraine's struggle with remaining reserves. 
Power Plants Bombed/Exploding/On-Fire:
(Working to verify which is which as images coming in fast and furious)
Another one:
And a THIRD:
And a fourth:
UPDATE 3:07 PM EDT —
Electric trains stop across ALL Ukraine as power goes out amid hits on critical infrastructure.
Ukraine's air raid alarm map warning system . .  HAS STOPPED WORKING
SATELLITE VIEW OF UKRAINE BLACKOUT
MAP OF DESTROYED POWER PLANTS 
Ones marked in color RED
I have received an **initial** report saying the power plants showing in RED below are either offline or destroyed:
CONFIRMATION: TRAINS ALL STOPPED
Video below from a train tunnel in eastern Ukraine confirms Train Service is now OUT in Ukraine:
UPDATE 6:01 PM EDT —
In addition to Multiple major power outages there are major water stoppages being reported, by Ukraine, In Kharkov, Kyiv, Kremenchug, Pavlograd, Poltava, Dnepropetrovsk & Sumy regions
POWER PLANT FIRE UPDATE – 6:05 PM EDT
In the UPDATE 2:33 PM shown above, we reported that Combined Heat and Power plant (CHPP) Number 5 in Kharkiv had been hit by a cruise missile and was on fire.  We now have video from that very scene:
UPDATE 10:15 PM EDT —
Power outages have now spread to the neighboring countries of Moldova at the southwest of Ukraine and to . . .  Poland at the northwest of Ukraine.  Border crossing areas at the Poland Border appear to have no electricity.
In addition, INTERNET CONNECTIVITY has plummeted throughout Ukraine as shown on the chart below:
COVERT INTEL – "STARLINK"
Not only has the regular internet plummeted inside Ukraine, but we are getting numerous reports now that STARLINK (from Elon Musk) is being jammed by Russian Electronic  Warfare.   We are being told by numerous sources that STARLINK has "become useless" in many, MANY, areas of Ukraine.
The probability that Russian Electronic Warfare (EW) gear might be used against Ukraine seemed remote – HOWEVER – it is long and widely understood that Ukrainian military units have been using STARLINK for military purposes. If Russian EW is being employed against STARLINK, then it seems on its face that Russia is planning military moves they don't want Ukraine to be able to communicate about.
More if I get it . . .
MORE:   10:34 PM EDT —
Russian Strategic Bombers ARE NOW airborne.
Russian Federation Air Force Strategic Bomber voice net (Russia's Bear Net) active on 6552 Kilohertz USB
WHAM — GOT "IT"  10:38 PM EDT —
Was just informed from my former colleagues from my years with the FBI Joint Terrorism Task Force as follows:
"Ukraine's largest attack is yet to come, and it is aimed at Mariupol. Ukraine won't push past the river in the north, and if they try they'll be decimated.
Tonight's Russian attacks on electric generating plants were to depower the train lines, primarily from Kharkov, so all those forces and equipment can't be transferred quickly to the Mariupol front. Russia knows this is definitely happening due to large concentrations of Ukraine forces, and Ukraine starting a demining process.
Russia's strategic bombers are now systematically destroying train loads of tanks, armor, and ammunition, trapped on depowered trains.
BULLETIN
According to sources, the fighters that are on the ground in certain areas of Ukraine are not Ukrainian. One report from Volchansk says that U.S. speaking "blacks" (special forces?) and NATO troops are on the ground. No way of confirming if these are merely mercenaries or not.
According to the reports I am getting right now, the Russians were aware of this change in manpower and a possible change of tactics and wanted to observe the operations of this offensive before directly engaging them.
The tactics were operationally very different from previous Ukrainian offensive sorties and reflect a total change of command structure of Ukraine's military. It's important to keep in mind that NATO has been planning for the counteroffensive for months by observing Russian tactics, but Russia had no corresponding intel. The thinking goes Russia will now able to engage the enemy on an even tactical ground after seeing the real enemy (US/NATO) in action.
Folks, I hate to be the one to say this, but it seems to me that the reality is that this is war proper now, not a proxy war.
The Rammstein meeting agenda last week was to fully incorporate the Ukrainian military into the NATO command structure. The quantity and type of weapons that will be supplied to Ukraine is changing. For example, the U.S. now providing Ukraine with GPS-guided Excalibur artillery.
U.S./NATO using their satellite data and intel is also formally providing Ukraine with long range weapons capable of destroying Russian radar infrastructure and logistics. The missiles will have ranges of 500km. The accuracy of these weapons is far greater than the laser-provided munitions previously given.
There have also been talks of formally bringing Ukraine into NATO's missile defense infrastructure. Russia in order to fight this assault may be forced to destroy or blind US/NATO satellites, which could accelerate a direct conflict.
It is already long known that Ukrainians have begun formally training with NATO forces. The plan is to have 50,000 more troops trained by 2023. These troops will be equipped and trained in NATO countries to NATO standards and should be ready to go in six months and will fight with NATO tactics with NATO equipment and will have access to all NATO intelligence.
At that point, Ukraine sees itself launching an offensive to take all of the original administrative territory back from Russia, including Crimea.
US/NATO has been formally positioning its logistics to equip and train these troops, including restarting their MIC operations specifically for the purpose of fighting Russia.
In response, some Russia media types have stated that Russia should formally request volunteers from North Korea, China, India, etc.
This war is about to go Global pitting East vs West.
North Korea had previously offered to send 100,000 troops to Ukraine on behalf of Russia. China of course has taken no active role, but is a close ally of Russia. Russia could formally request that Chinese industrial capacity be harnessed for Russia's campaign. This is in effect what NATO and Western Europe has done with NATO, and would even the playing field in terms of industrial capacity between NATO/Ukraine and Russia.
Put simply, this whole Ukraine situation is expanding and getting very much worse each and every day.
BLACKOUT across at least half of Ukraine; Putin is finally pissed – uses NATO/US stategy
01:29

Quick Report Starts
15:38

End of Report – Telegram Channel Reports
43:17

End Telegram Reports – Q&A / Chit Chat Session
From RT
President Vladimir Zelensky has confirmed energy shortages across multiple regions of the country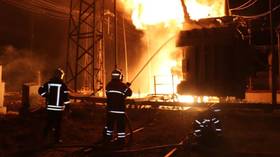 Multiple regions of southeastern Ukraine suffered electricity shortages and blackouts late on Sunday.
President Vladimir Zelensky has said the cause was missile attacks by Moscow on "critical infrastructure."
Full blackouts have hit Kharkov and Donetsk regions, Zelensky said in a social media post, apparently referring to the Ukrainian-controlled part of Donetsk People's Republic. Sumy, Dnepropetrovsk, Poltava, Zaporozhye and Odessa regions have been hit by partial blackouts, according to the president, who blamed the incident on "Russian terrorists."
So, far Moscow has remained silent on the matter, neither confirming nor denying its involvement. Still, the incident has been preceded by a reported launch of multiple cruise missiles from Russian ships positioned in the Black and Caspian Seas.
Footage circulating online shows the aftermath of the purported attacks, with firefighters trying to extinguish flames at what appear to be power plants.
Another video, purportedly shot in Poltava, shows a trolleybus that caught fire, apparently due to a power surge in the grid.
The blackout has affected the operations of Ukrainian railways, which reported delays across the country. It also brought the subway system in the eastern city of Kharkov to a halt the, footage circulating online purports to show.
So, far, emergency services have managed to restore power supply only in Poltava, Sumy and Dnepropetrovsk regions, according to Ukrainian media reports.
The electricity supply has been fully restored in three of the affected regions, according to a presidential aide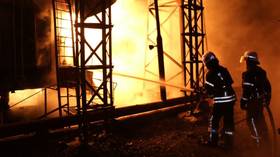 Blackouts allegedly caused by Russian strikes on the Ukrainian power grid were partially dealt with overnight, according to President Vladimir Zelensky's deputy chief-of-staff.
In a Telegram post, Kirill Timoshenko reported the full restoration of electricity supplies in the Ukrainian cities of Sumy, Dnepropetrovsk and Poltava. Grid capacity in Kharkov region, which was the scene of a successful Ukrainian counter-offensive last week, was at 80% on Monday morning, according to the official.
The Mayor of Kharkov, Igor Terekhov, said on Monday morning that the city's subway and trolleybus systems were back online and that the water supply would be fully restored during the day. Electric-powered transport was paralysed during the Sunday outage.
Kiev blamed the blackouts in several of its regions on Russian missile attacks targeting power stations and key nodes of the transmission grid. The Russian military has neither confirmed nor denied carrying out such attacks.
The purported Russian military action on Sunday followed Ukraine's counter-offensive in the north of the country. Last week, Kiev forced Russian troops to leave a swath of previously captured territory in Kharkov region.
Kiev called it a major success for its military and a harbinger of further victories on the battlefield. Moscow has described the loss of territory as a temporary setback, necessary to win time for regrouping Russian troops.