"BRACE FOR RATIONING" – FOOD CRISIS ESCALATES – EU FARMERS FURIOUS
"BRACE FOR RATIONING" – FOOD CRISIS ESCALATES – EU FARMERS FURIOUS
Between them Russia and Ukraine account for 30 % of world wheat production,  That is before we factor in crop failures (such as in China)
The world was facing a grain supply crunch even before Putin's invasion of Ukraine.
The United Nations food price index was already higher in real terms than at the height of the global hunger crisis a decade ago, when Tunisian bread protests set off the Arab Spring.
The tight global market for grains, vegetable oil and fertilisers was probably one of the many reasons that Putin chose this moment to strike, calculating – wrongly it may prove – that the West would not dare to squeeze him too hard.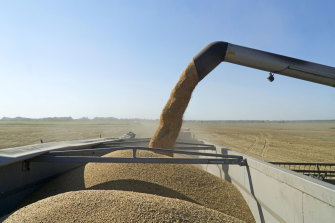 The world faces what amounts to a commodity "black swan" across the gamut of primary resources. Oil, gas, coal and the "ags" are all spiralling higher together, with metals catching up fast. It is a systemic stagflation shock, an intractable problem for central bankers. It acts like a war reparations tax on the economies of importing nations and is ultimately contractionary.
Natasha Kaneva, from JP Morgan, said inventories of tradable commodities are critically low and the world is running out of safety buffers. This is a recipe for "non-linear price increases", she said.
Unlike the West, China is prepared. It has been stocking up for months and holds 84 per cent of the world's copper, 70 per cent of its corn and 51 per cent of its wheat. "China has bought enormous quantities of US soy in recent weeks," said Rabobank. One might ask if Xi Jinping knew something in advance.
Record food commodity prices are an ordeal by fire for some 45 poorer countries that rely heavily on food imports: the Maghreb, the non-oil Middle East, swathes of Africa, Bangladesh or Afghanistan. The World Food Programme warned of "catastrophic" scarcity for several hundred million people last November. The picture is worse today.
'I have never seen anything like it in 30 years […] The situation is just awful and at some point people are going to realise what may be coming. We're all going to have to tighten our belts, and the mood could get very nasty […].'

Abdolreza Abbassian, UN's Food and Agriculture Organisation
"Everything is going up vertically. The whole production chain for food is under pressure from every side," said Abdolreza Abbassian, the ex-head of agro-markets at the UN's Food and Agriculture Organisation.
"I have never seen anything like it in 30 years and I fear that prices are going to go much higher in the 2022-2023 season. The situation is just awful and at some point people are going to realise what may be coming. We're all going to have to tighten our belts, and the mood could get very nasty even in OECD countries like Britain," he said.
Energy and farm commodities are interlinked. Natural gas is a feedstock for fertiliser production in Europe, and lest we forget, Russia and Belarus together account for a third of the world's exports of potash. Rocketing oil prices are driving a switch to biodiesel in south-east Asia, further tightening the global market for vegetable oils.
Roughly a third of world exports of barley come from Russia and Ukraine combined, 29 per cent of wheat, 19 per cent of maize, as well as 80 per cent of sunflower oil. Much of this is usually shipped through the Black Sea ports of Odesa, or Kherson – scene of hand-to-hand street battles until it fell on Wednesday – or Mykolaiv, where a Russian missile hit a Bangladeshi-flagged bulk carrier this week and killed one of the crew.
"Loading is at a standstill. It is not just the ports: you can't get a ship in there. Nobody wants to get stranded," said Mr Abbassian. Lloyd's List reports that the northern Black Sea and the Azov have been declared "warlike operations areas', implying double pay for crews, if you can get them.
Insurance rates are prohibitive and banks are refusing letters of credit, even though grains, fertilisers and energy products are exempt from sanctions. Shippers are scrambling to find out what it means for a counterparty to be "connected with Russia".
Everybody is wary of the US Treasury's sanctions police, known as OFAC (US Office of Foreign Assets Control). The US law firm Crowell and Moring said clients fear that they may be caught in the net inadvertently, given that targeted oligarchs control much of Russia's agro-industrial nexus in one way or another. Every transaction has to be screened to the finest detail.
"Russian and Ukrainian wheat are not being offered. Critical corn flows to the world are being stymied. If Ukraine farmers do not plant substantial quantities of corn next month, the supply crunch will be very severe," said Rabobank.
We are now learning […] what it means to eject the world's only full-spectrum commodity superpower from the international financial and trading system.
Smaller farmers in Russia have been shut out of the domestic credit market just before planting season. Emergency tightening by the central bank has lifted average loan cost to 27 per cent this week.
Chicago wheat futures have hit an all-time high of $US1,131. The squeeze is worse for the rest of the world because the broad dollar index is up 30 per cent since the last peak in 2008.
For good measure, Rabobank says we must contend with intense La Niña weather patterns and drought in Brazil and Argentina. "Grain shortfalls are likely to be so pronounced as to require demand destruction, or rationing," it said.
The commodity index of the International Monetary Fund – purer than misleading market indexes – shows that primary commodities are today more expensive as a whole in real terms than in 2008 even in US dollars. It is much higher for Europe or Africa. This is fast resembling the raw material shock of the early 1970s.
Brent crude hit an all-time high in euros and sterling on Wednesday morning. But unlike the last oil shock, this shock is spread across every sector of energy. European natural gas contracts for April hit a new high of €198 MWh. Thermal coal has risen 75 per cent this month.
The roots of this crunch are complex but Putin's manipulation of pipeline flows explains a big part of the gas crisis since September. We are now learning the second lesson: what it means to eject the world's only full-spectrum commodity superpower from the international financial and trading system.
We have not even begun to feel the blowback for the Western aerospace and semiconductor industry should Russia retaliate by exploiting its lockhold over the global supply chain for titanium, palladium and neon.
That is not to say that the West should back away. We are in a war. We must win it.
Normally, commodity booms short-circuit by causing recessions, with the help of central banks, apt to overreact and tighten just as the economy is slowing anyway.
This episode may be different. I do not see how the West can continue buying any oil, gas, or coal from Russia as the Kremlin unleashes artillery on Ukraine's civilians, in Mariupol, Kharkiv and Kyiv today, and everywhere soon judging by how Putin swatted away Emmanuel Macron's plea for restraint.
As for the "ags", all the makings of an enduring food crisis are before our eyes.
A billion of the world's poorest people will go even hungrier thanks to Putin's deranged misadventure, and some will starve. Our next moral mission is to help them.
The Daily Telegraph, London
BEIJING, March 5 (Reuters) – The condition of China's winter wheat crop could be the "worst in history", the agriculture minister said on Saturday, raising concerns about grain supplies in the world's biggest wheat consumer.
Speaking to reporters on the sidelines of the country's annual parliament meeting, Minister of Agriculture and Rural Affairs Tang Renjian said that rare heavy rainfall last year delayed the planting of about one-third of the normal wheat acreage. read more
A survey of the winter wheat crop taken before the start of winter found that the amount of first- and second-grade crop was down by more than 20 percentage points, Tang said.
"Not long ago we went to the grassroots to do a survey and many farming experts and technicians told us that crop conditions this year could be the worst in history," he said. "This year's grain production indeed faces huge difficulties."
The minister's comments underscore concerns about China's grain supply at the same time as the war between Russia and Ukraine, which together account for about 29% of global wheat exports, has disrupted supplies causing wheat prices to surge to 14-year highs.
However, Tang is confident China can ensure a bumper harvest of summer grain thanks to strong policy and technical support and the improving crop condition for the grain.
Fuelled by the Ukraine crisis, wheat prices in China soared to a record this week on existing domestic supply worries.
Tang's comments also come as Beijing has refocused on food security, a long-standing priority for the central leadership that has become increasingly prominent in policy since the COVID-19 pandemic began in early 2020.
China's state planner said in its own report at the parliament meeting that grain supply remains tight, despite consecutive good harvests in recent years.
To address the issue, the National Development and Reform Commission's (NDRC) report said China will ensure that grain acreage for the year stays above 117.33 million hectares (289.93 million acres).
China will also increase the production of soybeans and other oilseed crops, the NDRC said, reiterating top policy priorities in the farm sector.
The country will also build up momentum to increase corn output, it said.
China's corn imports surged to a record last year, amid soaring domestic prices and low inventories.
China will guarantee the supply-demand balance of grain, edible oil, cotton, sugar and fertilisers through the effective use of reserves and imports, the NDRC said.
China will allocate 41.639 billion yuan ($6.59 billion) in subsidies in 2022 for agricultural insurance premiums, up 30.8% from a year earlier, the finance ministry said in another report.
At the start of the parliament meeting, Premier Li Keqiang said China will ensure key agricultural product supplies this year, including grains.
Everyone must work together to ensure that the country's "rice bag" and "vegetable basket" are well-filled, and that we have a secure food supply for the people, Li said.
China will stop any attempts to use cropland for any purpose other than agriculture and specifically grain production, to safeguard the area of farmland, and revitalise the seed industry at a faster pace, Li said in the government work report.
Li also said China will see that hog production is better regulated and ensure the production and supply of livestock, poultry and aquatic products and vegetables.
China's massive pig herd was decimated by the deadly African swine fever disease, sending pork prices to record highs and increasing consumer prices.
China quickly rebuilt its pig herd to normal levels since then, according to official data, but stabilizing production and prices has become a major focus for the government.
($1 = 6.3188 Chinese yuan renminbi)
CAIRO, Mar 3 2022 (IPS) – Egypt is scrambling to find alternate sources of wheat after the Russian invasion of Ukraine has put supply to the country in jeopardy. This is especially urgent because the price of bread in Egypt has in the past sparked protests in the country.
Russia and Ukraine are key players in the global grain market, with their wheat exports accounting for 23% of international trade in 2021-22, according to the US Department of Agriculture.
Egypt, Lebanon, and Libya are among the MENA region's top wheat importers from Ukraine.
In 2021, Egypt imported 6.1 million tonnes of wheat; 4.2 million came from Russia, worth $1.2 billion, representing 69.4% of total Egyptian wheat imports. Imports from Ukraine amounted to 651,400 tonnes, worth $649.4 million, accounting for 10.7% of total imports.
Over the last 50 years, the price of bread has been a politically controversial topic in Egypt, triggering various protests. A subsidised flat loaf costs 0.05 Egyptian pounds, less than one US cent.
Naguib Sawiris, the Egyptian tycoon, appealed to Egypt's Minister of Supply on February 22 to acquire and store large quantities of wheat.
"We must purchase and stockpile wheat as quickly as possible before the Ukraine-Russia war breaks out, "Sawiris Tweeted.
Mohamed Elhady, who runs a family-owned bakery at Menoufia Governorate, 80 km north Cairo, is deeply concerned about the business he has been running for 20 years.
"The government-subsidised bread diminishes the bakery's profit margin since we are required to sell a loaf of bread at the government-set price. But we get the cost difference through banks after calculating the number of loaves produced by each bakery using a smart ration card system," Elhady told IPS.
"Some bakeries gather cards from ordinary residents and report fictitious sales to gain the value of subsidised bread for themselves, increasing their earnings considerably while reselling raw wheat on the informal market," he explains.
In August 2021, Egyptian President Abdel Fattah al-Sisi said it was time to increase the country's subsidised bread price, revisiting the issue for the first time since 1977, when then-president Anwar Sadat reversed a price rise in the face of riots.
"It is time for the five-piece loaf to increase in price," Sisi said.
Elhady believes that the government will turn the president's words into action soon, expecting that the new increase in subsidised bread will take place by April, the anticipated time for receiving wheat from the new suppliers. This will decrease daily production rates and, therefore, his profits.
"Once the wheat prices increase, the government will reduce the number of subsidised loaves from five a day to three or increase the price of the 5-piaster loaf," Elhady says.
The president is also expected to exclude more citizens from the subsidy programme covering more than 60 million Egyptians.
"People will have to choose; to eat less or to pay more," Elhady adds.
Egypt's main state buying agency, the General Authority for Supply Commodities (GASC), has issued a second international wheat tender to import wheat from April 13 to 26. The tender was issued 48 hours after it was cancelled because it only received a single offer of French wheat. A least two offers are required before a purchase can go ahead.
The Egyptian GASC set the end of February as a deadline to receive offers for the new tender. In addition to Russia and Ukraine, the GASC sought bids from the United States, Canada, France, Bulgaria, Australia, Poland, Germany, the United Kingdom, Romania, Serbia, Hungary, Paraguay, and Kazakhstan. The delivery needs to take place before April 1, 2022.
Despite the ongoing Russian-Ukrainian military escalation, an Egyptian ship carrying 60 tons of Ukrainian wheat has left the Ukrainian ports and is en route to Egypt, a grain consultant at the Ministry of Supply, Salah Hamza, told IPS.
"This shipment was contracted with Ukraine for $361 per ton in an international tender in December 2021. The consignment is part of a 300 000-ton wheat shipment that will arrive by March 2022."
"Egypt produces 275 million loaves of bread per day, consumes 900,000 tonnes of wheat per month, and the strategic stock is enough for the next five months, in addition to 4 million tons expected from the domestic harvest by mid-April, "Hamza adds.
Egypt has a strategic reserve of wheat, enough to cover the local market's needs for nine months, the Cabinet's spokesman, Nader Saad said.
The strategic wheat stock is approximately five million tonnes, according to Saad, and will be augmented when the local wheat harvest season begins on April 15.
In February of this year, the price of an ardeb of wheat climbed by 65 percent compared with February of last year.
The US Foreign Agricultural Service expected Egypt's wheat consumption in 2021-22 would exceed 21.3 million tonnes, up about 2.4 % from 2020-21.
IPS UN Bureau Report