CCP-Linked Peter Daszak Has Long-Standing Relationship With "Incomparable" Dr. Fauci
CCP-Linked Peter Daszak Has Long-Standing Relationship With "Incomparable" Dr. Fauci
TruNews had explosive information about Dr. Fauci's close relationship with the Chinese Communist Party and the Wuhan laboratory through his friend,

Peter Daszak.
The National Pulse has does a series of articles which highlight the undue influence of the CCP on "factcheckers" and on publications such as the NY Times.
No wonder we are not getting the truth!
FAUCI'S FRIEND USED NIH GRANT TO WEAPONIZE COVID IN WUHAN
Today on TRUNEWS, the team looks at the connection of Dr. Fauci to the Chinese Communist Party through the shady dealings of the EcoHealth Alliance.
We also show how the mainstream media is thoroughly filled with self-confessed paid agents of China, promoting the COVID party line.
Edward Szall, Rick Wiles, Doc Burkhart. Airdate (04/09/21)
Watch the broadcast HERE
Below is material related to this.
WHO Covid-19 Investigator Peter Daszak Has Close Ties to the Chinese Communist Party – Report
By Vinod DSouza
Serving under the leadership of the World Health Organization, Covid-19 Investigator Peter Daszak is revealed to have close links with China.
Daszak held many conferences sponsored by the Chinese Communist Party and was also backed by several other Chinese entities.
The news of the CCP-backed conference comes right after the National Pulse reported it by highlighting Daszak's involvement with many other Chinese government-sponsored conferences and his promotions and retweets of Chinese state-run media outlets on his social media handles.
Daszak is also the president of the EcoHealth Alliance, which is a nonprofit non-governmental organization that supports global health and pandemic prevention.
Daszak's 'Sustaining Ecosystems, Supporting Health' event was held in October 2012, in the Chinese city of Kunming, which is around 2 hours flight from the Covid-19 hotspot Wuhan.
He had also previously served as Editor-in-Chief of EcoHealth, which is a publication associated with the Chinese conference's sponsor. The journal's website is now taken down.
However, the archived version of the website reveals Daszak had chaired two sessions of the conference and the topic of discussion was about detecting early pandemics and the conference was titled, 'USAID-Predict: Developing a global early warning system for emerging pandemics' and the other named 'OneHealth, and Emerging, Re-emerging and Resurging Infectious Diseases.'
It is reported that he also gave an in-depth presentation at the conference on "mapping global vulnerability to pandemics and an economic approach to their prevention," revealed The National Pulse.
The conference was attended by several academics from Chinese state-run universities and think-tanks that also included a former Deputy Director-General of China's Centre for Disease Control and Prevention.
One among the conference organizers was the Kunming Institute of Botany (KIB) which edits scientific encyclopedias after research to better the "construction of socialist culture with Chinese characteristics," and operates "under the direct leadership of Communist Party of China."
Several researchers from the KIB have included honors such as "Excellent Communist Party Member" on their resumes and the Chinese state-run Kunming Medical University scientific journals have included articles such as "How to cultivate socialist core values in University Freshmen" along with "Serving the people is the fundamental purpose of the Communist Party and the pursuit of value."
EXC: CCP-Linked Peter Daszak Has Long-Standing Relationship With "Incomparable" Dr. Fauci.
Natalie Winters
29 March, 2021
Peter Daszak's EcoHealth Alliance – which collaborated with the Wuhan Institute of Virology or coronavirus-related research – hosted Dr. Anthony Fauci for several speeches.
EcoHealth's Twitter account contains a picture of Daszak – whose Chinese Communist Party research and financial ties have been extensively documented by the National Pulse – smiling next to what they call the "incomparable" Dr. Fauci in 2016.
The 2016 tweet also contains the hashtag "#EHAEvent," which coincides with three other tweets from the same day referencing an event where Dr. Fauci spoke about the Zika virus. At the time, Dr. Fauci was the head of the U.S. National Institute of Allergy and Infectious Diseases (NIAID) – a title he still holds in addition to Chief Medical Advisor to President Joe Biden.
"Thanks to everyone who joined us last night in D.C. for our Zika talk, and special thanks to Dr. Fauci for a terrific presentation. Dr. Fauci demonstrated perfectly why it's so important to put more resources toward disease prevention efforts," the group's Facebook page captioned the same picture of Daszak and Dr. Fauci.
The March 30th event – 'Zika virus: A Pandemic in Progress" – counted Daszak as the primary presenter and Dr. Fauci as a special guest, according to the invitation:
The EcoHealth Alliance website also reveals the organization hosted an event – "A special free screening!" – on November 15th, 2016 that featured Dr. Fauci as a speaker.
Another link dated to 2016 containing the following picture of Dr. Fauci has been scrubbed from the EcoHealth site, prompting users with a "403 – Forbidden" message":
The unearthed relationship between Dr. Fauci, Daszak, and EcoHealth Alliance is sure to complicate the fact that the National Institutes of Health (NIH) sent millions of taxpayer dollars to fund EcoHealth's research at the Wuhan Institute of Virology. Despite criticisms prompting the NIH to withdraw federal funding from the group, the NIH reinstated a $7.5 million grant to the group in August 2020.
The type of research conducted by the group in tandem with the Wuhan Institute of Virology prompted concern among NIH officials for its role in COVID-related research, as outlined in a letter by NIH's Deputy Director for Extramural Research Dr. Michael Lauer.
Dr. Lauer announced the suspension of NIH grants to the group, which saw its studies engineer the "highly specific doorway into the human body" as COVID-19, as a response:
"It is our understanding that one of the sub-recipients of the grant funds is the Wuhan Institute of Virology ('WIV'). It is our understanding that WIV studies the interaction between corona viruses and bats. The scientific community believes that the coronavirus causing COVID-19 jumped from bats to humans likely in Wuhan where the COVID-19 pandemic began. There are now allegations that the current crisis was precipitated by the release from WIV of the coronavirus responsible for COVID-19. Given these concerns, we are pursuing suspension of WIV from participation in Federal programs."
This information has long been scrubbed from the internet but has survived in archives
It was there, in China, that Dr. Fauci made this notorious "prediction"
The ex-head of the CDC, Robert Redfield, came out with this.
Ex-CDC Director Robert Redfield believes COVID-19 came from Wuhan lab
The former director of the Centers for Disease Control and Prevention believes the virus that causes COVID-19 escaped from a lab in Wuhan, China, according to a new interview.
Robert Redfield told CNN on Friday that it was his "opinion" that SARS-CoV-2 — the new coronavirus responsible for killing 2.7 million people globally — did not evolve naturally.
"I'm of the point of view that I still think the most likely etiology of this pathology in Wuhan was from a laboratory — escaped," said Redfield, who led the CDC during the height of the pandemic. "Other people don't believe that. That's fine. Science will eventually figure it out."
https://nypost.com/2021/03/26/ex-cdc-director-believes-covid-19-came-from-wuhan-lab/
However, USA today have a consultant to the CCP to "debunk" the Wuhan laboratory theory.
W. Ian Lipkin, director of the center for infection and immunity at the Columbia University Mailman School of Public Health, said he thinks the virus jumped directly from animals to people – probably from wild animal farms, which the WHO team found operating in Wuhan.
"That seems to be the most likely and plausible explanation, particularly since we've seen so many of these viruses emerge in just this way," he said, citing Zika, West Nile and the first SARS virus.
COVID-19 is caused by a virus called SARS-CoV-2, which belongs to the coronavirus family of viruses. Research published last summer in the journal Nature suggested the virus first evolved in bats and circulated among them for decades before jumping to people, possibly after passing through another animal first.
SARS-CoV-2 also passed from humans to mink and back again during the pandemic, suggesting the virus is very transmissible between species, Lipkin added.
The WHO team examined the laboratory work of a number of researchers in Wuhan and found "no evidence at all that any of the labs in China were working on this virus prior to the outbreak," according to Peter Daszak, a team member and expert on animal-to-human diseases, who has also worked closely with one of the researchers in Wuhan.
"You can't prove a negative. You can't definitively say that wasn't going on," he said. "All you can do is look at what they were doing in that lab. What have they published from that lab. Did they have viruses that were the potential ancestor of SARS-CoV-2? Again, no evidence of that."
https://www.usatoday.com/story/news/health/2021/03/26/ex-cdc-head-robert-redfield-believes-coronavirus-escaped-chinese-lab-scientists-dubious/7013982002/
DISINFO: USA Today Quotes A Consultant To The Chinese Communist Party To 'Debunk' Wuhan Lab Theory
8 April, 2021
An expert promoted by U.S. corporate media to discredit Dr. Robert Redfield's assertion that COVID-19 "escaped" from a Chinese lab has extensive ties to the Chinese Communist Party, The National Pulse can exclusively reveal.
Dr. Ian Lipkin was quoted by outlets including CBS and USA Today as a means by which to "debunk" Dr. Redfield's explosive claim linking the virus to a Chinese lab.
"We should be moving away from finger-pointing," Lipkin told CBS after adding there is "no evidence to suggest that it was created in a lab."
While the corporate media is keen to promote Lipkin's claims – indistinguishable from the Chinese Communist Party's COVID-19 narrative – they failed to report his decades of ties to the Chinese Communist Party.
Dr. Lip Service.
In 2016, Lipkin received the International Science and Technology Cooperation Award at a ceremony in the Great Hall of the People in Beijing, presided over by Chinese Communist leader Xi Jinping.
The award is "China's top science honor for foreign scientists, and, as quoted in a Columbia University press release, Lipkin said "It solidifies my relationship with dear friends and colleagues in the Chinese Academy of Science, Ministry of Science and Technology and the Ministry of Health, and with the people of China" – all of which are wholly-owned and operated Chinese Communist Party entities.
A 2020 Columbia University press release notes "the government of China honored Ian Lipkin with a medal recognizing his profound impact on their country," adding that he "has worked closely with scientists and officials in China."
The medal, issued from several Chinese government bodies including the Central Military Commission, read "Celebrating 70th Anniversary," and commemorated the anniversary of Chinese Communist Party's takeover of the country.
A summary of his professional experience reveals he even "consults" for the Chinese Communist Party and has lectured and accepted grants from Chinese state-run scientific bodies:
He continues to consult with the Ministry of Science and Technology, the Chinese Academy of Science, and the Ministry of Health. He has also served as a consultant for a climate change program at Beijing Normal and as a visiting professor at Beijing University. Last year, the Chinese Academy of Sciences awarded funding for a collaborative project between CII and Sun Yat-Sen University in zoonotic diseases. […] Since 2003, Lipkin has presented more than 20 lectures in China, notably including the inaugurations of the Institut Pasteur de Shanghai in 2004 and the Beijing Center for Infectious Diseases two years later.
"Lipkin's academic efforts in China focus on mentoring young Chinese scientists and encouraging China-born scientists abroad to return home for positions in diagnostics and discovery at China's Centers for Disease Control, Institut Pasteur, and Wuhan Institute of Virology. He also serves as a member of the Scientific Steering Committee member of the Joint Center for Global Change Studies at Beijing Normal University," a summary adds.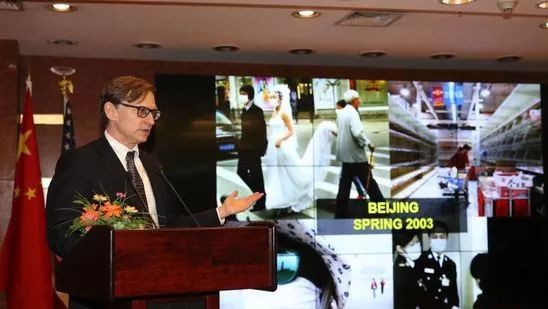 Lipkin had also appeared on several studies, including those focusing on H5N1 and hepatovirus, both funded by Chinese Communist Party research grants.
Lipkin has also given several interviews to state-run Chinese news outlets including China Global Television Network, where he insisted "I have so many friends in China, in universities, and in government that I can help people to talk to one another and work together."
"Renowned epidemiologist Walter Lipkin lauds China's transparent and professional approach against coronavirus outbreak," reads a headline from the state-run outlet Global Times.
Fauci & Daszak.
In addition to earning awards, praise, and cash from the Chinese Communist Party, Lipkin has also been praised by Dr. Anthony Fauci.
"If scientists are lucky, they'll identify one novel virus in their whole life. Lipkin really stands out from the crowd," Fauci remarked in a New York Times article. "The scientific aspects of how it unfolded were excellent, a testament to the fact that Ian Lipkin was heavily involved," praised Fauci in a separate review of a movie Lipkin consulted for.
Lipkin, bizarrely, while serving the Chinese Communist Party, also serves as the Director of the National Institute of Allergy and Infectious Diseases (NIAID) Center for Research in Diagnostics and Discovery. Dr. Fauci is the head of the NIAID, and Lipkin's department has received multiple rounds of multi-million dollar funding since 2014.
"Toward the end of the second cycle of the award, I was asked by Anthony Fauci, Harold Varmus, and Francis Collins to examine the reports of new retroviruses linked to CFS," Lipkin said in a speech.
Another conflict of interest presents itself between Lipkin and Peter Daszak, a scientist comparably compromised by the Chinese government and World Health Organization (WHO) COVID-19 investigator. At least 20 studies list Lipkin and Daszak as co-authors,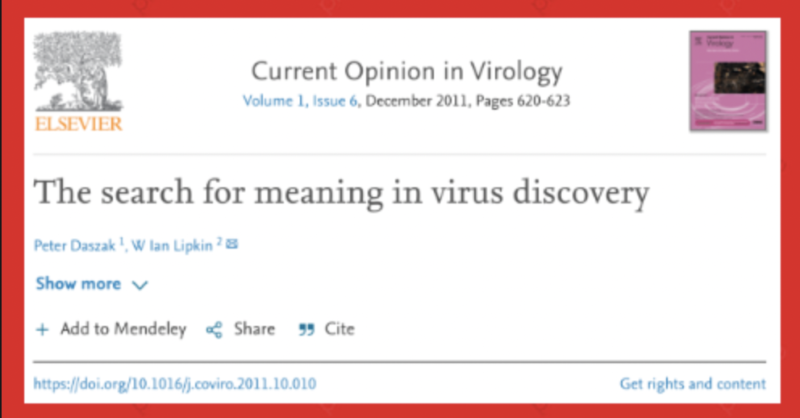 Lipkin has also worked on National Institutes of Health (NIH) and NIAID-funded research with Daszak's EcoHealth Alliance group.
"This discovery is the result of an extraordinarily productive partnership between the government of Liberia, CII, EcoHealth Alliance, and UC Davis. It builds on years of investment and methods established under the auspices of the National Institute of Allergy and Infectious Diseases in biodefense and emerging infectious diseases," Lipkin remarked concerning a joint effort to study Ebola.
EXC: New York Times Staff Admit Previously Working For Chinese Communist Party – "It Has It's Benefits."
8 April, 2021
Several New York Times staff have previously worked for the Chinese Communist Party's state-run media outlet China Daily, including the publication's current Director of Cinematography who admitted "working for the Communist Party of China."
The news comes as the New York Times breathlessly backs big corporates opposed to Georgia's new voting laws. The New York Times, however, seems less concerned with employing genocidal Chinese Communist Party apparatchiks.
Jonah Kessel – the current Director of Cinematography at The New York Times – served as the Creative Director of China Daily from July 2009 to November 2010 before departing work as a China-based photographer and cinematographer whose clients included People's Republic of China Ministry of Information.
Kessel describes himself as "redesigning" China Daily – a gig he was "psyched" for and boasted about how publications such as The Economist hyped his redesign.
While working for China Daily, Kessel tweeted several times about he was "working for" and "getting paid" by the Chinese Communist Party.
"Sometimes working for the PRC has its benefits :)," he tweeted in July 2010.
And in November 2009 he tweeted "you know you work for the PRC when the first word that comes to your mind when asked to describe your work place is 'harmonious.'
Kessel also praised China's "National Day" holiday, which commemorates the Chinese Communist Party takeover of the country, as "VERY COOL."
And even after departing China Daily, Kessel admits to still "working for the Communist Party of China" while serving as the Creative Director for his personal cinematography business.
Diarmuid McDermott, a current Staff Editor and Designer at The New York Times, previously held the same positions at China Daily.
From 2012 to 2020, he worked on the state-run outlet's "Asia Weekly" publication, a role which he describes on his resume as involving "Copy editing; Rewriting raw copy; Designing layout and graphics; Sourcing news stories and pictures; Developing and maintaining a web presence across multiple platforms; Outputting pages for printers across the region."
His personal website also promotes his work for China Daily.
Another New York Times reporter, Alex Marshall, served as a China Daily editor from 2003 to 2004 according to his LinkedIn profile. Marshall, who covers culture, has described himself as a "China apologist" and praised speeches by Xi Jinping on Twitter.
Marshall has also tweeted about how it's "nice to see Communist ideals invoked" by the government.
The New York Times is one of several Western news organizations that takes part in a "Marxist journalism school" in collaboration with the Chinese Communist Party.
The New York Times has previously expressed sympathy for Adolf Hitler, as well as being owned by a pro-slavery family. The paper has never apologized for these historical positions.