CCP Using Political Correctness as a New Era Trojan Horse Against America
CCP Using Political Correctness as a New Era Trojan Horse Against America
The Voice of Dr. Yan
w/ Edward Haugland
• Based on our sources, over thousands of CCP agents are supposed to enter 🇺🇸across southern border for operations.
• CCP regime shapes political correctness using strategic deception & propaganda, as a new era Trojan horse to undermine…

— Dr. Li-Meng YAN (@DrLiMengYAN1) May 8, 2023
Thousands of Chinese Illegal Migrants Cross Darien Gap and US Border in the Last Six Months
As documented by U.S. Customs and Border Protection, at least 6500 Chinese have entered the US across the southern border in the last six months, which reached a more than 15-fold increase over the same period a year ago. To explain the unusual phenomenon, BBC, Reuters, VOA, and many other media outlets have widely reported the stories of Chinese illegal immigrants since the end of last year. According to these news outlets, those immigrants escaped from Communist China because of the strict zero-COVID policies and the economic downturn. More importantly, the interviewees always told that they were persecuted in China for anti-CCP activities.
>  BBC: Fleeing China's Covid lockdowns for the US – through a Central American jungle
However, real-time reports by many brave investigative journalists from the Darien Gap, the most dangerous area in the middle of the illegal immigration path through Latin America, are more disturbing. In one video, hundreds of military-age Chinese men are heading to the US.
>  Fox News: Video shows hundreds of military-age Chinese men headed towards US
In another report, a suspicious Chinese young man threatened the journalists after he claimed himself a spy.
>  Michael Yon: Chinese infiltrator threatens Masako Ganaha, and me
Numerous advertisements and articles encouraging illegal immigration are everywhere in Chinese-language media and social media.
More Chinese video: HOW TO INVADE AMERICA — including how to pass through Darien Gap and scale the Trump Border Wall. I been to some of the exact places in this video many times. PLEASE SHARE…follow my twitter page. LOT more coming. Deadly here.@jordanbpeterson… pic.twitter.com/FOzWo5CHW1

— Michael Yon (@Michael_Yon) April 28, 2023
If the CCP government doesn't support illegal immigration, such information won't spread or survive in the Chinese world. Meanwhile, the latest report by Safeguard Defender demonstrates that CCP has been widening the legal landscape for imposing exit bans to prevent dissidents or "unstable factors for the CCP regime" from leaving China. It means that it's almost impossible for the real anti-CCP Chinese people, especially those who have been recorded by the CCP, to run out of China.
>  New Report: Trapped – China's Expanding Use of Exit Bans
My guest on this episode, Edward Haugland, has asked seriously in his recent broadcast: What if there are 300 CCP agents among the illegal migrants to sabotage the US? While based on our sources, thousands of CCP agents are supposed to blend in with the Chinese migrants to enter the US for operations.
During the COVID-19 pandemic, "anti-Asian racism" was abused by the CCP, from silencing whistleblowers like me to suppressing the thorough investigation of COVID-19 origin. Given the beautiful stories in the propaganda on MSM, it would be more difficult for Americans to distinguish the CCP agents from the illegal migrants who risked their lives to pursue human rights and freedom.
CCP regime shapes political correctness using strategic deception and propaganda, as a new era Trojan horse to undermine the US national security.
Edward Haugland has advocated the reformation of US intelligence operations from a reactive to a proactive posture against the cognitive war, which requires using the information in a totally different manner. "A critical place to start and enable proactive influence and predictive analysis is with the use of public and private information," Edward wrote. It's urgent for the intelligence community to keep abreast of the time, and adopt effective policies against CCP's Trojan horse.
>  Future Military Intelligence: CONOPS and S&T Investment Roadmap 2035-2050 (The Cognitive War)
Supplement: An example of an advertisement for Chinese illegal immigration on Twitter (discussed in the broadcast).
Edward Haugland is a retired federal Senior Executive and US Air Force veteran. His over four decades of service include serving as a senior leader in the Intelligence Community and the Department of Defense, Homeland Security, Energy, and State. He's served as the senior advisor to several IC agency heads, the Assistant Inspector General for Inspections for the Intelligence Community, the Chairman of CIA's strategic planning, a Deputy team lead for the INF On-site nuclear arms inspections in the former Soviet Union, and as award-winning CIA intelligence analyst. He is currently an independent consultant focusing on cognitive warfare. He is also a regular host on The National Security Hour on the American Out Loud Talk Radio Network.
https://michaelyon.locals.com/upost/3899539/chinese-infiltrator-threatens-masako-ganaha-and-me
Chinese infiltrator threatens Masako Ganaha, and me
24 April 2023
Panama, Central America
Mind dump, sans edit.
One Chinese, who claims is name is Lushan Zhao, came through late at night from the Darien Gap jungle on 13 April 2023. We found him walking up Highway 1 in direction of United States. Zhao apparently reads my twitter — he's been sending threats from Mexico. On his way to United States.
We talked with Zhao for about 90 minutes in Darien Province, Panama as he passed through here on 13 April 2023.
Zhao said he was deported once by Americans after buying boat in Bahamas and trying to make it to Florida a few weeks ago. Zhao said he ran out of fuel and was drifting until US Coast Guard found him and sent him to Bahamas. Bahamas was extraditing him to China.
[CORRECTION — ChiNinja said he got the boat from Bahamas, NOT Bermuda. I mistakenly wrote Bermuda instead of Bahamas. 
Now corrected. I have had some fever since leaving Darien and made this error. My deepest apologies.)During layover from Bahamas in Cuba, Zhao said he changed flight to Quito. Took a bus from Ecuador to Necocli, Colombia, and after he made it through Darien Gap we intercepted him on Highway 1 at night just as he emerged from Darien Gap. Very tired, hungry, itching, irritable, angry.
Zhao was threatening toward Masako. I told Masako Ganaha to be prepared to run. Zhao would later say he carried a shank. Zhao seemed very dangerous. Zhao said he was a spy.
Now Zhao said he was lying about being a spy. (After seeing his face on US sites). So what it is? Spy, lying, or both? Now Zhao texts with naked threats to me as he tries to make it to USA.
Well, Zhao — you must know that your face is in US databases. Threatening Americans while trying to infiltrate America while claiming to be a spy puts a damper on our relationship, but in reality you likely will be welcomed in.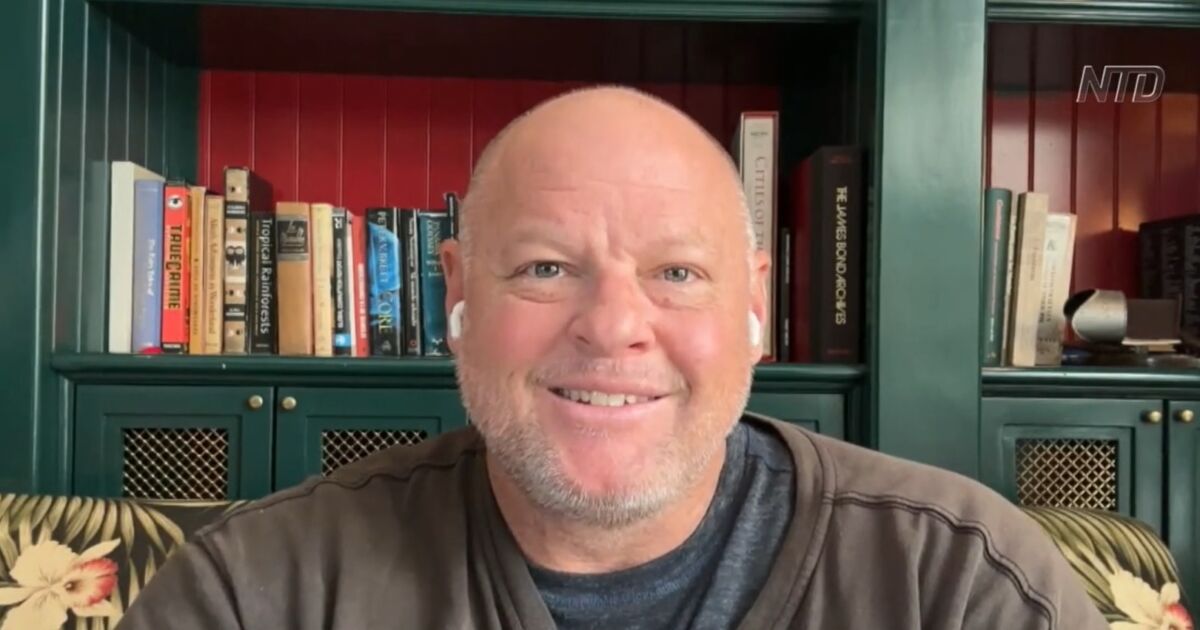 WWW.NTD.COM
War correspondent and author Michael Yon just emerged from the Darien Gap, the jungle between Colombia and Panama. It's a treacherous pass through which migrants journey to reach America. Yon tells NTD that some of the Chinese individuals moving through this region are actually heading to the United States to be spies. He cites their apparent age, physical build, particular accent that's usually learned in Chinese military language school, and unusually deep pockets for people migrating to support his claim.