CDC Director Walensky Flip-Flops On PCR Testing Guidance
CDC Director Walensky Flip-Flops On PCR Testing Guidance
CDC Director Rochelle Walensky appeared to majorly waffle on her agency's controversial guidance to eliminate PCR testing at the end of Covid-19 isolation because the tests can remain positive for up to 12 weeks, long after a person is no longer contagious.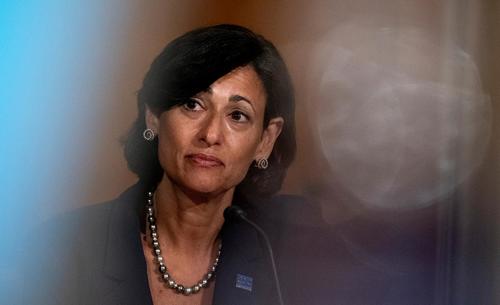 5 January, 2022
"The big CDC news," said Late Show host Stephen Colbert, is that "y'all have now gone from recommending a 10-day isolation to a five-day isolation. Why the change?"
To which Walensky replied that "probably about 80 to 90 percent of your transmissibility has happened in those first five days," right before and after symptoms appear, "and we really want people to be sure if they're gonna be home, they're going to be home for the right period of time, when they're maximally transmissible."
Colbert then hinted at discord within the Biden administration after Dr. Anthony Fauci suggested the CDC guidance may shift yet again.
"In the UK they went from ten to seven days, but they are also recommending a negative test before considering yourself out of quarantine. Are we going to do that here? Because Dr. Fauci on CNN and ABC suggested that that's under consideration. Is he talkin' out both sides of his mouth over there, and you guys are telling him 'put a cork in it, Tony!'"
Walensky's answer, while confusing, appeared to contradict her agency's new guidelines.
"Deepest respect for Dr. Fauci," Walensky replied. "Obviously, yes. Really important question. The FDA has authorized these tests, and they're terrific tests for what they're authorized for. So the FDA has authorized them for diagnosis, and what they said about these tests is they are best for diagnosis earlier in the disease course.
"Are these the rapid antigen test?" asked Colbert.
"Yes. So if you have access to a test. And you want to do a test at day five. And your symptoms are gone and you're feeling well, then go ahead and do that test. But here's how I would interpret that test. If it's positive, stay home for another five days. If it's negative, I would stay you still really need to wear a mask. You still may have some transmissibility ahead of you. You still should try not to visit grandma. You shouldn't get on an airplane. You should still be pretty careful when you're with other people – by wearing a mask all the time. "
This entire response completely ignores the CDC's justification for eliminating the tests – namely the potential 12 week positive result despite no ability to transmit to others.
Watch:
Update (1605ET): After a week of America's top health officials talking across each other, CDC Director Rochelle Walensky stated on Wednesday that the agency won't change the definition of "fully vaccinated" to include a Covid-19 booster shot – once again 'clarifying' for comments made by Dr. Anthony Fauci (see below), who suggested on Tuesday the the language was being replaced.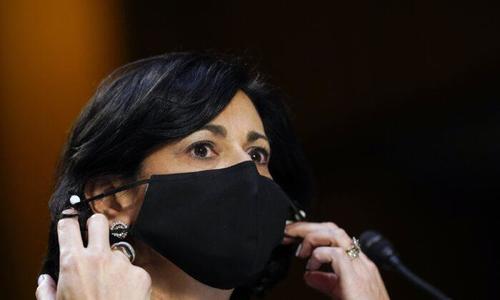 So while the definition of fully vaccinated will continue to mean one has received their primary course of vaccines, the CDC will start pushing the term "up to date," to encourage people to get boosted.
White House Covid-19 response coordinator Jeff Zients elaborated, saying "Someone is considered fully vaccinated if they have received their primary series of vaccines, so if you think about the different requirements that you mentioned, travel, [Occupational Safety and Health Administration], [and Centers for Medicaid & Medicare] rules and other examples, that has not changed and we do not have any plans to change that."
More from Jack Phillips via The Epoch Times:
Inside the United States, a growing number of businesses and organizations—namely universities—have begun to mandate boosters as a condition for employment or for entering buildings.
Among those businesses, Shake Shack founder Danny Meyer, who is the CEO of the Union Square Hospitality Group, said on Dec. 22 that starting "immediately," several of his businesses "are going to be requiring that 100 percent of our staff members have a booster within 30 days of their eligibility."
Already in Israel, individuals have to show proof they've received a booster dose, or a third shot, of the Pfizer vaccine in order to enter certain businesses including gyms and restaurants. No cities or municipalities in the United States have issued similar mandates yet, although New York City Mayor Eric Adams, a Democrat, said he is weighing COVID-19 boosters for city employees.
"If we feel we have to get to the place of making that mandatory, we're willing to do that, but we're encouraging them to do that now," Adams told ABC News. "If we close down our city, it is as dangerous as COVID," Adams added. "That's what our focus must be. So that proper balance of safety [and] keeping our economy operated is going to allow us to get through."
*  *  *
A few weeks ago, Dr. Anthony Fauci hinted that the federal government would soon change its definition of "fully vaccinated" to include not just the two original shots but at least one booster dose as well.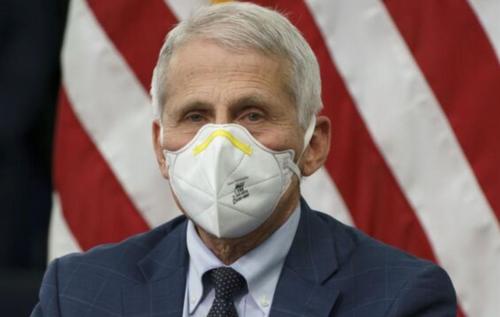 But in the latest indication that Dr. Fauci has succeeded in pushing this scheme, the good doctor said Tuesday during a lecture at the National Institutes of Health that new terminology would be used in place of the "fully vaccinated" language. Instead of referring to somebody as "fully vaccinated", they will be referred to as having their vaccinations "up to date" to reflect the notion that they have gotten their booster shots.
"We're using the terminology now 'keeping your vaccinations up to date,' rather than what 'fully vaccinated' means," Fauci said during a National Institutes of Health lecture Tuesday.

"Right now, optimal protection is with a third shot of an mRNA or a second shot of a J&J."
This follows a decision by the CDC on Tuesday to shorten the time frame for Pfizer-BioNTech's COVID booster jab, which can now be administered within five months of the initial two-shot series, instead of six. Meanwhile, a CDC advisory panel is expected to recommend boosters for teenagers during a meeting on Wednesday.
According to certain research studies, Pfizer's vaccine provides a 25x increase in neutralizing antibodies that fight the variant while Moderna's booster produces a 37x increase in antibodies. Meanwhile, two doses of Johnson & Johnson's vaccine cut hospitalizations in South Africa by 85%.
"We are continuing to follow that science and it is literally evolving daily. And as that science evolves, we will continue to review the data and update our recommendations as necessary," CDC Director Rochelle Walensky said at a White House briefing Dec. 15.
Dr. Fauci made his remark about the new terminology for people who have had all their shots in response to a question about Israel's plans to dole out a fourth shot.
"We need to find out what the durability of protection of the third shot is before we start thinking about the fourth shot," Dr. Fauci replied.
The only question now is how much longer until the US green lights a fourth shot (and then a fifth, and then a sixth) much like Israel is doing…