"Cease Fire?" Apparently Not! Israeli Police Storm AL-Aqsa Mosque AGAIN Friday. STUN GRENADES AGAIN!
"Cease Fire?" Apparently Not! Israeli Police Storm AL-Aqsa Mosque AGAIN Friday. STUN GRENADES AGAIN!
That is the exact same provocation that started all this off – WITHIN HOURS of a "ceasefire"
Meanwhile Beijing Joe wants to use the lull in fighting to replenish Israel's iron dome.
For the videos go to the original item 
21 May, 2021
The "cease-fire" announced yesterday (at 7:00 PM Eastern US Time) between Israel and the Hamas group running the West Bank appears to be short-lived. Israeli police stormed the Al-Aqsa Mosque on the Temple Mount AGAIN today. Video Below.
The fighting which went on for about ten days between Hamas and Israel was supposed to enter a CEASE FIRE yesterday.   According to negotiators, Israel agreed to suspend evictions of Arabs from the Sheik Jarrah quarter, and to leave worshippers at the Al-Aqsa Mosque, to worship in peace.
Stunningly, video below shows Israeli police storming worshipers at the Al-Aqsa Mosque on the Temple Mount again Friday, 21 May 2021 despite Israel having agreed not to do such things anymore as a condition of a cease-fire.
First, the cops CHARGE:
Then they use STUN GRENADES:
There are reports of multiple injuries among worshippers in the courtyard.
How long does anyone think Hamas will continue to refrain from fighting if this is what has resumed just hours into a cease fire?
From earlier, if you have missed the news
Israel Announces Truce In Gaza – Will Take Effect Overnight
Update(6:00pm): Sleepy Joe takes a victory lap… The president is expected to speak late afternoon on the ceasefire in Gaza. Live Feed:
In the meantime, it bears repeating that…
* * *
* * *
It appears the persistent rumors over the past two days that an Israel-Hamas ceasefire over Gaza is imminent will now become a reality as Israel's Ynet news is reporting that Israel's security cabinet has formally approved a truce in Gaza. One Israeli official was cited in Ynet as saying the truce agreement was based on "quiet in exchange for quiet".
Netanyahu had called the urgent meeting of his security cabinet for 7pm Jerusalem time, and it came a day after President Biden phoned the Israeli leader to urge "de-escalation" and to set in motion a path toward ceasefire.
Initially on Wednesday Netanyahu had appeared to rebuff Biden's proposal, saying the military would seen all necessary operations in Gaza through to the end.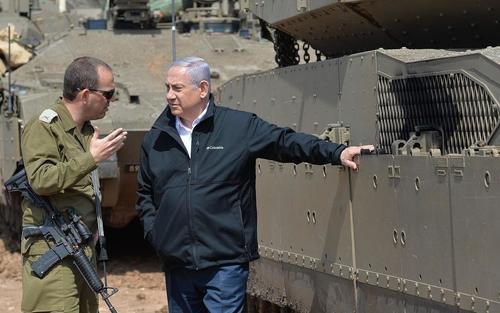 A Hamas official has also been cited in international press wires as confirming a "mutual and simultaneous" truce with Israel to begin at 2 AM on Friday.
Over the last 24 hours, however, the fighting appeared to intensify, with over 230 Gazans killed in airstrikes since fighting began a week-and-a-half ago, and with some one-third of these casualties children.
It will bring to an end eleven full days of fighting – the worst outbreak of war between the two sides wince the 2014 war in Gaza.
In prior ceasefire scenarios where a specific time is agreed upon, rockets have continued to be launched from Gaza into the hours and minutes just before it takes effect.
Also expect further airstrikes from Israel. Tel Aviv announced the ceasefire plan shortly after 10pm local time, leaving hours to go until it formally takes effect.
In the wake of the announcement there are widespread reports that rocket fire has resumed toward Israeli communities near the border north of the Gaza Strip.
developing…
MEMBER OF PAKISTAN NATIONAL ASSEMBLY CALLS FOR NUKE ATTACK AGAINST ISRAEL 
https://halturnerradioshow.com/index.php/en/news-page/world/member-of-pakistan-national-assembly-calls-for-nuke-attack-against-israel
Member of the Pakistan National Assembly, Maulana Chitrali, says jihad against Israel is the only option for Pakistan.
On the floor of the Pakistan legislature, he said bluntly today "We made atom bomb to showcase it in the museum? We don't need missiles, atomic bombs or a huge army if they can't be used to liberate Palestine and Kashmir."
So now we have elected Legislators, of nuclear-armed countries, calling for their weapons to be unleashed upon Israel.
Perhaps the Israelis went too far using stun grenades and tear gas in the Al-Aqsa Mosque?  It's starting to look like all 1.5 Billion Muslims worldwide are turning their attention  to this trouble.
VIDEO
Reports: Complete and Total "Blackout" in Jordan
Reports are starting to filter-in claiming the entire nation of Jordan has been "blacked-out."  They claim there is no electricity, no telephones, no internet, and no cellular systems  in the entire country!
The information is being transmitted by a very few people with Satellite phones.
No word on what's going on or why.
Developing. . . .