China halts high-level military dialogue with US, suspends other cooperation
China halts high-level military dialogue with US, suspends other cooperation
China says it is canceling or suspending dialogue with the US on issues from climate change to military relations and anti-drug efforts.
Dialogue between area commanders and defense department heads is also canceled, along with talks on military maritime safety.
Cooperation on returning illegal immigrants, criminal investigations, transnational crime, illegal drugs and climate change are also  suspended.
The measures announced Friday are the latest in a promised series of steps intended to punish Washington for allowing the visit by Speaker of the House, Nancy Pelosi, to the island it claims as its own territory to be annexed by force if necessary.
China is holding threatening military exercises in seven zones off Taiwan's coasts.
On day two of China's military drills, the PLA fired missiles over Taiwan with some projectiles landing in Japan's exclusive economic zone. How is Taiwan responding to these provocations? Palki Sharma tells you.
From Singaporean media
The ongoing military drills around Taiwan are aimed at rehearsing a possible future invasion of the self-ruled island, Chinese military observers and state media have said.
The drills, which have for the first time involved firing ballistic missiles directly over the island, are also a thinly veiled threat against those pushing for formal independence of Taiwan.
Beijing declared four days of military drills, beginning on Thursday (Aug 4), after US House Speaker Nancy Pelosi visited Taiwan this week.
The UK Daily Mail
Five high-powered missiles fired from the mainland flew over Taiwan yesterday
The test-firing by Beijing has triggered widespread international condemnation
It raised fears that a further miscalculation by China could spark war
Oh, how nice of them!
The US delayed the test launch of an Air Force Minuteman III intercontinental ballistic missile (ICBM) following US House Speaker Nancy Pelosi's visit to Taiwan earlier this week, which triggered Beijing to conduct war drills around the self-ruled island on Thursday. 
WSJ said US officials were planning to launch the ICBM from Vandenberg Air Force Base in California but have delayed the launch to avoid escalating tensions with Beijing. 
"This is a long-planned test, but it is being postponed to remove any misunderstandings given the PRC's [People's Republic of China] actions around Taiwan," a defense official told WSJ.
Minuteman III tests are conducted a few times a year to evaluate the reliability of the ICBM. The last delay was in March when the Pentagon halted an ICBM test flight to avoid escalating tensions with Moscow during the beginning weeks of the Ukraine invasion.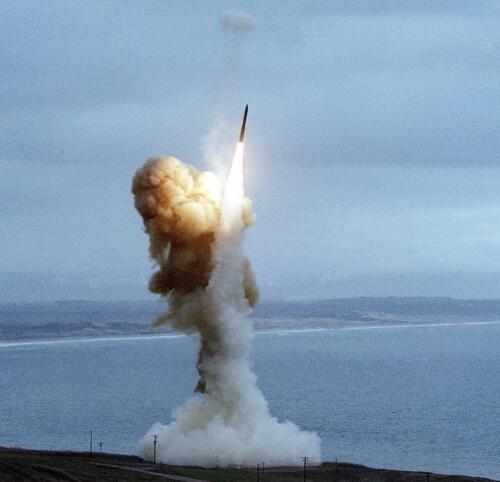 As we noted earlier, China kicked off a new round of war drills Thursday aimed at encircling and pressuring Taiwan in the wake of Pelosi's visit. 
Meanwhile, the US also has serious military assets near Taiwan, including the USS Ronald Reagan carrier group…
While Beijing and Washington are on edge with military assets positioned in the Pacific, the Biden administration has had a change of heart about angering China with Pelosi's trip to now de-escalate the situation
In the latest significant sign of fast deteriorating Japan-China relations, China's foreign ministry announced Thursday that its top diplomat will no longer meet with his Japanese counterpart, which was expected in a scheduled meeting today on the sidelines of the ASEAN summit in Cambodia.
Beijing's last-minute cancelation and diplomatic rebuke is in retaliation for Japan participating in a G-7 joint statement released the day prior condemning China's response to Nancy Pelosi's visit to Taiwan Tuesday into Wednesday. Foreign Minister Wang Yi's expected meeting with Japan FM Yoshimasa Hayashi was called off during a foreign ministry press conference. Crucially, Wang is also now refusing to meet with Antony Blinken.
"We are concerned by recent and announced threatening actions by the People's Republic of China (PRC), particularly live-fire exercises and economic coercion, which risk unnecessary escalation," the G-7 communique stated.
Beijing reacted angrily, underscoring that it was Pelosi's trip that violated China's "sovereignty" and the status quote One China principle.
Making matters worse on Thursday, missiles launched over and toward Taiwan as part of the PLA's show of force and muscle flexing landed inside Japanese exclusive economic zone (EEZ) for the first time, according to Japan's defense ministry.
According to details of the incident, "all five of the missiles that landed within Japan's EEZ — which extends 200 nautical miles (370 kilometers) from Japan's coast — had fallen into waters southwest of Hateruma Island in Okinawa Prefecture," Japan Times writes.
And further, "In Okinawa Prefecture, Yonaguni Island — located just 110 kilometers from Taiwan — as well and Miyako Island, are home to Ground Self-Defense Force bases, while construction is currently underway on another base for surface-to-air and surface-to-ship missile units on Ishigaki Island.
Defense Minister Nobuo Kishi told a news briefing, "This is a grave issue that concerns our country's national security and people's safety."
On Aug. 4, Japan's Ministry of Defense announced that China had launched nine ballistic missiles into the waters surrounding Japan and Taiwan. Five of them landed in Japan's EEZ. pic.twitter.com/cCyCGAPFbo

— Japan Embassy Defense Section DC (@JapanEmbDCDef) August 4, 2022
Tokyo's leadership, like much of the West, has long been worried that any mainland China move on self-ruled Taiwan would set off an emergency across Japanese industries, given Taiwan is a prime semi-conductor maker and supplier, also as crucial shipping lanes off Japan would be blocked in such a scenario.
In response to China's sanctioning US House Speaker Nancy Pelosi overnight, the White House has summoned China's ambassador to the US, Qin Gang, on Friday morning to complain about Beijing's "provocative actions" – also of course the massive PLA military drills which are ongoing around Taiwan.
Taiwan's defense ministry has said the drills are an attempt at blockading the island, following Pelosi's overnight trip earlier this week which infuriated China, also on Friday leading it to cancel a series of US-China bilateral talks, including military ties and dialogue.
"After China's actions overnight, we summoned Ambassador Qin Gang to the White House to démarche him about the PRC's provocative actions," White House national security spokesman John Kirby confirmed to the The Washington Post.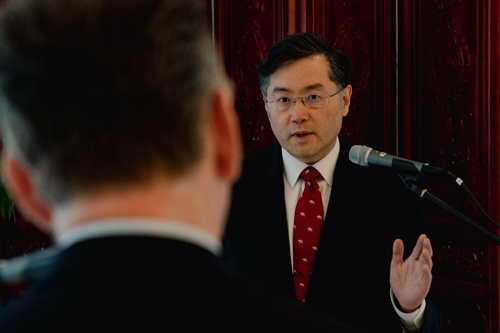 The Chinese ambassador was officially informed that the Biden administration "condemned" the ongoing military drills, which have also seen dozens of military jets breach the so-called median line which separates the Taiwan Strait. Chinese state media earlier this week said it has effectively "ceased to exist". 
Despite Beijing's protestations to the contrary, which has also highlighted months of US weapons transfers to the self-ruled island, Kirby also emphasized in his latest statements that "nothing has changed about our one-China policy" and that the US stands ready to respond to threats from China.
"We will not seek and do not want a crisis," Kirby said in the fresh statements. "At the same time, we will not be deterred from operating in the seas and skies of the Western Pacific, consistent with international law, as we have for decades — supporting Taiwan and defending a free and open Indo-Pacific."
Beijing for its part, in unveiling the personal sanctions targeting Nancy Pelosi (which however according to many reports remain "undefined" and unspecified – though without doubt it includes a travel ban to China), said further it will "definitely take all necessary measures to resolutely safeguard its sovereignty and territorial integrity in response to the U.S. Speaker's visit."
According to a Bloomberg report from earlier this week, Pelosi's Taiwan visit was not backed by the White House, but instead left the administration in a desperate scramble to salvage the diplomatic pieces with China. "But behind the scenes, officials in President Joe Biden's administration were fuming at her insistence on using the trip as a capstone for her career at a moment of highly delicate relations with Beijing," the report reads.
This is an expected move as China summoned the US ambassador over Pelosi's trip. China reacted similarly in 2010-11 when it disapproved of US policy towards Tibet, and the US summoned the Chinese ambassador after the COVID-19 pandemic https://t.co/bqje6aX95u

— Samuel Ramani (@SamRamani2) August 5, 2022
The White House sent national security briefers to warn her of all that could go wrong with such a trip, but were unable to alter her plans. Officially, the White House told the public that Congressional members "make their own decisions". But behind the scenes, according to Bloomberg, it was an administration in full crisis mode: "When it became clear that Pelosi could not be swayed, the administration instead planned for contingencies, setting up a scramble to ensure communication channels with Beijing were functioning and any fallout could be minimized," Bloomberg revealed.
According to more behind-the-scenes details of the lead-up to the controversial trip, White House efforts at preemptively defusing tensions with China "included meetings between US officials and their counterparts at the Chinese embassy in Washington, people familiar with the matter said. They were granted anonymity to discuss the private deliberations."
"But even as they tried to convince Pelosi's team that now was not the right time to go, administration officials knew they had to plan for the possibility that she would do so and gird for any Chinese response," the report noted.
Also interesting is that the full itinerary and planned Taiwan stop had been kept even from lawmakers accompanying Pelosi on her Asia tour down to the last minute. And then there's this astounding section from the Bloomberg reporting:
The more the administration tried to weigh in behind the scenes, the more Pelosi dug in.

At one point, her team suggested she might consider delaying the trip if the president publicly asked her to. Biden advisers didn't believe that was a good idea, not least because they were unsure that she would comply, people familiar with the exchange said.

After days of treating the travel plans as a hypothetical, on Monday, White House officials changed their tone. Before Pelosi landed in the region, Kirby warned Beijing not to overreact to a potential Taiwan stop or use it as a pretext to increase tensions.
Indeed, Kirby has since condemned what he called on Thursday a China 'overreaction'. Pelosi while in Japan on the last stop of the trip said that Beijing used her visit as an "excuse" to conduct threatening exercises to pressure Taiwan. 
China's foreign ministry has said all along that the White House could have stopped the Pelosi trip if it wanted to, but chose to allow it to happen.