China in Solomon Islands: Might it be the next global flashpoint for World War 3?
China in Solomon Islands: Might it be the next global flashpoint for World War 3?
China was firmly in the crosshairs of the western world prior to Russia's invasion of Ukraine. Since then it has dropped off the radar – until now. China is making moves in the Pacific and appears to think the Solomon Islands would function quite nicely as a foreign military outpost for the PLA. It would be far easier to say this is a problem if there were not over 800 American military bases in over 70 countries.
In late March, the Solomon Islands and China signed a draft security agreement that now allows China to send police, military personnel, or other security forces to the islands for the purpose of quelling unrest. In addition, China will be allowed to dock at Solomon Islands' ports and replenish supplies per a report by Nikkei Asia on March 31.
The draft agreement is still being hammered out and must later be signed by the foreign ministers in China and the Solomon Islands. However, the main provisions of this agreement will not be radically changed.
As a result of the China-Solomon Islands security agreement, China's naval power in the Pacific will be bolstered. However, this move has not occurred in a vacuum. Such a move will compel Australia and New Zealand to reassess their securities policies in the Pacific.
Australia offers a sneak preview to how China's rivals in the Pacific will respond to its maneuvers in the region. In response to China's new agreement with the Solomon Islands, Australian Defense Minister Peter Dutton announced that the country would fast-track its purchase of long-range strike missiles and its acquisition of fighter jets and warships. By acquiring new military equipment, Australia is taking steps towards confronting China as it grows in presence in the Pacific.
In the Oceania region, nations like Fiji, New Caledonia, and Vanuatu have already cooperated with China on matters of trade or military aid. These moves will further prompt Australia and New Zealand to counter with their own security measures in the region.  
China's new agreement with the Solomon Islands is no isolated incident. The Solomon Islands previously recognized the People's Republic of China as the sole legal government of China and abandoned its recognition of Taiwan in 2019.
China's agreement with the Solomon Islands is similar to one that Australia signed in 2017, which grants it the ability to deploy security forces upon the Solomon Islands' request.
Australia previously intervened in late November 2021 after the Solomon Islands government was overwhelmed by violent protests in its capital city of Honiara, which compelled it to request for assistance from Australia. Most of these protests were directed against Prime Minister Manasseh Sogavare, who many of the demonstrators wanted to step down. The protests started out peacefully but then turned violent and spilled over to Honiara's Chinatown district.
Australia and New Zealand then proceeded to send security forces to the Solomon Islands to assist the government in putting down violent protests, which largely targeted Chinese business entities. Heightened security cooperation between China and the Solomon Islands goes beyond friendly gestures. In certain respects, such agreements could potentially allow for a pro-China government in Honiara to clamp down on potential "color revolution" attempts by the West.
The Solomon Islands leadership insisted that its new deal with China forms part of its "friends to all, enemies to none" policy. However, a report by Rodger Baker of Stratfor noted that this draft has ruffled the feathers of member nations of the Pacific Island Forum. This inter-governmental organization is made up of countries such as Australia, Cook Islands, Fiji, French Polynesia, New Caledonia, New Zealand, Niue, Papua New Guinea, Samoa, Solomon Islands, Tonga, Tuvalu, and Vanuatu. The Pacific Island Forum countries most concerned by these recent developments are Australia and New Zealand.
While Australia is a country of over 25 million people, it views itself as an important actor in the Indo-Pacific region. As a member of the Quadrilateral Security Dialogue (QUAD), Australia will play a significant role in forming a balancing coalition against China. Australia has already joined the AUKUS trilateral security pact with the United States and the United Kingdom, in which it will receive nuclear-powered submarines.
The latest controversy surrounding China's agreement with the Solomon Islands portends a protracted geopolitical struggle in the Indo-Pacific region.
China views itself as a great power with strong ambitions throughout the Pacific. In many respects, China wants to establish its own Monroe Doctrine and expel foreign actors in its backyard. One way it will do so is by bolstering defense and diplomatic ties with countries throughout the Pacific.
Over the last century, US grand strategy has been to prevent the emergence of a regional hegemon in Europe, the Middle East, and East Asia. With no threats of a hegemon emerging in Europe or the Middle East, the US will be heading towards East Asia to check China's rise. 
Australia has been a long-standing ally of the US. It has had over 100 years of mateship (friendship) and 75 years of diplomatic relations with the US. This makes Australia a logical partner in assembling a balancing coalition against China in the Indo-Pacific. As China's foreign policy grows more muscular in the Indo-Pacific, Australia's security cooperation with the US and its allies in the QUAD and AUKUS will intensify.
Once the pivot to Asia is fully realized, a whole new set of conflicts will emerge in the Indo-Pacific as the US and China engage in heated bouts of security competition. Australia will figure prominently in China and the US's struggle for hegemony in the Pacific.
Here is an article from Australian media
If China builds a naval base in the Solomon Islands there's a very grim prediction for how it could play out for Australia.
What will life be like with a Chinese naval base as Australia's new neighbour?
That's the question every Australian should be asking themselves today in the wake of China's new security pact with the Solomon Islands.
The very same question that Canberra is not asking during its fantastical election campaign.
There are three dimensions to the answer: regional, national and global.
First, over time, all South Pacific islands will need to reconsider their international allegiances. Some may witness opportunistic coups that are backed by China. Or, at least, passively sponsored revolutions that come about in pursuit of Chinese riches by local elites.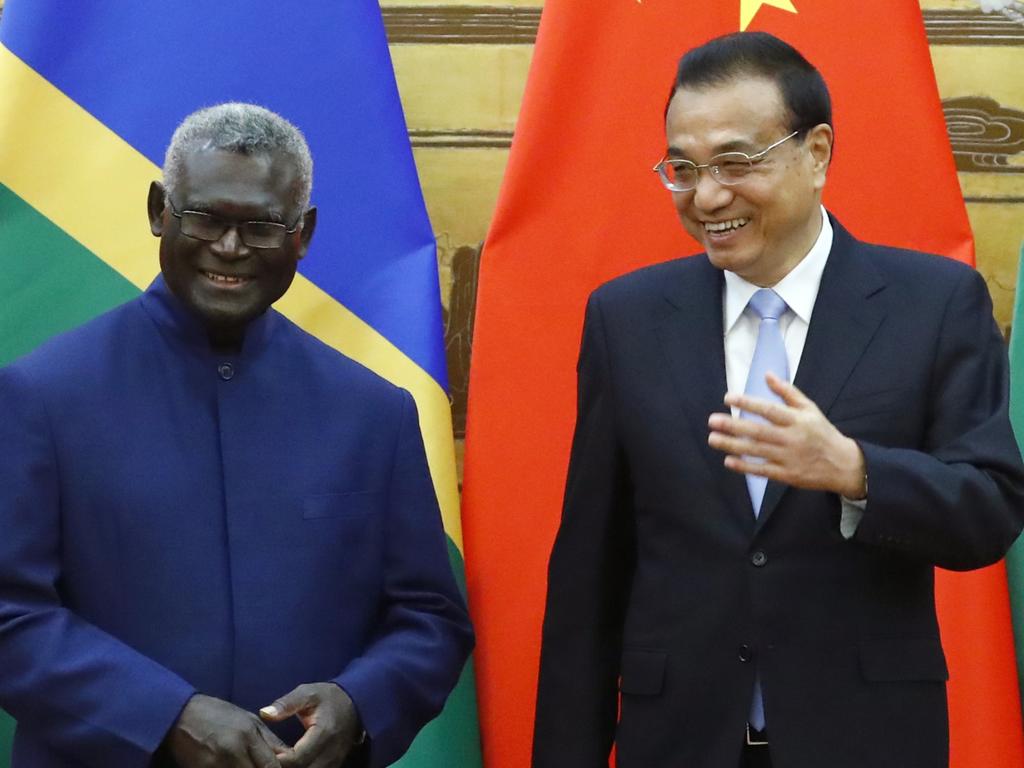 Solomon Islands Prime Minister Manasseh Sogavare and Chinese Premier Li Keqiang attend a signing ceremony at the Great Hall of the People on October 9, 2019 in Beijing, China. Picture: Thomas Peter-Pool/Getty Images
That might develop into more bases, given that's what China is after. If left unchecked, the "Pacific family" will slowly transform into micro-Chinese satraps, just as they are currently a bit like US democratic cargo cults.
As China slowly builds its South Pacific military presence, Beijing will become commensurately more bullying to Canberra, which brings us to the domestic implications.
Canberra will try to resist China's gunboat diplomacy but the cut lines of geostrategic connection to Washington will force it to hedge as well. The same with Wellington.
An analysis
Small and isolated in the southern Pacific, the Solomon Islands, with its population of less than a million inhabitants is not a typical example of a nation at the centre of major geopolitical rivalries. Yet as the new, expansive and outward-looking China seeks to extend its influence globally, the Solomon Islands is becoming a battleground between new and historical powers. 
A History of Division
Since the age of European colonisation, the Solomon Islands have become used to competing geopolitical influences. In the 19th Century, it was the German and British Empire that split the islands, the British establishing a southern protectorate, whilst the northern islands became colonies of the Germans. In World War One, the northern islands were occupied by Australia at the behest of the British, before becoming under Canberra's administration in the peace settlement. It took less than twenty years for the islands to again become a geopolitical battleground, with the islands witnessing intense and brutal battles between Japanese and allied forces. In the post-war era, the islands achieved their independence, but still remained politically aligned to their former overlords. Now, in the 21st Century, it is Beijing that seeks to draw the Solomon's away from western alignment.
'They couldn't come into our internal waters': Ardern responds to Aukus submarine deal
New Zealand prime minister Jacinda Ardern says her country was 'not approached' to be part of a new security pact between Australia, the UK and US. 'Nor would I expect us to be,' she adds. 'The anchor of this arrangement are nuclear-powered submarines and it will be very clear to all New Zealanders and to Australia why New Zealand would not wish to be a part of that project.' Since the mid-1980s, New Zealand has had a strict policy keeping its territorial sea, land and airspace as nuclear-free zones 
Here is an official Chinese response
Illustration: Liu Rui/GT
US' blatant threat to the security cooperation between China and the Solomon Islands once again exposed the hegemony mindset and bullying behavior of someone in the US, said Chinese Embassy in the Solomon Islands on Sunday.
The comment came after the remarks of some US senior officials who visited the Pacific island state on Friday, warning that the US will have significant concerns and respond accordingly to any steps to establish a permanent Chinese military presence in the Solomon Islands.
Both China and the Solomon Islands have reaffirmed on many occasions that the so-called establishment of Chinese military bases is fake news made up by someone with ulterior motives as the security cooperation fits within international laws and practices on basis of equality, mutual respect and non-interference in each other's domestic affairs, said the Chinese embassy.
The spokesperson of the Chinese embassy pointed out that any attempt to stir up trouble, tension and opposition in Pacific island countries doesn't conform the common interest of regional states and won't work.
"Since the establishment of diplomatic ties, China and the Solomon Islands have achieved a fruitful cooperation in many sectors which are warmly welcomed by their people," the spokesperson added.