China "Indefinitely" Suspends Economic Dialogue With Australia As Relations Continue To Deteriorate
China "Indefinitely" Suspends Economic Dialogue With Australia As Relations Continue To Deteriorate
Zero Hedge,
6 May, 2021
China on Thursday announced the "indefinite" suspension of all activity under a China-Australia Strategic Economic Dialogue amid strained relations between the two countries, its state economic planner said on Thursday.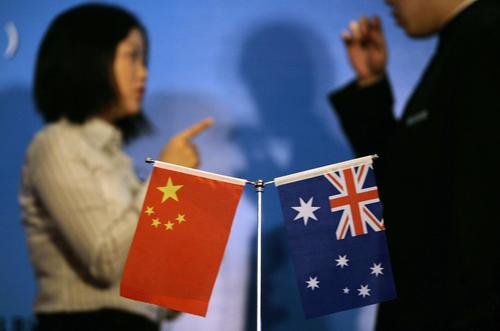 The news caused the Aussie Dollar to fall sharply, dropping as low as 0.7701 vs the US dollar vs. Wednesday's $0.7747.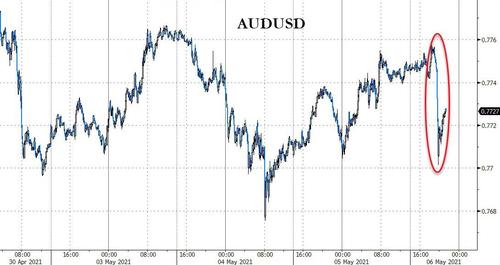 "Recently, some Australian Commonwealth Government officials launched a series of measures to disrupt the normal exchanges and cooperation between China and Australia out of Cold War mindset and ideological discrimination," said China's National Development and Reform Commission (NDRC) regarding the decision.
According to CNBC, trouble in paradise began in 2018 when Australia became the first country to publicly ban Chinese tech giant Huawei from its 5G network – citing national security grounds over companies that were "likely to be subject to extrajudicial directions from a foreign government." The move followed similar action by the Trump administration over espionage concerns.
Under Chinese law, companies must cooperate with intelligence services, according to the BBC.
Relations were further strained in 2018 after Australia officially called for an independent investigation into the origin of the COVID-19, resulting in an ongoing spat which included Beijing targeting exports, and Australia canceling two deals struck between the state of Victoria and China on its Belt and Road Initiative, causing the Chinese embassy to issue a warning over bilateral ties.
More recently, China accused Australia of giving a "free pass" to terror-sympathizers over accusations that Aussie politicians are backing Uighur activists and providing external support to Muslim fundamentalists in Xinjiang – which came just weeks after a senior Australian official warned that the "drums of war" are "beating" as relations continue to sour.
"In a world of perpetual tension and dread, the drums of war beat — sometimes faintly and distantly, and at other times more loudly and ever closer," said Australia's Department of Home Affairs Secretary Mike Pezzullo in comments that were made public late last month.
"Today, as free nations again hear the beating drums and watch worryingly the militarization of issues that we had, until recent years, thought unlikely to be catalysts for war, let us continue to search unceasingly for the chance for peace while bracing again, yet again, for the curse of war," he said.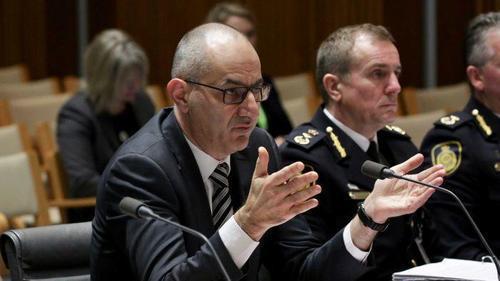 As we noted at the time, While Pezzullo didn't mention China in the remarks that were published, it's clear he was referencing tensions with Beijing in the Indo-Pacific. Australia has followed the US in its military provocations against China and is a member of the Quad, a group that is seen as a possible foundation for an anti-China NATO-style alliance in Asia.
Days earlier, Australia's defense minister said the possibility of a war erupting over Taiwan should not be "discounted" and warned of regional tensions. "People need to be realistic about the activity," Defense Minister Peter Dutton said. "There is militarization of bases across the region. Obviously, there is a significant amount of activity and there is an animosity between Taiwan and China."
Beijing responded to Dutton's comments on Monday. Chinese Foreign Ministry spokesman Wang Wenbin said China hoped Australia would "fully recognize the high sensitivity of the Taiwan issue" and refrain from "sending any false signals to the separatist forces of 'Taiwan independence.'"
The last meeting under the China-Australia Strategic Economic Dialogue was in 2017.