Chinese balloon is shot down over the Atlantic
Chinese balloon is shot down over the Atlantic
They have shot down the balloon over South Carolina. No one in the lamestream media has explained how it was hovering over Montana, reached Missouri and just a few hours later is over the Atlantic off the coast of South Carolina.
The most credible explanation came from Alex Jones who says there could be jets on it to steer it or give it propulsion.
I believe the version of events fed to the media is a cover story
Update (1600ET):
US defense officials confirmed to Fox News an F-22 stealth jet fired an AIM-9 Sidewinder that brought down the Chinese surveillance balloon. The F-22 was based out of Langley Air Force Base in Virginia. 
NEW: senior defense official tells me an F22 fighter jet fired a single shot at the Chinese spy balloon in U.S. air space over Atlantic Ocean. The F22s flew from Langley Air Force Base in Virginia.

— Jennifer Griffin (@JenGriffinFNC) February 4, 2023
Senior US military official says 1 air to air missile fired by F22 at 58,000 feet (an A9X missile) brought down China spy balloon. The balloon was at 60-65,000 feet when shot.

— Jennifer Griffin (@JenGriffinFNC) February 4, 2023
*   *   *
Update (1540ET): 
Secretary of Defense Lloyd J. Austin III released a statement about the Chinese surveillance balloon being shot down. 
This afternoon, at the direction of President Biden, US fighter aircraft assigned to U.S. Northern Command successfully brought down the high-altitude surveillance balloon launched by and belonging to the People's Republic of China (PRC) over the water off the coast of South Carolina in US airspace. The balloon, which was being used by the PRC in an attempt to surveil strategic sites in the continental United States, was brought down above US territorial waters.

On Wednesday, President Biden gave his authorization to take down the surveillance balloon as soon as the mission could be accomplished without undue risk to American lives under the balloon's path.

After careful analysis, US military commanders had determined downing the balloon while over land posed an undue risk to people across a wide area due to the size and altitude of the balloon and its surveillance payload. In accordance with the President's direction, the Department of Defense developed options to take down the balloon safely over our territorial waters, while closely monitoring its path and intelligence collection activities. This action was taken in coordination, and with the full support, of the Canadian government. And we thank Canada for its contribution to tracking and analysis of the balloon through NORAD as it transited North America. Today's deliberate and lawful action demonstrates that President Biden and his national security team will always put the safety and security of the American people first while responding effectively to the PRC's unacceptable violation of our sovereignty."
*   *   *
Update (1441ET):
A US F-22 stealth jet has shot down a Chinese surveillance balloon off the Carolina coast.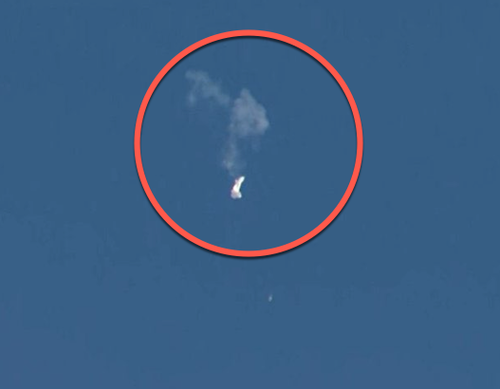 The best view so far of the surveillance balloon being shot down. 
Best video so far of the Chinese spy balloon being shot down pic.twitter.com/MrWB403OqJ

— BNO News Live (@BNODesk) February 4, 2023
More views of the F-22. 
Photos show the Chinese Balloon being shot down by a F-22 Raptor from Myrtle Beach, SC!
📸Me pic.twitter.com/AWSmILlRzg

— Jake (@astroqv) February 4, 2023
The balloon is falling back to Earth.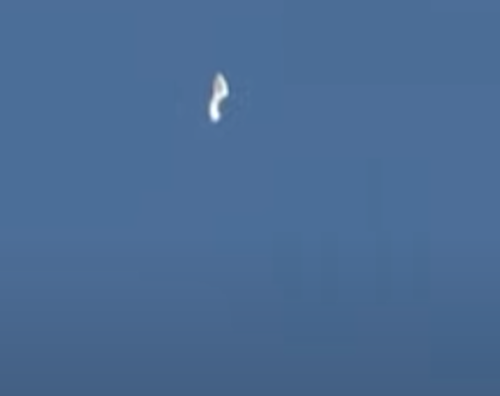 Here comes the recovery vessel. 
The USS Carter Hall (LSD-50) (along with numerous skipper sized surface craft, I assume) is arriving in the splashdown zone for balloon recovery. pic.twitter.com/dq7lWrHzKm

— The Intel Crab (@IntelCrab) February 4, 2023
*   *   *
Update (1330ET):
Shortly after President Biden reportedly said, "we are going to take care of it," referring to the Chinese spy balloon that is calmly drifting across US airspace, the FAA has shut down three airports and closed airspace in parts of North and South Carolina: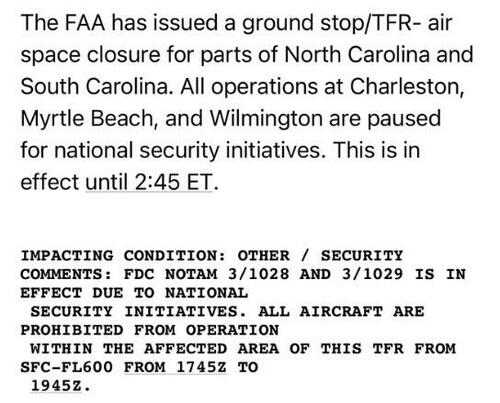 Fighter jets are circling the spy balloon. 
F-22s returning after a brief holding orbit. pic.twitter.com/bRZ6uq7Knl

— The Intel Crab (@IntelCrab) February 4, 2023
CCP balloon over North Myrtle Beach ‼️ Jets are circling ‼️ pic.twitter.com/BaG5VasQUp

— SouthernFried (@southenFried) February 4, 2023
Video of what appears to be fighter, jets circling the China balloon above Conway, South Carolina pic.twitter.com/lvjW6WX2Gp

— Andy Shain (@AndyShain) February 4, 2023
A US military surveillance plane is circling offshore of North Carolina.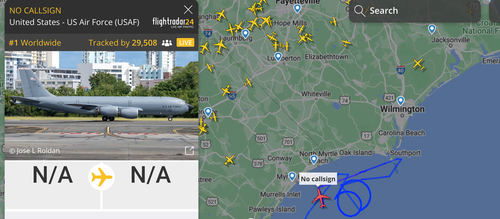 A vessel with a large crane might be headed to an area where the military might shoot down the balloon.  
The USS Carter Hall (LSD-50) is headed south from Beaufort, NC. May be used for balloon recovery efforts. Ship has a 30 ton crane on board. pic.twitter.com/nsCYQ1Tpqb

— The Intel Crab (@IntelCrab) February 4, 2023
*   *   *
A suspected Chinese surveillance balloon appears to be heading toward North Carolina, according to ABC News, citing a senior US official familiar with the situation. That official said the US would probably shoot the balloon down over the Atlantic Ocean and retrieve it. 
Within the last hour, numerous Twitter users have uploaded footage of what appears to be the Chinese balloon floating above North Carolina. 
Chinese balloon over Shelby North Carolina at 9:35 AM. Moving west south west. pic.twitter.com/EEj8vGk6La

— Anne Eskridge (@AnneEskridge1) February 4, 2023
Here's the #ChineseSpyBallon over Easley, SC around 8:45am this AM. The trajectory forecast I posted last night seems right on. The balloon should be visible anywhere in southern North Carolina and northern South Carolina at some point over the next 6-8 hours. 📸 Jason McDowell. pic.twitter.com/6hspFrIXqG

— Ed Piotrowski (@EdPiotrowski) February 4, 2023
Chinese Spy Balloon currently SW of Polkville NC approximately over Kingston NC 9:44 AM #ChinaSpyBalloon @wxbrad pic.twitter.com/8OjdDwsgmN

— Brian Branch (@BrianBranch13) February 4, 2023
Local police tell residents don't shoot their guns at the giant balloon. 
The Gastonia Police Department is asking residents to not shoot at the Chinese spy balloon if it flies over North Carolina pic.twitter.com/lD9VkI299M

— Joe Bruno (@JoeBrunoWSOC9) February 4, 2023
On Friday, we cited Capital Weather Gang, who accurately predicted the balloon's trajectory while it was floating above the Midwest. Now updated predictions for Saturday morning show the balloon might be headed toward the Atlantic.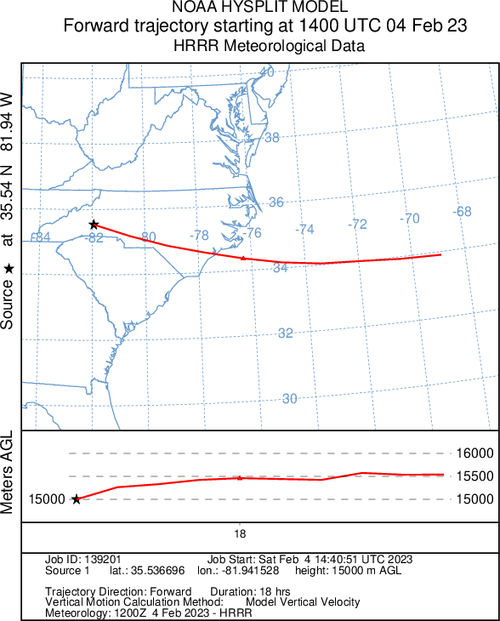 The balloon's payload is approximately 90 feet long, or the length of two motorhomes, and the balloon itself is much larger. Here's one of the clearest views of the balloon.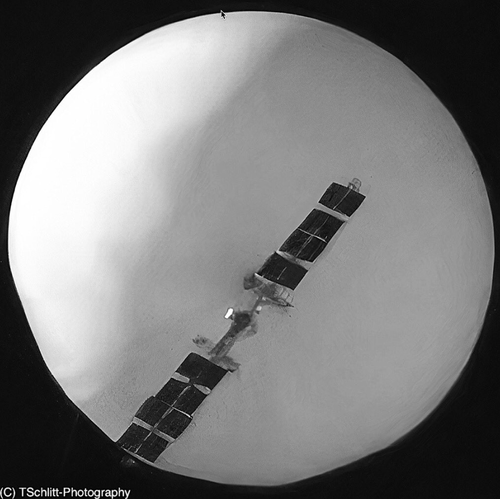 And there might be more balloons. We noted last night:
"We are seeing reports of a balloon transiting Latin America," Brig. Gen. Pat Ryder, a Pentagon spokesperson, told Fox News Friday night. "We now assess it is another Chinese surveillance balloon."
US officials have not ruled out shooting the balloon down. That might happen as soon as the balloon moves offshore into the Atlantic. Time for Space Force to shine. 
From yesterday
Update (2215ET):
The US government says another Chinese spy balloon is traveling over Latin America.
"We are seeing reports of a balloon transiting Latin America," Brig. Gen. Pat Ryder, a Pentagon spokesperson, told Fox News Friday night. "We now assess it is another Chinese surveillance balloon."
Ryder said during a briefing Thursday the U.S. government detected a high-altitude surveillance balloon over the continental U.S. A senior defense official said during the briefing the U.S. government is "confident" the surveillance balloon is from the People's Republic of China.
The balloon was recently over Montana, and the official said the government considered shooting it down but decided against using military force because of the potential risks. A spokesperson for the Chinese Foreign Ministry said Friday the balloon is a "civilian airship" being used for meteorological purposes and deviated from its planned course.
When President Biden was briefed on the situation, he asked for military options, the official said.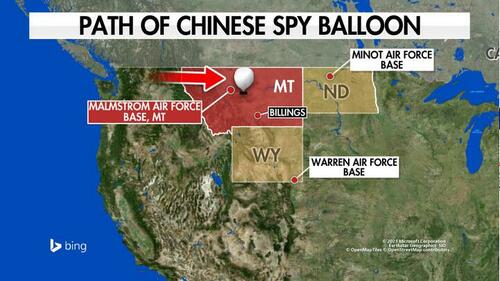 "You did see reports yesterday of a ground stop at Billings Airport and the mobilization of a number of assets, including F-22," the official said. "The context for that was that we put some things on station in the event that a decision was made to bring this down while it was over Montana."
* * *
Update (2143ET):  The City of Billings is aware of a video circulating social media of what appears to be an explosion in the sky. However, city officials confirmed with the Montana Disaster and Emergency Services and Governor Greg Gianforte there have been no explosions in Montana airspace. 
 "They are aware of the video, and it can not be substantiated," the City said.
*   *   * 
Update (2006ET):
Here's the clearest picture of the suspected Chinese spy balloon. 
*   *   * 
Update (1415ET): 
A suspected Chinese spy balloon flying over the US was spotted in the skies of north Kansas City on Friday afternoon.
The question people are asking: Where is the balloon headed? 
To answer that, Capital Weather Gang said:
"Forward trajectory based on atmospheric steering currents would bring it close to St. Louis tonight & into North Carolina Saturday." 
A map of the balloon's trajectory.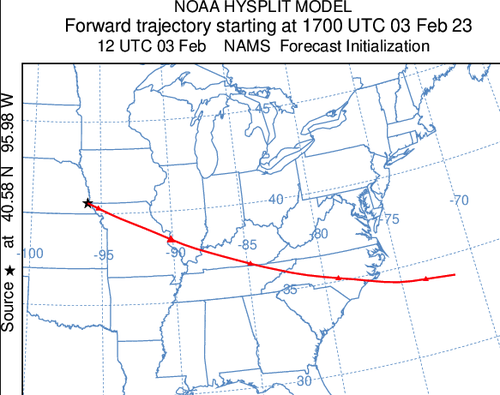 Others say the balloon could take a different path:
*   *   * 
Update (1012ET): 
Bloomberg confirmed US Secretary of State Antony Blinken would postpone his trip to Beijing amid spy balloon allegations. 
The two-day trip was set to begin on Sunday. Even before Blinken postponed his trip, expectations were low to reset deteriorating Sino-US ties. 
*   *   * 
Update (0932ET):
In response to some US officials accusing China of sending a spy balloon near ICBM fields in Montana, the Chinese foreign ministry said the balloon was for monitoring the 'weather' and veered off course and entered into US airspace due to force majeure. 
The ministry "regrets the unintended entry" and said Chinese officials would continue communicating with the US about the balloon. They added the balloon is for meteorological and 'other scientific research.' 
Earlier, foreign ministry spokeswoman Mao Ning urged the US to act "calmly and prudently" after some US officials accused China of sending a spy balloon. 
"I want to emphasize that before the facts are clear, any speculation and hype are not conducive to the solution of the problem," Ning said.
So China states the balloon is for weather purposes only, while some US officials declare it a spy balloon. One thing is certain. The balloon mysteriously ended up near a highly sensitive area in Montana that is home to ICBM fields. 
*   *   * 
US military commanders have advised President Biden against shooting down a Chinese spy balloon flying over the US. 
Reuters said the US military took "custody" of the "high-altitude surveillance balloon" and deployed military aircraft, including stealth fighter jets, to observe it. 
Such balloons operate at an altitude of 15-22 miles, well above commercial air traffic. The balloon's size is estimated to be equivalent to three buses. 
"The United States government has detected and is tracking a high-altitude surveillance balloon that is over the continental United States right now," Pentagon spokesperson Brigadier General Patrick Ryder told reporters Thursday. 
"The balloon is currently traveling at an altitude well above commercial air traffic and does not present a military or physical threat to people on the ground," Ryder continued. 
Right now, the spy balloon appears to be occupying Montana airspace. This alarmed the state's Republican Senator Steve Daines, who sent an alarming letter to the Department of Defense (DOD). He said the spy balloon is a "concerning event": because Montana airspace includes "Malmstrom Air Force Base (AFB) and the United State's intercontinental ballistic missile (ICBM) fields." 
Daines wrote that given "the serious nature of the event," he is "requesting a full security briefing from the administration on this situation."
"It is vital to establish the flight path of this balloon, any compromised US national security assets, and all telecom or IT infrastructure on the ground within the US that this spy balloon was utilizing," he continued.
"As you know, Montana plays a vital national security role by housing nuclear missile silos at Malmstrom AFB," the senator said.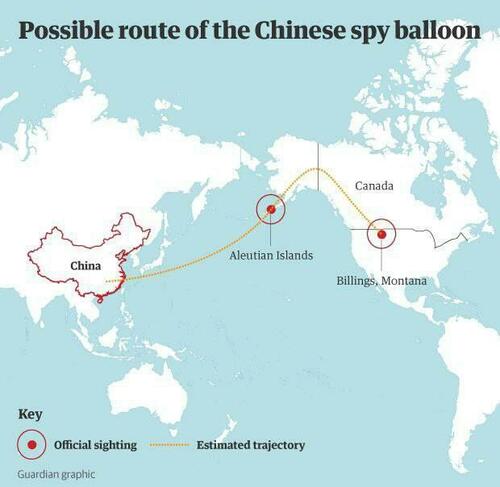 Separately, Canada's defense ministry is monitoring a "potential second incident" but declined to give further details. 
News of the spy balloon followed CIA Director William Burns' speech at a Georgetown University event, where he called China the "biggest geopolitical challenge" facing the West. 
According to sources, Canadian officials had been tracking a large Chinese balloon since last weekend as it passed through Canadian airspace. The balloon had passed over the Canadian Arctic, Alberta and Saskatchewan before being spotted over Montana, as it flew over a nuclear launch site. It was reportedly tracked the entire time it was in Canadian airspace.
"Canadians are safe and Canada is taking steps to ensure the security of its airspace, including the monitoring of a potential second incident," the National Defence Department said in a statement.