Climate crisis 'insufficient' to halt oil and gas exploration, says New Zealand government
Climate crisis 'insufficient' to halt oil and gas exploration, says New Zealand government
Nothing demonstrates the nature of the Jacinda Adern government than this story.
In 2020 Jacinda Adern declared a State of Climate Emergency and announced an end to offshore gas and oil exploration.
Now, the government says the climate crisis 'insufficient' to halt oil and gas exploration.
The New Zealand government will issue no new exploration permits for offshore oil and gas fields in a historic move to support its commitment to action on climate change.
While some 22 existing offshore oil and gas exploration permits remain in place, with rights to explore and potentially develop any commercial discovery unaffected, the decision signals the endgame for decades of attempts to find major new oil and gas deposits outside the Taranaki Basin, where the offshore Maui, Kupe, Maari, Pohokura, and Tui fields are all producing oil and gas today.
"The coalition government is taking an important step to address climate change and create a clean, green and sustainable future for New Zealand," said Prime Minister Jacinda Ardern in a statement issued at 5am in coordination with other Ministers and environmental groups.
Greenpeace and the Royal New Zealand Forest and Bird Protection Society both hailed the move.
Go on a bit
When is a ban on new offshore oil and gas exploration, really a ban?
That's the question environmentalists are asking after discovering Greymouth Petroleum has been given permission to conduct a massive seismic survey off the coast of Taranaki – with the likelihood of more activity to come.
The crown minerals regulator has allowed Greymouth Petroleum to piggyback off an existing mining permit to survey an adjacent area of more than than 260 square kilometres.
The move initially puzzled Climate Justice Taranaki researcher Catherine Cheung.
"Why would they allow further seismic survey if, as we understand, there's no new offshore petroleum permits.
"Then what's the point in more seismic testing that's outside any existing permit."
She said it made a mockery of the 2018 amendment to the Crown Minerals Act which banned any new offshore oil and gas exploration.
"At the time of the announcement of the offshore ban we were just so excited but as time goes on we learn that it's nothing like it sounds.
"It just has so many loopholes that companies can keep going and can even go further, bigger and longer than they were previously allowed."
In a statement, the Ministry of Business, Innovation and Employment said the 2018 amendment preserved many rights for existing permit holders.
That included doing seismic surveys in an adjacent area if no other permit was in force there.
Cheung reckoned she knew what was happening.
Late last year a judicial review found that the regulator, New Zealand Petroleum and Minerals, was wrong to turn down Greymouth's bid in 2017 for what could become the country's last new offshore oil and gas exploration permit.
The bid was now being reappraised.
The judicial review was vague on the whereabouts of the exploration area, but indicated it was in the vicinity of where the company intended to do the seismic survey.
That rang true to Cheung.
"I don't know where it is exactly but I would assume it would have to be within that area where they have authorisation to do seismic surveying.
"Maybe it depends on the result of this survey and the area might even shift a little bit."
The ministry said the offshore exploration ban would not apply to the reappraised Greymouth bid if it was approved.
That was because it is being reconsidered under the Crown Minerals Act before the 2018 amendment.
That was a grim prospect for Cheung.
"It's not a genuine ban of further drilling, further exploration it just feels like a show, a bit of a smokescreen to make us feel better."
Greymouth Petroleum declined to comment saying it did not discuss operational matters publicly.
The industry lobby group Energy Resources, which has been a vocal critic of the ban on new offshore oil and gas exploration, also declined to comment saying Greymouth was not a member.
And the explanation
Despite declaring a climate emergency, government is in court defending decision to issue fossil fuel prospecting permits in Taranaki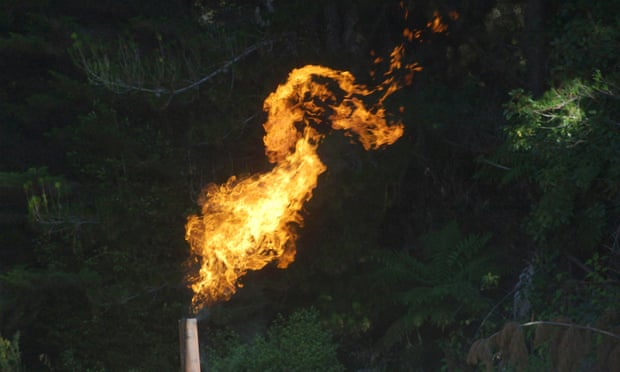 New Zealand's government has argued that the climate crisis is of "insufficient weight" to stop it issuing oil and gas exploration permits – despite declaring a climate emergency and committing to eliminate offshore exploration.
The government is in court defending its 2021 decision to allow fossil fuel companies to prospect for oil and gas in Taranaki. A group of students sued over the decision, saying the ministry failed to adequately consider the climate impact of the exploration, or give enough weight to crucial documents including advice from the climate commission and the International Energy Agency's Net Zero By 2050 report.
Just six months before granting the permits, the government had declared a national climate emergency. The prime minister, Jacinda Ardern, said at the time that the declaration was "an acknowledgment of the next generation. An acknowledgment of the burden that they will carry if we do not get this right and do not take action now.
"It is up to us to make sure we demonstrate a plan for action, and a reason for hope," she said.
In 2018 the government committed to no new offshore oil and gas exploration permits, but continued to grant permits onshore.
Scientists say the world must immediately stop prospecting for and exploiting new oil, gas and coal reserves if it wants to limit the most catastrophic impacts of climate change.
In May 2021 a report from the International Energy Agency concluded that development of new oil or gas fields and coalmines must stop that year if the world wanted to reach its goal of net zero by 2050.
Investigations by the Guardian show that despite this, fossil fuel companies have continued to plan and invest in enormous "carbon bomb" projects that would catapult the world far beyond the limits required to keep warming below 1.5C. Many governments have continued to approve them.
Prof Paul Ekins of University College London, one of the authors of research into how much of the world's fuel reserves must remain in the ground to end the climate crisis, told the Guardian last year that the situation was "absolutely desperate".
"Whenever, wherever oil and gas is found, every government in the world, despite anything it may have said [about climate], tries to pump it out of the ground and into the atmosphere as quickly as possible."
The energy minister, Megan Woods, has been defending the decision at the high court this week. Stuff reports that defence counsel Aedeen Boadita-Cormican​ argued Woods was not legally obliged to consider climate change, but did so anyway, and "gave it [climate change] insufficient weight" to refuse the permits.