Covid: Face mask rules and Covid passes to end in England
Covid: Face mask rules and Covid passes to end in England
While Boris fights for his political life.
BBC,
19 January, 2022

England's Plan B measures are to end from next Thursday, with mandatory face coverings in public places and Covid passports both dropped, Boris Johnson has announced.
The prime minister also said the government would immediately drop its advice for people to work from home.
The PM said England was reverting to "Plan A" due to boosters and how people had followed Plan B measures.
He told MPs scientists believed the Omicron wave had peaked nationally.
At a Downing Street press conference, Health Secretary Sajid Javid said: "This is a moment we can all be proud of.
"It's a reminder of what this country can accomplish when we all work together."
But, he said, this should not be seen as the "finish line" because the virus and future variants cannot be eradicated – instead "we must learn to live with Covid in the same way we live with flu".
He urged people to continue taking steps to keep the virus at bay, including hand washing, ventilating rooms and self-isolating if positive – and pressed those who were unvaccinated to come forward to get their jabs.
Earlier, in a statement to MPs in the House of Commons, the prime minister said:
Mandatory Covid passports for entering nightclubs and large events would end, though organisations could choose to use the NHS Covid pass if they wished
People would no longer be advised to work from home and should discuss their return to offices with employers
Face masks will no longer be mandated, though people are still advised to wear coverings in enclosed or crowded spaces and when meeting strangers
From Thursday, secondary school pupils will no longer have to wear face masks in classrooms and government guidance on their use in communal areas would be removed "shortly"
Further announcements on the easing of travel rules and restrictions on care home visits in England are expected in the coming days, Boris Johnson added.
The prime minister also said the government intended to end the legal requirement for people who test positive for Covid to self-isolate – and replace it with advice and guidance.
The current regulations around self-isolation expire on 24 March. Mr Johnson said he expected not to renew them then – and suggested that date could be brought forward if the data allows.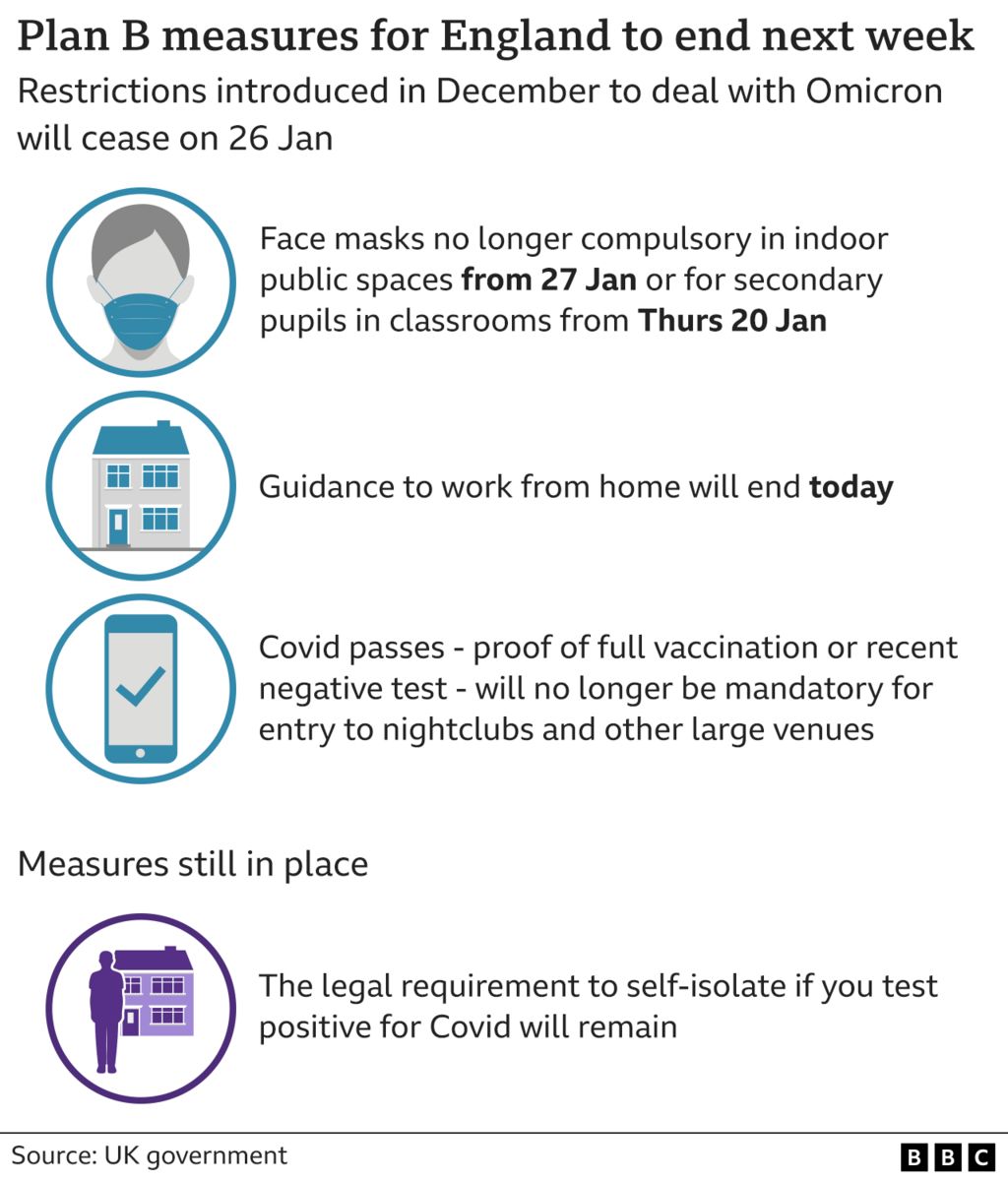 However, he said he did expect cases to continue rising in primary schools and pointed to significant pressures on the NHS in north-east and north-west England.
Looking ahead, Mr Johnson said the government would set out its long-term strategy for living with coronavirus.
He urged people to "remain cautious" during the last weeks of winter as there were still "significant pressures" on the NHS and the pandemic was "not over".
In response, Labour leader Sir Keir Starmer said he would back lifting Plan B measures "as long as the science says it is safe" and accused the prime minister of being "too distracted" to have a "robust plan to live well with Covid".
School leaders' unions said Covid remained a challenge for schools, with high numbers of staff and pupils absent.
Geoff Barton, general secretary of the Association of School and College Leaders, welcomed the end of face coverings in classrooms, but warned the government risked giving the impression the crisis was over when there was still huge disruption in education.
And the Royal College of Nursing said dropping Plan B would do "nothing to ease the pressure on the NHS".
"We can't rely on the vaccine alone when the situation is still so precariously balanced," its chief executive Pat Cullen said.
But for the hospitality sector, which suffered as people worked from home and were cautious over Omicron, there was relief. Industry group UKHospitality said businesses could now begin their revival and recovery.
The whole of Plan B is going. But is it too soon?
Infections levels, while falling, are still well above what they were last winter. And hospital admissions have only just started coming down.
The fact remains that England – and the rest of the UK for that matter – is one of the best protected nations when you combine the immunity built up by vaccination and previous infection.
This does not mean people will not catch the virus in the future, but it does limit how many will become seriously ill.
What's more, this Omicron wave appears to have peaked at just over 2,000 hospital admissions a day – very much best-case scenario territory.
This has given both ministers and the scientists advising them confidence that it's at least time to ease restrictions.
Others will argue this is going too far, too quickly.
But in the end it comes down to a judgement about what is proportionate.
And certainly you have to wonder what impact the politics involved in this has had – the Tory backbenchers were unlikely to vote to keep any part of Plan B.
But in the end it also comes down to a judgement about what is proportionate.
There is a trade-off that has to be made between the costs of such restrictions and the benefits they bring.
With the worst of the Omicron wave almost certainly over, the benefits were reducing.


The latest Covid restrictions were first introduced in December to try to slow the spread of the highly-transmissible Omicron variant and allow time for the booster vaccine rollout.
UK daily infections remain high but are falling – on Wednesday, the UK recorded 108,069 new cases.
Dr Susan Hopkins, the UK Health Security Agency's chief medical adviser, said case rates would largely decline but "may plateau at some point".
Vaccine uptake and mask wearing around strangers would determine how quickly that happens, she added.
Hospital admissions also appear to be decreasing. However, there is a lag between people catching the virus and becoming seriously ill so deaths are continuing to rise – and are up 14.7% on last week.
On Wednesday, 359 deaths within 28 days of a positive test were recorded.
Nearly 37 million boosters have been given across the UK so far.




In Scotland, some restrictions will be lifted from Monday, including allowing nightclubs to reopen and removing limits on indoor events.
In Wales, crowds will return to sporting events from Friday and nightclubs can reopen the following week. In Northern Ireland, nightclubs remain closed and indoor standing events are not allowed.
By Lily Zhou of the Epoch Times
Restrictions including COVID-19 passes, mask mandates, and work-from-home requirements will be removed in England, UK Prime Minister Boris Johnson announced on Wednesday. Johnson also suggested that self-isolation rules may also be thrown out at the end of March as the CCP (Chinese Communist Party) virus pandemic becomes endemic.
Effective immediately, the UK government is no longer asking people to work from home.  The COVID pass mandate for nightclubs and large events won't be renewed when it expires on Jan. 26. And from Thursday, indoor mask-wearing will no longer be compulsory anywhere in England.
The requirement for secondary school pupils to wear masks during class and in communal areas will also be removed from the Department for Education's national guidance.
Roaring cheers from lawmakers could be heard in the House of Commons following Johnson's announcements on masks.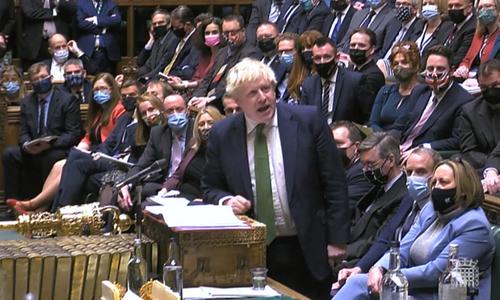 People who test positive for COVID-19 and their unvaccinated contacts are still required to self-isolate, but Johnson said he "very much expect[s] not to renew" the rule when the relevant regulations expire on March 24.
"As COVID becomes endemic, we will need to replace legal requirements with advice and guidance, urging people with the virus to be careful and considerate of others," the prime minister said.
Asked to remove testing rules for vaccinated UK-bound travellers, Johnson said the government is reviewing the testing arrangements on travel and that an announcement can be expected in the coming days.
But he refused to reconsider the vaccination mandate for frontline health care workers, insisting "the evidence is clear that health care professionals should get vaccinated."
Johnson told MPs that the Cabinet decided to remove its so-called "Plan B" measures on Wednesday morning as data suggest the Omicron wave has peaked nationally, and he attributed stabilising hospital admission numbers to "the extraordinary booster campaign" and the public's compliance to the restriction measures.
The removal of the "Plan B" measures against the CCP virus came as the prime minister battles increasing pressure calling for him to resign over alleged lockdown-breaching parties in Number 10 Downing Street, the prime minister's official residence, during the pandemic.
It also came after Number 10 received a petition on Monday signed by more than 200,000 people, calling for an end to vaccine passports and similar COVID certifications.
A separate petition calling on the reversal of vaccine mandates for health care workers, which was also delivered to Number 10 on Monday, received about 160,000 signatures.
Governments in Scotland and Wales have also announced the removal of Omicron curbs, but mandatory indoor mask-wearing and COVID passes will remain in place.