COVID news – 16 November, 2021
COVID news – 16 November, 2021
Germany is expected to announce a lockdown for unvaccinated citizens in a matter of days. According to The Telegraph newspaper this evening:
Those who refuse the jab could be limited to meeting just one person from outside their household and barred from non-essential travel as soon as Friday in the region of Saxony.
Under existing rules, the measures will come into force automatically if more than 1,300 hospital beds in the region are occupied by Covid patients for three consecutive days.
Bed occupancy crossed the threshold on Monday, and the rules will come into force at the end of the week if numbers do not drop by Wednesday.
Saxony and Bavaria are among a number of German regions that already require proof of vaccination for people to enter restaurants, bars, nightclubs, cinemas and leisure centres. 
The Bavarian regional government is pushing hard for the same restrictions to be imposed nationally. Bavarian regional leader Markus Söder said today:
"In the end, it comes down to this: a kind of lockdown for the unvaccinated. It cannot be otherwise. The intensive care units are full of unvaccinated people who could have protected themselves. If we had vaccinated faster, like Spain and Portugal, we wouldn't have this situation in the hospitals. Politicians can't help it if people won't get vaccinated."
Munich has cancelled its Christmas market for the second year running.
For me, as much as they are obviously trying to coerce folks into submitting to the jabs, it looks like they're also trying to provoke an uprising, so that they can squash it in a brutal show of force, to terrorise people further still.
This sickens me. It's also beginning to scare the shit out of me because it will happen here and I won't put up with it. What will happen to me then? It doesn't bear thinking about.
GALLOWS AT THE MELBOURNE PROTEST
Daniel Andrews' wife has spoken out after protesters displayed makeshift gallows in Melbourne appearing to be directed at her husband.

This week, tens of thousands of protesters gathered in Melbourne, Victoria State, to oppose their government's new pandemic laws and vaccination mandates.
Mainstream media outlets appear to be upset that attendees are daring to compare the decrees of their government to that of the Nazis, specifically citing state policies of targeted discrimination and medical apartheid. 
The latest round of protests comes after the government's push to enact new draconian legislation meant to 'fight the pandemic.'
Australian public health authorities are claiming that vaccinations are voluntary, and that 83% of its population aged 16 and above have been 'fully inoculated' against the coronavirus. However, states and territories have had to deploy coercive and intimidating policies in order to enforce vaccine mandates, including threats by the state to prevent any employee from the right to work if they refuse to accept the experimental gene-based pharmaceutical injection, as well as policies which prohibit 'the unvaccinated' from participating in basic activities such as eating out and attending concerts and other public facilities.
The Melbourne demonstration against the vaccination mandate that came into effect on Saturday – requiring construction workers in Victoria state to be fully inoculated – was peaceful, with no immediate reports of unruly behaviour or arrests.

But a reporter at The Age posted video on Twitter of a protester carrying a mock gallows with three nooses hanging from it, and the newspaper showed a protester carrying a poster depicting Victorian Premier Daniel Andrews with a Hitler moustache and the hashtag #DictatorDan.

"We're being governed by insane medical bureaucrats," Craig Kelly, former Liberal Party member of parliament and now the leader of United Australia Party, told the rally, media reported.

The Age said some protesters called for violence against politicians but did not offer specifics.
Australia has captured global attention as one of worst violators of human rights, and where governments have all but abandoned any pretence of civil liberties and rights, and regularly deploying police forces in violent attacks against protesters, and to break up any pro-freedom rallies.
Since the beginning of the alleged 'global pandemic', Victoria's Premier Dan Andrews has enacted no less than six COVID-19 lockdowns, totalling nearly nine months – despite the fact that there was never any significant number of deaths from COVID-19 among the general population outside of the elderly with comorbidities.
Still, the main justification for continuing anti-democratic policies is the state's ongoing coronavirus testing regime. Authorities in Victoria are claiming there have been 1,221 new coronavirus "cases" (PCR positive tests) and 4 deaths 'from' (or 'with', officials will not specify precisely which) COVID. In New South Wales state officials are claiming to have 250 daily 'cases.'
Recently, Victoria State's lower house had passed the latest version of its disturbing coronavirus state of emergency law, the Public Health and Wellbeing Amendment (Pandemic Management) Bill 2021, which gives the government near unlimited power to declare a 'pandemic' at any time and for any reason. The draconian legislation also gives the state new powers to levy crippling fines against any individuals or businesses who do not obey the state's new restrictions, and also gives the state the power to send its residents to internment facilities – which the individual will be forced to pay for.
Presently, the controversial new pandemic laws are being debated in the Victorian parliament, as protesters gather outside calling for their elected officials to "Kill the Bill."
This unprecedented power-grab by Australian government officials has been met with silence from international human rights charities.
(Natural News) Cienna Knowles, a 19-year-old equestrian, uploaded a harrowing video on Oct. 24 about the debilitating side effects she experienced after being forced to get Pfizer's Wuhan coronavirus (COVID-19) vaccine.
According to her doctors, Knowles developed portal vein thrombosis (PVT) after her vaccination. In a video uploaded to her TikTok account, Knowles shared that she was terrified of getting vaccinated but she eventually signed up for vaccination because she was told that she couldn't work if she wasn't vaccinated.
Knowles also said that she wouldn't be allowed to drive or travel if she didn't get the Pfizer vaccine. Additionally, she was told that choosing to remain unvaccinated was a selfish thing to do.
Before getting vaccinated, Knowles said she was "a perfectly normal 19-year-old kid" and that she's never had to go to the hospital. She was also a very active person.
Teen suffers from blood clots after receiving second dose
Knowles received her second dose of the Pfizer COVID-19 vaccine on Oct. 21. By midnight she woke up vomiting. Knowles also had a fever and her whole body was shaking.
She felt like she had run a marathon and that her legs and joints were sore. Knowles also had blurry vision and a really bad headache. She added that she has a very high pain tolerance, but as the pain became unbearable, she went to a doctor and underwent some blood tests.
Her results came back positive for PVT and her lungs and body were filling up with blood clots. Portal vein thrombosis is a blood clot of the portal vein or the hepatic portal vein that allows blood to flow from the intestines to the liver.
PVT blocks this blood flow. While PVT is treatable, it can be life-threatening. Many people with PVT experience few or no symptoms. Some common symptoms of a less severe clot include abdominal swelling from excess abdominal fluid, fever and upper abdominal pain.
Knowles was eventually taken to the emergency room where the doctors found that she had blood clots on her legs, all over her chest and all over her lungs on both sides. She was told to go home and to return if she's "sick or in pain."
On Oct. 23 she returned to the hospital because of severe chest pains caused by the blood clots in her lungs. Her doctors told her that the amount of clots in her lungs was equivalent to having broken ribs, making it "a little painful and hard to breathe."
Knowles said that it will take her at least six to 12 months to recover. Because of the adverse effects, Knowles is unable to ride her horses.
According to the Therapeutic Goods Administration (TGA), it doesn't comment on individual cases once immunization reports have been submitted. However, a spokesperson claimed that PVT is not a recognized side effect of the Pfizer vaccine.
"It is important to note that the reporting of an adverse event to the TGA does not mean that the event was caused by the vaccine," said the TGA spokesperson.
"There might be no relationship between the adverse event and the vaccine – it may be a coincidence that the adverse event occurred when the vaccine was administered," concluded the spokesperson.
Thrombosis with thrombocytopenia syndrome (TTS), a clotting side-effect, is linked to the AstraZeneca COVID-19 vaccine.
There have been eight deaths in Australia from TTS linked to the AstraZeneca vaccine, but there's no prior report associating it with Pfizer. (Related: Florida woman dies of brain disease after taking Pfizer COVID-19 vaccine.)
Athens cafes, restaurants and bars go on strike in response to QR-codes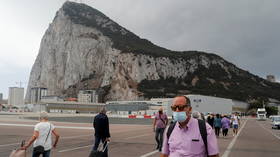 Amid a surge in Covid-19 cases, Gibraltar has canceled official Christmas events and "strongly" discouraged people from hosting private gatherings for four weeks. Gibraltar's entire eligible population is vaccinated.
The government of Gibraltar recently announced that "official Christmas parties, official receptions and similar gatherings" have been canceled, and advised the public to avoid social events and parties for the next four weeks. Outdoor spaces are recommended over indoor ones, touching and hugging is discouraged, and mask wearing is advised.
"The drastic increase in the numbers of people testing positive for Covid-19 in recent days is a stark reminder that the virus is still very prevalent in our community and that it is the responsibility of us all to take every reasonable precaution to protect ourselves and our loved ones," Health Minister Samantha Sacramento said. 
Gibraltar, a tiny British Overseas Territory sharing a land border with Spain, has seen an average of 56 Covid-19 cases per day over the last seven days, up from fewer than 10 per day in September. The rise in cases, described by the government as "exponential," comes despite Gibraltar having the highest vaccination rate in the world.
More than 118% of Gibraltar's population are fully vaccinated against Covid-19, with this figure stretching beyond 100% due to doses given to Spaniards who cross the border to work or visit the territory every day. Gibraltar's entire adult population has been fully vaccinated since March, and masks are still required in shops and on public transport. 
Gibraltar is currently doling out booster doses to the over-40s, healthcare workers, and other "vulnerable groups," and administering vaccines to children aged between five and 12.
Similarly well-vaccinated countries have also reported surges in Covid-19 infections recently. In Singapore, where 94% of the eligible population have been inoculated, cases and deaths soared to record highs at the end of October, and have since subsided slightly. In Ireland, where around 92% of the adult population is fully vaccinated, cases of Covid-19 and deaths from the virus have roughly doubled since August
There may be one "positive externality" from the increasingly Stalinist covid purges – it could lead to far fewer politicians.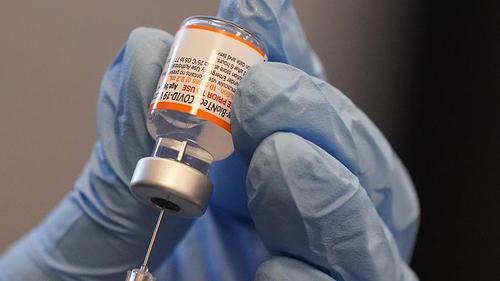 As Euronews reports, Latvian MPs who have not been vaccinated or recovered from COVID-19 will have their pay suspended and no longer be able to take part in parliamentary votes. MPs approved the measure in a vote on Friday with 62 votes in favor in the 100-seat parliament.
"From November 15, an MP will be entitled to participate in the work of the Saeima [Latvia's Parliament] only if he or she has presented an interoperable COVID-19 certificate confirming the fact of vaccination or illness," the statement from the parliament press office states.

"The payment of a monthly salary and compensation will be suspended for a Saeima MP who will not be entitled to participate in the work of the parliament," it adds.
The measure also applies to local government lawmakers and will come into force as the country exits its latest one-month lockdown.
Since October 21, all non-essential stores — as well as cultural and leisure venues — in the country where roughly half the population remains unvaccinated, have been closed with public gatherings banned and private gatherings only allowed among one household. A nighttime curfew from 20:00 until 05:00 is also currently in force.
Starting next week, the country will enter a "green mode" with different rules for vaccinated and unvaccinated people.
Only 53.6% of Latvia's 1.9 million population is fully vaccinated, well below the EU average of 64.9%. The country is currently categorized as of "high concern" by the European Center for Disease Prevention and Control (ECDC).
The public health agency noted that the hospital admission and occupancy rates in Latvia over the past week were among the highest in the 31 countries in the EU/EEA region.
The country has reported 236,765 infections since the beginning of the pandemic and 3,646 deaths.
It only took WSJ three weeks to catch up with us on a story we reported about supermarkets lining empty shelves with meaningless items to appear as full as possible. 
WSJ reports UK shoppers have noticed supermarkets are using signs, moving products, and employed a whole suite of other tactics to create the illusion there are no physical gaps on shelves.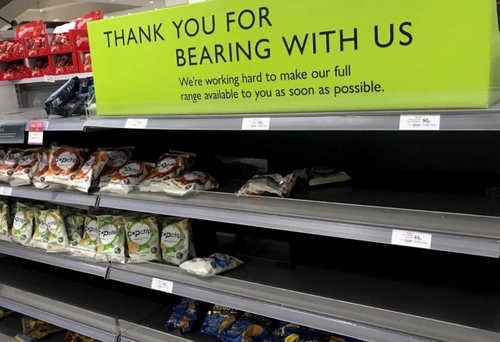 One example has been stacking crates of products, including sodas, beer, and other drinks, in front of empty shelves usually lined with prepackaged meals. Other boxes filled with chocolate candy have been stacked high to mask the reality fresh vegetables are out of stock. 
Co-operative Group Limited, a British food retailer, stocked refrigerated displays with condiments to ensure customers wouldn't see empty racks. 
"We've been impacted by some patchy disruption to our deliveries," a spokesperson for Co-op said. "Our teams are always trying to make sure our stores look as attractive as possible and sometimes managers come up with creative ways of making sure shelves are full."
A combination of Brexit, supply chain woes, and the energy crisis in Europe has sparked product shortages as demand remains robust. In a recent poll, 17% of UK consumers said they couldn't purchase essential food items, according to figures from the Office of National Statistics.
For grocers, fronting merchandise which means they're bringing everything to the front to make the store look as packed as possible, is necessary to prevent a run. The psychological effect of empty shelves on the consumer creates panic buying – something grocers want to avoid. Other supermarkets have been lining shelves with cardboard "dummies," including empty prepackaged sandwich boxes. 
British grocer Tesco PLC was caught using cardboard photos of items to replace merchandise in some stores. A spokesperson told WSJ that decoys had nothing to do with supply chain challenges. Meanwhile, Sainsbury's PLC and the John Lewis Partnership PLC's Waitrose & Partners used signs to fill empty shelves.
Catherine Shuttleworth, founder and chief executive of retail consulting firm Get Savvy Marketing Ltd., said the use of cardboard placeholders makes operations easier to fill empty shelves. 
"It's probably quicker and definitely cheaper to put bits of cardboard in than it is to do anything else," such as reorganizing a store's aisles or moving stock to fill the empty space, Shuttleworth said. 
Grocery store managers on both sides of the Atlantic are deploying some of the oldest tricks to create an appearance that everything is alright, so consumers don't panic hoard. 
Pfizer has signed an agreement with the United Nations-backed Medicines Patent Pool to license its new experimental Covid-19 pill to generic companies that can supply it to 95 low- and middle-income countries. The move is similar to what Merck has done previously.
According to Bloomberg, Pfizer's license will cover countries that make up about 53% of the world's population. For the length of time that Covid is declared a public health emergency, Pfizer won't get royalties from sales in middle-income countries, and for low-income countries, Pfizer won't get royalties at all. The pact also includes some upper-middle income countries in sub-Saharan Africa, the report says. 
"Numerous generic countries can cheaply produce" Pfizer's pills, Bloomberg wrote, adding that Pfzier has been under "considerable pressure" to license the technology since its positive clinical-trial results earlier in November. The pill reduced hospitalizations and deaths from Covid by 89% in a study of high-risk patients. 
The drug company is now seeking emergency authorization from the FDA in the U.S.
Charles Gore, executive director of the Medicines Patent Pool, said: "These are potentially life-saving drugs. The sooner we can get it out there, the more people who won't need to go to the hospital and won't die."
"As with molnupiravir [Merck's drug], we're trying to make this as fast as humanly possible," he continued.
Pfizer shares were slightly lower in Tuesday morning pre-market trading, but Pfizer is surely happy with the outcome as it will eliminate much of the political pressure the company is facing to make its drugs cheaper and more accessible to poor countries.  Or, perhaps, Pfizer knows that its pill can and will eventually be easily duplicated if they don't "lock up" distribution to a majority of the globe.
Still, keep your eyes on how long Covid is declared a "public health emergency".
Richie Allen is joined by funeral director, Wes Jackson
Wes Jackson is the owner and director of https://www.cremation-low-cost-direct.co.uk a budget funeral service provider in London. 
Wes tells Richie that the covid vaccine roll-out coincided with an increase in the numbers of people using his service. 
He says that as the roll-out was extended down the age groups, he began to see an increase in the death numbers for those cohorts. In other words, when the jabs were first offered to the over 40's, there was an increase in the numbers of over 40 year-olds showing up in mortuaries. 
Wes also alleges, that during a recent visit to a hospital mortuary in London, he saw 30 dead infants in refrigeration units. He tells Richie why he feels this is suspicious and what he thinks should be done about it.   
Media Confused Why City with 99.5% Vaccinated Has Extremely High Infection Rate
Media in Ireland is befuddled why the city of Waterford, with an extremely high vaccination rate, is currently seeing a surge in Covid infections.
In a report from Sky News, a reporter interviews a man who contracted Covid despite getting jabbed.

"People think that the vaccine is the full metal jacket, like you have total immunity, but obviously you don't," the man says.
"In a city famous for its walls," the reporter says, "the vaccine hasn't been a barrier to high infection rates."
"A pretty staggering 99.5 percent of all adults over the age of 18 are now fully vaccinated. That's the highest vaccination rate in Ireland and thought to be amongst the highest in the world.
"Despite this, County Waterford currently has the highest infection rate in the country. So why?"
The report goes on to blame issues like travel throughout the UK and lax sanitary procedures for the infection spike, while a scientist interviewed for the report claims the vaccine is keeping down infection rates.
Sky News did not question whether the vaccine itself could be causing the high infection rate.
ROBERT F KENNEDY JR. SPEAKS TO THE SWISS PEOPLE AT A PRESS CONFERENCE IN SWITZERLAND