COVID news – 18 June, 2021
COVID news – 18 June, 2021
THREE BRITISH AIRWAYS PILOTS HAVE DIED THIS WEEK FROM THE VAX
WE ARE AT WAR – DR. TENPENNY, DR. PALEVSKI, DR. MADEJ (JUNE 10, 2021)
In an interview with Bret Weinstein Ph.D., Dr. Pierre Kory, president and chief medical officer of the Frontline COVID-19 Critical Care Alliance discussed the importance of early treatment of COVID-19 and the shameful censoring of information about ivermectin.
Story at-a-glance:
Data clearly show ivermectin can prevent COVID-19 and when used early can keep patients from progressing to the hyper-inflammatory phase of the disease. It can even help critically ill patients recover.

Ivermectin has a long history of use as an antiparasitic, but its antiviral properties have been under investigation since 2012.

Studies have shown ivermectin inhibits replication of SARS-CoV-2 and seasonal influenza viruses, inhibits inflammation through several pathways, lowers viral load, protects against organ damage, prevents transmission of SARS-CoV-2 when taken before or after exposure, speeds recovery and lowers risk of hospitalization and death in COVID-19 patients.

Doctors have been told not to use ivermectin as large controlled trials are still lacking. However, once you can see from clinical evidence that something is working, then conducting controlled trials becomes unethical, as you know you're condemning the control group to poor outcomes or death. In fact, this is the exact argument vaccine makers now use to justify the elimination of control groups and giving everyone the vaccine.

The Frontline COVID-19 Critical Care Alliance recommends widespread use of ivermectin for all stages of COVID-19, including prevention.
The Wuhan Institute of Virology – increasingly believed to be the source for the SARS CoV-2 coronavirus – obtained "all the genes to make a SARS coronavirus similar to the epidemic strain," according to a 2017 report by Science News.
The article – "Bats in China carry all the ingredients to make a new SARS virus" – documents how a Wuhan Institute of Virology research team led by the Fauci-funded "bat lady" Shi Zhengli sampled wild bats
The organization behind a recent report attempting to discredit COVID-19 studies authored by Dr. Li-Meng Yan is run by the Research Director of Harvard's Shorenstein Center, an entity with long-standing, extensive ties to the Chinese Communist Party. The report leans heavily on scientific studies funded by Chinese government-funded and military-linked grants, The National Pulse can today reveal.
Studies authored by Dr. Yan, a former Hong Kong School of Public Health researcher, concluded that COVID-19 was a man-made virus originating from the Chinese Communist Party. "The Media Manipulation Casebook," however, claimed Dr. Yan's work was a "misleading article masquerading as science, which falsely claims that the novel coronavirus was made in a Chinese lab."
GENEVA, June 18 (Reuters) – The Delta variant of COVID-19, first identified in India, is becoming the globally dominant variant of the disease, the World Health Organization's chief scientist said on Friday.
Soumya Swaminathan also voiced disappointment in the failure of CureVac's (5CV.DE) vaccine candidate in a trial to meet the WHO's efficacy standard, in particular as highly transmissible variants boost the need for new, effective shots. read more
Britain has reported a steep rise in infections with the Delta variant, while Germany's top public health official predicted it would rapidly become the dominant variant there despite rising vaccination rates. read more
The Kremlin blamed a surge in COVID-19 cases on reluctance to have vaccinations and "nihilism" after record new infections in Moscow, mostly with the new Delta variant, fanned fears of a third wave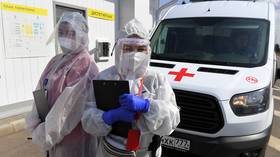 People waiting for planned operations and other non-urgent medical treatment in Moscow will be denied care in the Russian capital's hospitals if they have not been vaccinated against Covid-19, but are eligible to receive a jab.
The rule change, designed to protect patients, came from the city's Department of Health on Friday. Under the new measures, only those with certificates proving they have been immunized will be admitted onto wards for most types of treatment and procedures.
Emergency care, along with anti-cancer therapy and support for those with blood diseases, "will be provided, without exception, to every resident of the city, regardless of their vaccination status," the city administration confirmed.
"A person who is in a hospital because of an injury or illness, by definition, has a weakened immune system. For such patients, coronavirus disease is especially dangerous," officials said in a statement. "Every day, patients are transferred from Moscow clinics to Covid hospitals. If a week ago there were 130 such cases per day, then yesterday it was already almost 200."
Paul Elias Alexander, PhD, Former COVID Pandemic consultant/advisor to WHO-PAHO and former COVID pandemic advisor to Health and Human Services (HHS), United States; Parvez Dara, MD, MBA; Howard Tenenbaum, DDS, PhD.
Here's a quick and dirty translation of a piece in Stern Magazine, regarding the fake "hospital bed shortage" fraud perpetrated on the German public, among others, to justify the lockdowns and other "emergency measures". Of course, when we "conspiracy theorists" reported this, for months on end, it was just "disinformation."
Here's the article …
"The Ministry of Health in Berlin has known since January that the numbers of reported intensive care beds were incorrect. The RKI (Robert Koch Institute) had sounded the alarm in January of this year and informed the Ministry about it, explains the Federal Audit Office in its report. And the RKI stated: The intensive occupancy figures are "no longer suitable for assessing the situation".
Nevertheless, on the basis of these false figures, the most dramatic restrictions on civil liberties in Germany since the war were decreed and enforced. Even though the government knew the numbers weren't reliable.
The so-called federal "Covid emergency brake" was supposedly implemented to protect the intensive care units in hospitals from being overloaded. Curfews were imposed. Schools remained closed. Singing was prohibited in daycare centers, which remained in emergency mode. Shops and restaurants remained closed and continued to stumble into bankruptcy.
Daily alarm messages were issued by the Divi-Register (the German Interdisciplinary Association for Intensive and Emergency Medicine) indicating that intensive care units in hospitals were on the brink of catastrophe. However, apart from these emotional alerts, politicians apparently had nothing but false numbers as a justification for their historic decisions.
The Germans have shown that under certain conditions they are prepared to restrict their lives dramatically and adhere to harsh measures. If measures such as curfews and lockdowns were imposed on the basis of incorrect numbers, and the responsible ministries were aware of this, then the state deprived people of their liberties.
Health Minister Jens Spahn has to explain to us why he did not follow up on the clear indications of the RKI and continued to operate with incorrect numbers. RKI chief Lothar Wieler needs to explain why he has not said one word about his findings on the difficult data situation regarding intensive care medicine in his numerous TV appearances. Angela Merkel has to explain why she continued to warn of bottlenecks in the health system despite the inaccurate data situation and ultimately implemented the dramatic measures that were very likely not necessary at all.
For months, many media have disseminated the government's "emergency" narrative and the unchecked figures. Critics and doubters were denigrated. But now it is clear:  hospitals reported fewer intensive care beds than were actually available. It is possible that capacity bottlenecks were reported "which did not exist to this extent". This is what the Court of Auditors' report says. If that is true, it is fraud perpetrated against the German citizens. The responsible politicians must take responsibility – and step down. Fast."
They never let up for a single moment on the propaganda
There is still some frustration and worry amongst over-65s in Wellington as they wait to be called up for their Covid-19 vaccine.
Capital and Coast DHB said it was ahead of schedule with its overall vaccine roll-out but only a fraction of the over-65s group had received it.
Prime Minister Jacinda Ardern sat in a white plastic chair in the corner of Manurewa Marae in Auckland to receive her first shot.
It was all over within seconds – a rolled up sleeve, a precisely administered injection and, we're promised, a smile under face-mask.
"It's really true when they say it's actually pretty pain-free."
RNZ has been inundated with messages from people in Category 3 – which is mostly made up of over-65s – who are still waiting to hear when they will be vaccinated.