Covid news – 29 June, 2022
Covid news – 29 June, 2022
Fully-vaxx'd and double-boosted mask-admirer Anthony Fauci is suffering.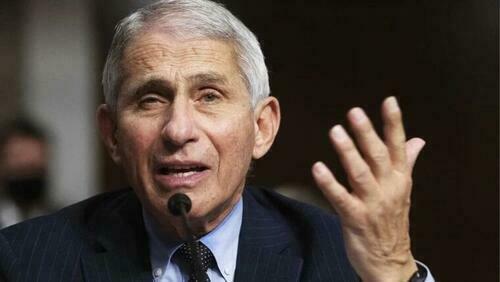 Two weeks ago, we reported that President Biden's chief medical adviser had COVID.
Dr. Anthony Fauci said that he's on his second course of Paxlovid after testing positive again for Covid-19
According to Pfizer's own data, the drug is limited in its abilities to fight Covid-19 in a vaccinated person 
The CDC issued a warning about the potential for Covid-19 rebound symptoms after taking Paxlovid in May 2022 
The warning noted that none of the reported rebound cases saw patients suffer a severe case of Covid-19, though Fauci described his symptoms as 'much worse'
A UC San Diego study found that patients who were experiencing Covid rebound symptoms suffered because Paxlovid did not get to enough infected cells
At the same conference where he announced the rebound, Fauci called for an 'aggressive' national vaccine campaign 
America's foremost Corona astrologer is now on his "second course of treatment"
Vaccine failure in one map
Behold the latest map of 7-day Corona incidence across the Federal Republic of Germany:
This is the Omicron BA.5 wave in central Europe, and it is attended by a curious phenomenon: Every day, you can see more clearly the borders of the old DDR in the district-level data. I've traced these in green just to make the phenomenon clearer.
Yes yes, there are systematic demographic differences between East and West Germans, and there are probably some differences in testing rates, but above all, there is an important difference in vaccine uptake. In this map of triple vaccination rates across my country, the old DDR borders are also evident:
East Germans have direct experience with government propaganda, and have proven more resistent to the vaccination campaign than Westerners. Their reward, after being much maligned by state media, is now higher levels of natural immunity and lower rates of BA.5 infection, which appears to prefer vaccinated populations.
As the effects of vaccine failure grow clearer, you have to wonder how long the pandemicists will be able to publish even simple infection statistics, without raising extremely awkward questions.
A brief historical look at Corona incidences in Germany
Baby Denied Heart Transplant Due To Vaccine Status: Medical Complex Sentences Baby To Death
Why are we still giving boosters with same antigen? (Geert Vanden Bossche & Bret Weinstein)
According to a Taiwan government report, the birth rate dropped by 23.24% in May 2022, compared to May 2021.
I inputted historical birth rate data from Macrotrends for the years 2009-2021, and added the year 2022 as year 2021 adjusted down by 23.24%. Obviously, 2022 is not over and the number of Taiwanese babies to be born this year (or during the next 12 months) is unknown. So the chart below is an illustration of what would happen in the next 12 months if the 23.24% drop stays constant.
When expressed in "sigmas", units of standard deviation, the 23.24% drop in the birth rate in Taiwan is a 26-sigma event!
Daniel Andrews says health professionals face a dilemma over a fourth vaccine
ATAGI is deciding whether to delay a fourth shot as a new vaccine emerges
The premier has pushed for a fourth dose to be mandated for health workers 
Daniel Andrews says a 'real dilemma' faces top doctors over whether to delay a fourth Covid vaccine dose for health workers and the general public.
The Victorian premier has pushed for a fourth shot to be mandated for health staff to reduce the potential spread of Omicron in the sector.
But Australia's expert immunisation panel may be delaying their recommendation to give citizens a fourth dose until a new vaccine that targets Omicron sub-variants becomes available.