Covid news from New Zealand
Covid news from New Zealand
Interestingly, we had a break from all this shit while Jacinda Adern and the government were on holiday.

First,the latest from Big Sister
 This is the most important news.
Coronavirus: Vaccine suppliers Pfizer, BioNTech granted indemnity by NZ Government
25 January, 2021
The Government has granted the Covid-19 vaccine suppliers Pfizer and BioNTech indemnity from any claims that may arise from use of the vaccine.
Pharmaceutical companies often seek indemnities when developing a pandemic vaccine, because of the need to speed up the clinical trial process.
Indemnities may also be granted to the other suppliers of Covid-19 vaccines that New Zealand has secured.
The finance minister makes the final decision on whether indemnity should be granted, and did so in October last year.
Under Section 65ZD of the Public Finance Act, Grant Robertson also had to notify the House of the move "as soon as practicable after giving the guarantee or indemnity", because the liability is more than $10m.
He notified the House of the Pfizer and BioNTech indemnity on 22 November, after granting it on 5 October.
Pfizer and BioNTech are supplying 750,000 courses of their Covid-19 vaccine.
The vaccine went through a full, albeit fast-tracked approvals process, including trials involving about 40,000 people.
It has a 95 percent effectiveness.
"It is common for pharmaceutical companies to seek indemnities in relation to pandemic vaccines that they need to develop in accelerated clinical trials," the Ministry of Health and Treasury said in a statement.
"The decision on whether to grant indemnity to a specific pharmaceutical company distributing vaccines in New Zealand is ultimately made by the Minister of Finance, after advice from officials."
There is precedent for offering indemnity to phamaceutical companies over the supply of a vaccine.
In 2007 the then Labour government gave Baxter Healthcare indemnity from all claims arising from the use of a bird flu vaccine.
It's understood the vaccine never had to be used.
Treasury said the indemnity shields Pfizer and BioNTech from any potential legal action over use of the vaccine.
The government would take on that liability.
Indemnity may also be granted to the other suppliers of Covid-19 vaccines, although that has not happened yet.
The Janssen, Novavax, and the combined University of Oxford and AstraZeneca vaccines have also been secured by the government, and each could see indemnities granted to protect the suppliers.
Treasury said they would be considered on a case-by-case basis, and the final call would be made by Robertson.
The United Kingdom has also granted indemnity to Pfizer and BioNTech, and their vaccination campaign is well underway.
Radio New Zealand's view of reality (aka.official government propaganda.
People have been going nuts up in Northland getting tested just as they will line up for their death jab when they roll it out. Hopefully, the truth will be out by then although I wouldn't expect any of the propaganda to let up.
I have had to wait to get an appointment with my doctor. I do wonder if people are demanding covid tests as the first appearance of a sniffle.
Poor souls.
As Northlanders lined up for tests for the second day in a row, Prime Minister Jacinda Ardern announced New Zealand is a step closer to getting the Pfizer vaccine. Here's a summary of today's Covid-19 news.Share on Linked In

As Northlanders lined up for tests for the second day in a row, Prime Minister Jacinda Ardern announced New Zealand is a step closer to getting the Pfizer vaccine. Here's a summary of today's Covid-19 news.

Today there was discussion of ventilation at the Pullman Hotel MIQ facility, news on the Pfizer vaccine and Northlanders queued up for Covid-19 tests. Photo: RNZ / AFP
RNZ,
26 January, 2021
Northland's Covid-19 testing stations were busy again today after a woman who lived in the region tested positive for Covid-19.
The 56-year-old woman returned a positive test this week after two negative results while in managed isolation. She departed isolation at the Pullman Hotel on 13 January and returned home to Northland, before travelling to several areas in the region and Helensville in north-west Auckland.
She visited 31 locations of interest, and people who visited the same places around the same time are considered casual contacts.
Prime Minister Jacinda Ardern today urged casual contacts and people with Covid-19 symptoms to get tested, and said queues at testing stations should not be clogged up by people who didn't fit these categories.
There were two new cases of the virus reported today. One person came from Japan and the other came from Portugal via the United Arab Emirates. Both arrived on Sunday.
Investigation underway at Pullman Hotel
New Zealand's sole community case of Covid-19 has 16 potential close contacts, 15 whom have returned negative test results.
The strain she has is the South African variant. Auckland University professor Shaun Hendy told Morning Report that New Zealand should be ready to move alert levels if there was an outbreak of the highly transmissible variant.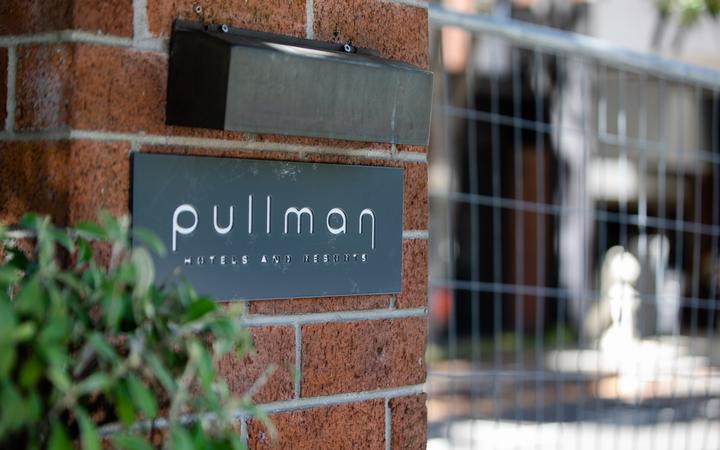 Pullman Hotel in Auckland. Photo: RNZ / Dan Cook
Health officials believe she contracted the virus while staying in managed isolation at the Pullman Hotel.
Covid-19 Response Minister Chris Hipkins said whilst it's unlikely she caught it via the hotel's ventilation system, that was one scenario which was being investigated. It was more likely she came in contact with someone who had it or touched a contaminated surface.
Work is underway at the hotel to look at potential issues with ventilation and a full infection, prevention and control audit begun this morning, Hipkins said.
Meanwhile, 157 Pullman Hotel staff have been tested, along with 192 guests currently in the facility. Of those, 30 still have test results to come, and all others have tested negative.
– Read more about what we know about the South African variant here.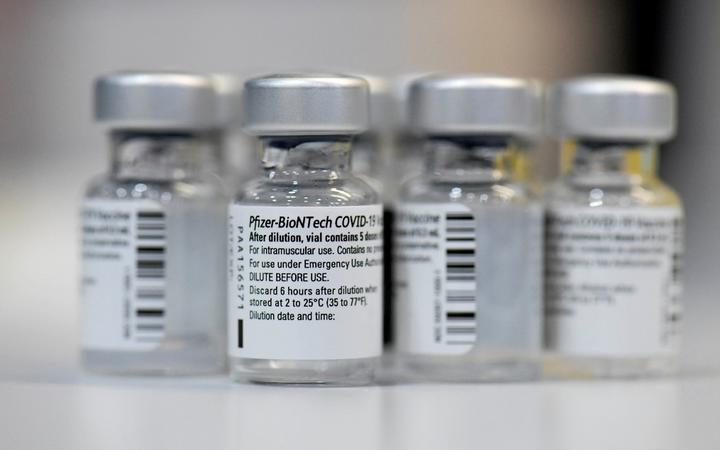 A mass vaccination programme is expected to be rolled-out from mid-2021. Photo: AFP
Pfizer vaccine could be approved next week
Speaking during the first post-Cabinet media briefing of the year, Prime Minister Jacinda Ardern said swift progress was being made on Covid-19 immunisation.
Approval for the Pfizer vaccine could come as early as Wednesday next week.
The country could take delivery of the first batch of vaccine as soon as Pfizer could send them, she said.
As vaccines arrive, immunisation will work through priority groups.
The focus would be to vaccinate border workers and their close contacts first. They will start to receive vaccinations about two to three weeks after the vaccine arrives.
A mass vaccination campaign is likely to begin in the middle of the year, Ardern said.
Trans-Tasman bubble 'increasingly difficult'
The government is now playing down the likelihood of a full Trans-Tasman bubble, after previously suggesting one could be in place by the end of March.
Australia had already opened its borders to New Zealanders – but abruptly re-introduced quarantine requirements after the latest case in Northland.
Ngati Wai volunteers handing out supplies to those waiting to get tested for Covid-19 in Kamo. 26 January 2021 Photo: RNZ / Liu Chen
Ardern said while officials are still pursuing two-way travel, it would not work if the borders were repeatedly shut at short notice.
Officials are still pursuing a travel bubble with Pacific islands, but Ardern warned the border situation with the rest of the world would likely remain the same for the rest of the year.
Iwi set to reinstate Covid-19 checkpoints
Iwi in the North are set to reinstate Covid-19 checkpoints.
Te Tai Tokerau Border Control said it met last night to discuss how to deal with the community case in the region.
Its regional co-ordinator Reuben Taipari said the iwi was disappointed that the government had failed to initiate plans to protect vulnerable kaumātua and kuia in the north.
He said they've been in touch with police, iwi and health authorities about setting up checkpoints.
Dates and times are yet to be confirmed.
Sadly, I think that the message is spoilt by all the highways and byways of Vinny and Billy's broadcasts.  Sad because it detracts from an otherwise good and important message.
I am of a more pessimistic (read,REALISTIC) mindset.
Just in….NZ doubles down on vaccination and extends travel restrictions