CYBER ATTACK CREATED GAS SHORTAGE!? WHAT WE'RE NOT BEING TOLD
CYBER ATTACK CREATED GAS SHORTAGE!? WHAT WE'RE NOT BEING TOLD
In this video, we explain the deeper context of the massive gas shortage caused by the Colonial Pipeline cyber attack.
Largest U.S. refinery shuts crude units due to Colonial outage -sources
(Recasts lead with unit shutdowns due to Colonial outage)
HOUSTON, May 10 (Reuters) – The largest U.S. refinery shut two crude distillation units on Sunday because of the Colonial Pipeline outage, according to people familiar with the matter.
Motiva Enterprises LLC's 607,000 barrel-per-day (bpd) Port Arthur, Texas, refinery shut the 195,000-bpd VPS-4 CDU and the 80,000-bpd VPS-2 CDU along with the 49,000-bpd reformer and 19,200-bpd lube oil hydrocracker, the people said.
Motiva declined to discuss the status of indvidual units at the Port Arthur refinery.
Temporary idling production on the two CDUs reduces production at the Motiva's refinery by 45%.
Motiva's refinery has three CDUs. The largest of the three, the 325,000-bpd VPS-5, remained in operation on Monday, the sources said. CDUs break down crude oil into the feedstocks for all other units in the refinery.
Reformers convert refining byproducts into octane-boosting components added to gasoline.
"Lines Down The Street" – People Wait Five Hours To Fill Up Amid Gas Shortages 
Update (1828ET): The White House published a fact sheet on its response to the Colonial Pipeline hack: 
The recent cyberattack targeting the Colonial Pipeline has triggered a comprehensive federal response focused on securing critical energy supply chains. President Biden is receiving regular briefings on the incident and has directed agencies across the Federal Government to bring their resources to bear to help alleviate shortages where they are occurring. The Administration is focused on avoiding potential energy supply disruptions to impacted communities, the U.S. military, and other facilities reliant on gasoline, diesel, jet fuel and other refined petroleum products. The Administration is continually assessing the pipeline shutdown's impact on the U.S. fuel supply, as well as what additional actions are available to mitigate the impact of the pipeline's shutdown.
… read the rest here. 
* * * 
Update (1452ET): Emergency declarations have been issued in 17 states and Washington, DC due to fuel shortages stemming from the Colonial Pipeline ransomware attack. 
The emergency declaration covers Alabama, Arkansas, D.C., Delaware, Florida, Georgia, Kentucky, Louisiana, Maryland, Mississippi, New Jersey, New York, North Carolina, Pennsylvania, South Carolina, Tennessee, Texas, and Virginia. 
* * * 
Update (1427ET): In a White House press briefing, Energy Secretary Jennifer Granholm said the government "will have no tolerance for price gouging" during the gasoline shortage in the Southeast. She said gas station owners should "act responsibly." 
Granholm said the Colonial pipeline should be "substantially operational by the end of this week and over the weekend."
… let's hope. 
* * * 
Update (1420ET): Many folks are being pushed to their breaking point. There's gasoline, lumber, chicken, housing, semiconductor, and commodity shortage, among others, transforming Biden's America into a glimpse of socialist Venezuela. 
Bloomberg reports that some people in the Southeast waited five hours Tuesday to fill up their vehicle. That is, if they could even find gasoline. 
As a result of the Colonial Pipeline Co. hack, RaceTrac Petroleum Inc. warned customers that some of its gas stations in the Southeast were experiencing shortages. A spokeswoman for the company said its filling stations in Louisiana, Georgia, Tennessee, and Alabama were experiencing disruptions. 
Fuel shortages have spread from Florida to Virginia as the shutdown of Colonial's 2.5 million barrels pipeline remains partially offline for the fourth day. We noted earlier that a section of the pipeline system from Greensboro, North Carolina, to Baltimore had been briefly turned on. 
Liberty Petroleum Corp. Chief Operating Officer John Patrick said customers in Virginia and Maryland waited as long as five hours to fill up their tanks. People are also paying exorbitantly high prices as shortages lead to empty stations. According to AAA, the national average retail price rose to $2.985/gallon Tuesday, the highest since 2014, 2.5% over last week's figures. 
Here's an update on what motorists in the Southeast see on the ground: 
Long lines at the pump in Nashville.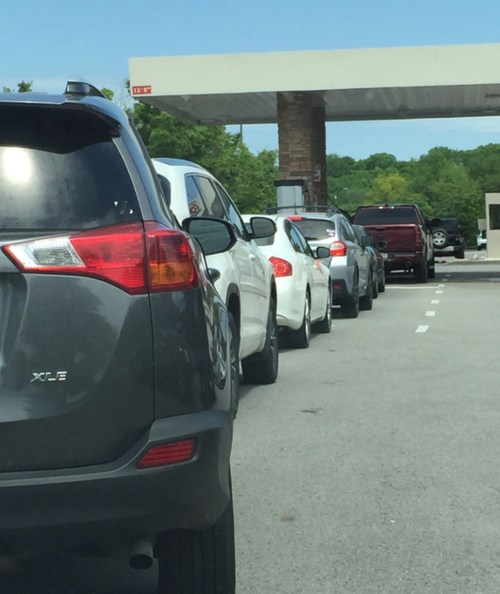 "The line goes out of the gas station's parking lot," said one Twitter user in Carrboro, North Carolina. 
Long lines at a Costco in North Atlanta, other filling stations are out of gasoline. 
People are panic hoarding fuel with gas cans.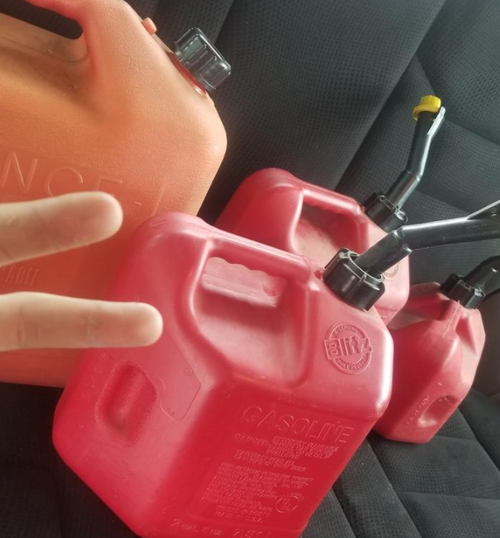 Even with trailer-sized fuel tanks.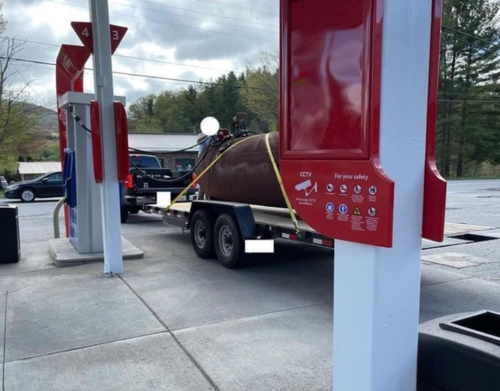 More long lines (location unknown).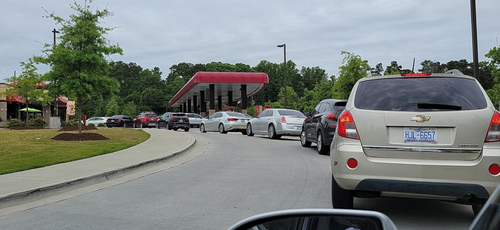 Massive lines this morning at a Costco in Tallahassee. 
Someone reports gas pumps are pumping extremely slow. 
More lines. 
No fuel in North Carolina. 
* * * 
Update (1011ET): Colonial Pipeline reopened a section of its paralyzed pipeline system after a ransomware attack, reconnecting some East Coast markets with a critical supply hub, according to Bloomberg. 
Colonial's line connecting storage facilities in Greensboro, North Carolina, to Baltimore has briefly resumed for a "limited period while existing inventory is available," Colonial stated Monday. 
The section of line in the oil-refining part of South Texas that runs to North Carolina remains shuttered. Across the Southeast, fuel shortages have materialized at gas stations. 
We're not sure on the location, but this guy isn't playing around – filling up a several hundred-gallon tank as shortages worsen in the Southeast.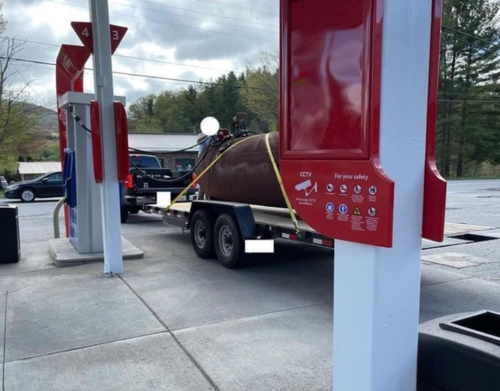 In a bid to alleviate some of the shortage, the Environmental Protection Agency issued an emergency fuel waiver on Tuesday for refiners to reformulate gasoline in the Mid-Atlantic area. The waiver extends through May 18 for fuel sold in Virginia, Washington, D.C., Maryland, and Pennsylvania. 
* * * 
Update (0647ET): And just like that, the Southeast of the US is heading down a dark path similar to one of the 1970s gas shortages from Virginia to Florida to Alabama following the Colonial Pipeline ransomware attack. Even with Colonial set to restore systems by the weekend, shortages have already materialized as people panic hoard. 
The real panic has yet to begin as millions of Americans are waking up for work, hopping into their vehicle across the Southeast, and are hearing fuel shortages on the radio or reading push notifications on their phone. Driving down the street, they see rising fuel prices, signs at pumps that either read shortage or pump restrictions, or even see some gas stations closed. 
WJTV's Anna Farish reports gas shortages this morning in Mississippi.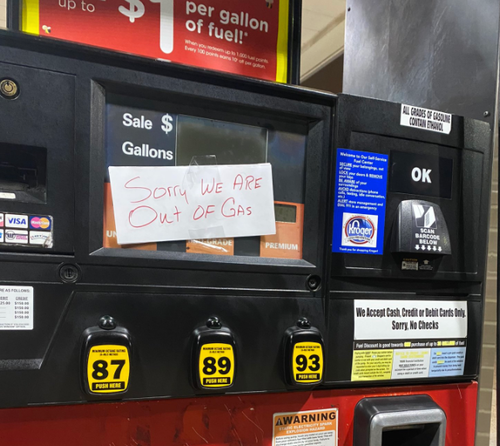 One Twitter user reports one gas station is placing "limits" on fuel in Central Alabama. 
The gas shortage is already hitting Central Alabama, so I probably won't be working this time next week. pic.twitter.com/yaxBwEcbZg

— Preston Aaron (@PrAaHe) May 11, 2021
People are panic filling up gas cans.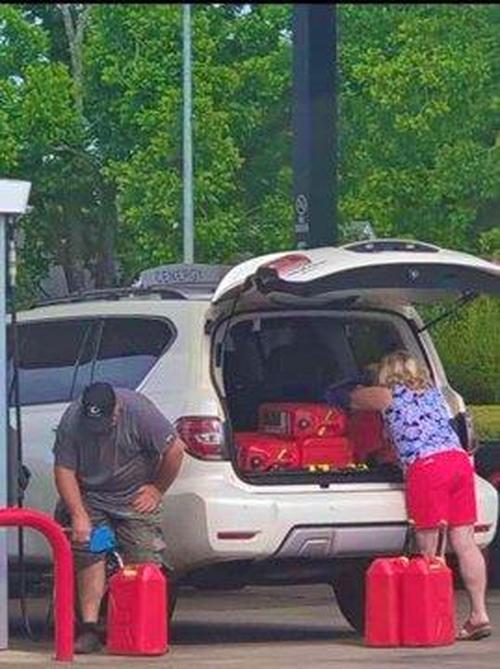 Across the Southeast, search trends for "gas cans for sale" are erupting.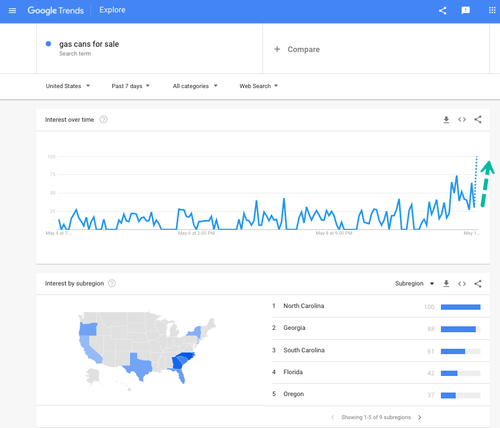 We showed on Monday that the gas shortage panic started around 1300 ET Monday.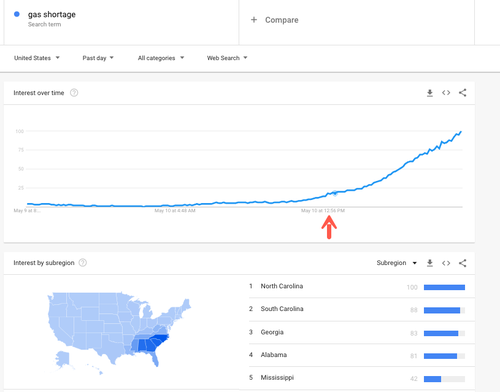 WCNC's Billie Jean Shaw reports: "Good morning y'all! There's a gas shortage throughout the Carolinas due to the shutdown of the Colonial Pipeline. These are pics from a gas station in S. CLT. Join me on #WakeUpCLT, I have the rundown on when all of this is expected to be over b/c it's annoying. 😩 @wcnc." 
Fuel shortages in South Carolina. 
U.S. average retail gasoline prices have soared on the disruption, almost touching $3/gallon, the highest since 2014.
The shortage continues to develop. We are assuming the craziness is just beginning.
* * * 
Gas shortages are being reported in the Southeast of the US amid the recent cybersecurity attack that temporarily shut down one of the largest pipelines in the US.
Colonial Pipeline Co. Chief Executive Officer Joseph Blount said the company was in the process of restoring its systems but wouldn't resume fuel shipments until the ransomware had been removed, according to Bloomberg.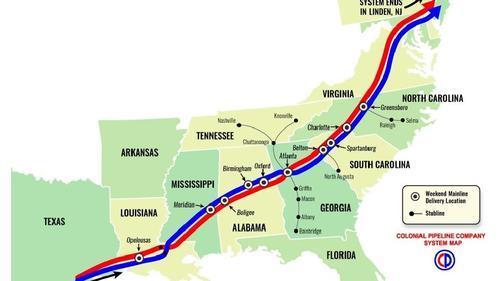 At the moment, Colonial Pipeline is manually operating a segment of pipeline between North Carolina to Maryland and expects a complete system restore by the weekend. However, gas shortages are already being reported from North Carolina to Florida to Alabama. 
On Monday, North Carolina Governor Roy Cooper signed an Executive Order declaring a state of emergency, temporarily suspending motor vehicle fuel regulations to ensure adequate fuel supply supplies throughout the state.
WLOS' Caitlyn Penter reported gas shortages in North Carolina. 
Penter said long gas lines were developing. 
WEAR-TV's Renee Beninate shows that one gas station in Northwest Florida was selling regular gas for $4.29/gallon.
More people in Florida panic buying fuel for $4.50/gallon. 
In Fitzgerald, Georgia, one Twitter user shows long gas lines at an enmarket gas station. 
One South Carolina gas station was out of unleaded and plus.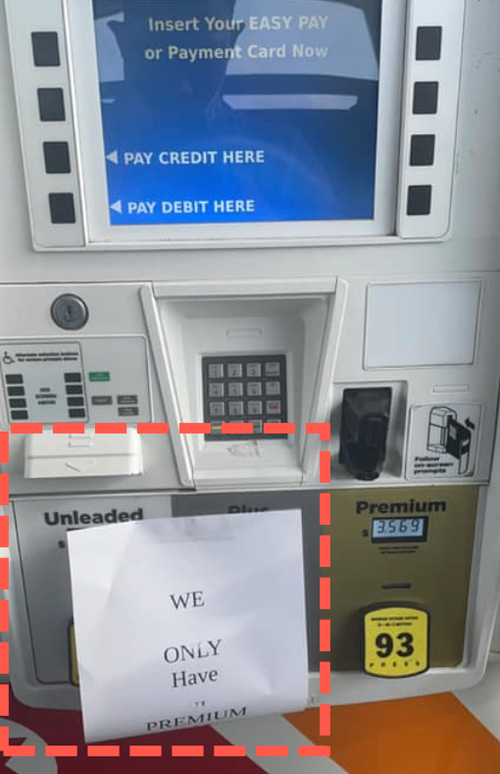 Someone in Myrtle Beach panic hoarded gas.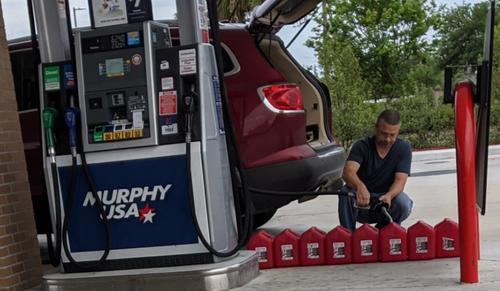 People are getting worried about the shortage. 
A massive line of people waiting for fuel in Asheville, North Carolina.
People waiting to fuel up at one gas station in Plymouth, North Carolina.
Not sure where, but the run has begun. 
Gas shortage in Atlanta. 
Gas lines in Clinton, North Carolina.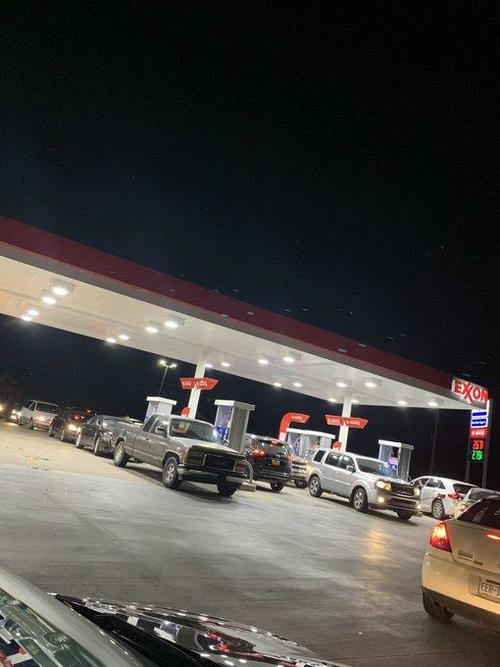 WSOC's Greg Suskin reports a gas station in South Carolina has entirely run out of gas, except for diesel. 
Shortages now spreading into Tennessee. 
According to Google Search Trends, people started panic searching "gas shortage" around 1300 ET in the Southeast.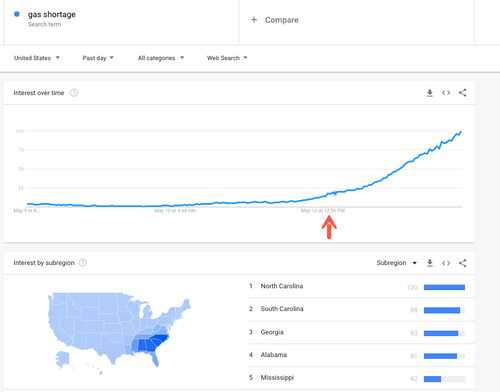 So far, nationwide gas prices have surged six cents this week to $2.96 – the highest for this time of year since 2014. If the national average soars to $2.99 or higher this week, it will be the highest since November 2014… and right before the start of summer driving season.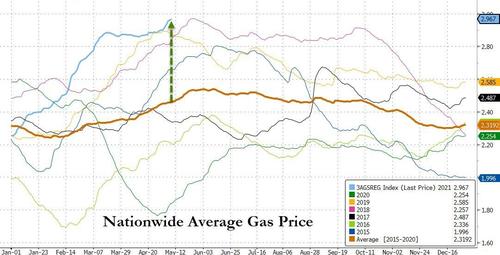 AAA forecasts gas prices are soaring because of the shutdown of the Colonial Pipeline, which delivers about 45% of all fuel to the East Coast. 
"This shutdown will have implications on both gasoline supply and prices, but the impact will vary regionally. Areas including Mississippi, Tennessee, and the east coast from Georgia into Delaware are most likely to experience limited fuel availability and price increases, as early as this week," said Jeanette McGee, AAA spokesperson. "These states may see prices increase three to seven cents this week."
This is beginning to look like the 1970s gas shortage. If the panic just started hours ago – just wait until tomorrow. People will freak.