Death toll from Maui fires exceeds 55
Death toll from Maui fires exceeds 55
The death toll from the wildfires that ravaged the resort town of Lahaina on the island of Maui jumped to 55 on Friday. Local authorities believe the count may rise, and recovery of remains could be days or even weeks. 
On the heels of Hawaii declaring a state of emergency, President Biden approved Hawaii's disaster declaration on Thursday, allowing federal funds to pour into Maui County. 
"Anyone who's lost a loved one, whose home has been damaged or destroyed, is going to get help immediately," Biden said. 
He continued, "Damage assessments are continuing, and additional forms of assistance may be designated after the assessments are fully completed." 
Earlier, Maui County Fire Chief Brad Ventura said the fire that leveled Lahaina was 80% contained. None of the fires burning in the area are 100% contained. 
Fire Map: Island of Maui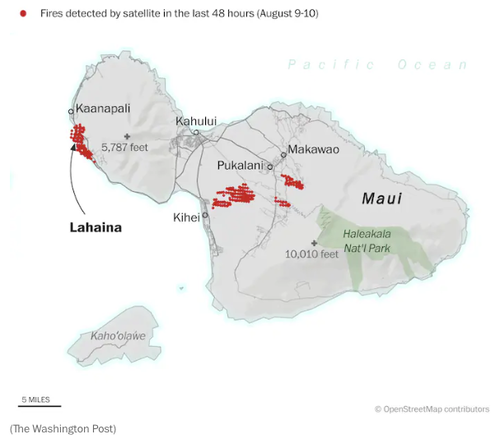 Fire Map: Lahaina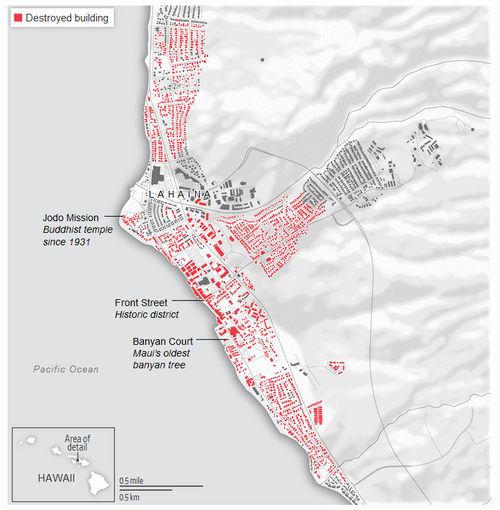 Here's the aftermath in Lahaina. 
I just finished a day spent talking to people in Lahaina. The scale of destruction and suffering is hard to comprehend.

Residents pleaded that others take time to understand the scope and provide help. I will have more soon, but here are some clips. pic.twitter.com/SAK7suCjiH

— Mike Baker (@ByMikeBaker) August 11, 2023
Before and After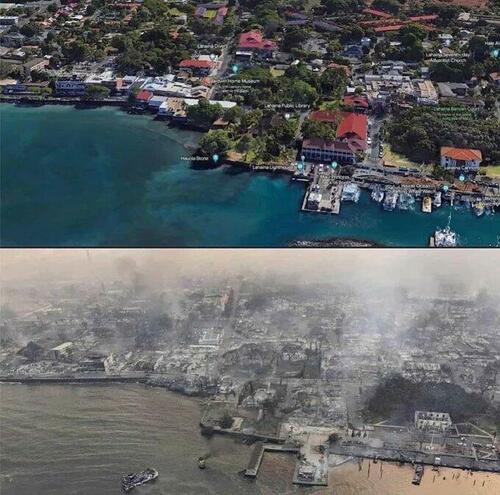 More footage.
Hawaii Gov. Josh Green said the fire is the largest natural disaster in the state's history. He said there was no question in his mind that rebuilding the town would take billions of dollars and years. 
Green added: "It does appear like a bomb and fire went off, if I may. And all of those buildings virtually are going to have to be rebuilt."
Questions are being asked and the usual narratives reappear
Thousands of people in Maui are without cell service as the wildfires continue to rage out of control on the island, preventing people from calling emergency services or updating loved ones about their status. It could take days or even weeks to get the networks back up and running.
"911 is down. Cell service is down. Phone service is down," Hawaii Lt. Gov. Sylvia Luke told CNN on Wednesday morning.
Although strong winds can sometimes threaten cell towers, most are strong enough to handle the worst that even a Category 5 hurricane can bring. Fire, however, complicates the issue.
Maui Directed Energy Weapon assault, like 9/11, Paradise, CA., Malibu and Boulder fires.
Drone Shots in Hawaii Show Homes Burned to the Ground but Trees Next to Them Untouched
'