Drones inside Russian territory!
Drones inside Russian territory!
I was alerted by this. Of course, the title, DRONES SWARM MOSCOW!!! is an exaggeration
This news is about 12 hours old but nothing from our usual sources.They are slow to report anything that goes against the narrative.
Nothing that I can see from mainstream Russian media.
This will be shock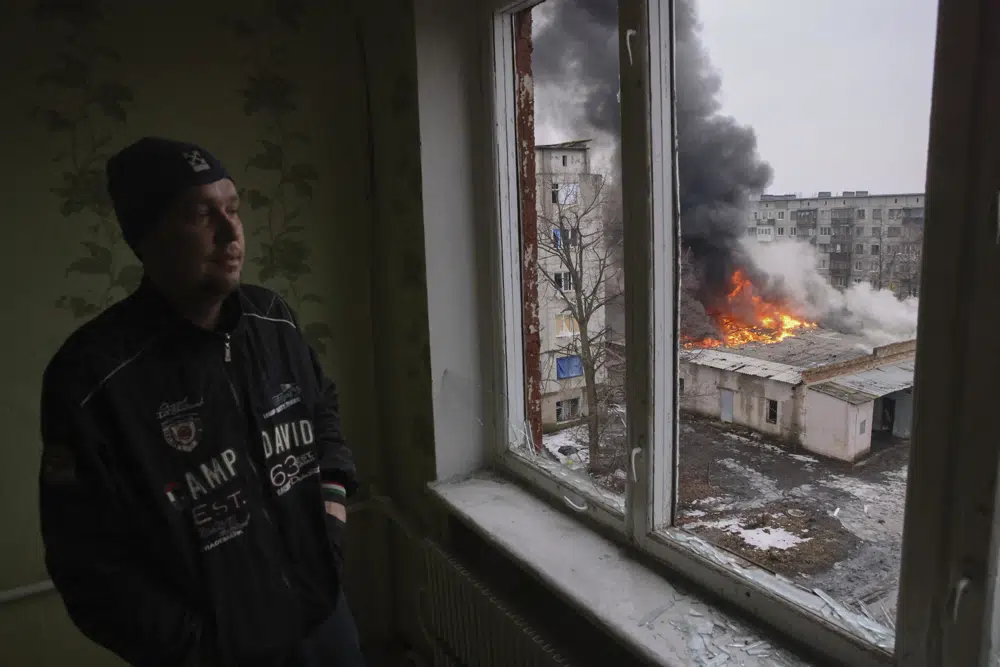 KYIV, Ukraine (AP) — Drones that the Kremlin said were launched by Ukraine flew deep inside Russian territory, including one that got within 100 kilometers (60 miles) of Moscow, signaling breaches in Russian defenses as President Vladimir Putin ordered stepped-up protection at the border.
Officials said the drones caused no injuries and did not inflict any significant damage, but the attacks on Monday night and Tuesday morning raised questions about Russian defense capabilities more than a year after the country's full-scale invasion of its neighbor.
Ukrainian officials did not immediately take responsibility, but they similarly avoided directly acknowledging responsibility for past strikes and sabotage while emphasizing Ukraine's right to hit any target in Russia.
Although Putin did not refer to any specific attacks in a speech in the Russian capital, his comments came hours after the drones targeted several areas in southern and western Russia. Authorities closed the airspace over St. Petersburg in response to what some reports said was a drone.
Also Tuesday, several Russian television stations aired a missile attack warning that officials blamed on a hacking attack.
The drone attacks targeted regions inside Russia along the border with Ukraine and deeper into the country, according to local Russian authorities.
A drone fell near the village of Gubastovo, less than 100 kilometers (60 miles) from Moscow, Andrei Vorobyov, governor of the region surrounding the Russian capital, said in an online statement.
The drone did not cause any damage, Vorobyov said, but it likely targeted "a civilian infrastructure object."
Pictures of the drone showed it was a small Ukrainian-made model with a reported range of up to 800 kilometers (nearly 500 miles) but no capacity to carry a large load of explosives.
Russian forces early Tuesday shot down another Ukrainian drone over the Bryansk region, local Gov. Aleksandr Bogomaz said in a Telegram post.
Three drones also targeted Russia's Belgorod region on Monday night, with one flying through an apartment window in the capital, local authorities reported. Regional Gov. Vyacheslav Gladkov said the drones caused minor damage to buildings and cars.
The Russian Defense Ministry said Ukraine used drones to attack facilities in the Krasnodar region and neighboring Adygea. It said the drones were brought down by electronic warfare assets, adding that one of them crashed into a field and another diverted from its flight path and missed a facility it was supposed to attack.
Russia's state RIA Novosti news agency reported a fire at the oil facility, and some other Russian reports said that two drones exploded nearby.
While Ukrainian drone strikes on the Russian border regions of Bryansk and Belgorod have become a regular occurrence, other strikes reflected a more ambitious effort.
Some Russian commentators described the drone attacks as an attempt by Ukraine to showcase its capability to strike deep behind the lines, foment tensions in Russia and rally the Ukrainian public. Some Russian war bloggers described the raids as a possible rehearsal for a bigger, more ambitious attack.
Andrei Medvedev a commentator with Russian state television who serves as a deputy speaker of Moscow's city legislature and runs a popular blog about the war, warned that the drone strikes could be a precursor to wider attacks within Russia that could accompany Ukraine's attempt to launch a counteroffensive.
"The strikes of exploding drones on targets behind our lines will be part of that offensive," Medvedev said, adding that Ukraine could try to extend the range of its drones.
Russia hawks urged strong retaliation. Igor Korotchenko, a retired Russian army colonel turned military commentator, called for a punishing strike on the Ukrainian presidential office in Kyiv.
Another retired military officer, Viktor Alksnis, noted that the drone attacks marked the expansion of the conflict and criticized Putin for failing to deliver a strong response.
Also on Tuesday, authorities reported that airspace around St. Petersburg, Russia's second-largest city, was temporarily closed, halting all departures and arrivals at the main airport, Pulkovo. Officials did not give a reason for the move, but some Russian reports claimed that it was triggered by an unidentified drone.
The Russian Defense Ministry said it was conducting air defense drills in western Russia.
Last year, Russian authorities repeatedly reported shooting down Ukrainian drones over annexed Crimea. In December, the Russian military said Ukraine used drones to hit two bases for long-range bombers deep inside Russian territory.
Speaking at Russia's main security agency, the FSB, Putin urged the service to tighten security on the Ukraine border.
In another development that fueled tensions across Russia on Tuesday, an air raid alarm interrupted the programming of several TV channels and radio stations in several regions. Russia's Emergency Ministry said in an online statement that the announcement was a hoax "resulting from a hacking of the servers of radio stations and TV channels in some regions of the country."
Meanwhile, satellite photos analyzed by The Associated Press appeared to show a Russian warplane in Belarus that Belarusian guerrillas claimed to have targeted as largely intact.
Tuesday's high-resolution images from Planet Labs PBC showed no immediate signs of damage to the Russian A-50 early warning and control aircraft after what Belarusian opposition activists described as an attack on the Machulishchy air base Sunday outside the Belarusian capital of Minsk.
Belarusian activists supporting Ukraine alleged that the aircraft was seriously damaged. Russian and Belarusian officials did not comment on the claims.
In Ukraine, four people were killed and five others wounded Tuesday by renewed Russian shelling of the southern Ukrainian city of Kherson, regional Gov. Oleksandr Prokudin said in a Telegram.
A 68-year-old man was also killed as Russian forces shelled Kupiansk, a town in Ukraine's northeastern Kharkiv region, Gov. Oleh Syniehubov said.
The fiercest fighting continued to be in eastern areas of Ukraine, where Russia wants control over all four of the provinces it illegally annexed in September.
Ukrainian officials said Russian forces have deployed additional troops and equipment, including the latest T-90 battle tanks, in those areas.
In a video address, Ukraine's President Volodymyr Zelenskyy thanked U.S. industrialists for supporting Ukraine and voiced hope for their support in rebuilding the country after the war. Zelenskyy noted that the country faces a "colossal task" to restore hundreds of thousands of damaged sites, including "whole cities, industries, productions."
___ Associated Press Writer Jon Gambrell contributed to this report from Dubai, United Arab Emirates.
A drone that was likely targeting civilian infrastructure crashed near Moscow on Tuesday, a regional official said, after the defence ministry reported downing two Ukrainian drones in southern Russia.
The reported incidents are the latest in a series of suspected drone attacks in recent months inside Russia — sometimes far from the border with Ukraine — that Moscow has blamed on Kyiv.
"As for the incident with the crash of a UAV in district of Kolomna… the target was probably a civilian infrastructure facility, which was not damaged," Moscow regional governor Andrei Vorobyov said in a statement, referring to unmanned aerial vehicles.
"There are no casualties or damage on the ground. The FSB (security services) and other competent authorities are investigating," Vorobyov said.
Authorities have not specified what infrastructure may have been targeted, but Russian energy giant Gazprom operates a facility near the village of Gubastovo, where the drone crashed.
Gazprom told Russian state-run news agency RIA Novosti that its operations in the Kolomna region were operating uninterrupted.
"There were no emergencies due to the drone crash," its press service said in comments carried by RIA Novosti.
Vorobyov, the Moscow regional governor, gave his statement shortly after the defence ministry said Russian forces had downed two Ukrainian drones in southern Russia.
"The Kyiv regime attempted to use unmanned aerial vehicles (UAV) to attack civilian infrastructure in the Krasnodar region and the Adygea Republic. The UAVs were neutralised by electronic warfare units," it said.
Moscow has accused Ukraine of being behind several drone attacks on Russian military infrastructure inside the country.
This includes drone attacks on the Crimean peninsula, which Russia annexed in 2014, and on the border region of Belgorod.
Russia said in December that it downed several drones near Engels, a base for strategic Russian aircraft located hundreds of kilometres from Ukraine's border.
Pictures in January appeared to show Pantsir defence systems installed on the Russian defence ministry and one of Russian President Vladimir Putin's residences, but the Kremlin refused to comment
Russia has come under attack by multiple drones on Tuesday, with one of those drones reportedly causing a fire at an oil depot in the southern part of the country, and another hitting outside Moscow.
The attack on the oil facility happened in Tuapse, which lies about 150 miles southeast of the Crimean peninsula, with Reuters citing local media to report, "Emergency services put out a fire at an oil depot in southern Russia overnight after a drone was spotted flying overhead, the RIA news agency said on Tuesday." Crucially, Tuapse is about 500 kilometers from the nearest Ukrainian-held territory, which exhibits significant reach assuming the UAV was launched by the Ukrainians.
The fires which started at the facility at about 2:30am were extinguished after they spread to an area of some 200 square meters. "The oil tanks were not affected. There was no spill of oil products. No injuries," a local official, Sergei Boyko, described.
Another drone crashed in the Moscow region on the same day, with Governor Andrei Vorobyov saying it was likely an operation to target civilian infrastructure.
"This happened near the village of Gubastovo, the target was probably a civilian infrastructure facility, it was not damaged. There are no casualties or destruction on the ground," Vorobyov said on his Telegram channel, as translated by the Moscow Times.
"The FSB and other competent authorities are dealing with the situation, nothing threatens the safety of residents," he added. The Moscow Times notes that unverified reports said the drone was a Ukrainian UJ-22 Airborne manufactured by Ukrjet.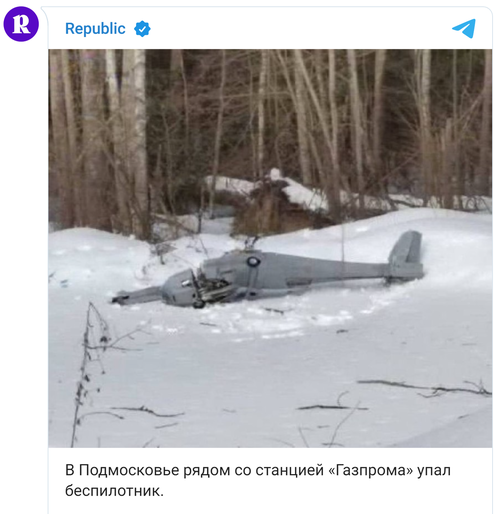 The Russian defense ministry in a statement made mention of another drone attack in southern Russia, close in time to the attack on the oil facility which it says was intercepted:
The attacks — in the Krasnodar and Adygea regions — had been "suppressed" and failed to inflict any damage, it said.

But it followed reports by Russian state news agencies of a fire at an oil depot in Krasnodar, around 240km south-east of the Crimean peninsula, after a drone was spotted flying overhead.
The Russian defense ministry stated that "The Kyiv regime attempted to use unmanned aerial vehicles to attack civilian infrastructure in the Krasnodar region and the Adygea Republic." It claimed further,  "The UAVs were neutralized by electronic warfare units."
There may have additionally been a drone incident in the border area of the Belgorod region. The Daily Beast described it as a night of chaos for Russians:
The strikes were part of what local media described as a "mass drone attack" that appears to have intensified in the last 24 hours.

On Monday morning, residents of an apartment building in the Belgorod region, near the border with Ukraine, were forced to evacuate in the middle of the night after one of four drones crashed into the building, according to Baza. Another drone landed on the roof of a supermarket and exploded, scorching the premises.
And possibly another attempted attack in St. Petersburg: 
Hours later, St. Petersburg's Pulkovo Airport came to a standstill as authorities shut down the surrounding airspace, reportedly in response to an "unidentified flying object" spotted in the area.
Amid all the local reports coming out of Russia, there were in total possibly half-a-dozen to a dozen or more inbound drones which had been sent against various Russian cities overnight into Tuesday.
This comes after a past year which witnessed a number of sporadic drone and alleged sabotage attacks on sensitive Russian facilities, including military bases, as Ukraine and its backers grow more emboldened. 
One December investigative report written by a US special forces veteran said the CIA was behind many of the covert sabotage operations happening with increasing frequency on Russian soil. President Putin has recently said he sees the conflict in Ukraine and West-backed proxy war there as a fight for the survival of the Russian people, alluding to it as an 'existential threat' in fresh comments.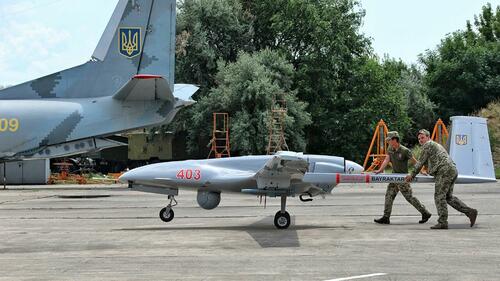 The timing of these fresh, brazen attacks on Russian appears significant, given that just within the last few days there's been some actual international momentum toward getting serious about an eventual brokered peace – this after China unveiled its 12-point plan for negotiated ceasefire on Friday. Will efforts at peace be sabotaged before a process can ever hope to get off the ground? If Russian soil keeps getting attacked, it's very unlikely the two sides will even come close to seriously contemplating negotiations.